Last Updated on February 14, 2023 by Sagar Kumar Sahu
Free Fire and Free Fire MAX are two popular mobile games, developed and published by Garena. This game is a boon to the gaming community who can now play such high-level games on their smartphones. If you don't want to install the game from the play store, or facing any issues while downloading, then you can get all the (OBB + APK)free fire files and free fire MAX files from our given sources.
Free fire OBB & APK files
Free fire ZIP
Name
Free Fire files and Free MAX files (ZIP)
OBB+APK
File Name
main.2019115201.com.dts.freefireth
main.2019112738.com.dts.freefiremax
Version
1.90.1 (Free Fire)
2.90.1 (Free Fire MAX)
Free fire File Size(original
OBB)
336 MB (Free Fire)
486 MB (Free Fire MAX)
Free fire File Size (original
APK)
53 MB (Free Fire)
56 MB (Free Fire MAX)
Status
Available
Our website
Techsonu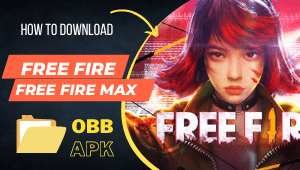 An OBB file is a game data file used by Android applications, specifically those bundled with additional game data that is not stored on the device itself. When you download any high-end level games like free fire MAX or BGMI APK, it usually comes with OBB files.
These files contain additional game data that are typically used to store things like high-resolution graphics, large audio files, and other data. These OBB files only make a game heavier and demand more storage space and memory in your smartphone.
You cannot play the game if your device does not have an OBB file. For one or several reasons, the OBB file may be deleted, or may automatically become corrupted.
So if this happened to you and want to get the original Free Fire file or Free Fire Max file (OBB+ APK), we can help you with that. Stay connected and keep scrolling down.
Some useful posts related to Redeem Codes
How to use OBB free fire files after downloading?
OBB files are usually stored in a subdirectory of the Android application's directory on the device. For example, if you have an application called "MyGame" that has an OBB file associated with it, it will be stored in a directory called "MyGame/obb".
When you download an application that uses OBB files, the Play Store will usually download the OBB file(s) along with the APK file. However, if the OBB file is too large, it can be downloaded separately. In this case, you will need to manually copy the OBB file to the correct location on your device.
The process for doing this varies from device to device, but here are the steps in a generalized form-
✅ First, download these free fire/MAX ZIP files
✅Once you download the APK file, open it from the download section of your browser.
✅Tap it to install. But before that ensure that you enabled the option "Install from unknown sources.
✅You can follow these steps to enable it: Settings > Safety and Privacy > Allow Installation from Unknown Sources.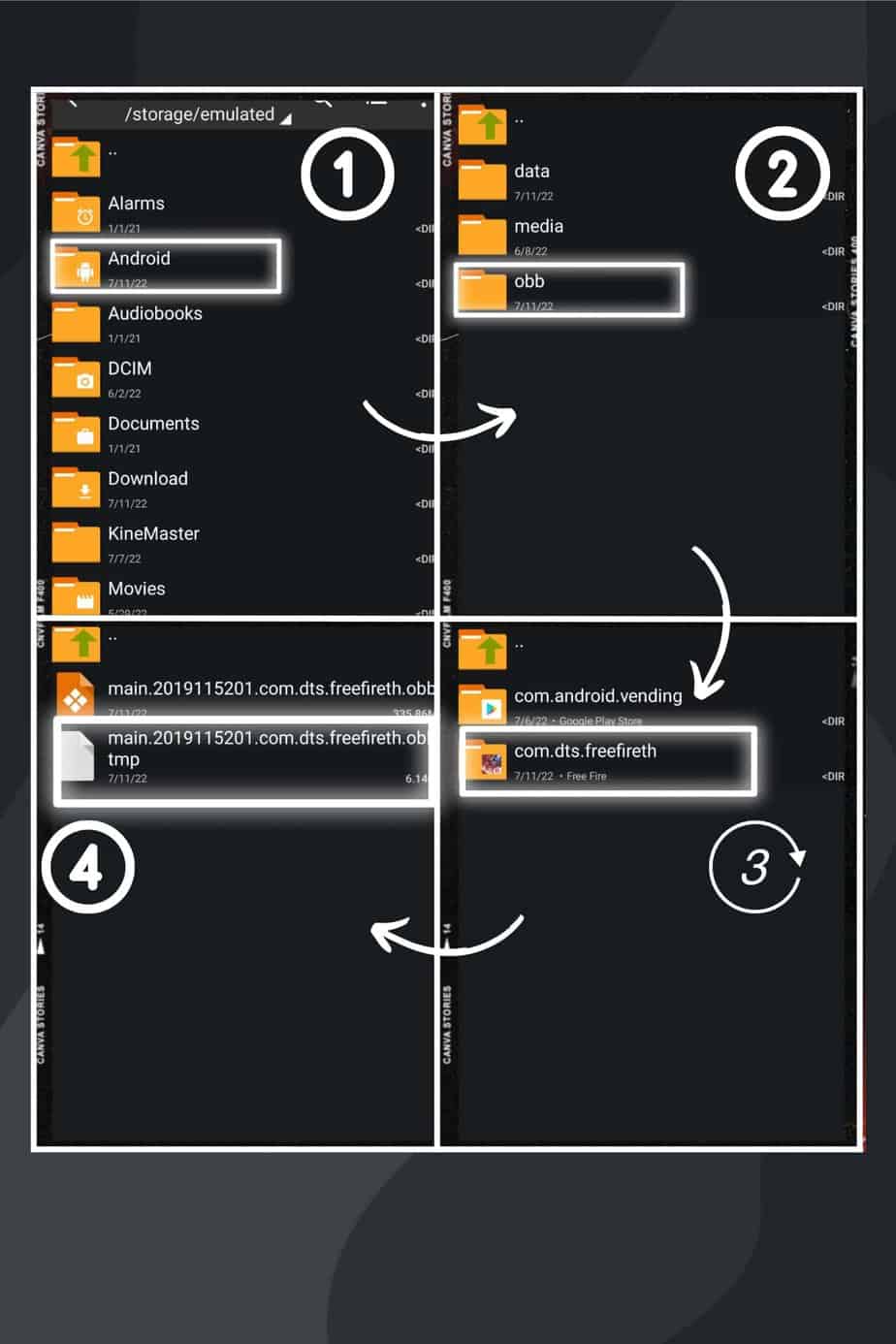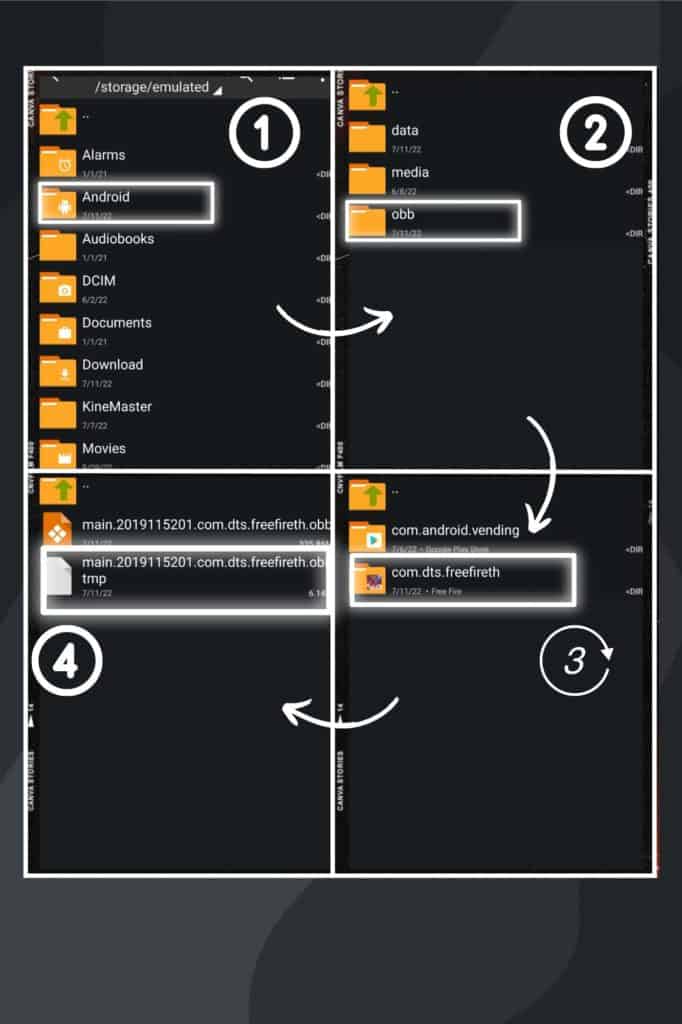 🔴 But the game does not end here. You have only installed the APK. You'll see the icon in the phone menu, but it won't work if you open it.
✅After installing the APK, it's time to download the OBB file and locate it in the correct folder.
✅Before locating the OBB file to the correct path, you need to install a Zarchiver app from the play store.
✅This

Zarchiver

app makes the copy-paste process smoother without any problem
✅Open the

Zarchiver app

and give it the permission
✅Go to the "download folder" where the download free fire OBB file is present.
✅Choose the OBB file and use the "Copy or Cut option"
✅Now go to the "Android folder"
✅Inside this, an "obb file" should be present.
✅Tap it and you will see a file with the name "com.dts.freefireth"
✅Again tap it to open and paste the Copied/Cut OBB file in this folder
That's all, now it's time to open and play your favourite game free fire.
Original

Free fire ZIP files download
You can download the free fire ZIP file, and extract the ZIP file on your device. After unzipping the files you can follow the same steps mentioned above
Note: We always give you the Original Free Fire files. We never promote any illegal modification in file or any ☠️mod apk. We also advise you to stay away from such websites as they can harm your device and put you at any risk
Friends as you know Free Fire app is not available in Playstore India, some say it is banned, So my advice would be not to install or play the game. Instead, Garena has introduced a more improved version of free fire and named it Free fire MAX. You can continue to enjoy the MAX variant since it was not included in the list of prohibited applications.
How to download free Free fire MAX file from playstore
To download Free Fire MAX OB37 from the playstore, simply follow these steps:
1) Open the play store app on your android device.
2) Search for "Garena Free Fire" in the search bar.
3) Select the official "Free Fire" app from the search results.
4) Click the "Install" button to download the game.
5) Once the installation is complete, you can launch the game and start playing!
6) You can directly download the file from here ⬇️
Garena Free Fire MAX is the premium version of Garena Free Fire that offers an upgraded graphics engine and exclusive in-game items. The game was released on September 28, 2021and is available on both iOS and Android platforms.
Some of the key features of Garena Free Fire MAX include:
An upgraded graphics engine that delivers better visuals and an immersive gameplay experience.
Exclusive in-game items that can be bought with diamonds.
A dedicated server for a more stable gaming experience.
What is

Free fire

or Free fire Max game?
So, what is a free fire game? Simply put, it is a mobile game that pits players against each other in an all-out battle royale.
In the free fire game, up to 50 players are dropped onto an island where they must scavenge for weapons and other items in order to survive. The goal is to be the last man standing, and the only way to do this is to eliminate all of your opponents.
With its simple yet addicting gameplay, the free fire game has quickly become one of the most popular mobile games on the market. If you're looking for a new game to play, be sure to check out the free fire game. You won't be disappointed.
Wrapping it up
Everyone knows that Free Fire Max is better than the normal Free Fire in every aspect. Free Fire Max has better graphics so it requires more space and memory to run smoothly. In short, Free Fire Max is suitable for high-end devices.
So those who have a smartphone that does not have high-level specifications, go for the normal Free Fire file. But the problem is that in normal Free Fire you will not get any support or updates in real-time.
As you all know that Free Fire is not available in play store India. So you cannot download the app directly from the playstore.
You will also not get an update notification from the playstore. So you have to do everything manually. If a new update is released, you will need to download the free fire files like OBB and APK from other sources.
Frequently Asked Questions (FAQs)
How to download the free fire ZIP file?
If you are searching for the term "free fire download zip", then you just visit our website Mrtechsonu. You will get the free fire ZIP files
How to install free fire APK + OBB files?
You can first install the APK, then Copy and paste the downloaded OBB files into the Android -> OBB -> com.dts.freefireth and paste them there. You can use Zarchiver if you face any problem