Last Updated on November 1, 2023 by Sagar Kumar Sahu
What this post will give you: These days numerous OTT platforms have come in the market for Television Series and Movies. SonyLiv is one of the most famous platforms. And if you are one who is looking to get a free Sony LIV and want to watch the contents of it for free, then stay tuned. We will tell you all the possible ways that will help you to watch Sony LIV contents for absolutely free.

Summary
The first OTT platform in India was Sony Liv. (OTT refers to an Over-the-top platform). Sony Liv is basically a video-on-demand service offered by Sony Pictures Networks India.
In the streaming space, Sony Liv competes against many other platforms like Netflix, Amazon Prime Video, Hotstar, Zee5, Voot, Discovery, etc.
The best part is here. If you are a student or you want to enjoy the exclusive content of Sony Liv for free and don't want to pay, then this is for you.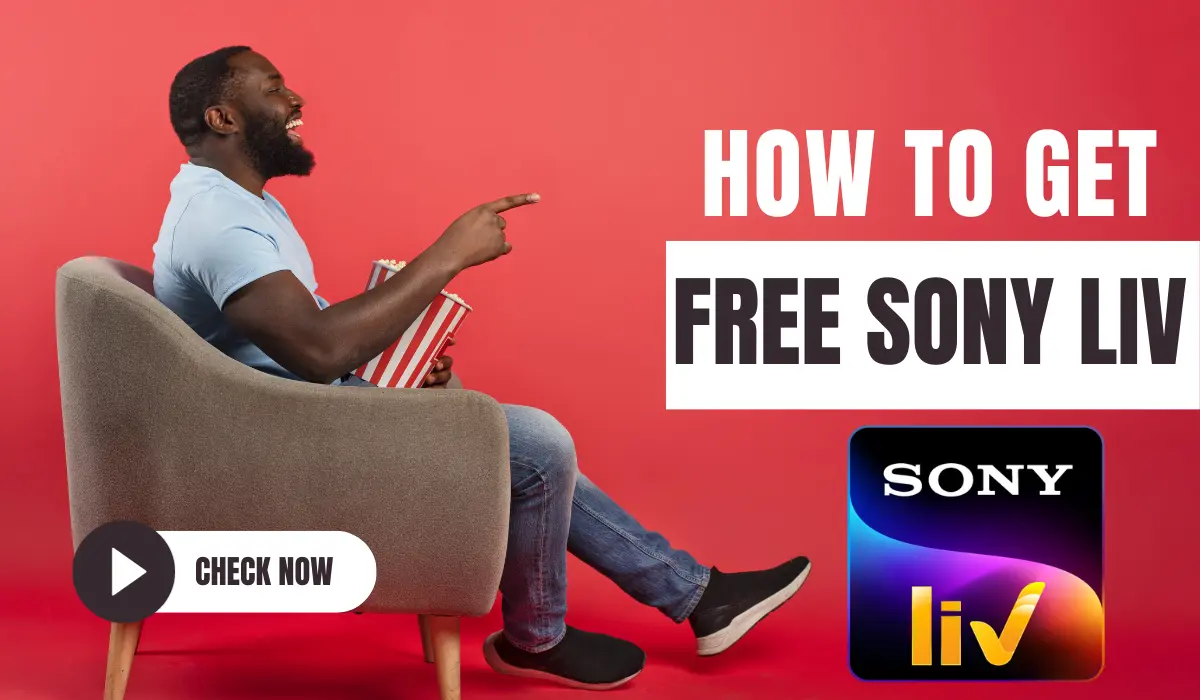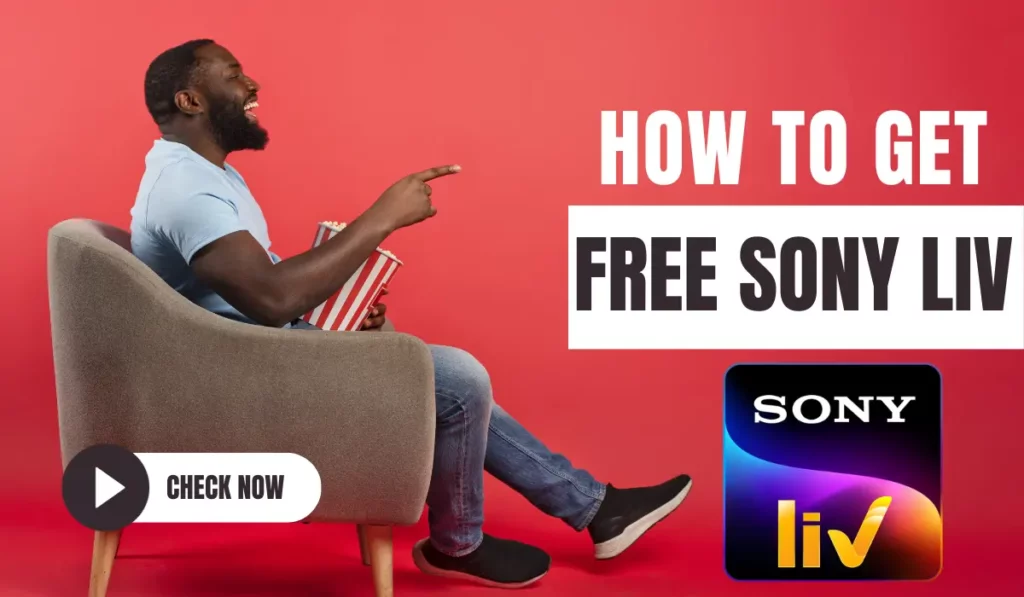 ---
Subscription or Promo Codes for Sony LIV
Considering the growing popularity of the Sony Liv app, many third-party sites come up with voucher codes and discounts for SonyLIV subscriptions, such as Myntra, Ajio, and BigBasket, etc to lure consumers. All you need to do is copy all these codes and use them on the Sony Liv app to get the discount or free pass.
You can find websites that share SonyLIV subscription codes online. With these codes, you can activate a SonyLIV premium subscription for no cost.
Follow these steps to use a free subscription code:
First, open the SonyLIV website and go to the plans page.
On this page, look for a box or space to enter a promo or coupon code.
Copy and paste the free subscription code you have into this box.
Click on Apply to activate the code.
Wait for some time after applying the code.
Your SonyLIV premium subscription will be activated for free with the subscription code.
This is a simple way you can use free subscription codes found online to get SonyLIV premium for zero payment. Just find a working code and enter it correctly on the SonyLIV website to enjoy free access.\
---
For SBI Card Holders
SBI credit card has an offer to get free SonyLIV for 1 year. This is for new Add-on cards from SBI.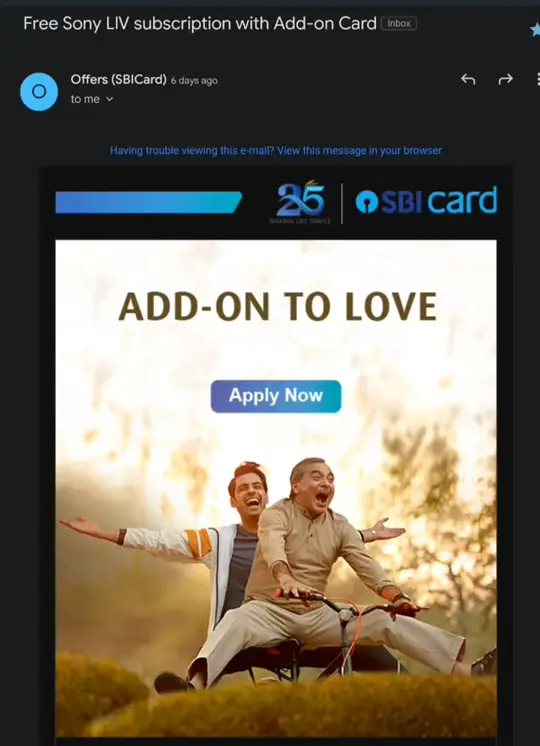 To get this, first, apply for an Add-on card with your SBI credit card.
You can apply on the SBI website or mobile app.
After getting the new Add-on card, you have to spend Rs. 1000 or more in one transaction within 60 days.
This payment can be at a shop or online purchase.

Some transactions like taking cash, balance transfer, draft, etc. will not count for the offer.

This offer is only for people living in India with a valid SBI credit card.

One person can get up to 3 Add-on cards.

Each new card can give 1 year of free SonyLIV.

Once you spend the Rs.1000, you will get a code via SMS or email.
Now go to the SonyLIV website or app and make an account.
Enter this code to activate a 1-year Sony LIV subscription free.
Then you can watch SonyLIV for 1 year without paying any subscription fees.
So in simple words – Get an SBI Add-on card, spend Rs.1000, get a code, and activate on SonyLIV to enjoy 1 year of free access. This is a good offer to get SonyLIV subscription free for SBI card users.
---
Axis Myzone Credit Card
Axis Myzone credit card has also brought an offer to get a 20% instant discount on the SonyLIV annual pack.
To get a discount, first open the SonyLIV app and go to the Subscribe Now section.
Select the 1-year subscription plan.
When making a payment, use an Axis Myzone credit card.
You will get 20% off on the annual pack.
With this card, you can also get other rewards like a SonyLIV subscription worth Rs. 999 and an Amazon voucher of Rs. 500.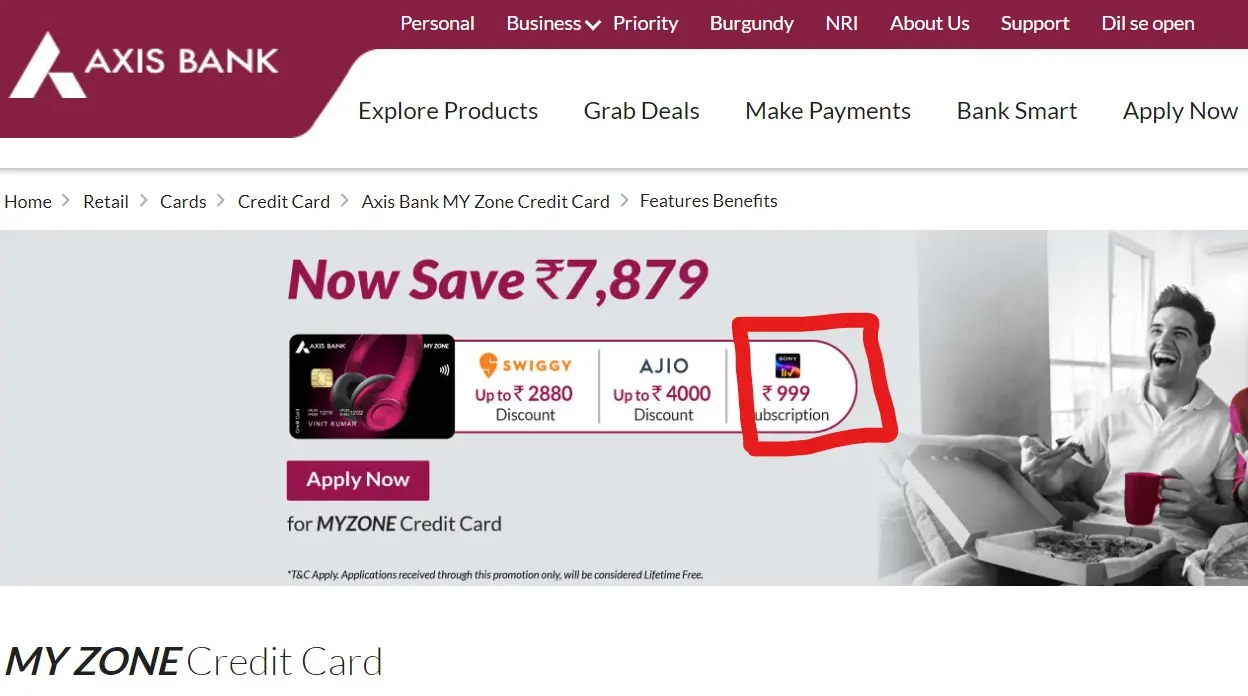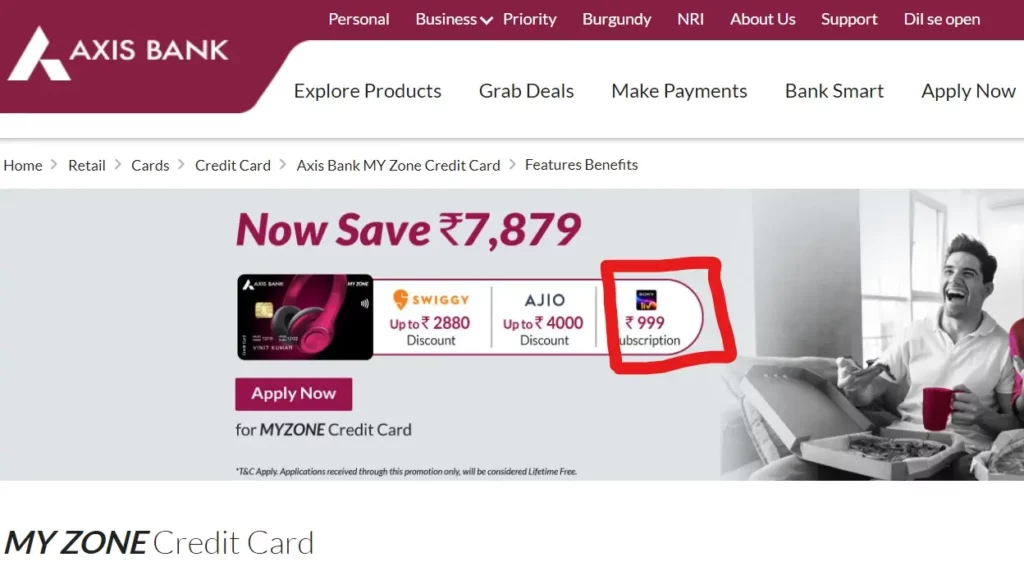 To sum up:
Axis Myzone card – 20% off on SonyLIV annual pack
Use the card to pay for 1 year pack on SonyLIV app
Get discount instantly
The card also gives other rewards
---
Using Amazon Pay
You can use the Amazon pay feature to get offers and discounts on the Sony Liv app. Make the most of this Amazon Pay offer as they are making an entry into the Indian market by offering discounts on one of their favourite OTT platforms. Amazon Pay partners with SonyLIV to give discounts and cashback on subscriptions. Here are some offers: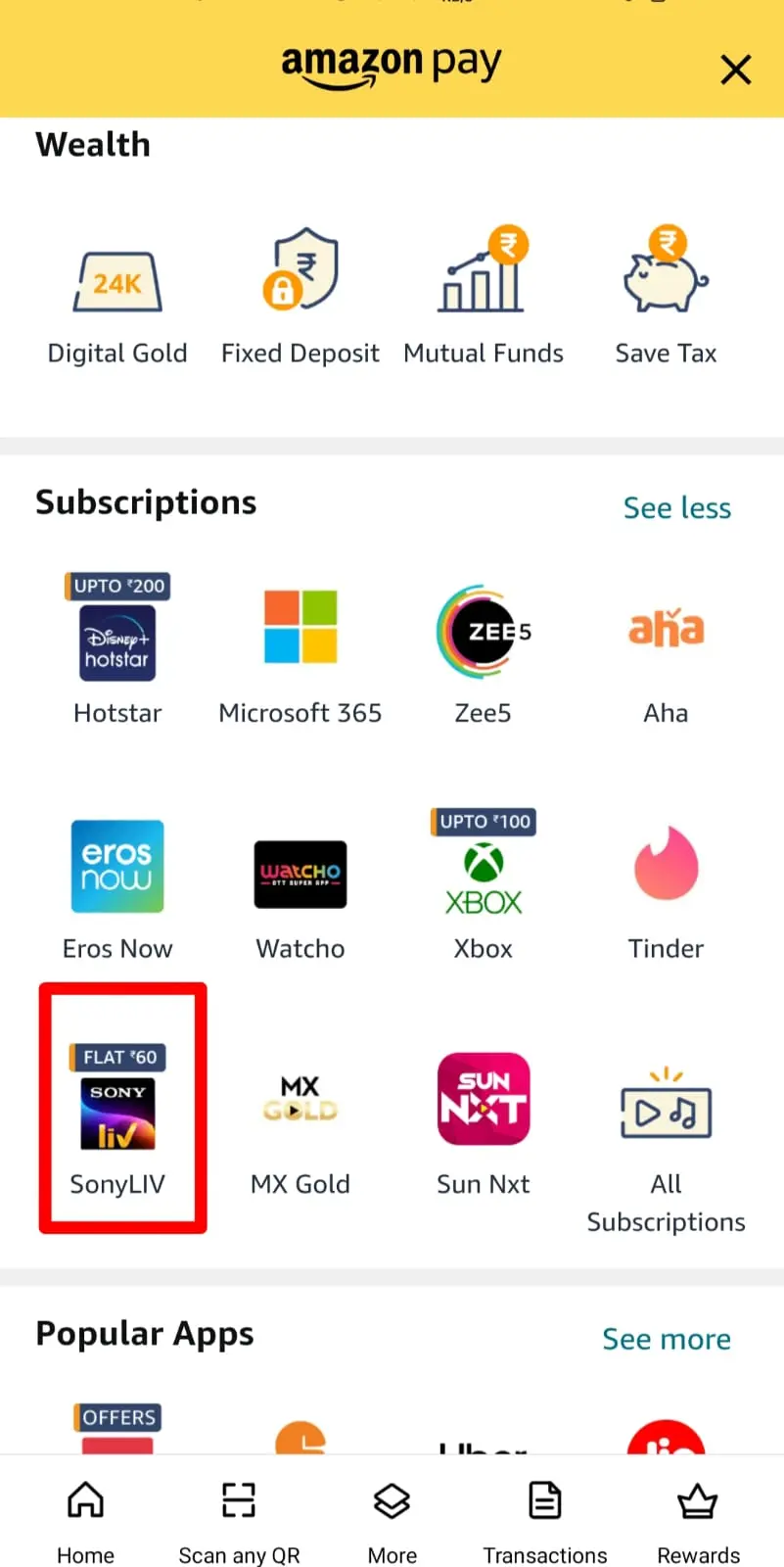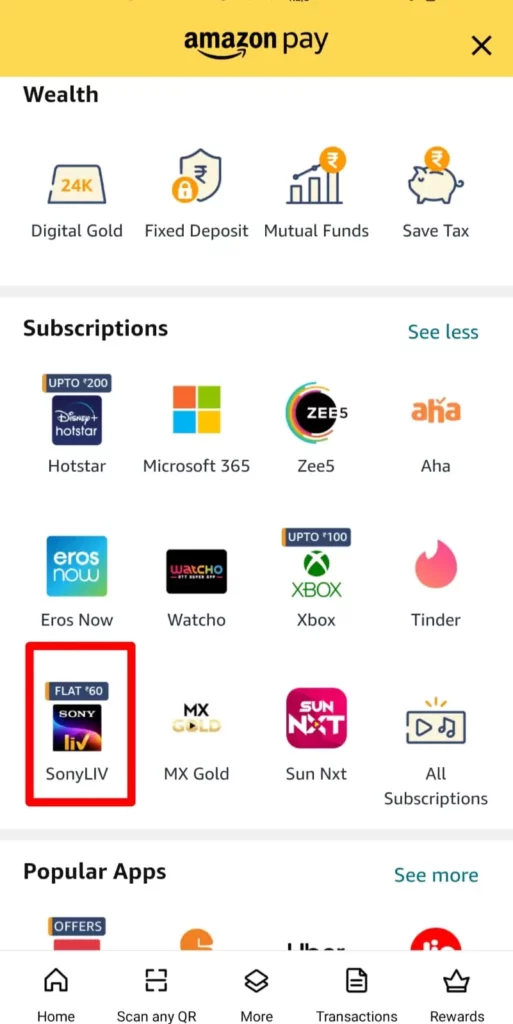 Get up to 15% off on monthly packs when you pay with Amazon Pay on the SonyLIV app.
Get 10% cashback up to Rs 100 on SonyLIV as Amazon Gift Cards.
Get 30% instant cashback up to Rs. 150 for 90 days.
These Amazon Pay offers keep coming all through the year. So you can save on SonyLIV whenever you want to take a subscription.
One more offer is there to get 15% off on the final cart value when using Amazon Pay on SonyLIV.
---
Using PhonePe
PhonePe also has some amazing offers using which you can get free Sony LIV or at a discounted price. Let's know more about this.
PhonePe brings one offer to get ₹50 cashback when you buy a SonyLIV gift card of a minimum ₹999. To get the offer, you need to use BHIM UPI, credit card or debit card on the PhonePe app.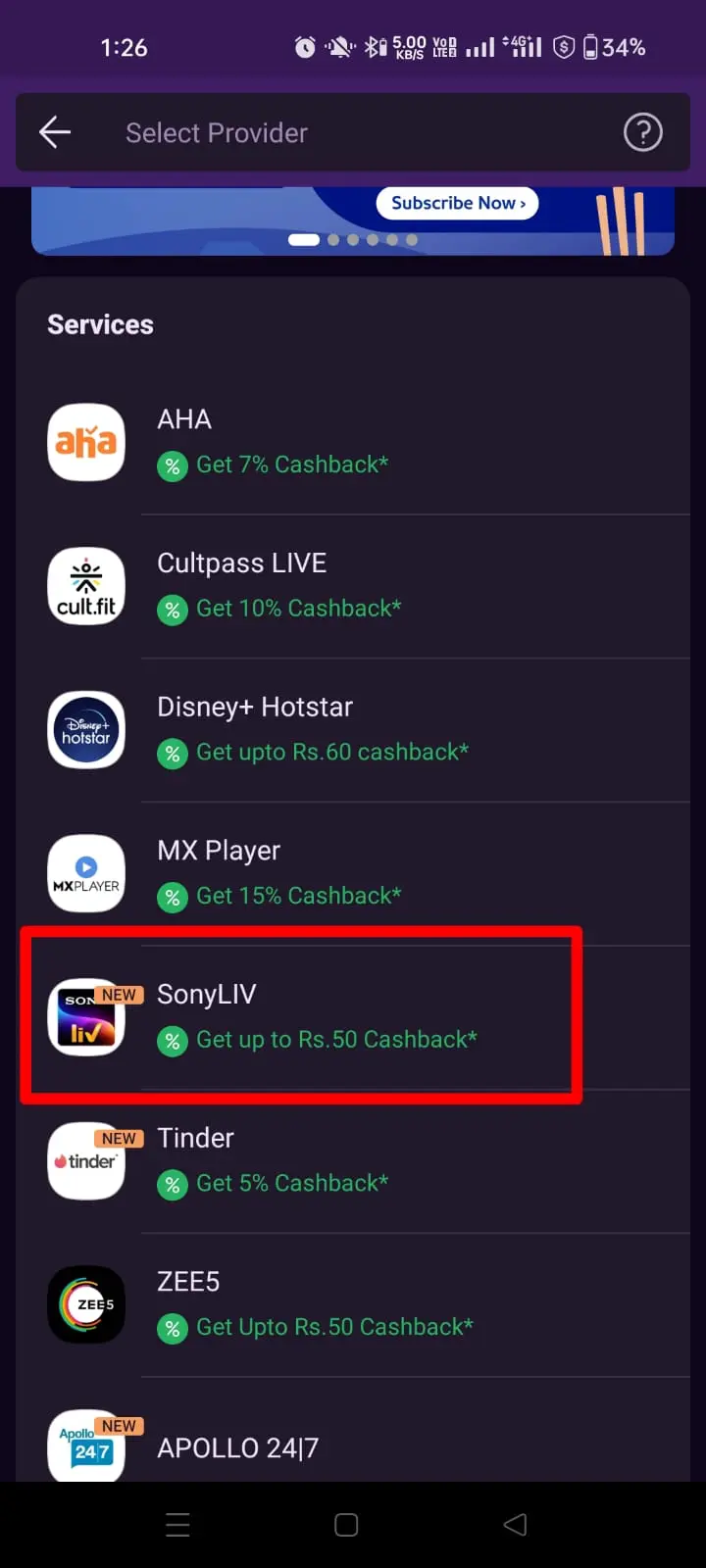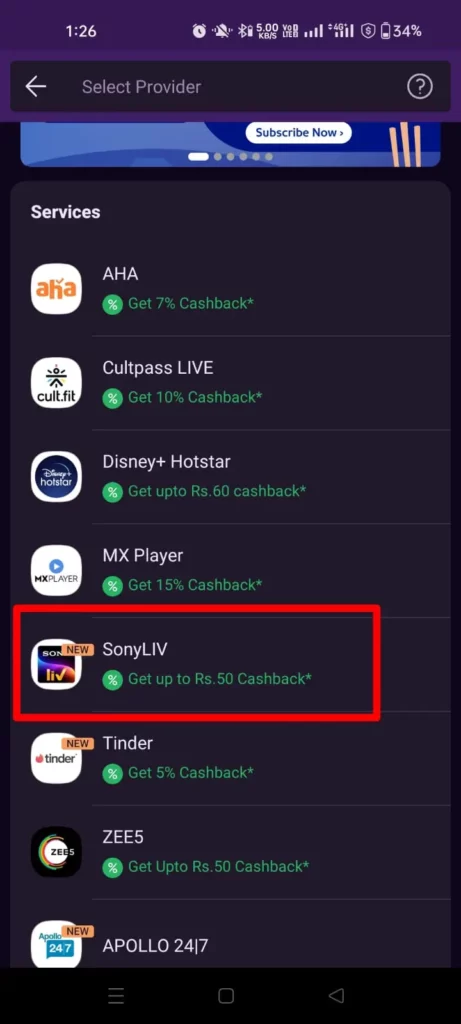 To avail of the offer, first open the PhonePe app and go to the Subscriptions.
Then you will see all the premium OTT platforms, and select SonyLIV.
Enter the amount you want to purchase the gift card for.
Choose payment method UPI or card and click on Buy Now.
You will get the cashback within 24 hours as PhonePe gift card balance.
PhonePe also gives regular offers on SonyLIV with discounts or cashbacks. So keep checking the PhonePe app for new SonyLIV subscription offers.
---
Some Apps that provide multiple OTT platforms at a cheap price
There are many apps in the market that host different OTT platforms including Sony LIV on their single platform. And you get a bunch of apps by paying a very low fee which is 80-90% less than the actual price of the original platform. Let me tell you such about such platforms.
Watcho
OTTPlay: Movies, Shows and OTT
---
Using other similar Payment apps like Mobikwik and freecharge
Here are some simple ways to save or get a free SonyLIV subscription using Mobikwik and Freecharge:
Mobikwik gives 10% cashback when you take the SonyLIV Premium subscription using their app.
The maximum cashback you can get is ₹300.
I think this 10% cashback is a regular offer by Mobikwik for SonyLIV. Because I always see these offers whenever I open the Mobikwik app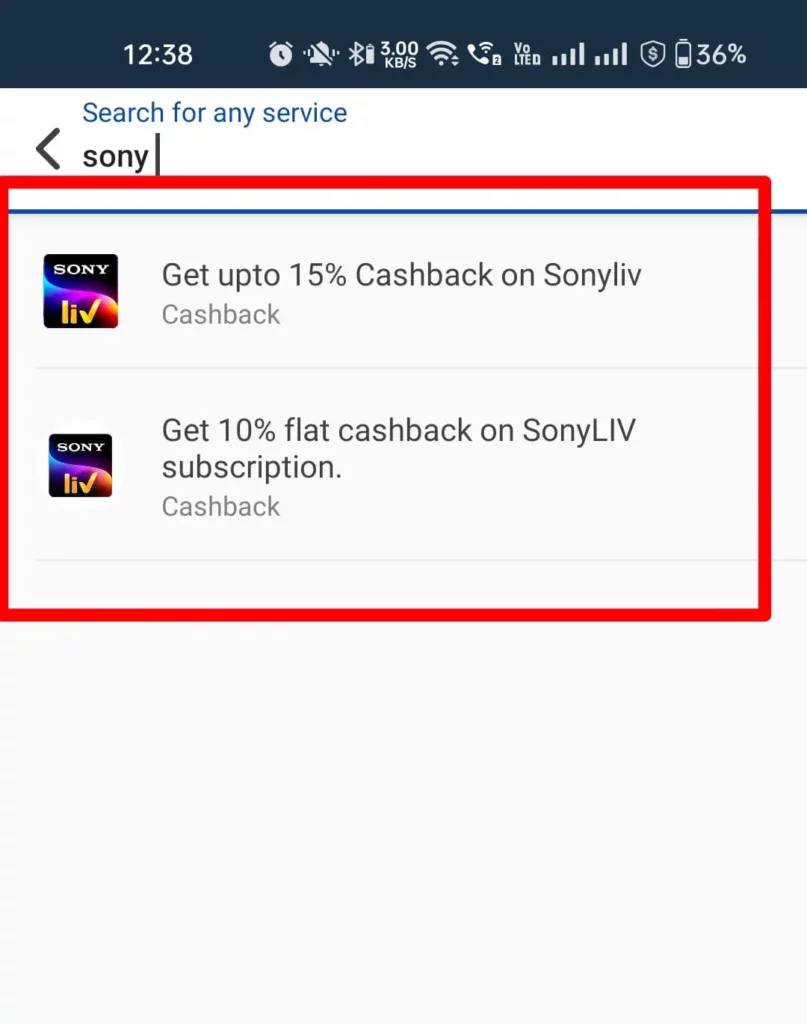 This phone payment platform has too many offers for its customers including a SonyLIV offer too.
Here you get up to 10% cashback on all subscription plans.
The offer will be valid only for Mobikwik Wallet Users.
The coupon code to avail of this offer is available on the website. Check it out
Using an indirect trick in Freecharge you can get a free Sony LIve subscription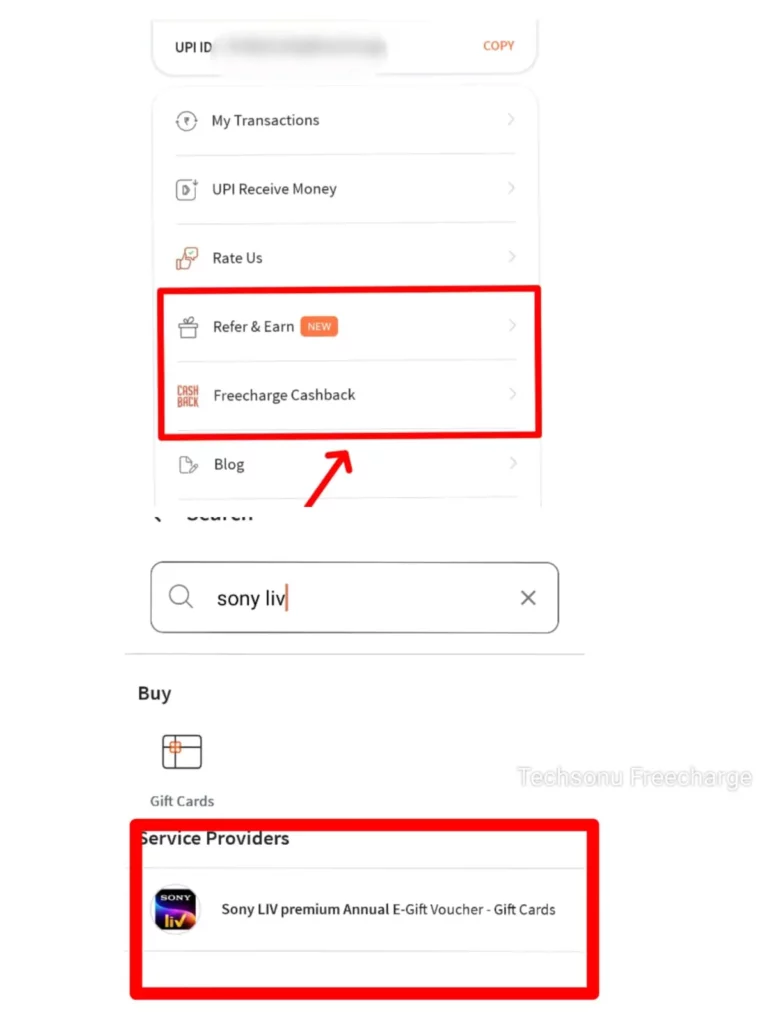 Freecharge has a"Refer and Earn" program to get cashback when you refer friends.
You can earn up to Rs. 5000 cashback through referrals on Freecharge.
Though you cannot get free SonyLIV directly, you can use the cashback you collected by referring friends to pay for the SonyLIV subscription and save money.
---
SonyLIV Free Subscription With Airtel
If you are an Airtel user, you can access the SonyLIV subscription for free. Customers can watch the latest web series, and movies in the SonyLIV app through the Airtel Xstream platform.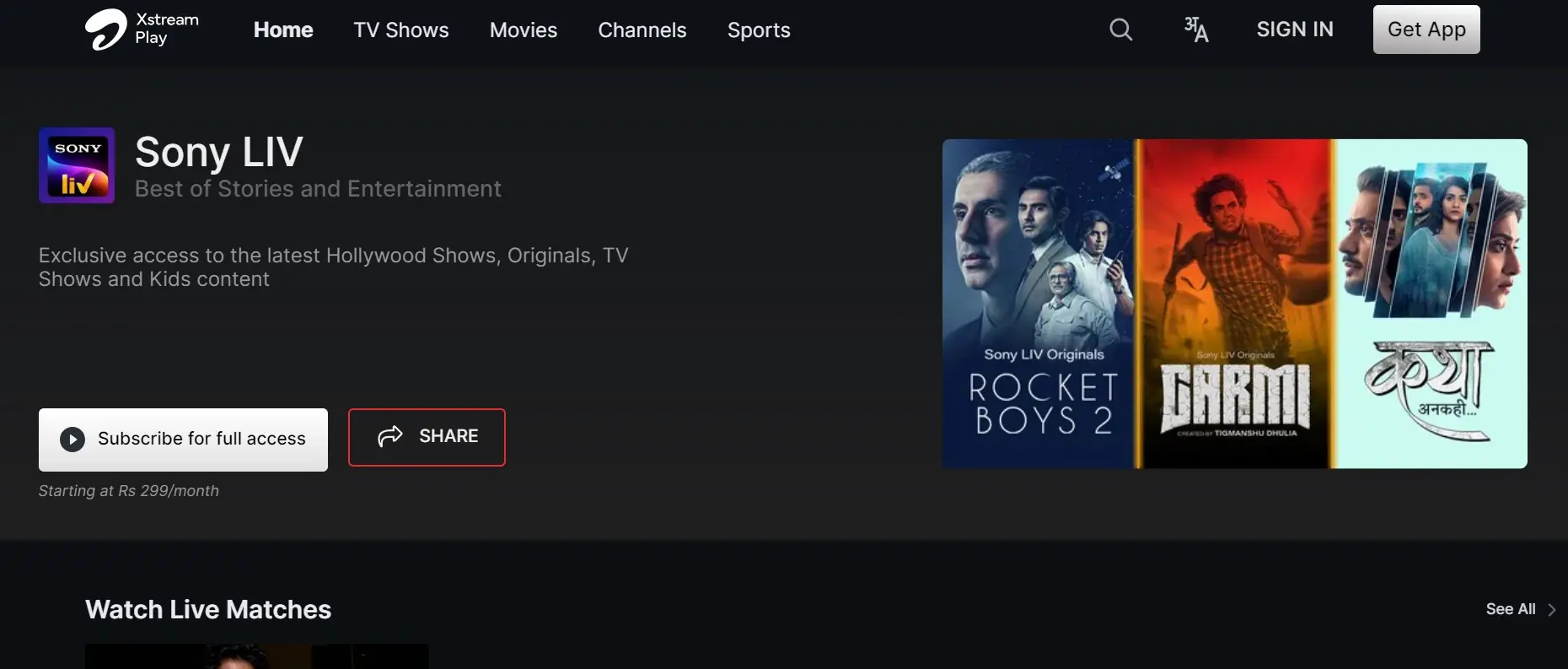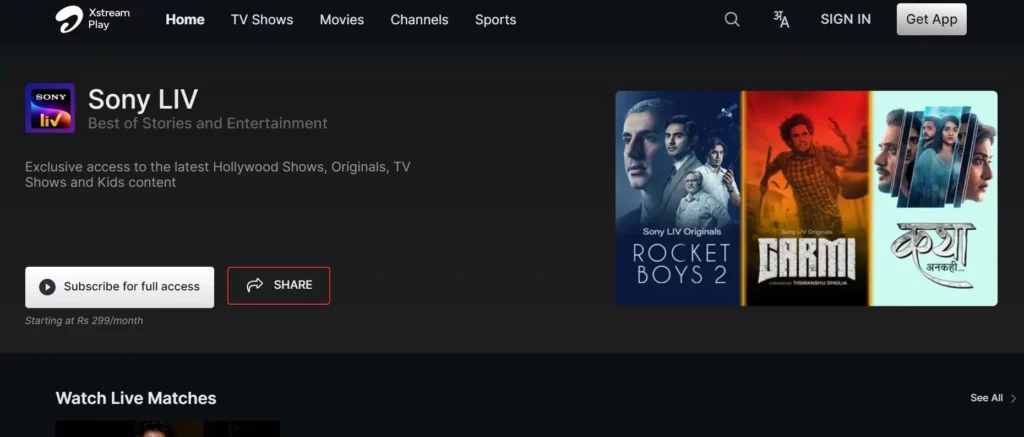 All you need to do is:
Open the Airtel Xstream app.
Log in to the Airtel X stream app with the Airtel number.
Visit the live TV tab on the app.
Enjoy watching content for free.
---
SonyLIV Subscription Free With Jio
Sony LIV Subscription is freely available with Jio fiber, Jio Prepaid and Jio Postpaid
This Subscription is available freely for those users who have an active recharge Jiofiber plan of Rs 599 at least. And good news is that now Jio Prepaid users can also get free Sony Liv Subscriptions with a recharge plan of ₹999 or more.


Follow these steps to get SonyLIV Free Subscription on Jio voucher codes.
Open the Sony Liv app
Log in with a mobile number that is registered with Jio Fiber.
Enter OTP and activate your SonyLIV Free pass.
---
Free Sony LIV using Flipkart Super Coin
Recently, Flipkart revealed that if customers have more than 100 super coins, they can get a free SonyLIV subscription from its platform.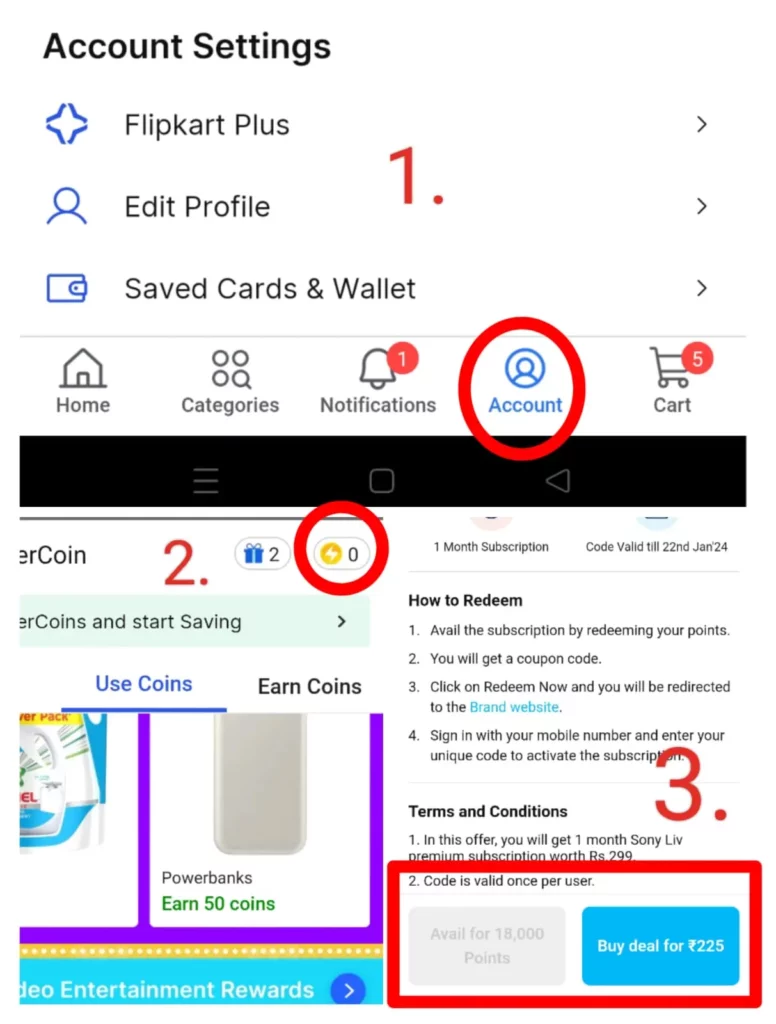 Steps on how to get a free subscription through Flipkart:
Go to the Flipkart Plus membership page and use Super Coins to purchase the SonyLIV subscription.
You can get a Coupon Code in return for the Super coins.
Now go to the SonyLIV app and select the Sony Liv premium pack.
Enter the promo code there and click on "avail offer" to get the discount on the SonyLIV premium pack subscription.
To use the Flipkart coins follow these steps:
Open the Flipkart App
Go to account
Tap on Flipkart super coin located at the top right corner
Now tap on Use coins
Scroll down and tap on SonyLive Subscriptions From 🪙1
---
For Grow App Customers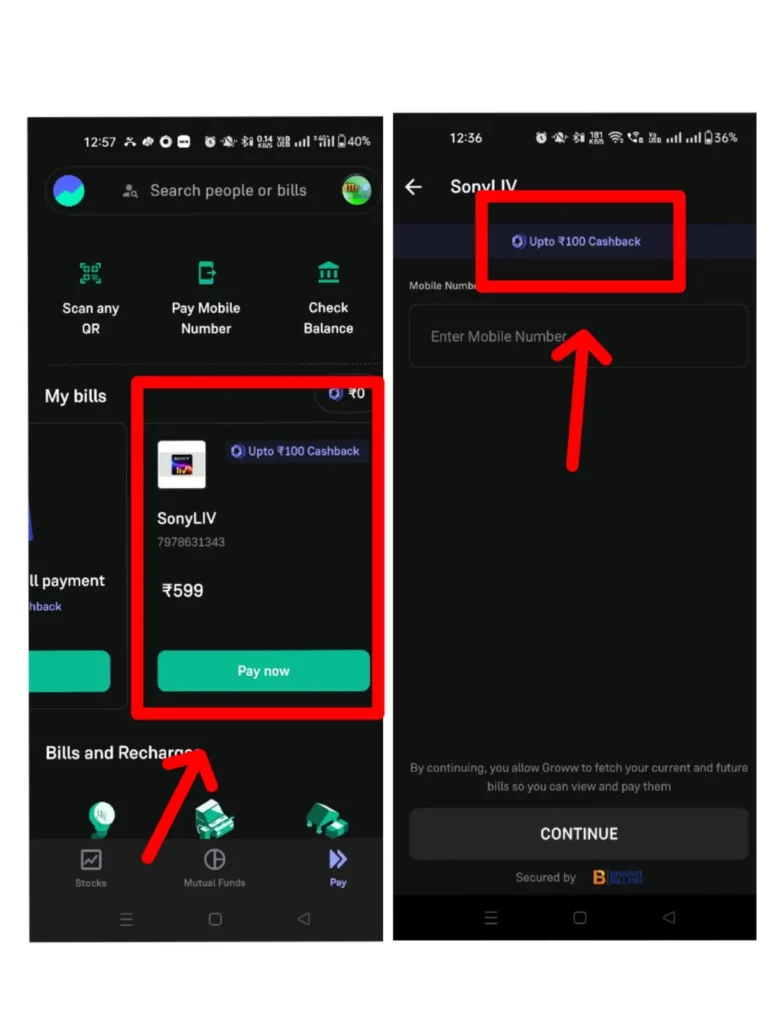 If you are a Grow app user, then you can get a flat ₹100 cashback to your FI account. Just follow these steps to learn how to take benefits of this offer:
Open the Grow app
Tap on Pay which is located at the right bottom corner
Now on the search bar, type Sony LIV.
You can see that the app gives cashback of upto ₹100
Pay using the app UPI to get the cashback
You can also use Grow's Refer and Earn option to collect wallet money and also use the wallet money to purchase Sony Liv for free.
---
Sony LIV free access with Paytm First Offer
Paytm also has a special offer where its customers can get free membership of the SonyLIV app after purchasing Paytm from its platform for the first time.
Paytm's First membership offer comes at Rs 899 for six months. In this, you will get six months of premium subscription to the SonyLIV app worth Rs 699. So with this affordable plan, you can watch live streaming such as UEFA, sports, The Kapil Sharma Show, scam 1992 etc.
---
For regular Paytm users
Trick 1
All the Paytm users can take advantage of amazing offers where you can get discounts as well as a free way to get free access to Sony LIV.
Actually, Paytm gives a very good discount of upto 40% on the subscription to Sony LIV. So you can avail of this offer and save a huge part of your money. You can refer to the below table to learn about the discount amount:
| Original Price | Discount | Paytm Price |
| --- | --- | --- |
| ₹599 | 40% Off | ₹239 |
| ₹699 | — | ₹489 |
| ₹299 | — | ₹209 |
But there is also a way where you can get a free Sony LIV subscription by using a small and indirect trick. The trick here is that you will find many free Paytm money-earning apps, which help you get real money with little or no time spent. You can use those apps, collect money from Paytm and then use it to get Sony LIV for free.
Trick 2
Paytm offers a wonderful opportunity to its users to redeem accumulated cashback points for popular subscriptions including Sony LIV. This way, you can enjoy your favourite shows and movies on Sony LIV without spending extra money.
Steps to Redeem Paytm Points for Sony LIV Subscription: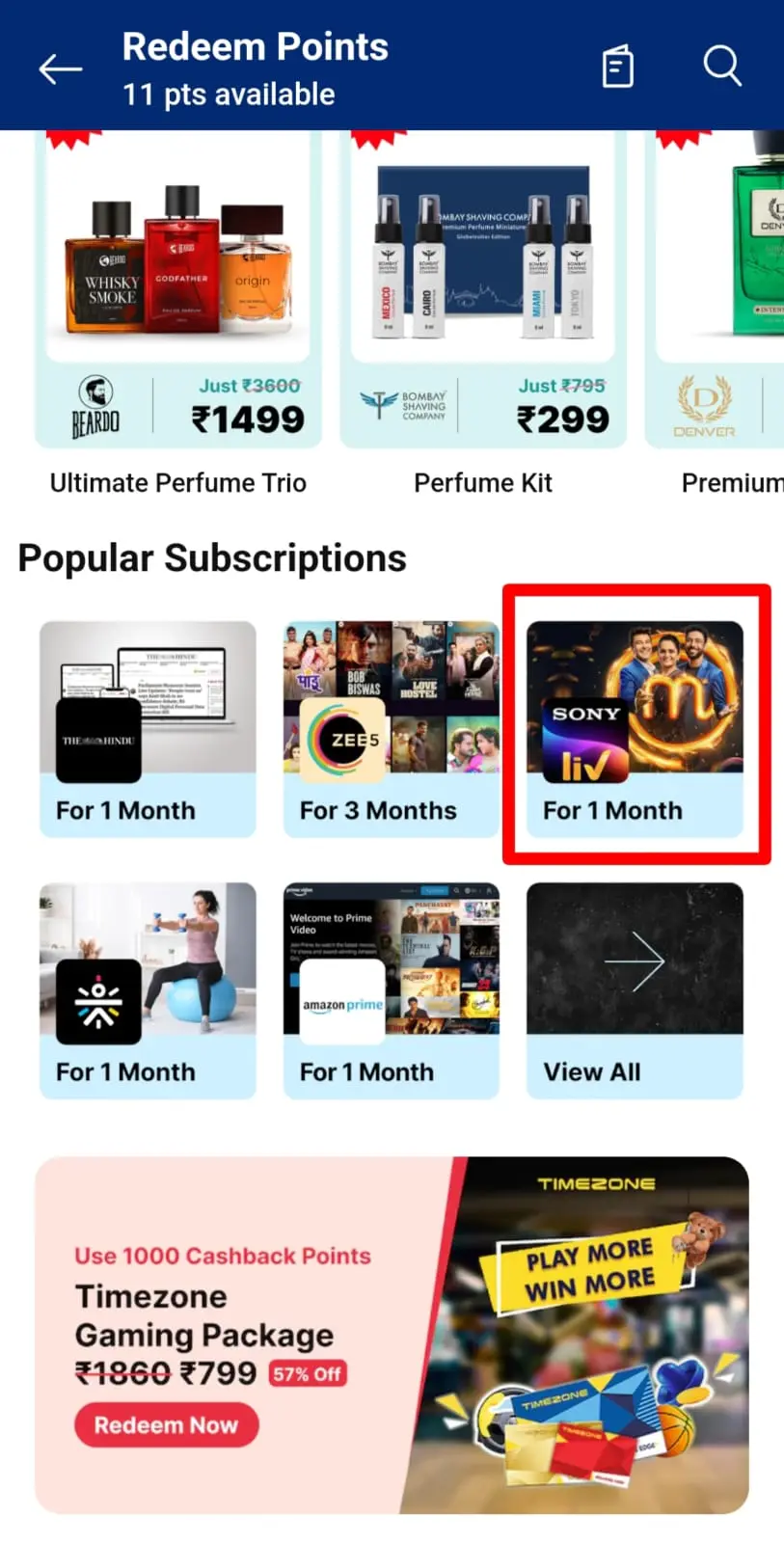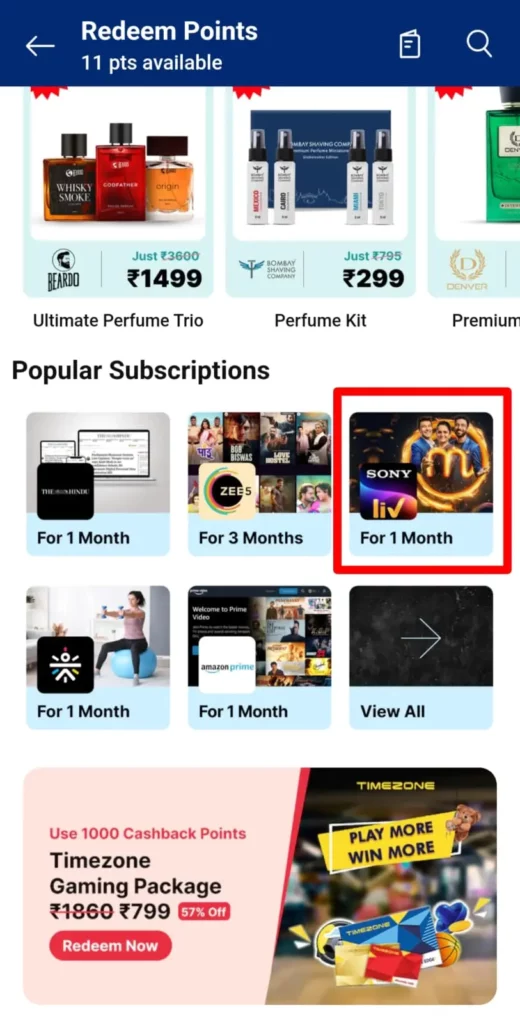 Open your Paytm app and navigate to the "Cashbacks and Offers" section.
Tap on the cashback points option to view your accumulated points.
Scroll down to find the "Popular Subscriptions" section.
Within this section, tap on the Sony LIV option for a 1-month subscription.
If you don't have enough points, some amount will be used from points and the rest paid from your linked bank account. The redemption rate for points may change, so you have to check the details before redeeming.
---
Free SonyLIV with Myntra Offer
Myntra is a renowned online fashion brand with a variety of the most style-oriented designs in apparel. Here you get a flat 10% off up to Rs.999 on a minimum spend of Rs. 999 on select styles on Myntra after purchasing the SonyLIV Annual subscription.
Here you get 10% off up to Rs. 999 on an annual subscription plan.
The offer remains valid after purchasing Rs. 999 worth of items on Myntra.
You get the coupon after purchasing the SonyLIV annual subscription.
---
SonyLIV Times Prime Offer
You are getting a membership offer for free to enjoy your favourite content on the Sony Liv app.
You will be eligible for the SonyLiv Times Prime offer when you register for the Times Prime membership. Only Times Prime members can avail of this offer to get 6 months of free subscription. You just need a credit card with a Visa signature to take the benefit of a free Sony LIV subscription.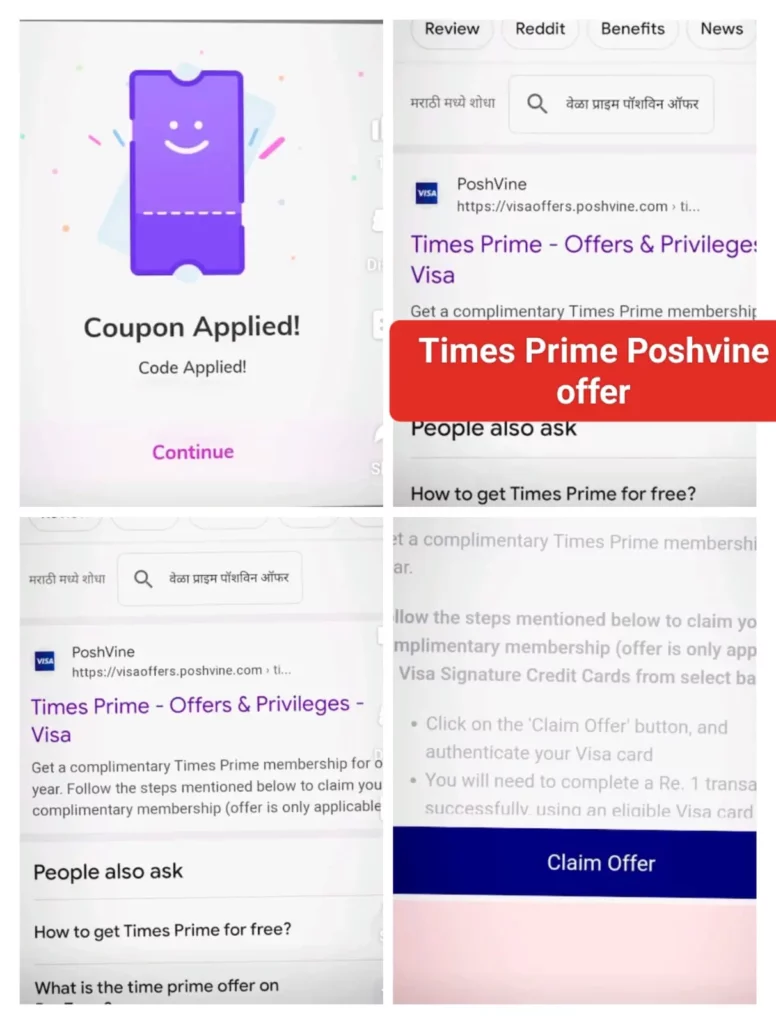 Go to Google and type " Times Prime Poshvine offer"
Click on the 1st website
Now click on Claim Offer
Enter the credit card details
It will then debit Rs.1 from the account and after this, you will see a voucher code
Now simply redeem the code by visiting the Times Prime website and enter the voucher code that you got using the credit card.
After this, you will get 18+ platforms including Sony LIV for absolutely free
---
Sony LIV MOD, Why should you avoid it?
SonyLIV MOD APKs are changed versions that remove the security of the app. This can put your personal information in danger. These changed versions may also contain viruses that can damage your phone or steal your private data.
Also, you should note that using MOD APKs is illegal as per SonyLIV rules. It is also not ethical. It stops SonyLIV and creators from earning the money they should get. This money helps them make more shows and movies.
If you use MOD APKs, your SonyLIV account can get banned permanently. You can also face legal problems.
So why take the risk and put yourself in trouble just to watch free content for some temporary period? It is always better to use the official SonyLIV app and website. It keeps your device and information secure.
---
Why choose Sony Liv
Sony LIV provides access to 18 years worth of material from Sony Entertainment Network networks.

This adds up to over 700 films and over 40,000 hours of television content in Hindi, English, Telugu, and Tamil

While its catalogue is not as loaded as its competitor platforms, it has managed to set itself apart by offering sports content, including WWE, UFC, the UEFA Champions League, and other sporting events
Apart from that it also offers original TV shows, movies, and live telecast of Sony and SAB TV shows which includes popular shows like The Kapil Sharma Show, Taarak Mehta Ka Ulta Chashma, and so on.
The platform offers exclusive content web series such as Scam 1992:The Harshad Mehta Story, Rocket Boys, Undekhi, Gullak and much more.
Sony Liv is the media streaming platform of the broadcast network Multi Screen Media (MSM), and it offers more than 5,000 hours of content across different genres in different languages.

The service is available in India and Pakistan, and they also plan to expand to other countries over time. Sony Liv's app downloads exceed 109 million, and users view over 25 million videos on a monthly basis across all the channels.

Sony Liv app is available to download both on Google Play Store for Android and App Store for iOS users. The Sony Liv app also supports web browsers and a number of smart TVs out there including LG's WebOS. Sony Liv app is also available for Amazon Fire Stick.
You can stream KIDS content and get the chance to play along with KBC.
---
How to download the Sony Liv app
Do find and install the Sony Liv app from the Play Store.
Now register in the Sony Liv app and log in.
Type in your phone number, and email address, and then click Proceed.
Enter the OTP that was sent to your registered phone number and click on Sign In.
After successfully registering, you can choose your monthly subscription pack.
Select your preferred package after knowing the one that suits you ideally.
We are mentioning the features of each package and it will help to find out your perfect pack.
---
Sony LIV Plans

Sony Liv premium plan:
Sony Liv premium plan is available with monthly, semi-annual, and annual memberships.
These memberships come with pretty similar benefits and a wide catalogue of content, including live sports, TV channels, Sony Liv original TV shows and movies and web series like Scam 1992 etc and Hollywood movies.
However, the yearly and six-month memberships support two screens in tandem, whereas the Sony Liv Premium monthly membership allows just one screen at a time.
This plan also supports offline downloads, up to five profiles, and no ads (except live streams). Premium monthly membership is priced at Rs 299, whereas the yearly and six-month memberships are priced at Rs 699 and Rs 999 respectively.
Sony Liv WWE plan:
As the name suggests, the plan is specially made for WWE fans. Priced at Rs 399 a year, the Sony Liv WWE network plan comprises Live WWE matches, NXT, and PPVs, unrestricted access to the entire WWE library, and exclusive WWE series, documentaries, biographies and much more. Great for children into WWE.
Sony Liv mobile only:
After talks with Vodafone Idea (Vi) users, Sony has announced the mobile-only facility for all. The Sony Liv mobile-only subscription, as the name suggests, allows the subscribers to stream the OTT content on a mobile screen. It doesn't offer support for laptops and smart TVs, exclusively for mobile phones. The Sony Liv Mobile-only plan is priced in India at Rs 599 per year.
Prepaid Vi users can get this subscription plan with a Rs 82 prepaid data pack, which also offers 4GB of high-speed internet. Thus, the pack offers a monthly subscription to the Sony Liv Mobile-only plan.
| | | |
| --- | --- | --- |
| Sony Liv's free plan | No. Of screen | Plan Name |
| Sony Liv free plan | No limit | Not applicable |
| Sony Liv premium plan | Two concurrent screen | Rs 299/ month — Rs 699/ six months — Rs 999/ year |
| Sony Liv WWE plan | Single screen | Rs. 299 per year |
| Sony Liv Mobile only | Single screen | Rs. 599 per year |
Can you upgrade to the Sony Liv plan?
Yes, you can upgrade from one plan to a better plan by paying the residual sum after deducting the current subscription plan's amount.
Can the Sony Liv subscription be cancelled?
Yes, it can be easily cancelled. Just follow these steps:
Log in to the Sony Liv app
Find an option of "My account" and there you'll find 'My purchase' in it.
Click on 'Cancel' from the same screen to cancel your Sony Liv subscription and your amount will not be deducted
Some More Frequently Asked Questions (FAQs)
Can you download Sony Liv content?

Answer: If it's not a live show, you can download and save every Sony Liv content on your device.
Does Sony Liv offer ads?

Answer: The streaming service shows ads to customers only in live sports and TV and with the Sony Liv Special monthly plan. Apart from that all other content is completely ad-free.
Is the Sony Liv subscription refundable?

Answer: Not really. The payment once made will not be refunded.