Last Updated on September 23, 2023 by Sagar Kumar Sahu
If you are running out of data or exhausted the daily data limit, then you must be looking for ways to get an Airtel data loan or get now pay later option. You are at the correct place if you are one of them. Let's know how to get a data loan in Airtel. We will mention some working methods for you.
Eligibility to get Data loan in Airtel
Airtel provides instant data loans to its prepaid users. But there are some criteria to be fulfilled to get the data loan from Airtel –
To get the data loan, one must have an Airtel number working for a minimum of three months. In other respects, the eligibility will not be fulfilled.
A service fee is charged to activate the data loan.
To get the data loan, there should be no unpaid balance in the prepaid account.
The data gained from the loan will not be functional after 2 days. As the data expires within 2 days, even if it is not used. Also, the data is not transferable to others.
Ways to get the data loan
| | |
| --- | --- |
| Data Loan | Number/Code |
| Number | 52141 or 121 |
| USSD Code | *141*567# or *144*10# or *121*567# |
We have tried all these methods, but they seem to be not working. We have dialled the number 52142 by using different Airtel mobile numbers, but the phone was getting disconnected every time. Earlier there was an option to get the Airtel data loan, which gave 50-80MB of data for ₹27.
However, Airtel is planning to come up with a new option for the Airtel Emergency Data Loan service very soon. Although the service is not working at the moment, we are publishing this blog post, it may work in future. It is because the data loan in the Airtel feature is helpful in an urgent situation when the data balance is critically low, preventing users from making or receiving calls or connecting to the Internet.
You can try these steps to check if you are getting the data loan in Airtel or not. And Don't worry we have many free tricks to get Free Airtel Internet. Just keep scrolling down and we will let you know some indirect ways to use the internet for free
To get the loan, one must follow the prescribed steps by the service providers. The steps are listed below.
Data Loan in Airtel Using the Airtel number Dial method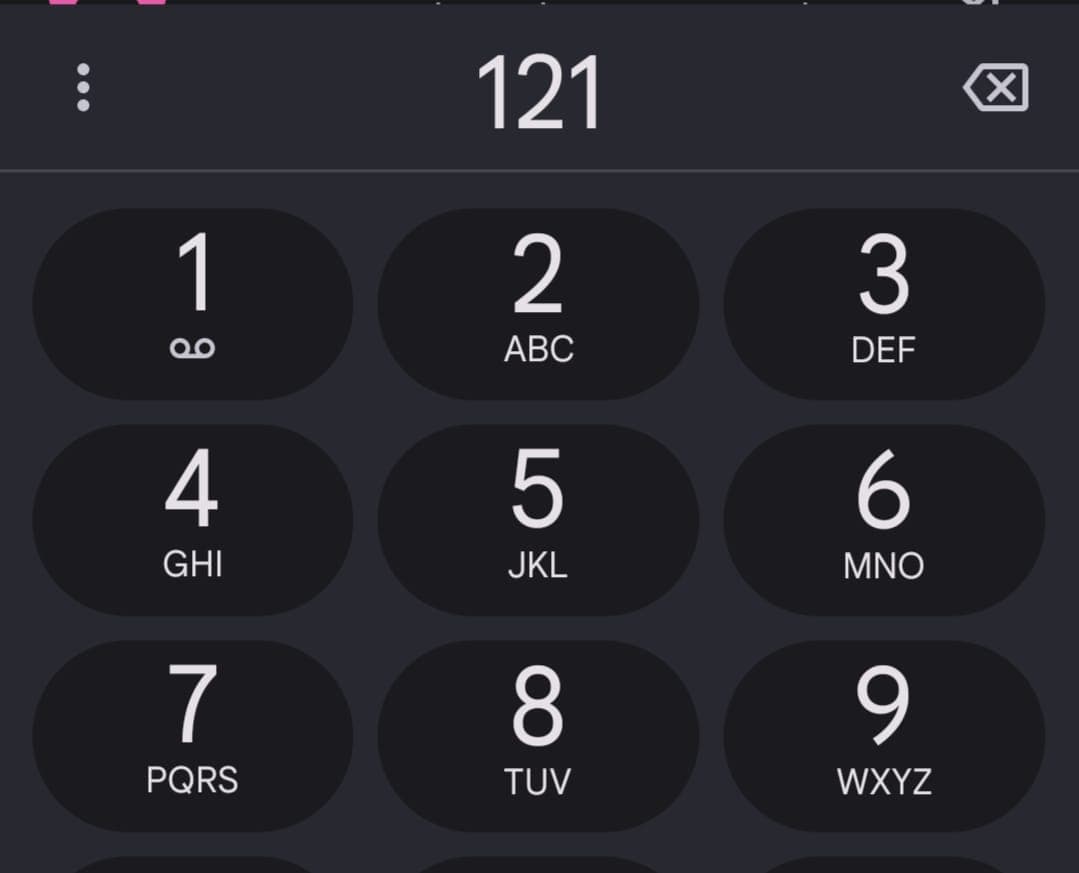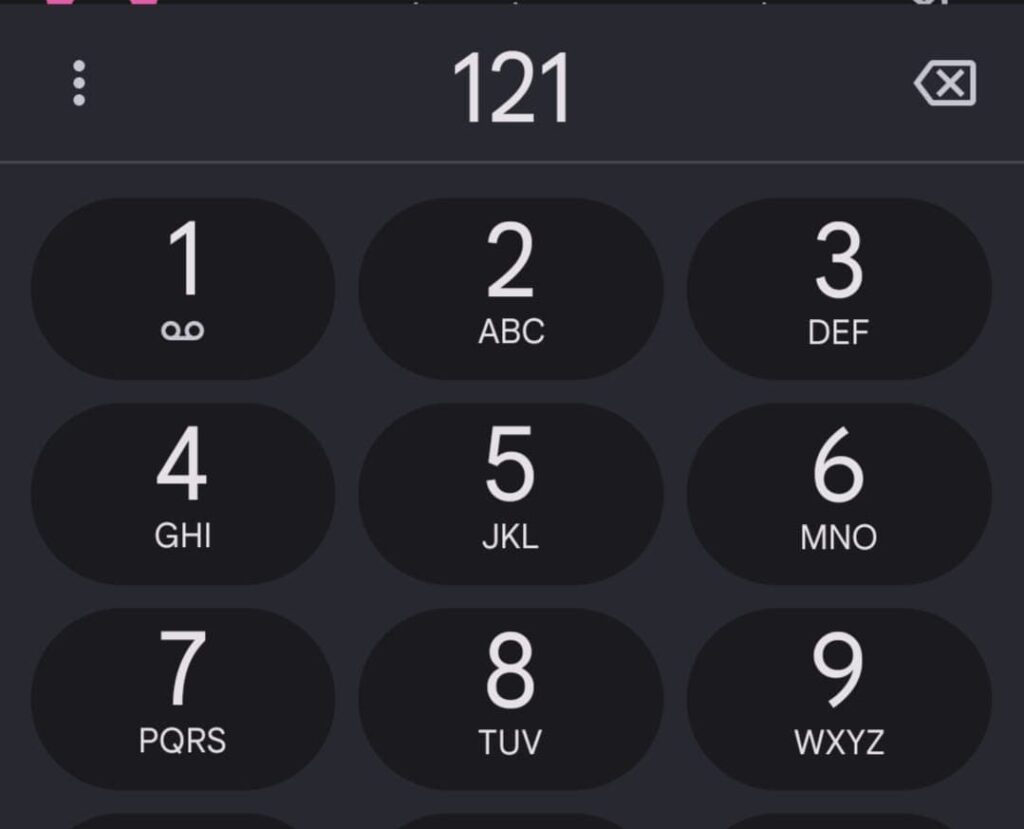 You can contact Airtel customer care by dialling 121 and verify your eligibility for Airtel Data Loan:
Dial 121 from your Airtel mobile number.
You will be asked to choose the preferred language. you can choose your local language
Listen to the IVR menu carefully and select the option to speak with a customer care executive.
Once you are connected with a customer care executive, ask them to check if your Airtel number is eligible for Airtel Data Loan or not.
If you are eligible for Data Loan in Airtel, the customer care executive will help you with how to avail of the loan.
But for a smooth reminder let us tell you, this data loan facility is currently unavailable. You can ask the customer care executive about when this facility will be made Live.
You can also try this number –

52141
Airtel Data Loan using Airtel App
If you are an Airtel user, you must have installed the Airtel App on your device. If you have not installed it yet you should install it to enjoy the exclusive benefits of Airtel including the Airtel data loan feature. Currently, the app doesn't have this option to provide data loans. But it will be shown on the app once the feature starts rolling out.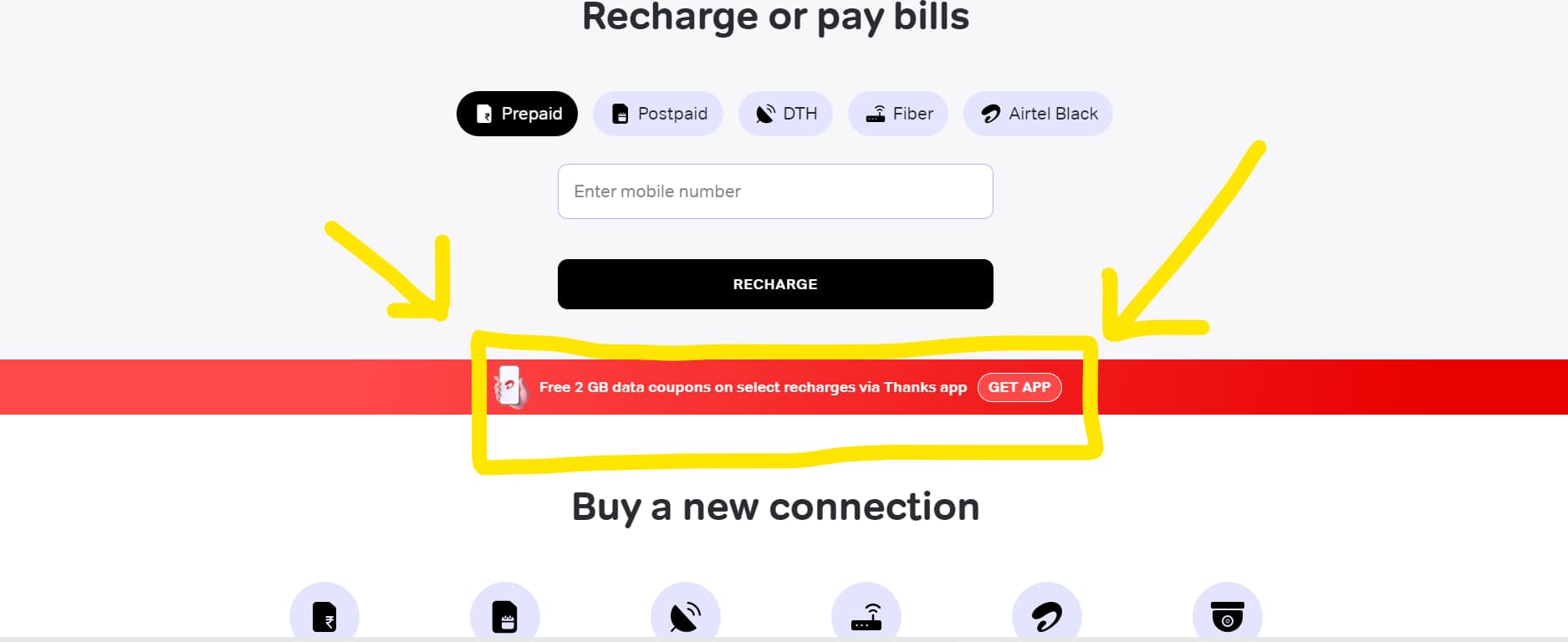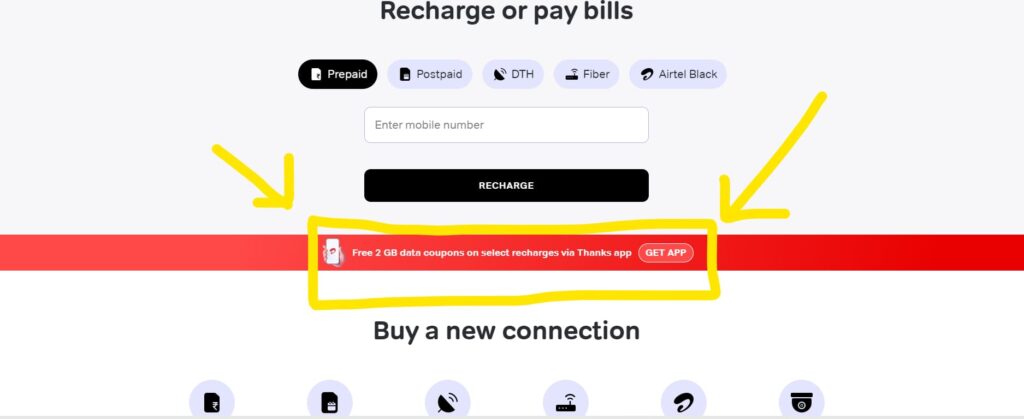 Otherwise, there is another way where you can get free Airtel data without looking for any data loan option.
Open the app, now go to Your rewards section
In the image below, you can see we have collected 2 1Gb rewards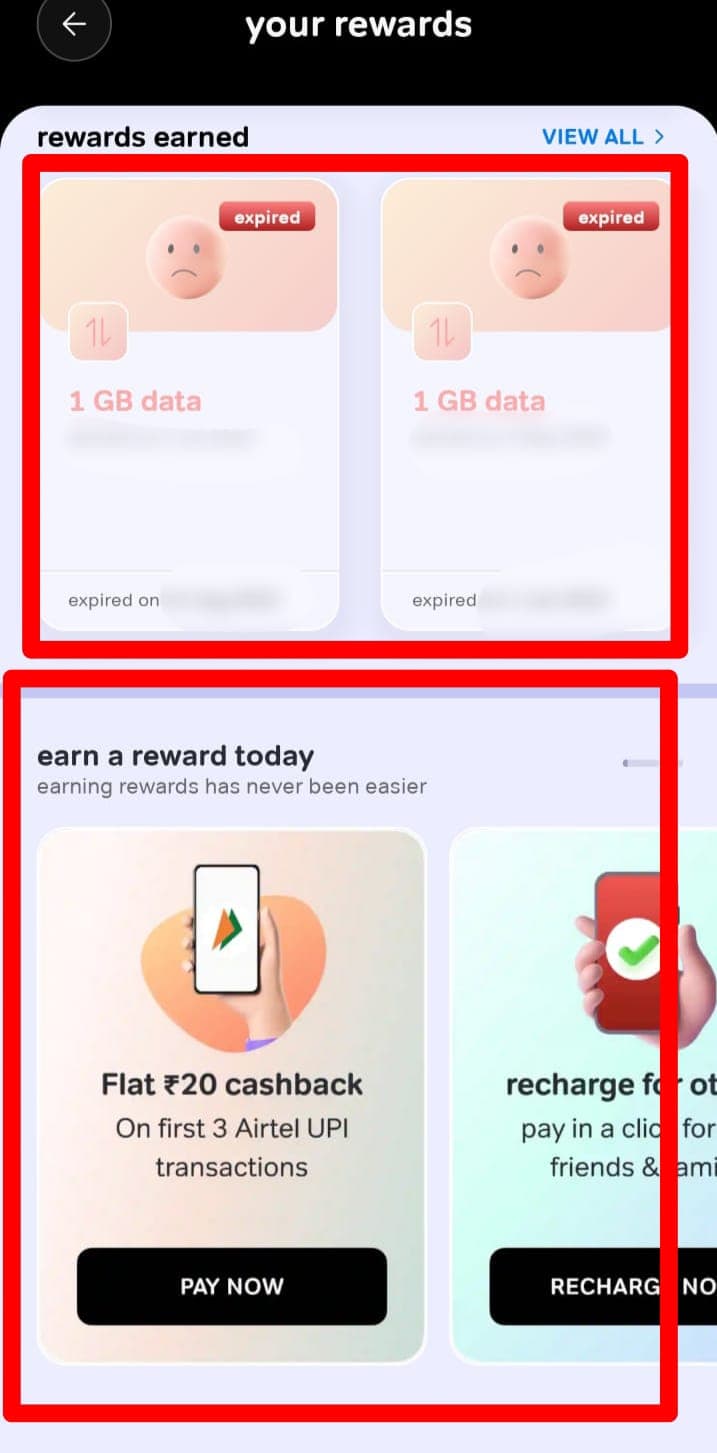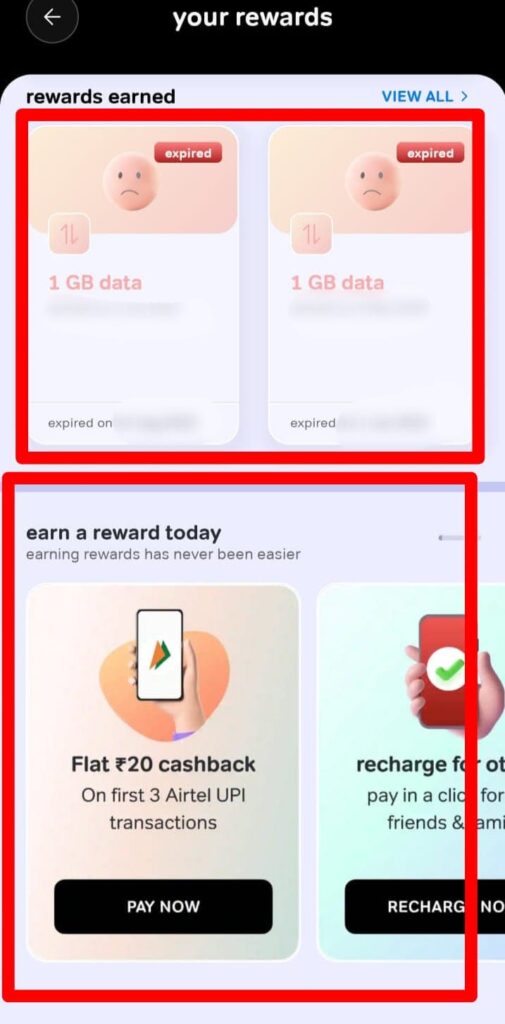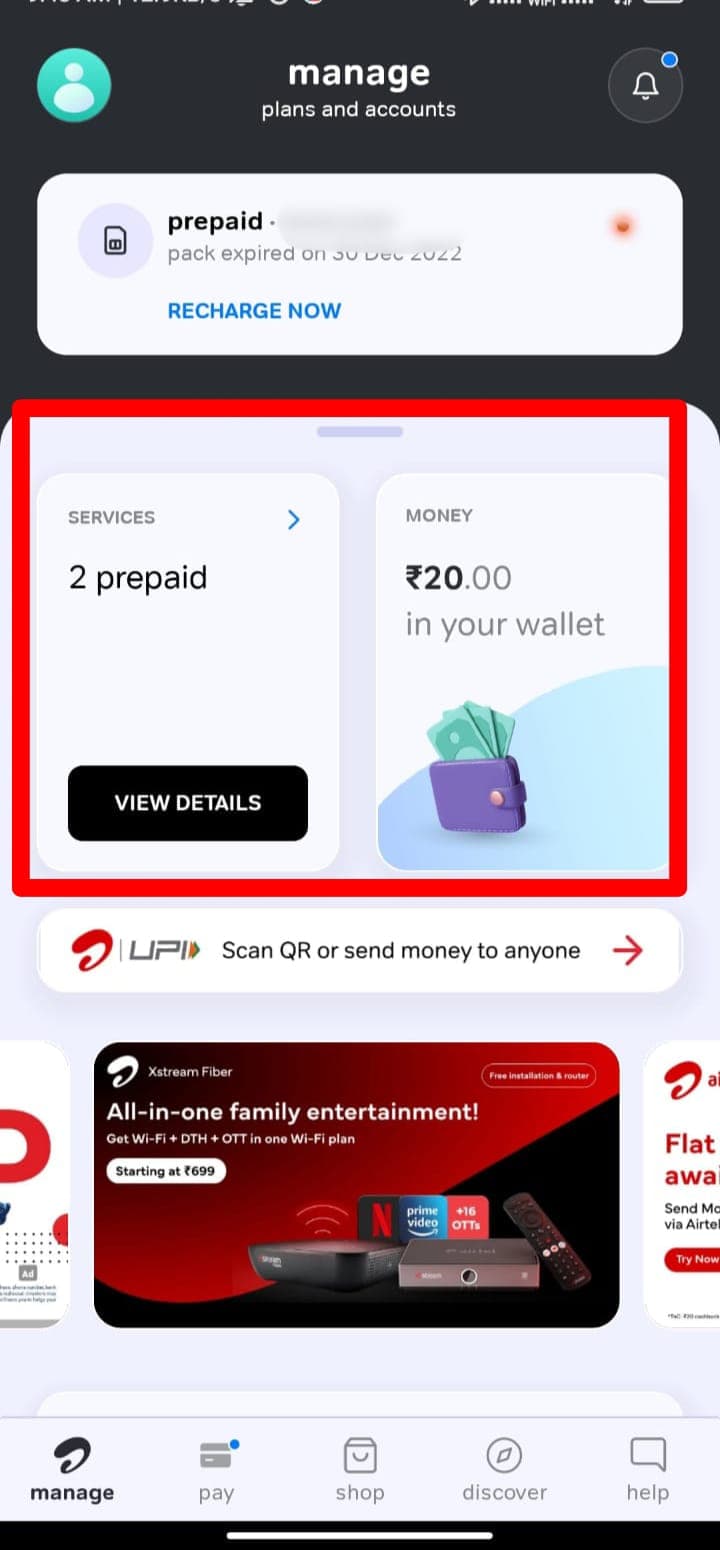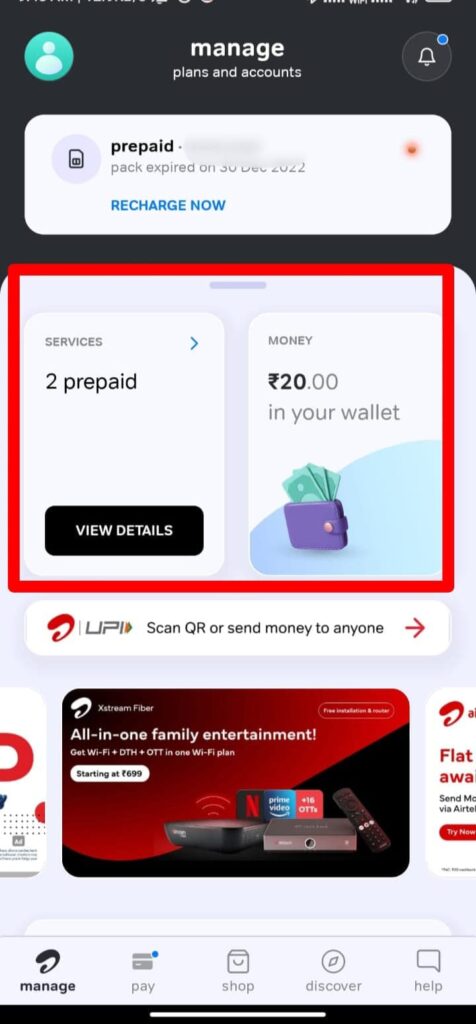 You can earn rewards by completing some simple steps like recharging for others and completing 1st 3 UPI transitions, and many such tasks are given in the reward section
Once you complete any of the options, you will get free Airtel internet.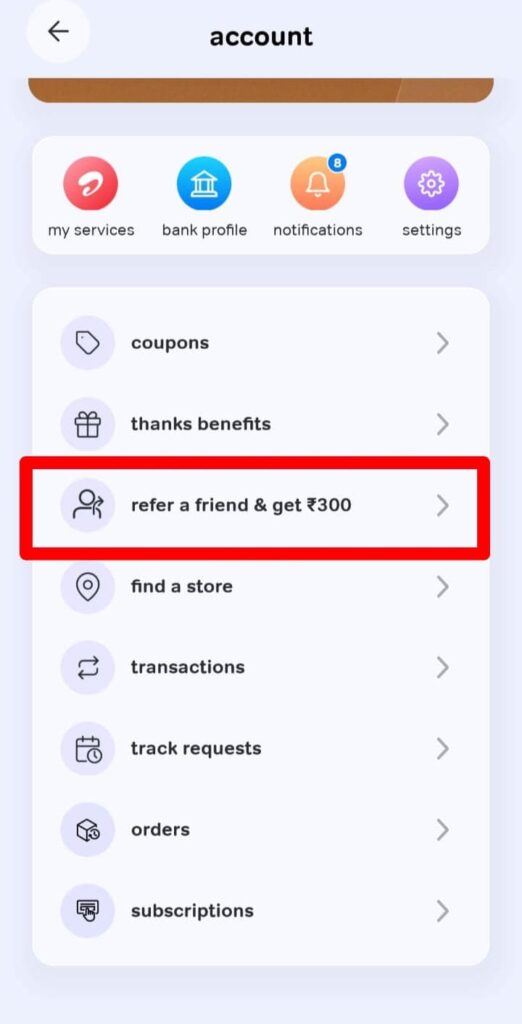 ***You can also refer to the app with your friends to get ₹300 cashback and in return use the rewards to get free internet without using the Airtel Data loan option.
---
Data Loan in Airtel using Airtel USSD Codes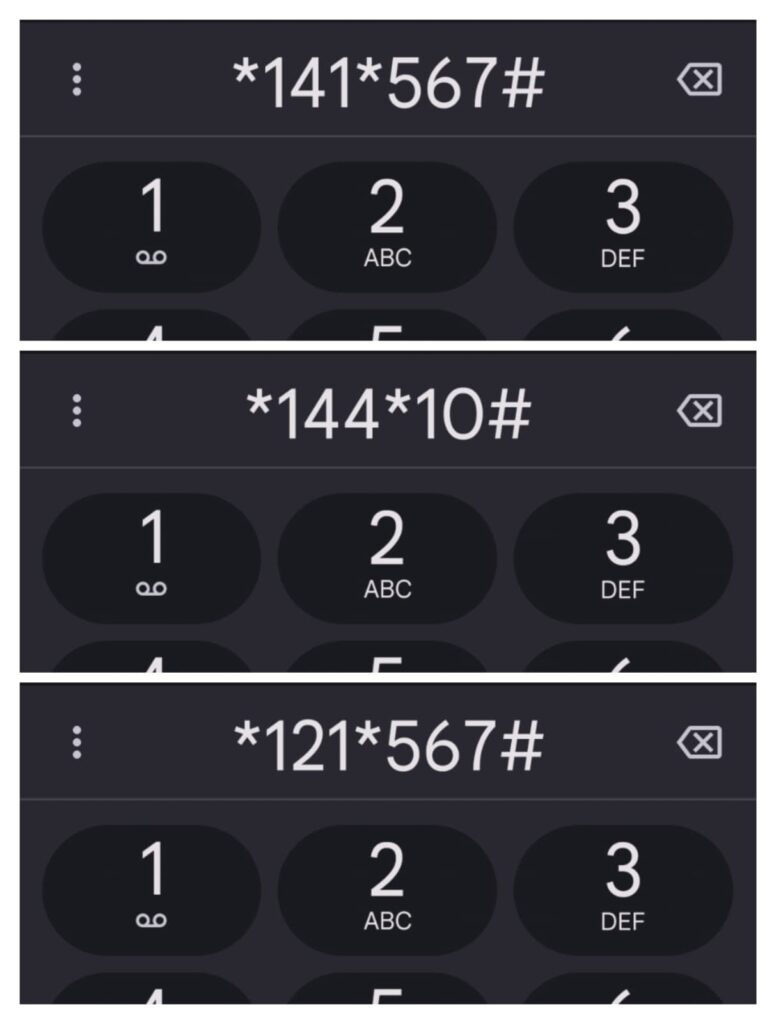 As we have already mentioned that these USSD codes were working earlier. However, at the time of writing this blog, they are not working and we have tried them using different Airtel numbers. But you can give it a try, who knows it might work for you till the time you read the blog.
Go to the dialer of your phone.
Dial the Airtel data Loan USSD code – *141*567# or *144*10# or *121*567#
Airtel will respond with a list of various network options to choose from.
Choose your desired network from 2G, 3G, or 4G.
You are done with the steps.
If the Airtel data loan is available for you and you are eligible then the data loan will be activated immediately in your account.
The steps of activation are quite easy which makes the feature very user-friendly. You should also keep these points in mind while activating the data loan –
Service fees will be charged for the activation of the data loan.
The borrowed sum for the loan will be recovered later from the prepaid account.
The Airtel balance of the user should be below ₹5.
The Airtel number should be working for a minimum of 90 days.
Various telecom service providers have come up with a unique feature i.e Data loan to meet the need of the users. Airtel users can take advantage of this feature.
Some ways where you can get free Airtel Internet, without using any data loan options
1. You can use the options like apps or websites that give free paytm money: There are thousands of apps, that give free cash back, and rewards directly to your paytm wallet
2. Free Amazon Gift cards -You can get free Amazon gift cards from our website and Telegram channels. We regularly add free Git cards on our telegram and also add premium gift cards on our website in an interval of 2 days.
So you can bookmark our website and visit daily to get free Amazon gift cards. You can then redeem the Amazon voucher card to your AmazonPay wallet, which can be used to purchase minimum internet data packs. In this way, you can get free Airtel data and no need to go for Airtel data loan options.
If you are a Jio user, you can also avail Jio data loan and Vi data loan by knowing these important points
Airtel Data Loan Benefits
It's a great solution when you need to access the internet quickly but don't have enough mobile data balance.
This can be especially helpful for people who frequently use mobile data hotspots or who travel a lot and rely on mobile data while on the go.
You need not wait for hours to get the data balance credit.
After the request for a loan, it gets credited to the prepaid account immediately.
Service fees are automatically withdrawn from the account. So, you do not have to pay anything while applying for the loan.
Why do we need Data Loan?
There's nothing worse than knowing you've exhausted all your available mobile data for the day. We've all been there. In this digital era, whether at work, at home, or while travelling, it is impossible to function without access to the Internet. We often wonder what it would be like to be able to get and use a data loan.
Presently every telecom service provider feels that every customer is very important. That is why service providers come up with new features that will serve the needs of the users. One such scheme is talk time and data loan. With this service, users get a small amount of talk time and data loan which can be used in case of emergency.
Data Loan in Airtel
Like every telecom service provider, Airtel is also offering Airtel Data Loan for emergency use. This will be usable if you are unable to recharge immediately after exhausting your existing data pack.
Yes, Airtel offers Data loans to its customers. If you are an Airtel prepaid user, you can now get 4G, 3G, or 2G data credit from Airtel!
Airtel data can help you in crisis but not bank cash. When you need internet access or data urgently to complete a task but your Airtel data balance is exhausted, an Airtel data loan, like other loans, gives you instant data. It should be noted that this information is only valid for the selected period, and this service is not provided free of charge.
Frequently Asked Questions (FAQs) –
What is a data loan?
Data loan is a very helpful feature provided by all telecom service providers. This feature provides the user with the facility to get an immediate loan just by dialling and following the prescribed steps.
How do I get an Airtel data loan?
You can get a data loan simply by dialling their specific USSD code. You will receive a response from Airtel with an option of networks Alternatively, you can also dial the Airtel loan number and avail of the data loan by following the instructions.
How to repay the charges for the data loan?
Airtel charges a service fee for the instant data loan. Later, it recovers the charges from the prepaid account.