Last Updated on September 23, 2023 by Sagar Kumar Sahu
We all walk, right? You walk to the shop, to your work, or just for a nice time outside. Walking is a big part of our day. But what if you could earn money just by walking? Sounds cool, doesn't it? That's where the best walk and earn apps can help you.
These apps are like a gift. Picture this – you walk like you always do, and you get paid for it! These apps change a simple walk into something fun where you earn.
Do you use a smartphone? If yes, you know there are lots of apps. Among these are some great apps that give you rewards like Google Play Gift Cards just for walking. These are the best walk-and-earn apps.
In this blog, we will talk about the best walk and earn apps in India 2023. We will learn how they work and how you can earn the most from them. Ready to walk and earn? Let's go!
What are walk and free apps?
Walk and earn apps are special types of apps. They give you rewards, coupons, discounts and other offers just for walking! Isn't that amazing? You walk and these apps give you points or money. The more you walk, the more you earn.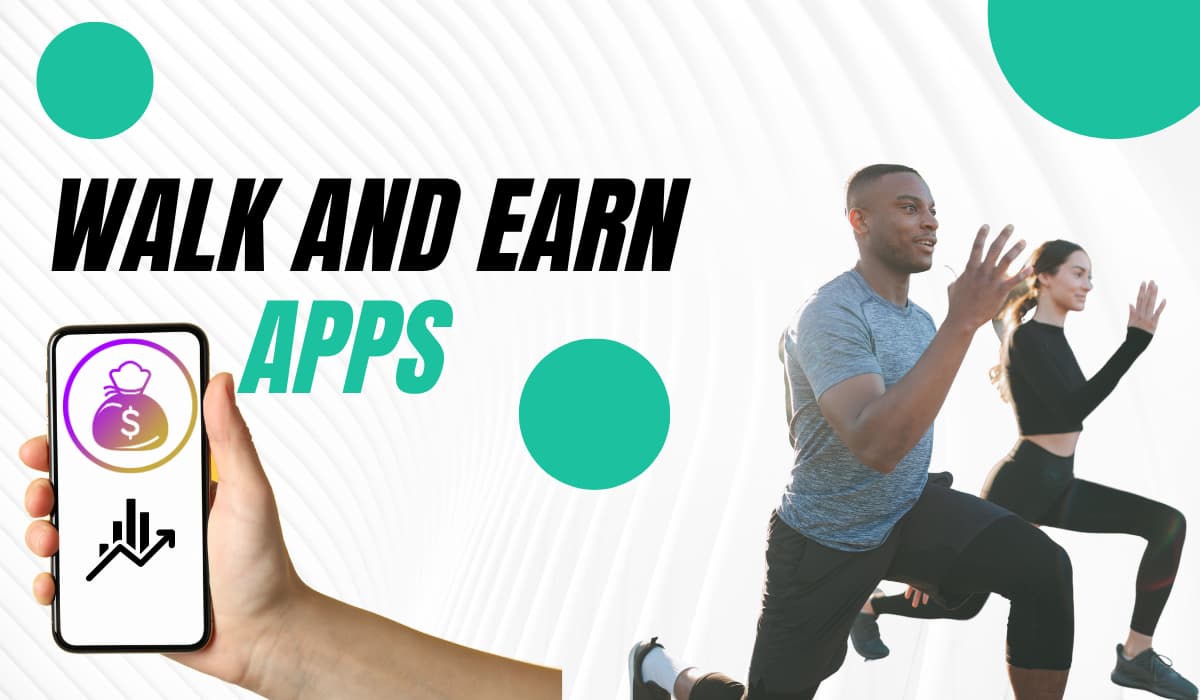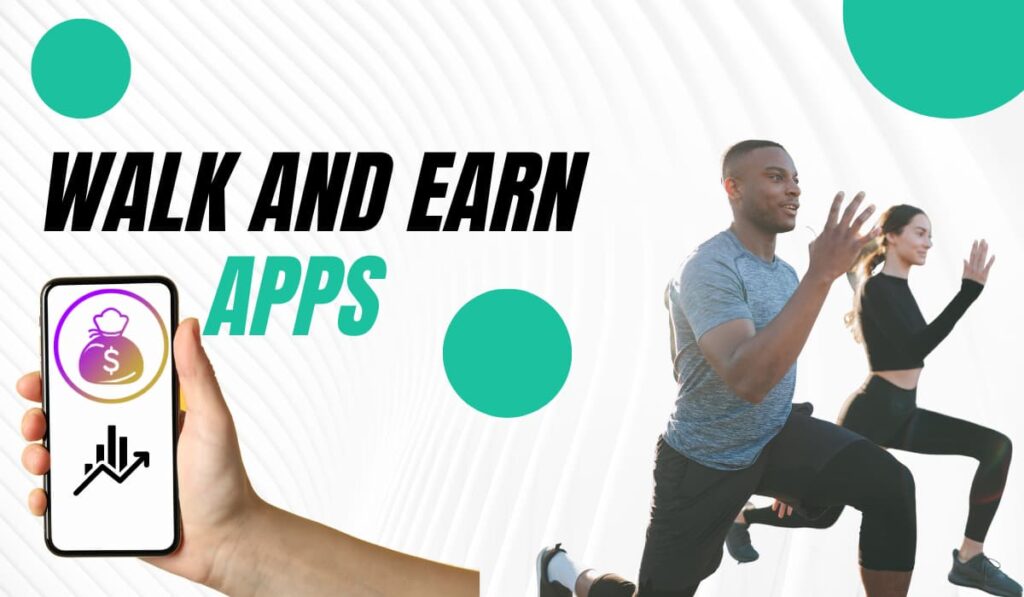 There are many such apps present in both playstore and apple store that rewards users for walking. Everyone says that "Health is wealth," so these apps help us to keep fit and make us a little wealthier than before, it also makes sense that you will always be energetic and stay fit.
Here are some best walk and earn apps in India that will help you to earn some rewards, discounts, offers or even real money. Some apps allow converting the rewards to real paytm cash.
Top 10 walk and earn apps in India 2023 to earn real money
StepSetGo App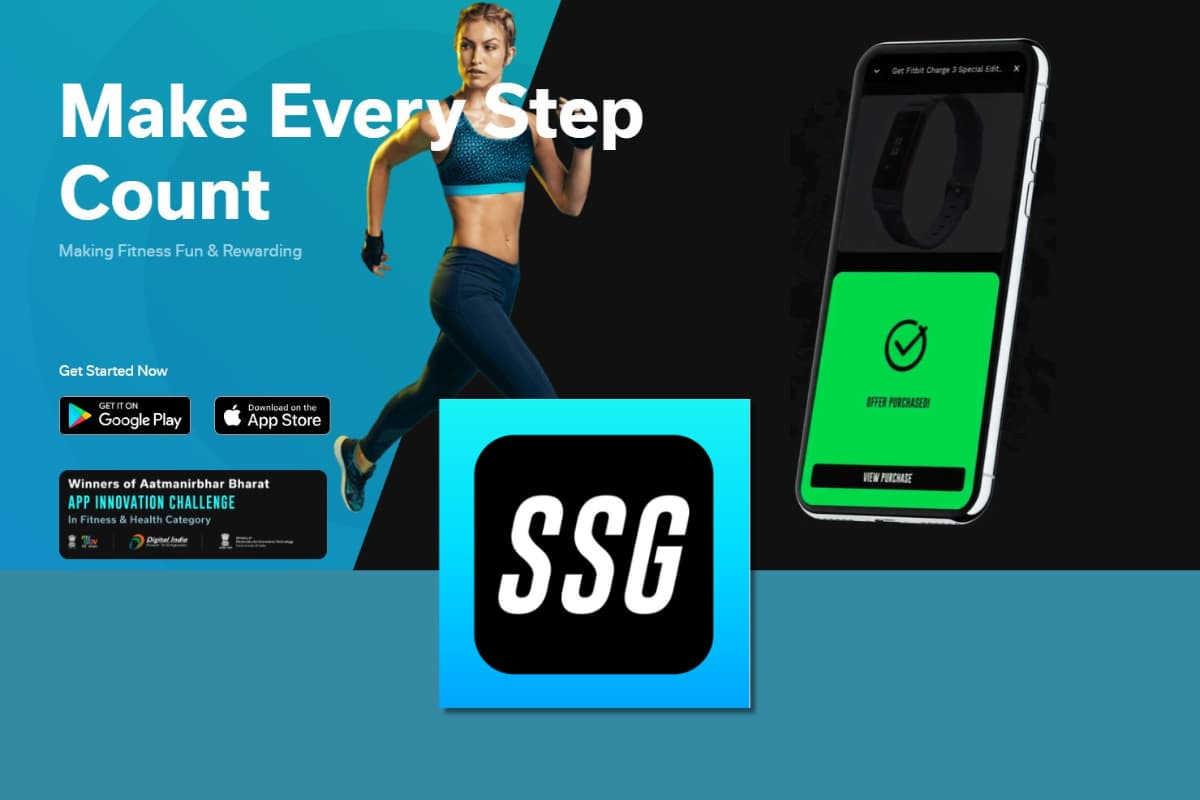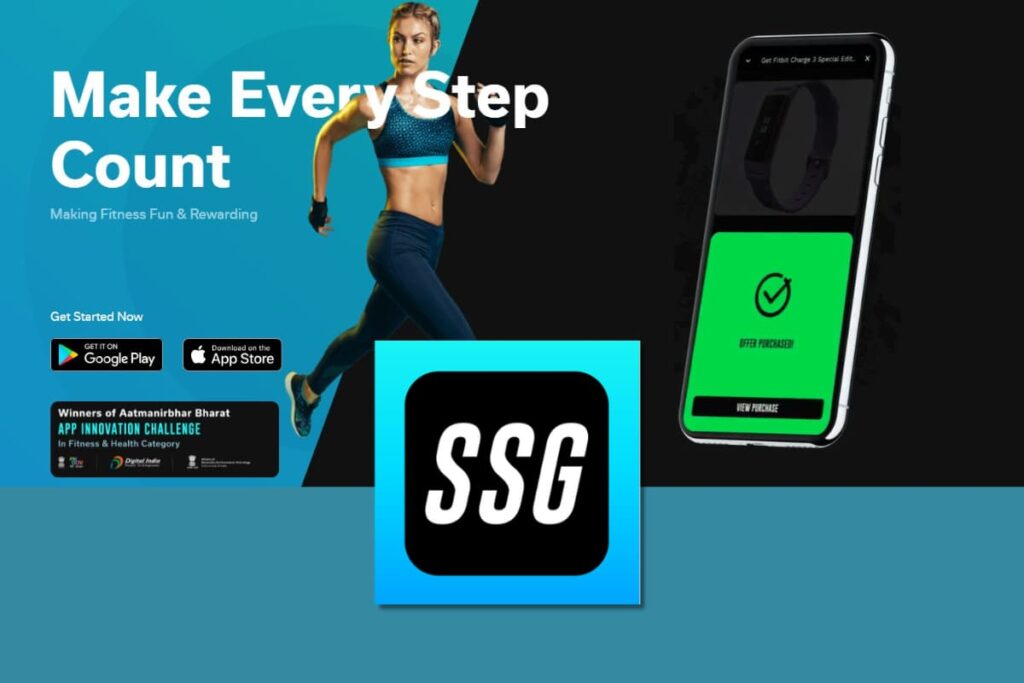 StepSetGo is the oldest walk and earns app since last year. As the app name itself shows, this app will help you earn just by walking. You can earn rewards using this app just by doing both indoor and outdoor walking.
The app will pay you SSG coins based on your step count. There are various target levels that you need to achieve to get rewards.
You can also earn by using its refer and earn feature to refer this app to your friends and family. These SSG coins can be redeemed to purchase gift cards or discount coupons on various shopping sites.
| Pros | Cons |
| --- | --- |
| ✅User-friendly interface for easy navigation​​. | 😟Reported issues with customer service responsiveness​. |
| ✅Accurate tracking of steps, calories, and various fitness activities​. | |
| ✅Variety of fitness challenges for personalized goal setting​​ | |
| ✅Social interaction features for community building and motivation​​. | |
| ✅Reward system for earning SSG Coins through fitness activities​. | |
| ✅Regular updates for improved user experience​. | |
---
Sweat coin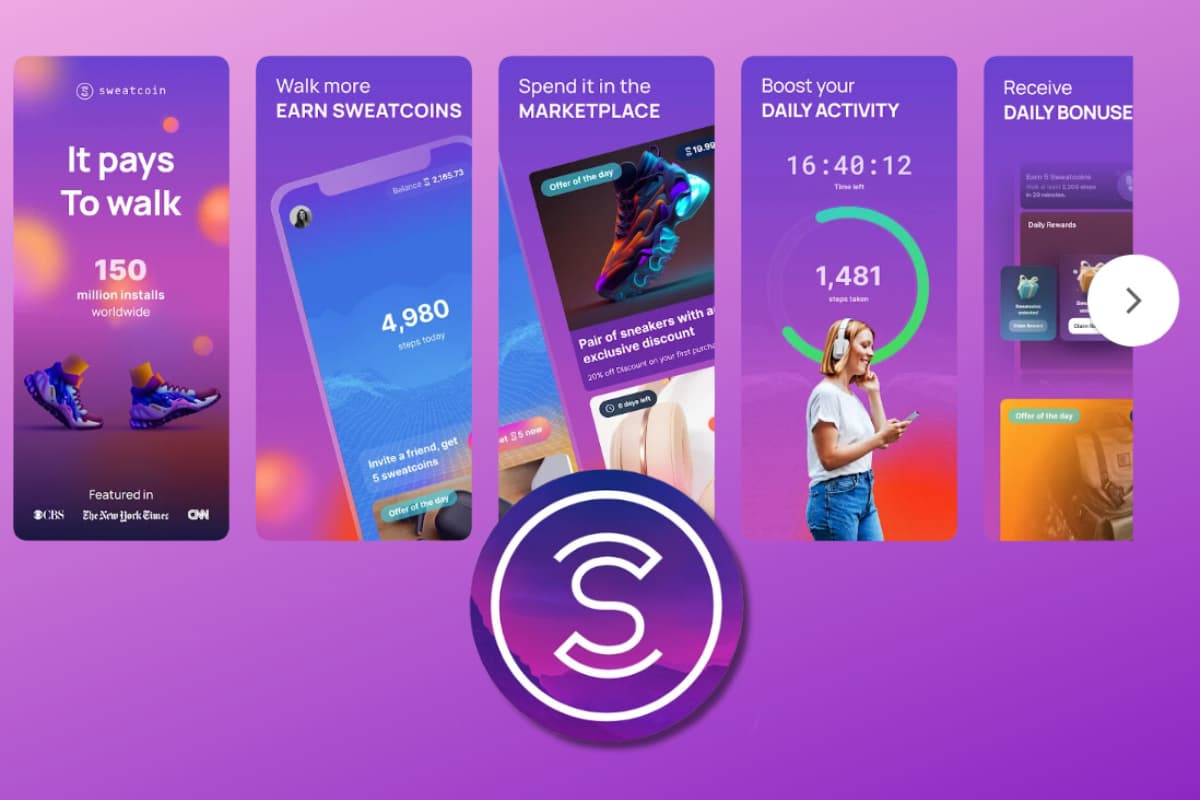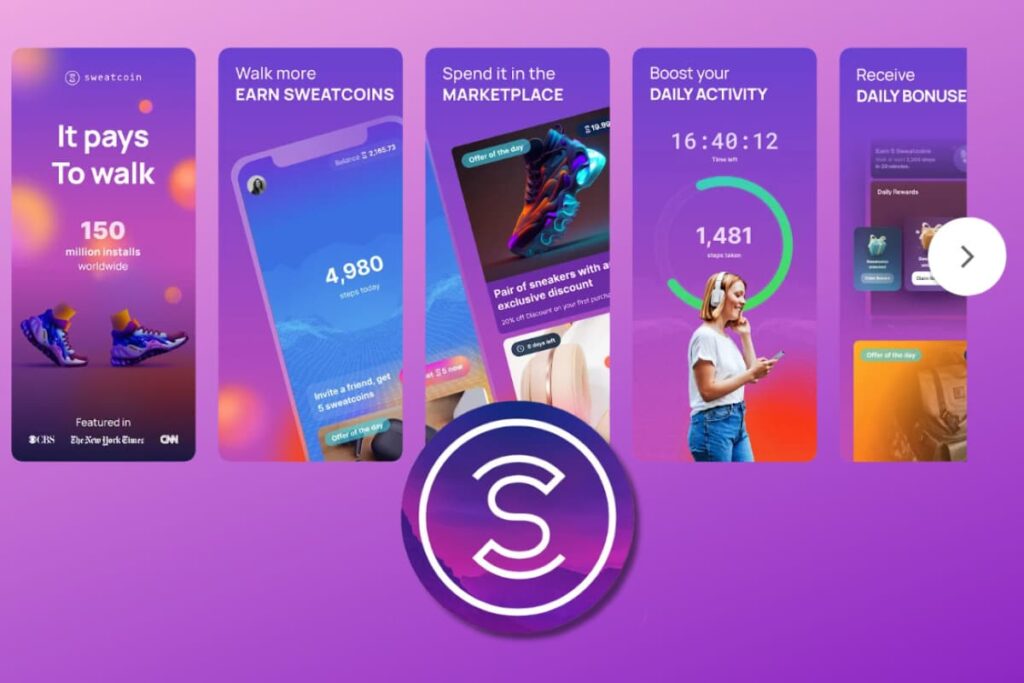 Sweatcoin is one of the most preferred apps to earn by walking. This best walk and earn app is very popular in the market these days because of its user-friendly interface.
Anyone above 13 years of age can join the app and earn. This app will pay you when you walk outside the home.
There are many payout options in this app such as PayPal money, gift cards, physical and digital products, product discounts, and charity donations.
It is free to use and in this free plan, you can earn 5 Sweatcoins per day and 150 Sweatcoins in an entire month.
For every 1,000 steps, you will get 0.95 SweatCoin, which can be further redeemed for various online products or traded with friends and family within the app. Moreover, Sweatcoin also pays in cryptocurrency format.
| Pros | Cons |
| --- | --- |
| ✅Encourages physical activity by rewarding users for walking​. | 😟Significant physical activity is required for substantial rewards​. |
| ✅Earn 'sweat coins' that can be redeemed for goods and services​. | |
| ✅Can be redeemed for many gift cards. | |
| ✅Promotes a healthier lifestyle by rewarding physical activity​. | |
---
CharityMiles app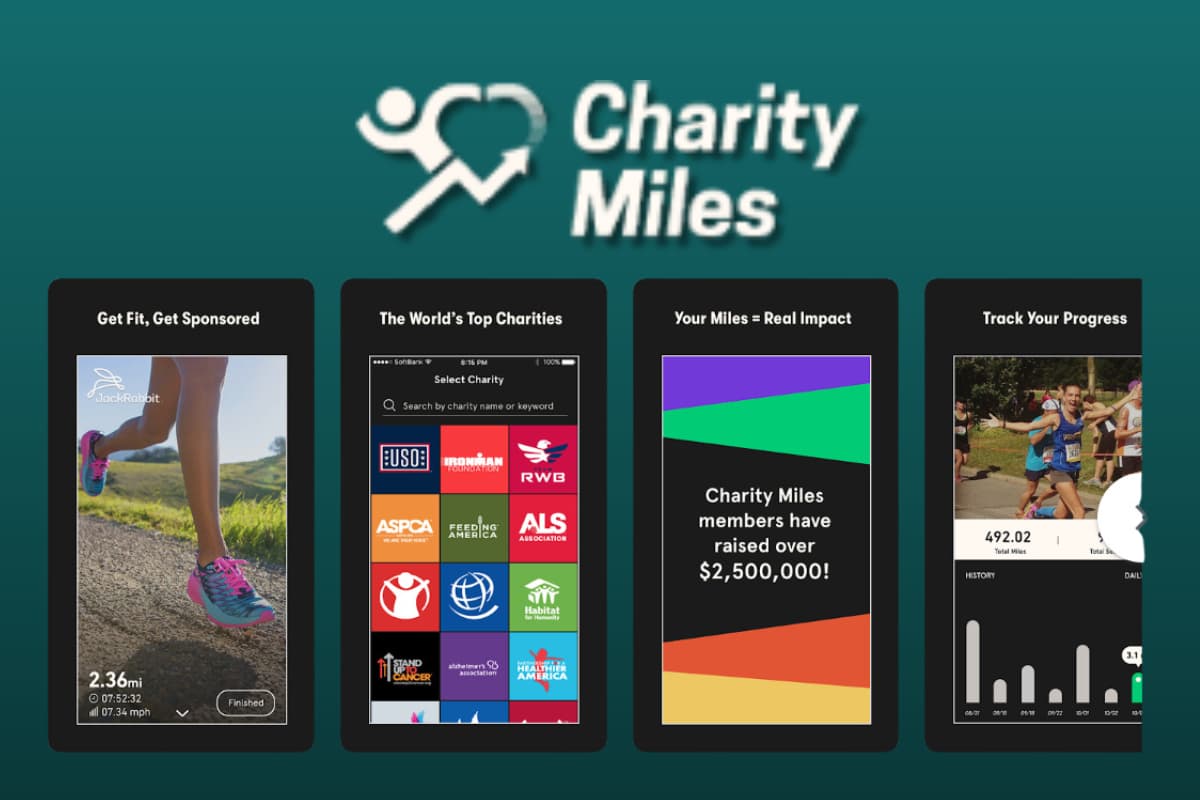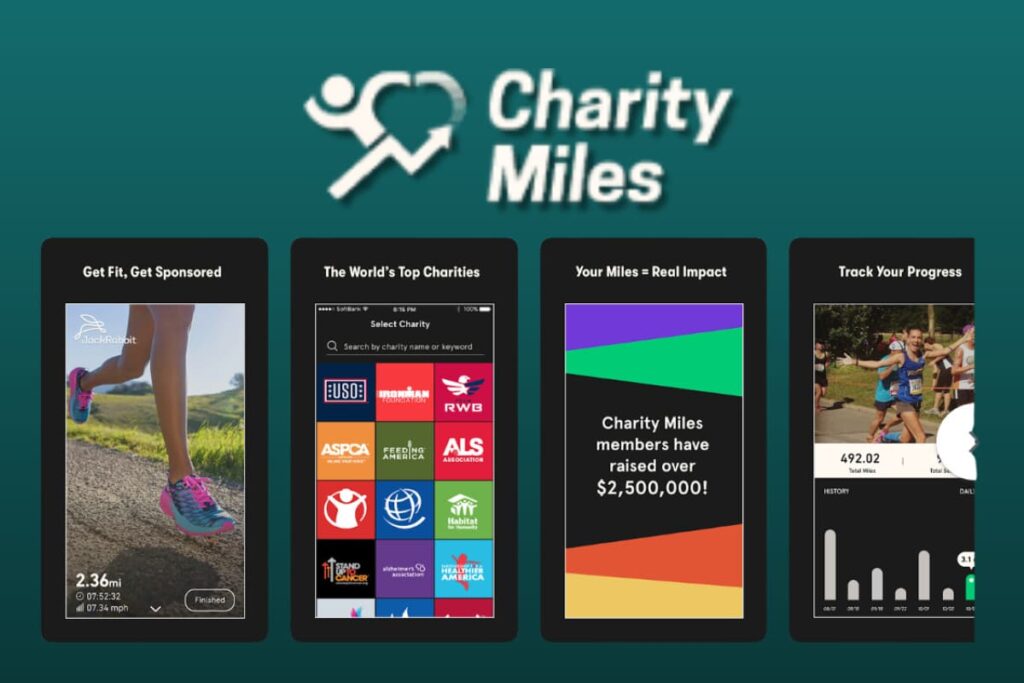 CharityMiles is a free app that lets you earn money for charity when you walk, run, or bike. You can pick a charity from their list and start moving.
The app tracks your distance and converts it into a donation. It's easy to use and works with other apps like Strava. You can also share your progress with friends and earn badges for your efforts.
Companies can use it too, to boost employee well-being and support good causes. Charities can use it to engage their supporters. It's a great way to stay fit and do good at the same time.
| Pros | Cons |
| --- | --- |
| ✅User-friendly and easy to navigate. | 😟Slow point accumulation. |
| ✅Encourages healthy behaviour through rewards. | 😟Limited reward options (only cash). |
| ✅Integrates with several fitness apps. | 😟Mixed reviews indicate varying user experiences. |
| ✅Free to download and use. | |
| ✅Opportunity to contribute to health research. | |
---
Lifecoin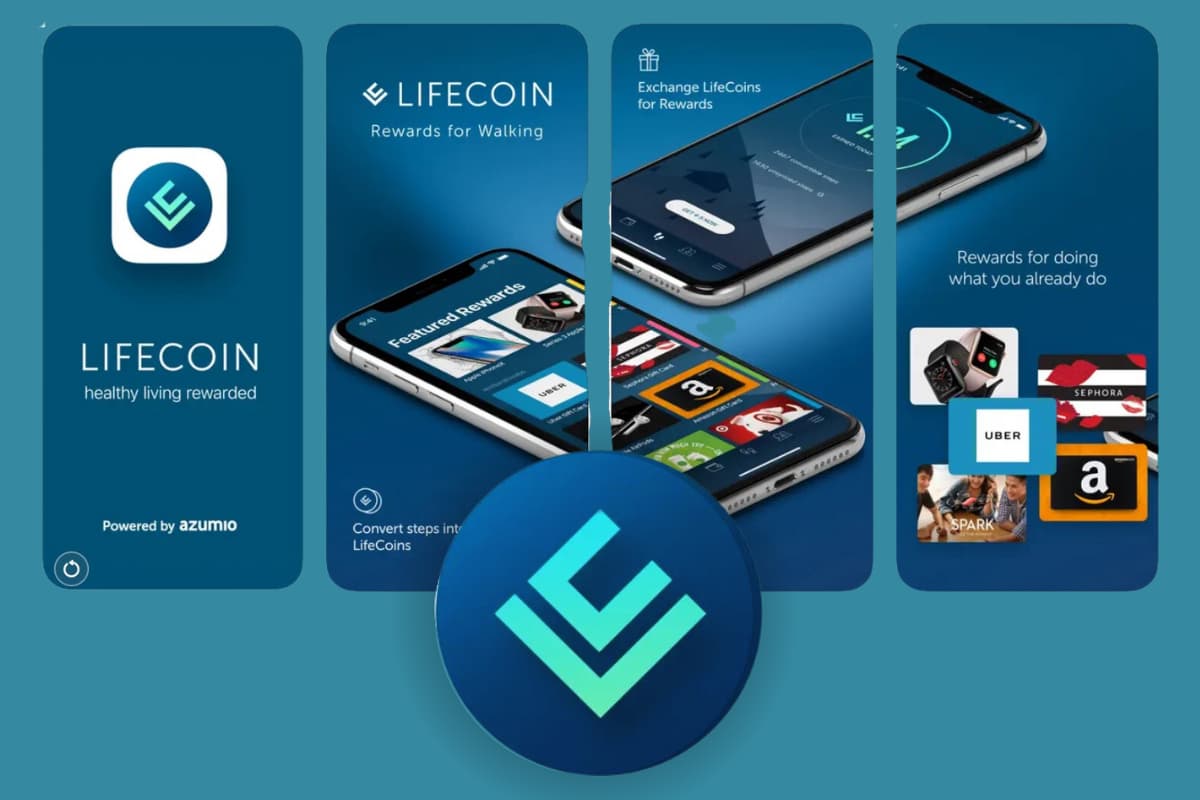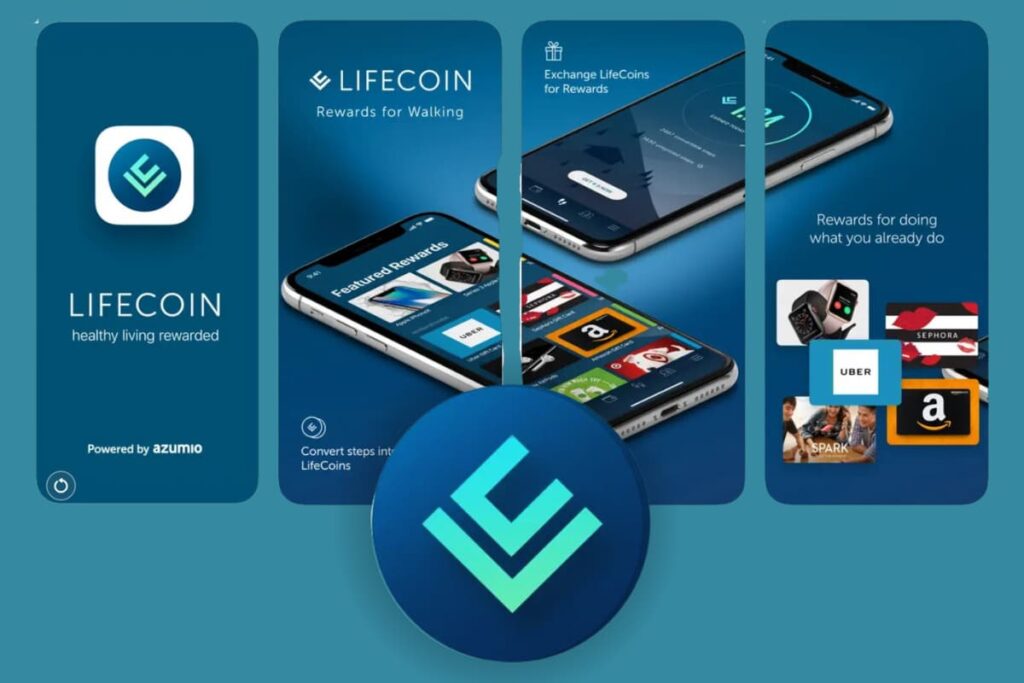 It is a very popular app for walking and earning as it is a free app. The app gives you Lifecoins, whenever you walk or run anywhere (whether it is inside or outside), the coins can be redeemed later according to use.
It is very similar to the Sweatcoin app, but the interface of this app is quite different from that of Sweatcoin. This app allows you to use your earned life coins to get sporting goods from them.
It also allows you to exchange coins for gift cards from various shopping stores such as Amazon Gift Cards, Apple gift cards, Paypal Gift Cards, etc.
| Pros | Cons |
| --- | --- |
| ✅Encourages physical activity by rewarding users for walking or running. | 😟The app drains the phone battery due to GPS tracking. |
| ✅Easy to use with a simple and smooth interface. | 😟Some users reported issues with the GPS tracking, and rewards reedeming |
| ✅Offers a variety of rewards including gift cards and tech gadgets. | |
| ✅The app runs in the background, so it doesn't interfere with other activities. | |
| ✅It's free to download and use. | |
---
Stepbet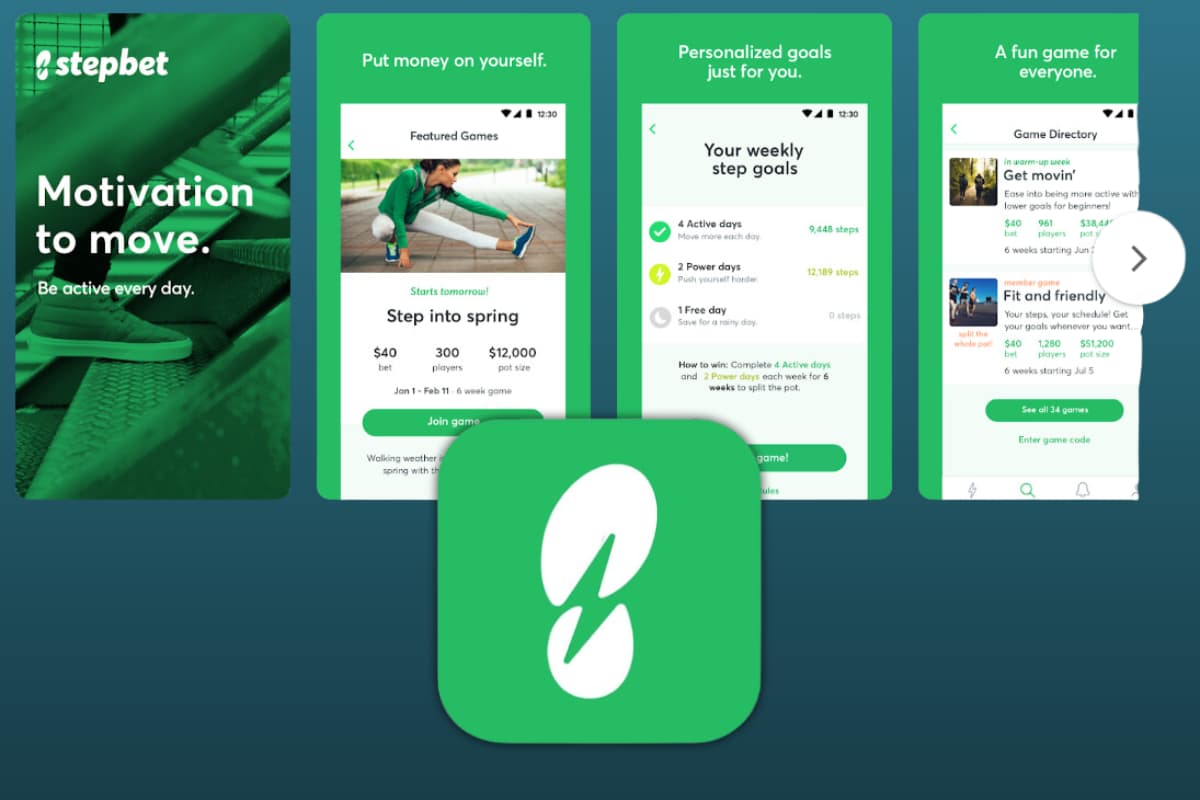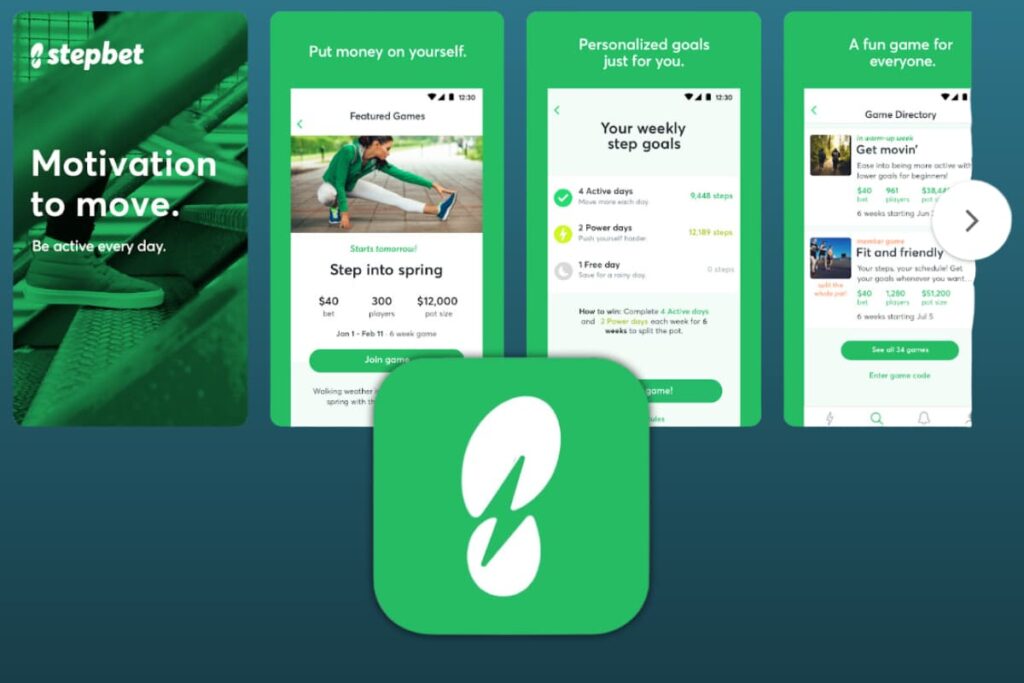 If you are confident and eager about achieving goals, StepBet is the platform for you. This app is very different from other walking and earning apps.
At Stepbet you just have to select your desired fitness goal first and then bet on your skill to achieve that goal. It is more likely that it is a sport that boosts your confidence level.
This confidence-boosting app allows you to invest money in every activity, and the fear of losing that money is the perfect way to motivate you to achieve your goal.
Also, after completing the target, you will get some money as a reward.
| Pros | Cons |
| --- | --- |
| ✅Low entry fee | 😟Low overall earning potential |
| ✅Motivation to stay active | 😟Some users have difficulties syncing their actual daily step count with StepBet |
| ✅Multiple games and membership | |
| ✅Cash-out with PayPal cash | |
---
Runtopia: GPS Tracker for Run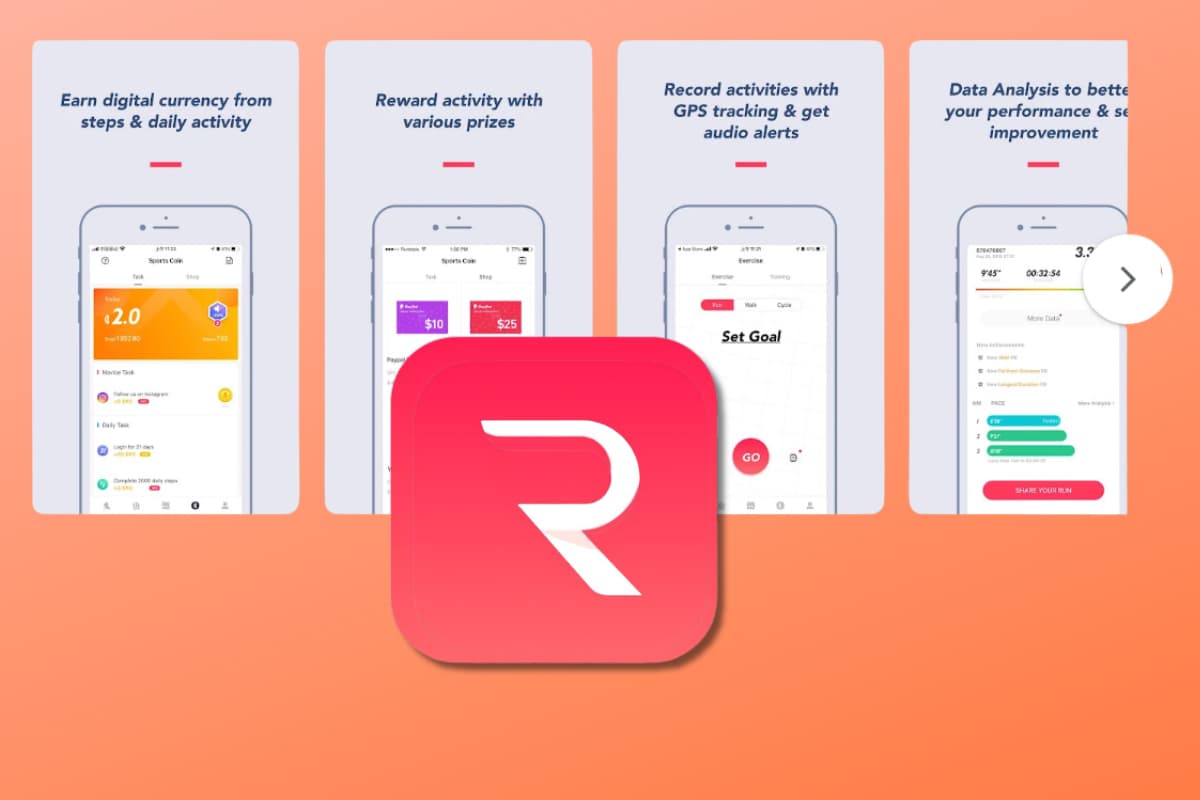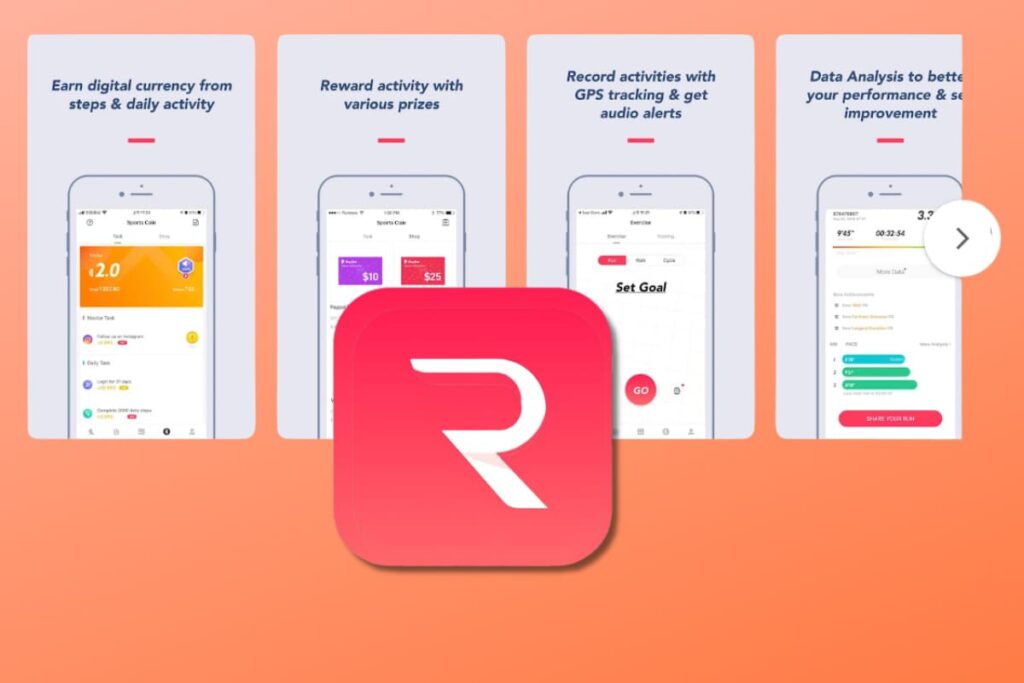 Runtopia is a handy fitness app that tracks your workouts and helps you reach your goals. It's like a personal coach, offering over 20 running plans for all levels.
You can track your runs, walks, and cycles, and see detailed data about your performance.
The best part is the community and rewards system. You can share your progress, earn badges, and even get discounts and free rewards with SPC points.
With Runtopia, you can stay fit, have fun, and get rewarded all at the same time. It's a great tool for you if you are looking to improve your fitness.
| Pros | Cons |
| --- | --- |
| ✅Offers a variety of features for tracking workouts. | 😟The app sometimes crashes or freezes. |
| ✅Provides motivation through social features and rewards. | 😟Some users reported that earning rewards can take a long time. |
| ✅Has training plans for different running goals. | 😟Some users found the app's interface to be not very user-friendly. |
| ✅Compatible with Runtopia fitness wearables for more detailed data. | |
| ✅Allows sharing of runs and achievements with the community. | |
---
Winwalk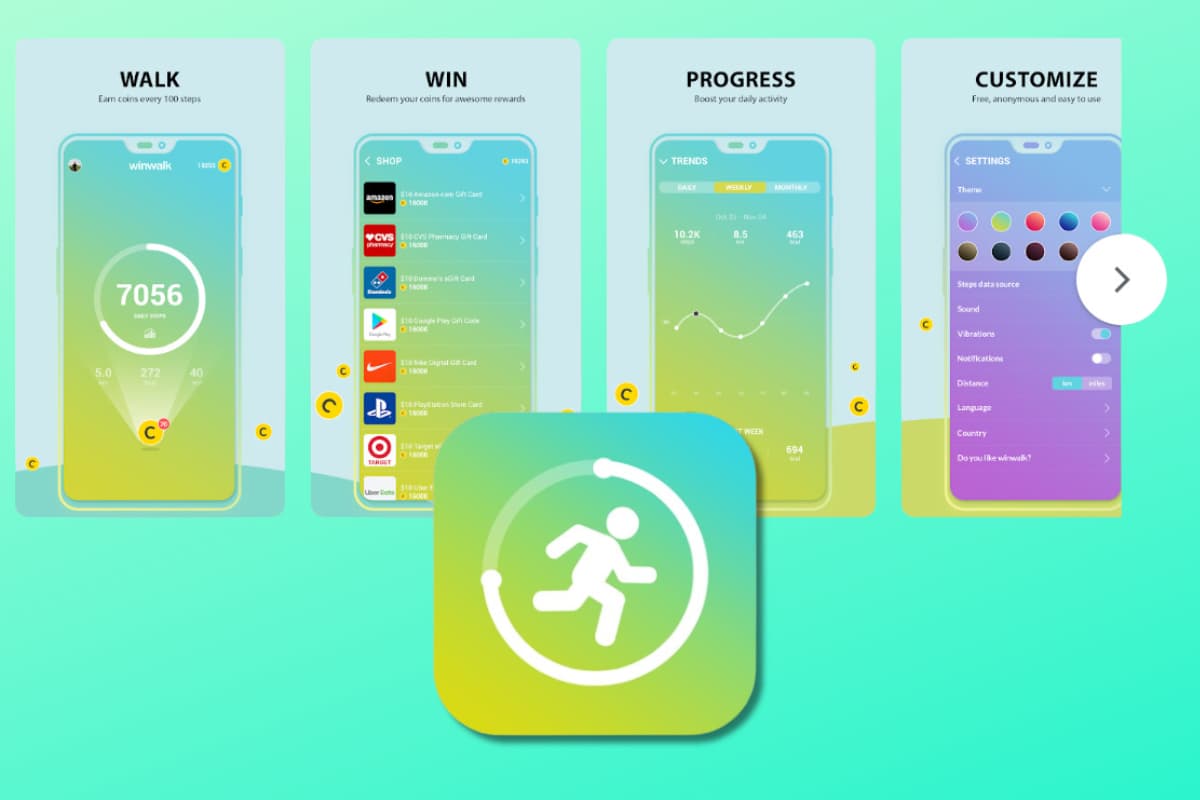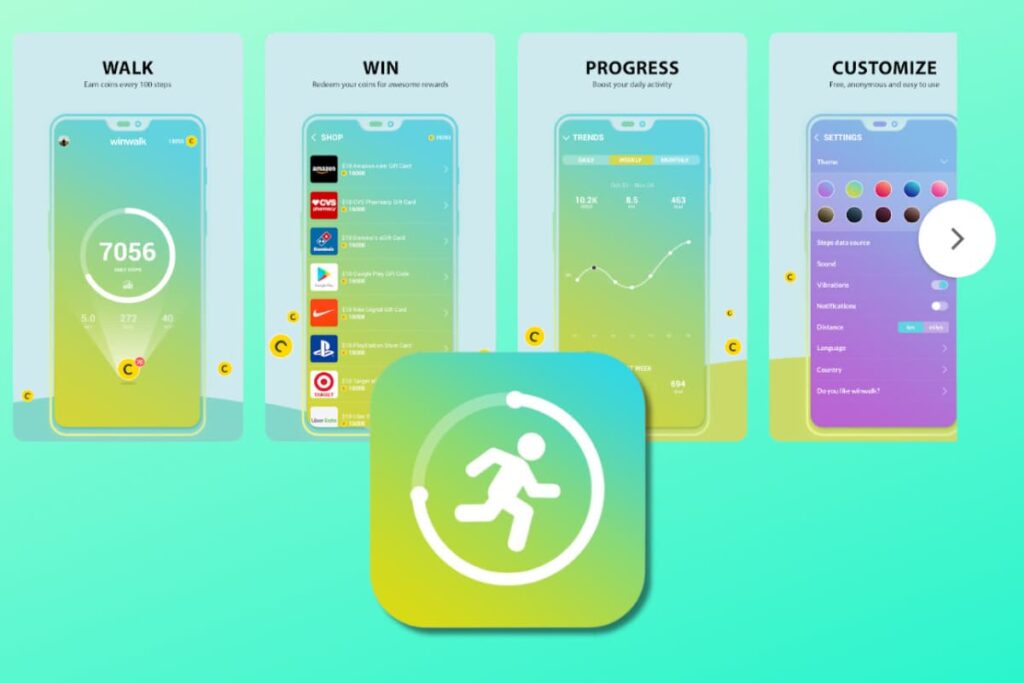 Winwalk is one of the simple walk and earn apps that reward you by counting the steps. For every 100 steps you take, you earn 1 e-coin. The app counts your steps throughout the day and adds e-coins to your account.
The best part is that you don't need to have the app open for it to count your steps. It is because the app handles this in the background.
And this prevents the draining of your phone's battery. You can earn up to 100 e-coins a day, so it's like a fun daily goal to achieve.
Once you have collected enough e-coins, you can use them to get free gift cards or discounts at various online stores. It's a great way to make your daily walking a bit more rewarding and exciting.
| Pros | Cons |
| --- | --- |
| ✅No login is required to ensure user privacy. | 😟It takes a long time to earn a gift card |
| ✅No GPS tracking hence reducing battery usage | 😟Rewards are only available in specific countries |
| ✅Very easy to use | 😟Only available for Android users |
| ✅The app is lightweight and doesn't consume much storage | 😟No PayPal payments |
| ✅You can get paid to watch videos, completing missions, and referring friends | 😟Coins for the day can be lost if not collected by midnight |
| ✅Counts both indoor and outdoor steps | |
| ✅Offers multiple ways to use coins: either by lottery or by exchanging them for gift cards | |
---
PK Rewards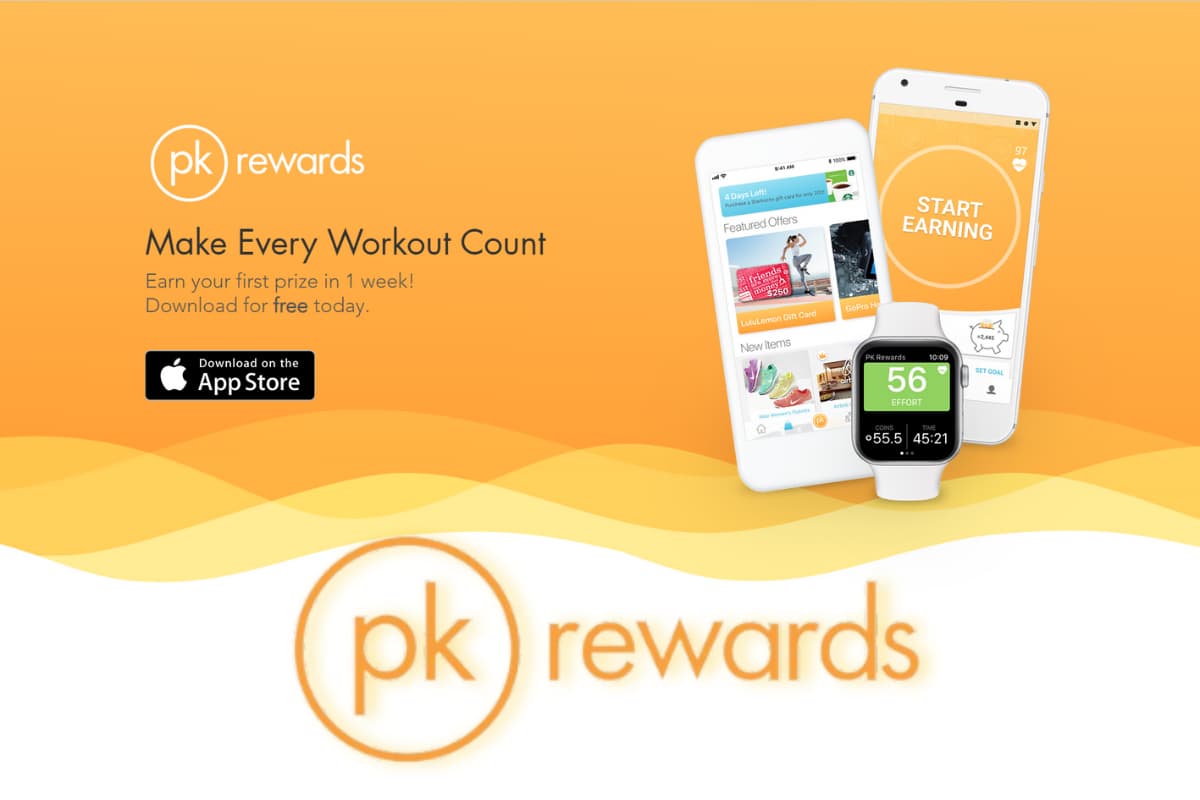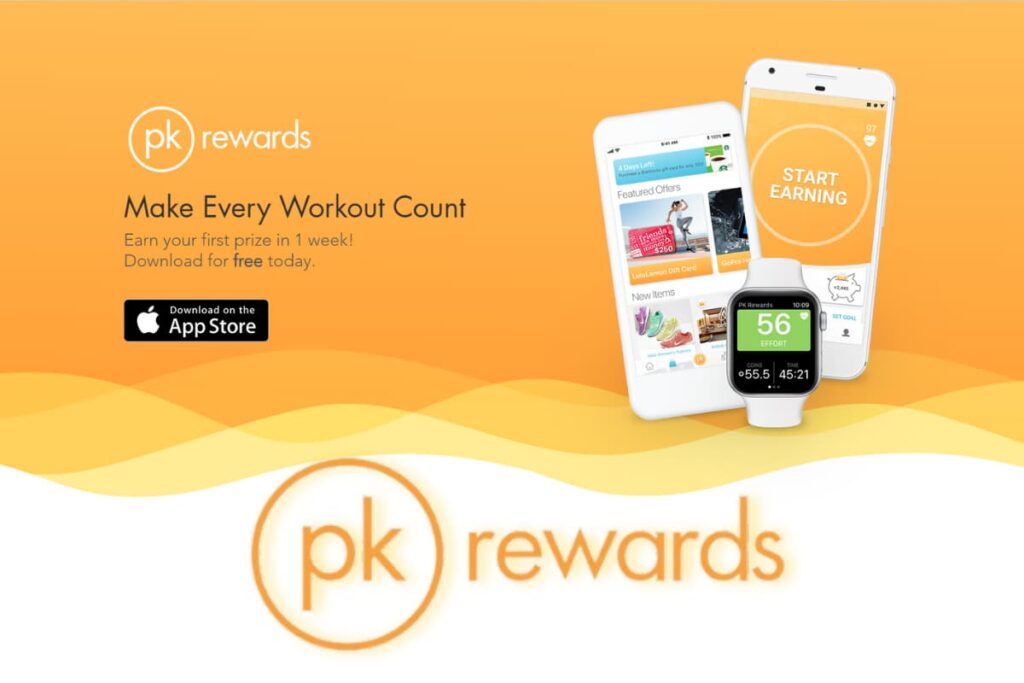 PK Rewards is another great walk and earn app that encourages you to stay active. But unlike Winwalk, it doesn't just count your steps, it also rewards you for other types of exercises like running, biking, or even gym workouts.
When you complete a workout, the app gives you coins. And the concept is also very simple, the harder your workout, the more coins you earn. You can then use these coins to get different kinds of rewards.
You can also choose to donate your coins to various charities, making it a wonderful way to stay fit and help others at the same time.
| Pros | Cons |
| --- | --- |
| ✅Motivates users to exercise by offering rewards. | 😟Some users reported issues with the app's functionality. |
| ✅Users can earn rewards for any type of workout, not just walking. | 😟Earnings are relatively low compared to the effort. |
| ✅The app is user-friendly and easy to navigate. | 😟Only Available for iPhone users |
| ✅You will get a variety of reward options. | |
| ✅It is compatible with various fitness devices and apps. | |
---
Evidation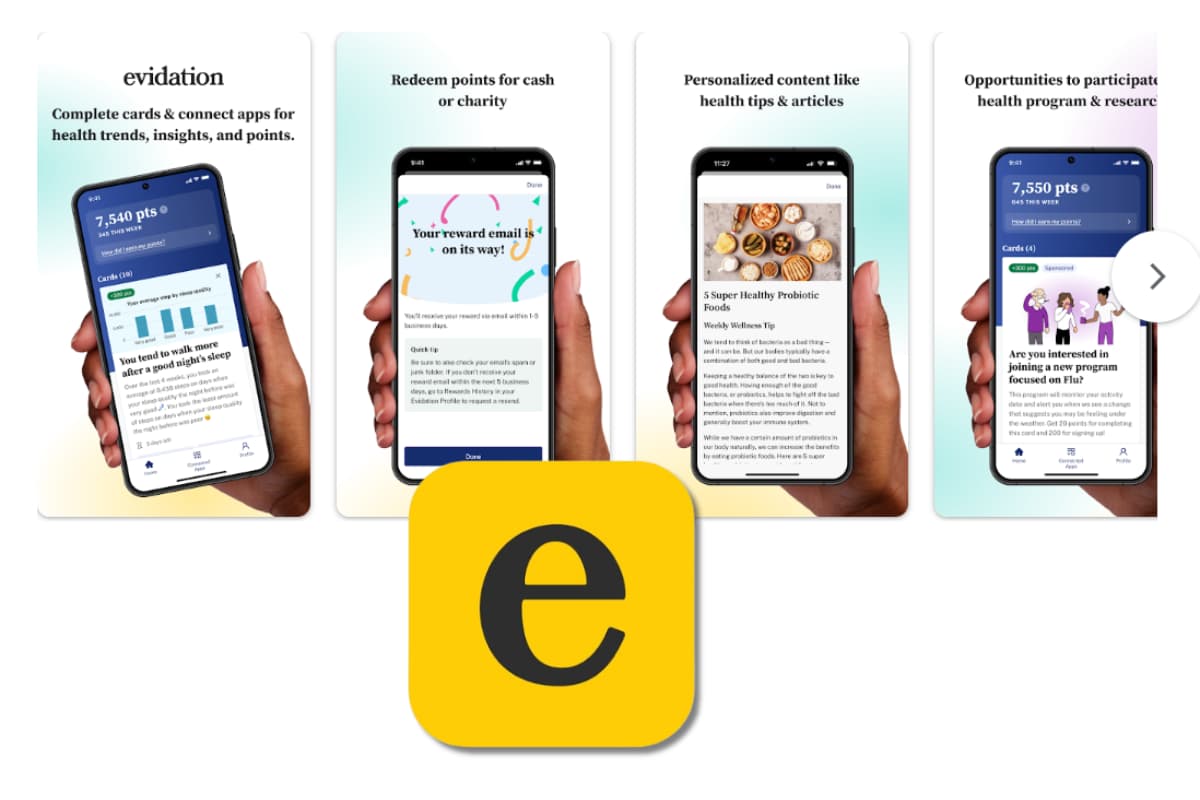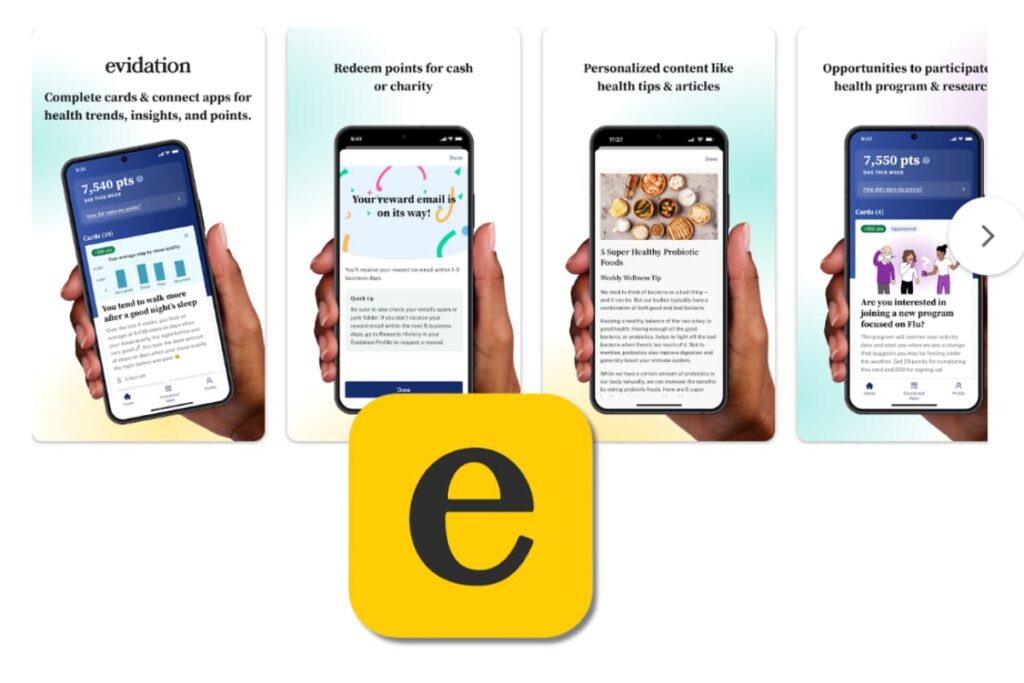 Evidation is a bit different from the other apps. Like our other mentioned app, it also simply doesn't just focus on walking or running.
It also rewards you for other healthy habits. You can earn points by doing a variety of activities such as walking, biking, swimming, logging your food, tracking your sleep, weighing yourself, and even meditating.
For every 10,000 points you earn, you get $10. This means that the more healthy habits you have, the more money you can earn.
In addition to this, you can choose to donate your points to certain charities if you wish.
| Pros | Cons |
| --- | --- |
| ✅Evidation provides a unique approach to health tracking. | 😟There are limited opportunities to earn rewards. |
| ✅It pays users for participating in health studies. | 😟Some users have reported delays in payment |
| ✅The app is easy to use and navigate. | |
| ✅It offers personalized health insights. | |
| ✅Most users have reported positive experiences with customer service. | |
---
HealthyWage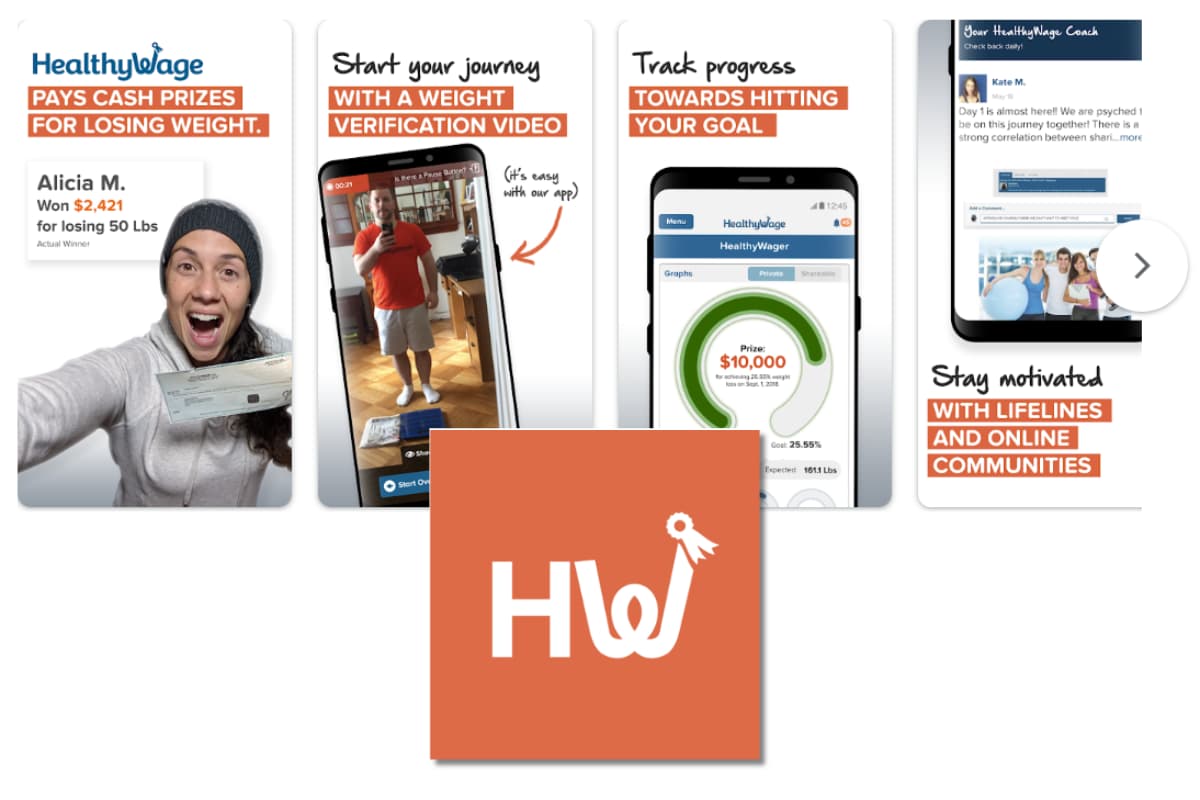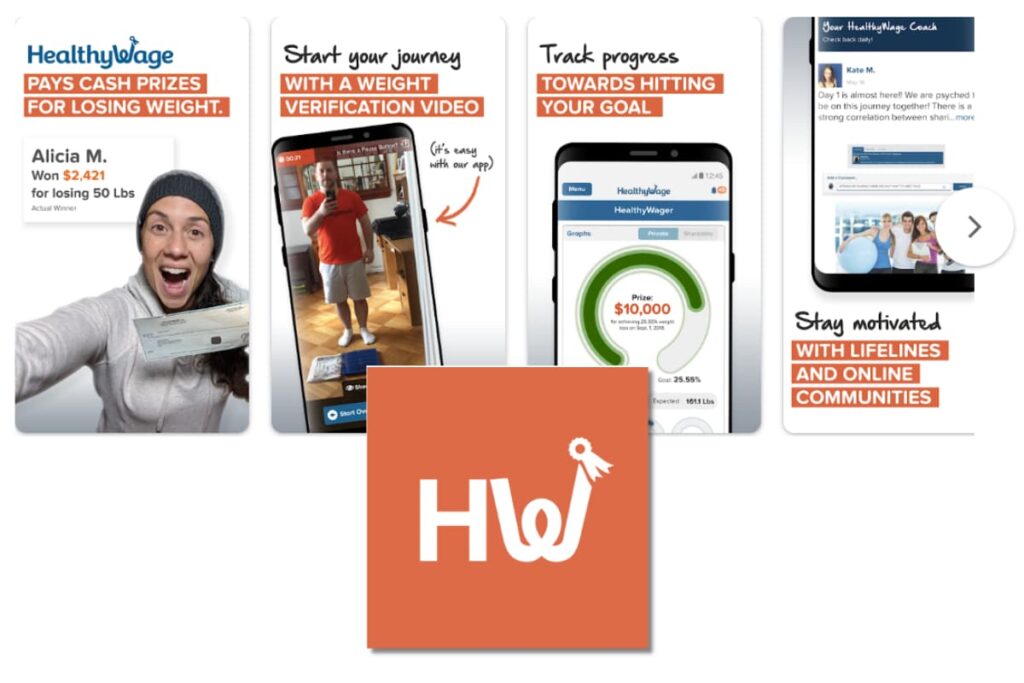 HealthyWage is a unique app that turns weight loss into a game. You can bet on yourself and set a goal for how much weight you want to lose. If you reach your goal, you win a cash prize.
The amount of money you can win depends on several factors, including how much weight you want to lose and how long you are giving yourself to do it.
The app also offers step challenges. These are based on your current and past step averages and help you increase your daily step count.
HealthyWage is a great way to make your weight loss journey more exciting and rewarding.
| Pros | Cons |
| --- | --- |
| ✅It is offering various weight loss challenges for cash. | 😟May not be suitable for the long term. |
| ✅Provides social support for motivation | 😟Will not make you rich |
| ✅You can participate in multiple challenges | |
---
How do these walk-and-earn apps work?
Now let's know how these apps work and why they give you money for simply walking.
These walk and earn apps use your phone to count your steps. Each step you take is important. They also keep track of your steps, and after you reach a certain number, they give you rewards.
So, you must be wondering, how do these walk and earn apps know when I am walking? It's very simple. These apps use something called a "step counter" on your phone.
This step counter keeps track of each step you take. So when you walk, you move your hands accordingly and it counts your steps using its own algorithms. It's like a little helper inside your phone, always watching your steps.
When you walk more, the step counter shows a bigger number. And guess what? More steps mean more rewards from these apps.
But what about the rewards? What can you get? Well, each app is different. Some apps give you money. Some give you points that you can use to get things like gift cards or discounts. It's like a fun game, and the prize is something real that you can use.
How do these apps get benefited from paying rewards for walking?
Good question! How do these walk and earn apps benefit? After all, they give you rewards for walking. So, where does their money come from? Let's understand this.
✅ Firstly, some of these apps run ads. Just like on TV or on a website, companies pay to show their ads in the app. So, when you use the app and see these ads, the app makes money.
✅ Secondly, some walk and earn apps partner with brands. These brands want to promote their products or services. They give special offers or discounts to people who use the app. When you get these offers and buy something, the app gets a small share of the money.
✅ Lastly, some apps also have premium features. You can use the app for free, but if you want extra features, you can pay a small fee. This is another way the app earns money.
So, these apps are smart. They help you stay healthy, give you rewards, and also make money in different ways. It's a win-win for everyone.
Final words 🙏🏼
With these best walk and earn apps you can keep yourself fit and along with this you will also get monetary benefits from them. The purpose of these apps is to motivate people and encourage them to walk a few more steps to get an incentive. Start your journey and stay motivated to practice a healthy future and earn some rewards plus benefits.
Frequently Asked Questions (FAQs)
What is walk and earn?
Walk and Earn are apps that reward users for engaging in physical activities and earning via them. The model is very similar to play-to-earn games. The ultimate goal is to promote awareness about physical fitness among the public.
Which app is best for walking and earning money?
Sweatcoin and StepBet are one of the best apps that you can choose for walking and earning money. You can trust these apps for earning some extra money while walking or jogging daily to maintain your fitness. 
How to earn money by walking?
Walk and earn apps are the easiest platforms available for earning rewards, coupons, etc. just by walking either indoors or outdoors. Various walk-and-earn apps are there for both iOS and Android systems.