Last Updated on November 30, 2023 by Sagar Kumar Sahu
How often does it happen that while watching a video or a movie, a message pops up with "your daily data has been exhausted"?!Pretty sure must have happened to each of us. This completely ruins the flow of binge-watching. To cater to this need of ours, Jio has come up with something new. " Jio Data loan"! Yes, you heard it right.
Not many would be aware of it as it was never a concept that existed. No wonder Reliance Jio rules the telecom market these days.
What is an emergency Jio data loan service?
The emergency data loan facility basically offers jio customers the flexibility of 'Recharge Now and Pay Later functionality who exhaust their daily data quota and are not able to recharge it immediately. In simpler terms, if you are unable to pay for the data after exhausting it immediately, then you can instantly get it on loan and pay later.
Note: This service would only be applicable to reliance Jio users only
I will be telling you how you can avail of this data loan service. Let's get started
Know about these Latest Jio data plans for November 2022
Get a Jio data loan using the mobile application.
If you want to get a data loan in Jio within a minute then this is the perfect way for you. For this, you need to install the official My Jio app. Follow the steps carefully
Install my jio app from the Google Play Store
Open the app
Signup and log in through your jio mobile number
Find yourself a menu in the top left corner
Click on the menu and see an option for mobile services.
Select 'emergency data loan' from mobile services
Click on Proceed
Select the "activate now" option
You receive the data in your app.
You can check in my jio app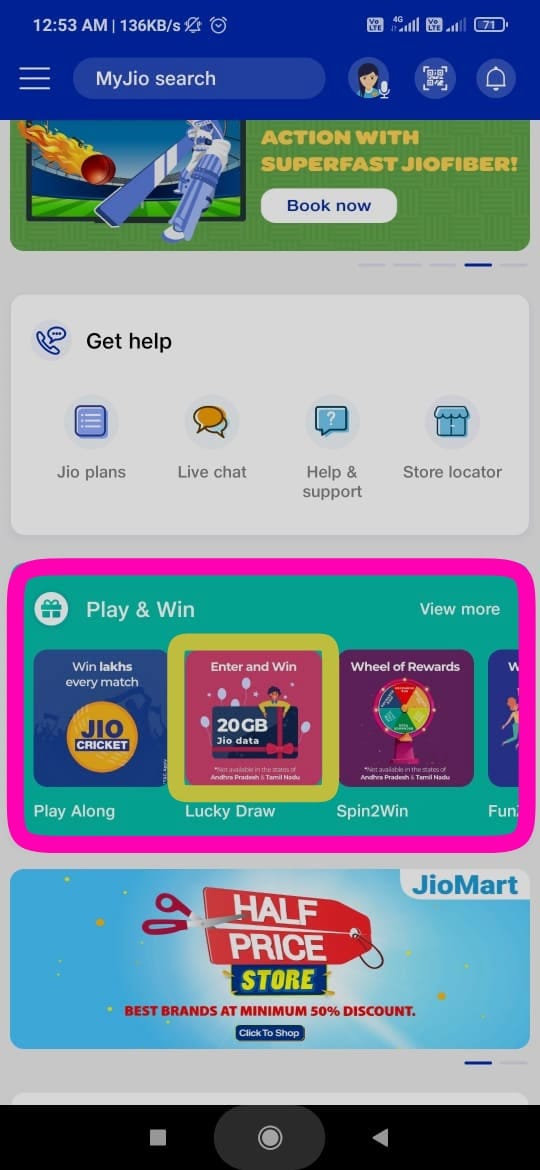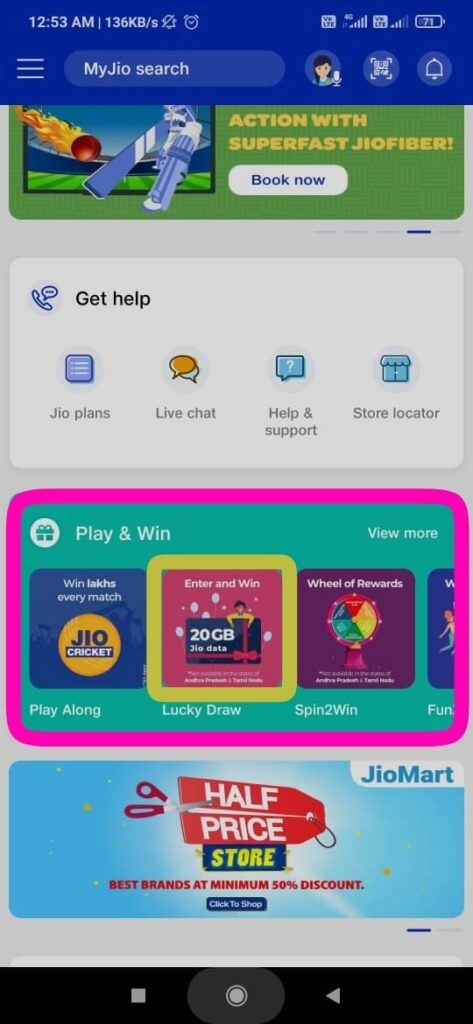 If you don't want to do all these steps, open the My Jio app and simply search "Data loan". You will get all the further details.
Related topic – How To Check Jio Balance, Data Usage, and Validity Using USSD Code & SMS?
Get data loan in Jio using Customer care
There would be times when you wouldn't have enough data speed to open the playstore and follow the above steps. Sometimes 64kbps wouldn't be enough to avail of the data loan service. Desperate time calls for a desperate measure
All you need to do is:
Call the customer care service – Dia 199 or talk to an agent directly
Talk to the service executive and ask him to help you in this regard
They will provide a 1GB data loan
You can also chat with Jio's customer care agent. To chat you first need to open the My Jio app. You will see the option JioCare in the bottom right corner. Tap it and select Chat with us
Cost of Jio data
1GB of data costs you Rs 15. Similarly, you'll be able to avail of the 1GB data loan upto 5 times.
Validity of the data loan
The validity of the data loan received will be till the time your current plan or existing plan ends.
Let's say, your current plan would end on November 15. The data loan validity would also be valid till 15th November. With the new plan, you're gonna get new data loan options.
How to repay the data loan amount
Open the MyJio app and go to the 'Menu' option.
Now, under the mobile phone service option, pick 'Emergency Data Loan.'
Now, on the emergency data loan banner, click 'Proceed.'
You must pay the fee associated with the 'Emergency Data Loan' option.
The whole loan balance due against your Jio SIM will be reflected on the screen.
Pay back the Emergency Data Loan using any available online payment method.
This way you regain all the 5 emergency loan passes being given to you by the company for urgent data needs.
If you are an Airtel user, you can also avail of Airtel data loan and Vi Data Loan by knowing these important points.
How Does Jio Emergency Data Loan Work?
If you have availed of the emergency data loan service, then the company will take it back whenever you recharge your sim with internet services. So either you pay for your data loan by yourself or the company will auto-deduct the data loan you have taken.
Once the data loan is activated, you can use it for anything you want. Be it for watching content on OTT apps, gaming, live streaming, and whatnot, all these at the same regular high speed. Amazing, isn't it?
Terms and conditions
When the company is providing all these services, they also have set some terms and conditions for the emergency data loan service:
The data service is available to the consumer only after the expiry of the data limit under a good recharge plan
The service is applicable only to jio customers
The service can be used 5 times and the customer is required to repay the amount as soon as possible
Before being able to avail of the Jio data loan service, the user is made to go through a contractual agreement to repay the loan amount and he should clear all his pending dues before disconnecting the service.
The jio loan plan cannot be used on behalf of any other person. Only the person with a Jio sim can use this loan service on his own My Jio app
Get 10GB loan data in jio instantly
To get 10GB of data, you have to do the following steps
Dial 1299 from your dialer pad.
You'll get various options
Click on the Jio net loan option
After that, you'll be asked how much loan data you need against your sim.
Select 10 GB of data and proceed with the instructions mentioned to avail of this offer.
⚠️Currently, the data loan service is unavailable. They will make it active very soon. Till then you can use the Jio plans that start with a minimum of ₹15. You can also try many tricks to get Jio-free data.
Jio Data add-on plans
If we have come this far discussing everything in detail about emergency Jio data loans. Let's also discuss the Jio data plans that most of us resort to when we're able to pay right at that dire moment.
Unlimited 1GB for Existing Validity 4G
| | |
| --- | --- |
| Price | ₹15 |
| Data | 1GB |
| Validity | Current active plan |
Unlimited 2GB for Existing Validity 4G
| | |
| --- | --- |
| Price | ₹25 |
| Data | 2GB |
| Validity | Current active plan |
Unlimited 6GB for Existing Validity 4G
| | |
| --- | --- |
| Price | ₹61 |
| Data | 6GB |
| Validity | Current active plan |
Unlimited 12GB for Existing Validity 4G
| | |
| --- | --- |
| Price | ₹121 |
| Data | 12GB |
| Validity | Current active plan |
Unlimited 30GB for 30 Days Work From home plan
| | |
| --- | --- |
| Price | ₹181 |
| Data | 30GB |
| Validity | 30 Days |
Unlimited 40GB for 30 Days Work From Home Data plan
| | |
| --- | --- |
| Price | ₹241 |
| Data | 40GB |
| Validity | 30 Days |
Unlimited 50GB for 30 Days Work From Home Data Packs
| | |
| --- | --- |
| Price | ₹301 |
| Data | 50GB |
| Validity | 30 Days |
You can pay for the data addons or booster packs either from my jio app or directly from UPI payment apps like Phonepe, GooglePay, Paytm, etc.
We have also covered the new tech released by Jio which is the latest Jio Air Fiber and know the Jio Air Fiber launch date announced by Jio
Conclusion
Data add-ons are immensely useful because you never know when you exhaust your data while doing something important or bringing something nice. This blog might turn out very handy for you during these times. This was all about the emergency data loan service of jio. If you don't like the services provided by Jio, you can port Jio to Airtel easily
Frequently Asked Questions
How to get a data loan for Jio users?
You can easily avail of the data loan service offered by Jio. To get the data loan you can use the My Jio app or call customer care.
Is this data loan feature currently available?
No, it is not available right now. But Jio will make this feature active soon
What is the best alternative to the data loan feature?
You can purchase the data add-on pack that will cost you only ₹15 for 1 GB of data.
What is the data loan number of Jio in 2022?
You can dial the number – 199 or 1800 889 9999