Last Updated on February 14, 2023 by Sagar Kumar Sahu
In this post, we will show you some of the best ways to get idea call details. All these methods are genuine and have been tested by our team and I am sure that they will give accurate idea call details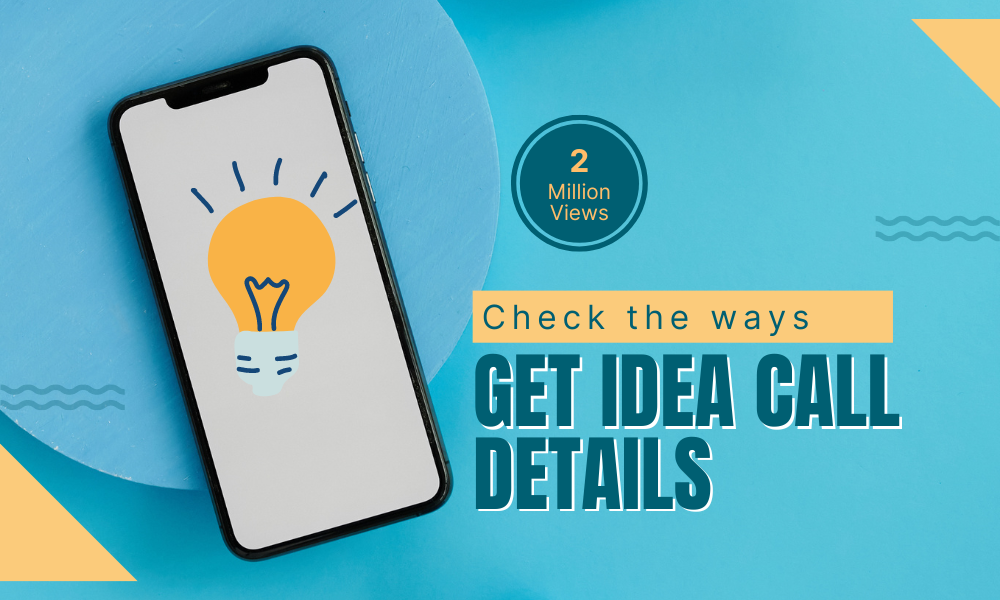 Anyone who has ever had to wonder who called them or where they were last night can relate to the need for call details. Luckily, there are now a few ways to get idea call details with fewer efforts. In this blog post, we will discuss a few of those methods and how to use them. Stay tuned for more information on getting call details!
Why do we need idea call history or idea call details?
If you are an Idea (JIO, Vodafone, Airtel, or any other telecom user) then sometimes you face some situations where you need to get an Idea Call History. This problem especially arises when our mobile balance gets deducted without our notice. And to know how this balance got deducted, we try to get the call history of our Idea number
Not only this there are many such incidents when I personally dived into the internet to search for such methods to get the last 5 call history in idea number.
Consider a situation where you want to spy on your brother, sister, friends, or any of your close ones, and you want to know who they contact by using your phone or we deleted some important unsaved recent contacts. Then we ask google to show any trick to get call details in our idea number
If unfortunately your mobile is stolen and you want to check if your Idea SIM is being misused to call someone? Then you start thinking to know whether can I check the idea call history or can get all the call details of the Idea number.
If you have faced such similar situations and looking for a solution then you are in the right place. Here we have brought these genuine tricks to get the idea call history that will give results within a fraction of minutes. So let's get started and follow each and every step carefully
Call details in Idea
Initially, Idea used to provide the option to get the idea call details on its official website and also on its MyIdea app.
In September 2020, Vodafone India merged with Idea Cellular and formed a new operator and named it Vodafone Idea Limited.
After the integration of Vodafone and Idea, neither of the operators do provide the feature to get idea call history on its official site and app.
But we have found a way to get the idea call details directly to your email id. So friends keep scrolling down to know the process
1.Idea call details-Call 199/198
To obtain the idea call details the only method is to contact the idea or VI customer care executive. You can either use 199 or use numbers from this list to contact them.
Before proceeding to contact customer care, follow these important steps in order to get the idea call history quickly.
Install and open VI official app
On the homepage, you can see MY Account at the bottom
Go to my account
Tap on edit profile
Give an alternate mobile number
Fill up the email box. This is the email id where you will get the idea call details
After entering the email id, an OTP will be sent to your email id for verification
Now cross-check if everything is correct
After completing this process you can dial the customer care number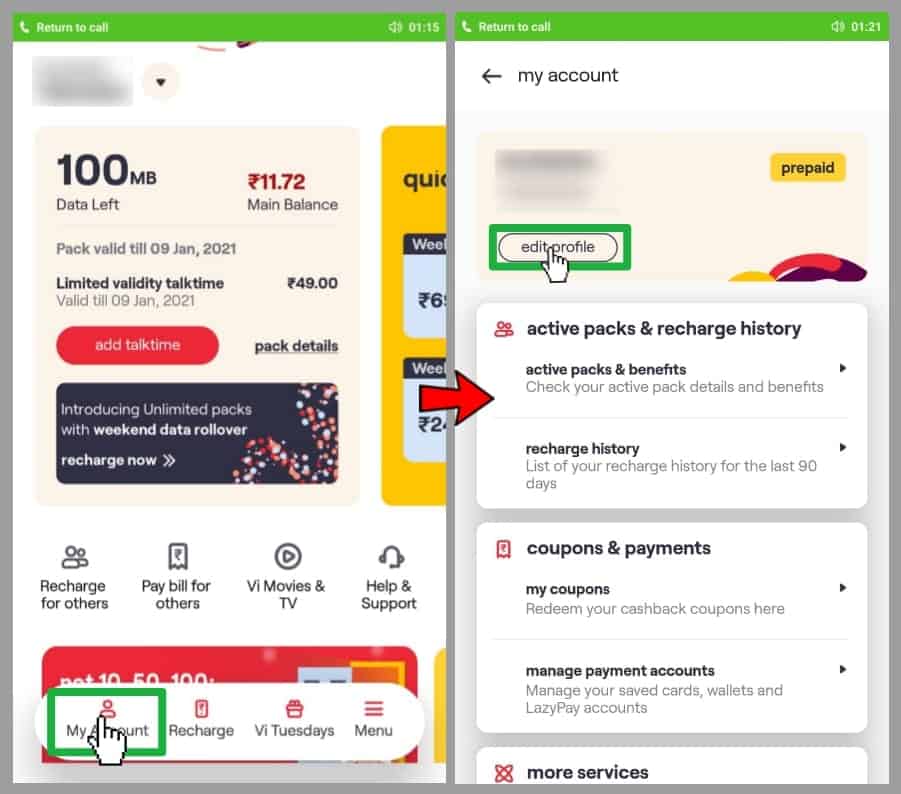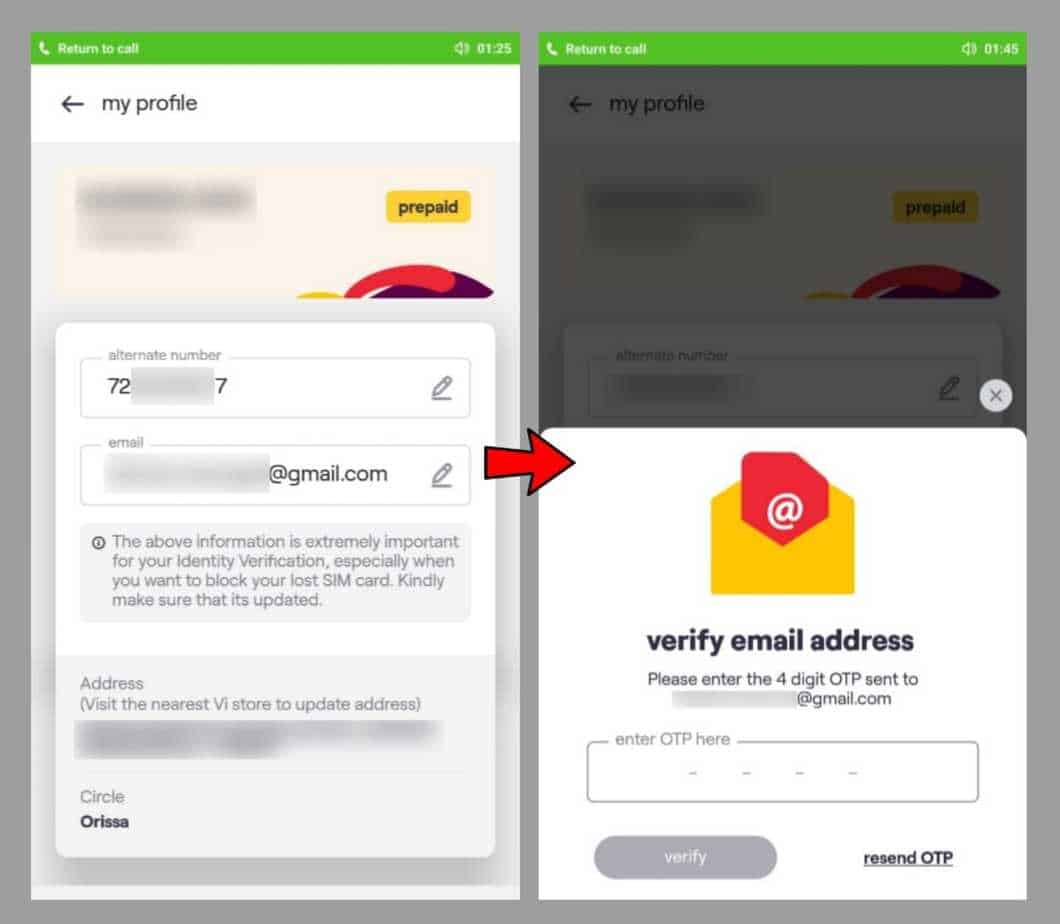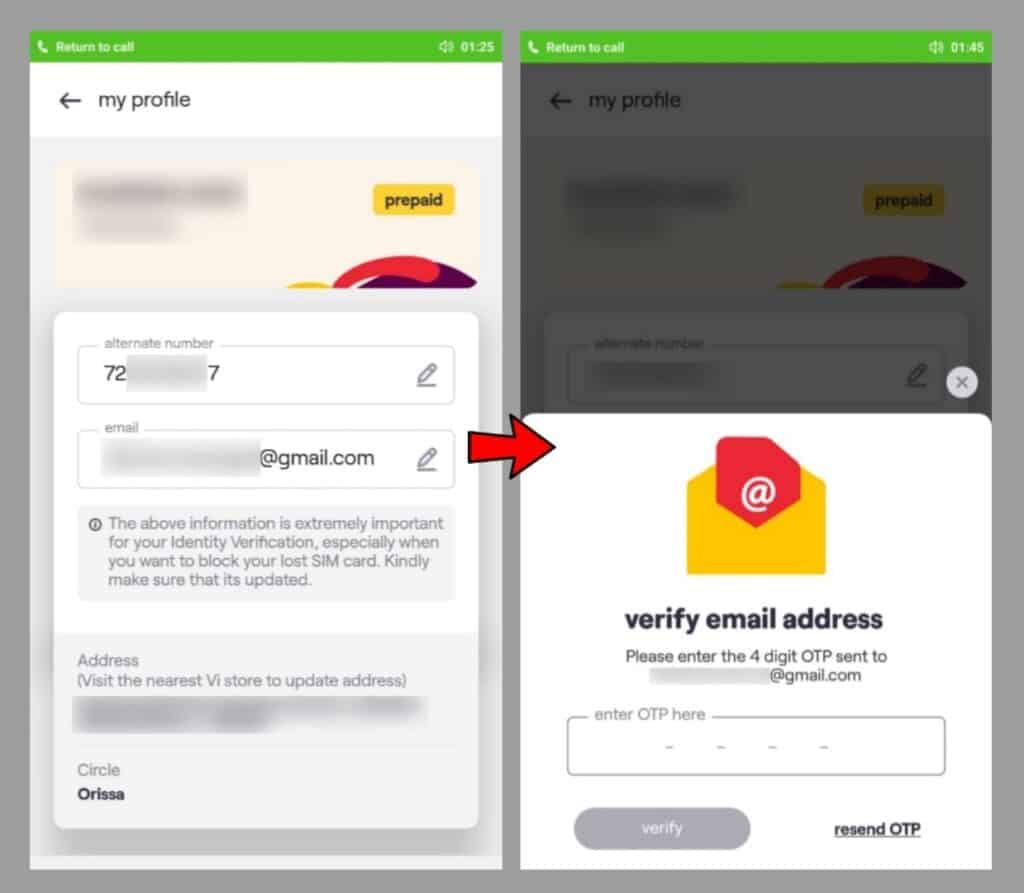 Many times users face problems when they try to contact customer care agents. You will not hear any direct option to contact the authorities. So here is an easy way to get ideas connected with customer care agents
Dial 198
Listen to the IVR voice and give option 3 as a response
Actually, option 3 is to know the idea data balance, but this is one of the easiest ways to talk with the executive
Keep listening to the IVR voice until it starts giving the options.
Now select option 4 to get connected with the Idea customer care agent.
Sometimes the option to get connected with the customer care executive changes.
For my case, it was option 4 but you might be asked to enter any other number like 7 or 9
Ask them to send the idea call history to the registered email id that you updated on the VI app
You can idea incoming call details of the last 180 days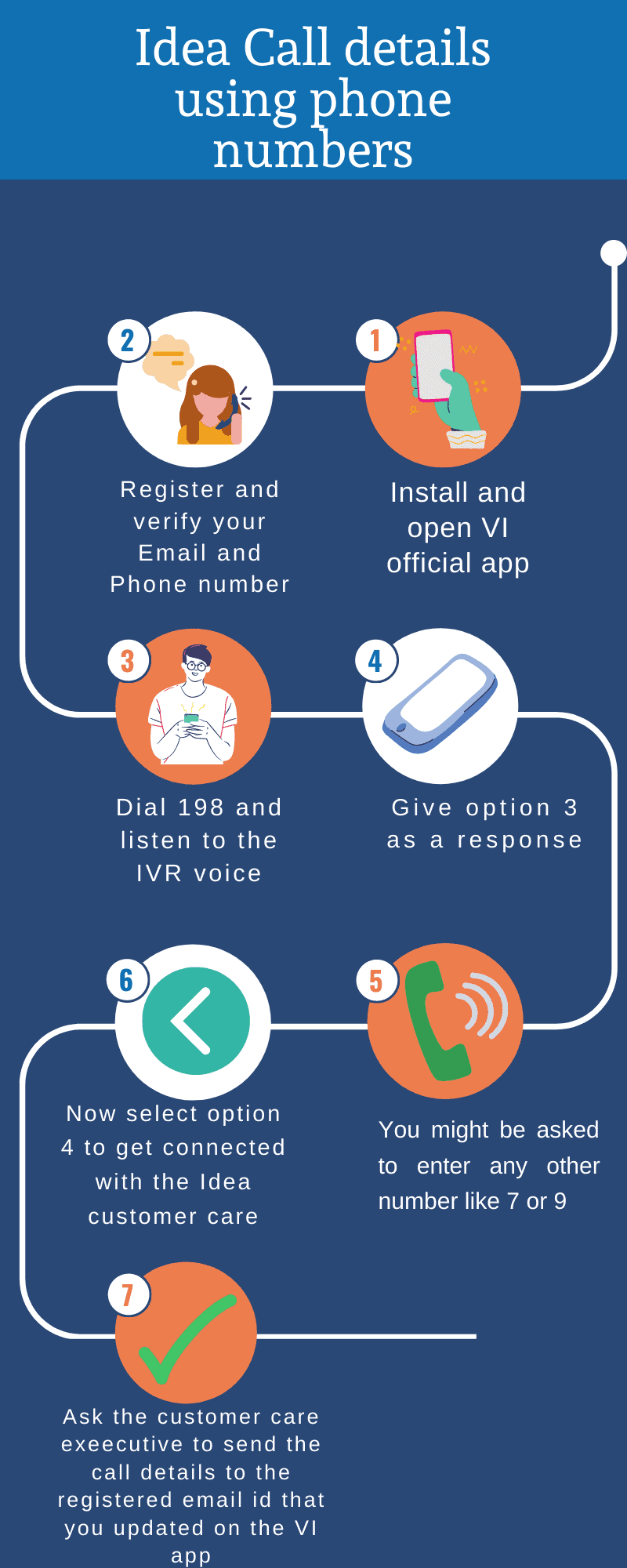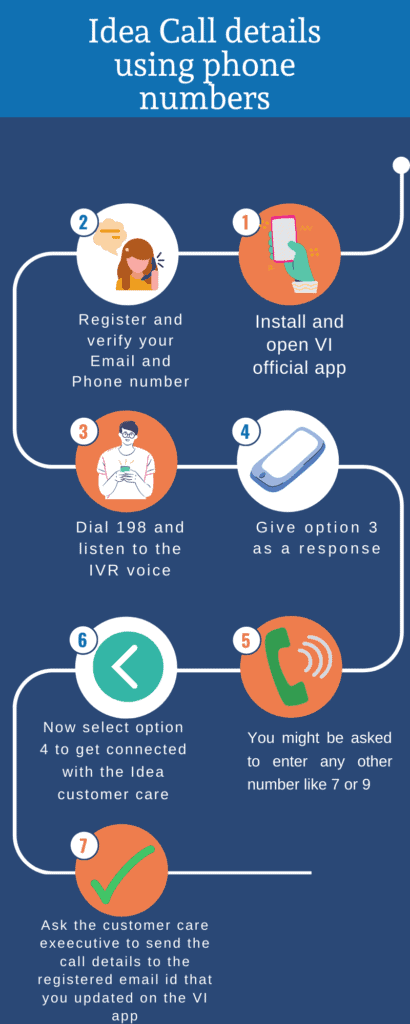 Note: If you are still facing any problems, you have to contact customer care using your regional VI contact number. Here is the list of regional idea customer care contact numbers. Click on the link and then click on the drop-down button to see the list of contact numbers based on different circles.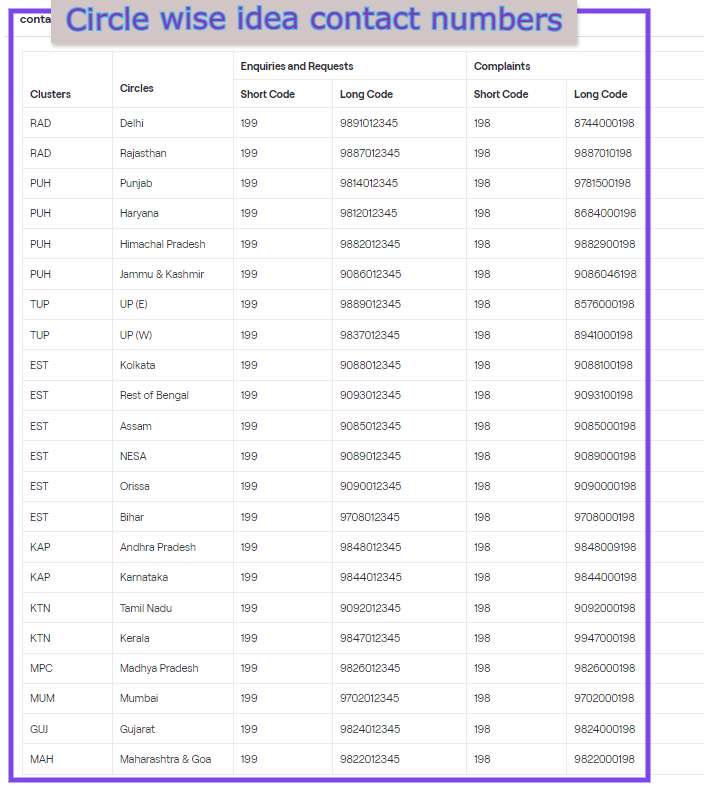 2. Idea Call history using USSD codes
If you want to stay away from all these calls and customary care numbers then you can use the official USSD codes of Idea to know the last 3 idea incoming call details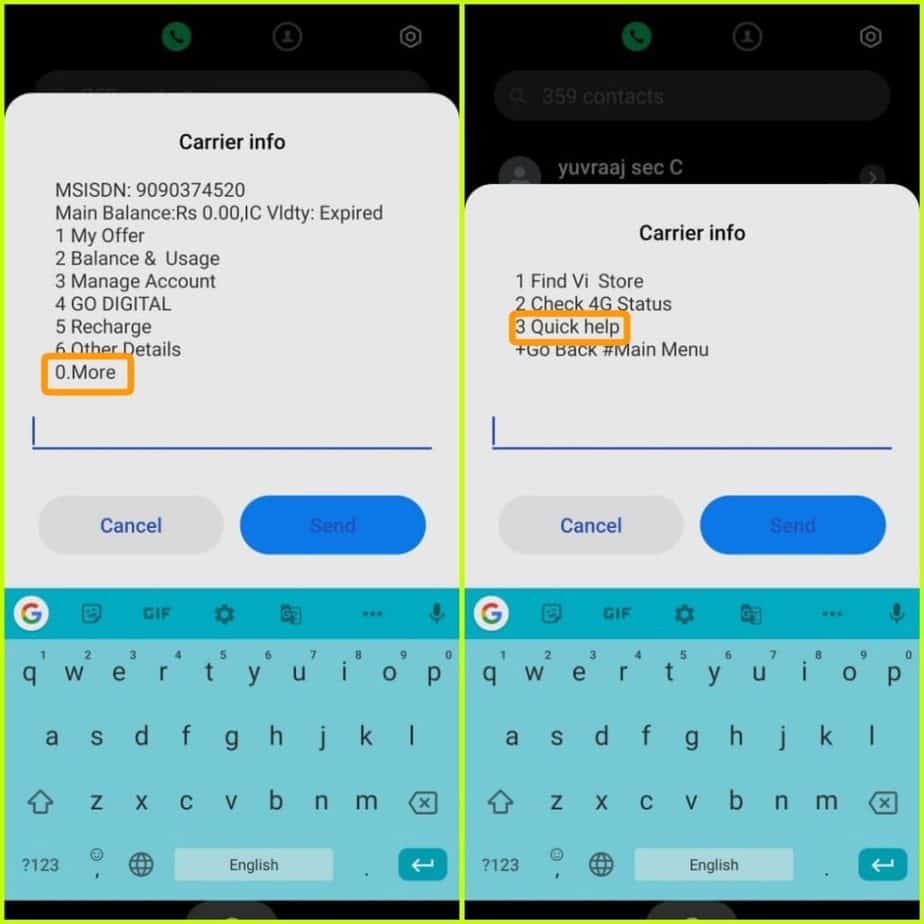 Dial this code

*199#

Wait for few seconds for a popup to appear
You will see a window showing you all the details like

Main balance, validity

, etc
Along with this information, you will be asked to choose one option
Choose

0 (More)

Then in the next window select 6 (Other details)
After this, you will be shown another popup
Select

3 (Quick help)

You will soon receive an SMS with Quick Help shortcut codes as in the image below.
In the message box, you can see a USSD code for

Balance and Deductions

Dial that code(*199*2#)
Select option

3(Last 3 calls and SMS details)

You can now see the last call details in the idea
Or else you can directly dial this USSD code *199*2# in the dial pad to get an instant idea call history details
3. Idea Call history using Email
This is the last official way to get call history in India. You can write a mail to the official email id of idea number –
customercare@vodafoneidea.com
All you have to do is send them an email from your registered email & mention the mobile number in the subject line. Write your queries and properly explain to them why you need the incoming call details of the idea sim


Idea call history using Vi chatbot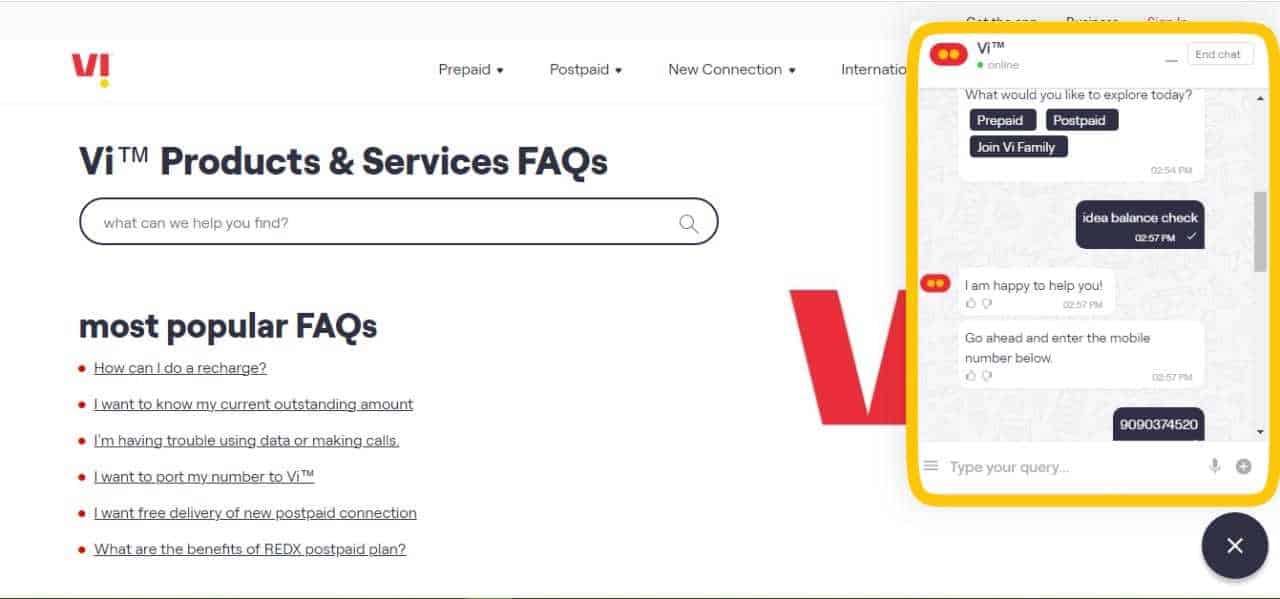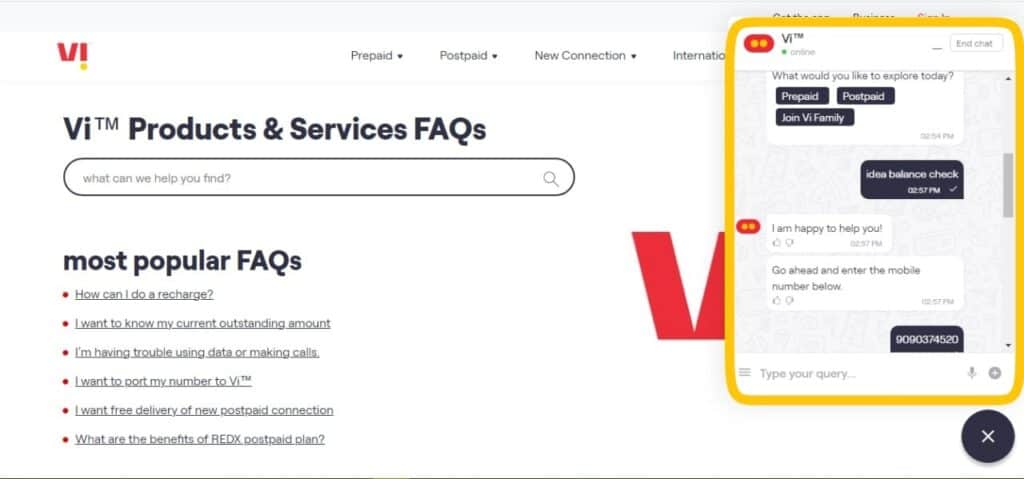 Yes, friends, you can easily get an idea call history of your idea number using its AI chatbot system.
If you dont know the steps to chat with AI-based customer chat support, just follow the steps given.


Open Vi app
Tap the Menu at the bottom right of the screen
Click on the Help & Support
Scroll down to chat with VIC
On the chatbox, You will be asked some questions with some options
Choose Prepaid if you are a prepaid user
Then choose Balance
Now choose Balance Deduction History
After this, you will get the complete idea call details of your last deduction on calls and messages along with the number that you have contacted.
Or else you can directly type your query in the chatbox. For example, you can type Last idea call history, last call details, etc.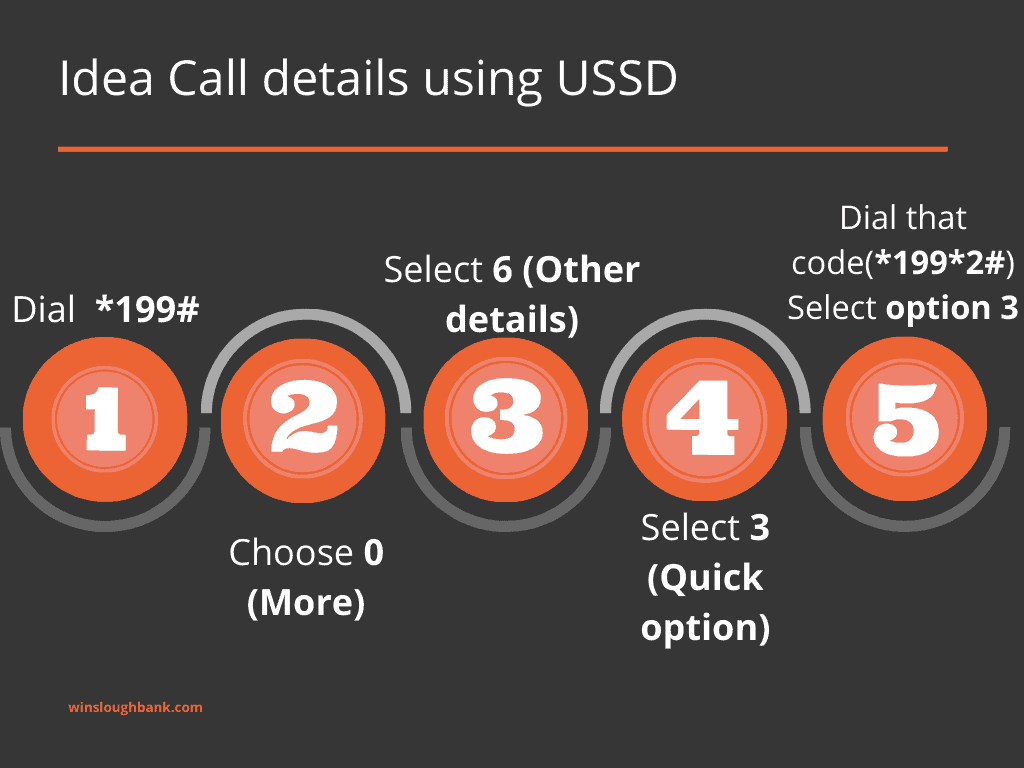 Idea call history details using VI app
Friends VI app has recently activated the option to know the usage history of & charges of various value-added services, data, calls & SMS. So you can use this option to check the idea cal history of your number using the official VI app. So let's know how to do this
First of all, open the vi app
If your phone doesn't have this app, install it from the playstore
Sign in using your mobile number
After logging in, you can see My Account on the homepage. Tap it
On the next window tap on transition history
Now swipe left or right to know the idea call details in the calls & SMS section
Note: This option shows the amount that was charged from you for various services like data, calls, etc. So if you have an unlimited call plan in your account then you will not find any records in this section. If you have recharged a limited outgoing call plan, you will see a record of each deduction made for calls, SMS, or data consumption.
Idea call history details using VI's official WhatsApp number
VI has introduced Whatsapp customer care support for its users. If you want instant help or want to clear some frequently asked queries, then this new support system will definitely help you. In our case, we want to know the idea call history or idea call details of our number, so we can use an official WhatsApp number to ask the call details query, and the idea WhatsApp support team will help you out
An indirect method to get call details of any number
Although you will get the idea call history using these official methods, still there is another indirect way to know the last 5 call details of your idea number.
You can download and install some call recording apps from the play store and on your phone. These call recording apps can help you to know both the incoming and outgoing calls of your idea number. You just keep this app pre-installed on your phone so that whenever you want to get the idea call history, you can check the idea call details from that app.
You just install any top-rating call recording apps from the play store. I use the Automatic Call Recorder app
Note: It is recommended to use the official methods since these methods are 100% safe. Use this app only when you find it very urgent to save and know the idea call history
Be aware
I have seen many websites and videos claiming that an app can show you call details. But let me tell you, friends, these apps can be found to be fraudulent.
They just try to fool you. Even if you search call details on the play store, it will show you 100 such apps with fake ratings and reviews, but trust me, friends, all these apps are just trying to dodge you.
These apps are programmed with such an algorithm that whenever you try to get call details by entering credentials, that app will do nothing but simply get the details from your recent call logs.
And those data will be made available in PDF format. Or show results directly on your app. These apps neither do any magic nor show you official call details. They show you the same data as your phone's recent contacts.
You can try it yourself to check the reality. You just download any such app from Google Playstore.
Open the app after installation. That app will ask permission for media, gallery, phonebook, contacts, and call logs. And be alert otherwise all your details will be accessed by those apps and stored in their database.
You just think why these apps ask for permission to manage your contacts or gallery. If they would be genuine, they could have shown you the data without such permission.
During my experiments with these applications, I had cleared my recent contacts and surprisingly none of the apps showed me the idea call history.
It simply shows how they fool customers and make big bucks by showing irritable advertisements at every step.
There are some apps that pretend to be real. Apps in this category try to be smarter. They will ask for the country code, operator, location, name, and number and after entering all the details, they will redirect you to the official website of Idea by falsely claiming to show the last call details in idea prepaid
So friends don't trust these fraudulent apps and prevent your data from being breached by hackers
Frequently Asked Questions(FAQs)
How to get the idea call history my number without OTP?
As I mentioned above, currently there is only one way to get the idea call details. You have to contact customer care to get the call details
How to check the last call details in idea prepaid?
You can visit the official site of Idea and follow the steps above to get the call details
How to get incoming call details in Idea?
You can visit the official site of Idea and follow the steps above to get the call details
In India, As per TRAI guidelines, you are allowed to get incoming call details only if you are a postpaid idea customer. In the case of a prepaid connection, there is no such easy way to get the incoming call details.
Final words
In reality, you will only get all outgoing call details like when you called, for what duration, How much you are charged for that call, etc. But it is a little difficult and cumbersome process to know incoming call details.
If you feel it's very urgent and essential to get incoming call details of idea then contact customer care or visit the nearest idea store or register a Police complaint. Just approach them and give a genuine reason and they will definitely help you to obtain the idea call details
So, friends, I hope you have got a solution to your answer. Now you can easily get the call details in the Idea number easily at any time. I said earlier, it is quite difficult to get incoming call details of any number, but you can easily get outgoing calls by following the procedure given above.
We hope that this article has been helpful in showing you how to get call details of any number. By using the apps and websites we have suggested, you should be able to find out who called, when they called, and even where the call came from. As always, if you have any questions or run into any trouble while trying to use these tricks, please don't hesitate to reach out for help.
Also here is Airtel PUK code unlock methods that you should know