Last Updated on December 3, 2023 by Sagar Kumar Sahu
I know most of you are spending a significant chunk of your day scrolling through YouTube videos. And you know how annoying those irritating ads are.
Just think about that moment when you are in the middle of watching your favourite video and just when it is about start the good part of the video, an ad pops up and interrupts that exciting moment. Ugh, talk about frustrating.
And this is the main reason why people like me start getting YouTube Premium which provides many benefits including ad-free videos, songs, background video play etc.
But for those who want to get these features of youtube premium for free, stay with us and keep scrolling to know amazing tricks to get a youtube premium free subscription
Introduction and why do you need Youtube Premium
YouTube is one of the largest video content platforms that can be accessed for free. YouTube is a free video-sharing website that makes it easy to watch videos online.
One can create and upload videos to share with others. Created in 2005, YouTube is now one of the most popular sites on the web, with its visitors watching approximately 6 billion hours of video each month.
YouTube is used by two types of users:
People who have channels and upload videos are the Creators.
People who watch videos, interact with videos, and subscribe to channels are the Viewers.
About Youtube Premium Free subscription
YouTube Premium: – YouTube Premium is a subscription service that brings an ad-free viewing experience to all of YouTube, including all videos, YouTube Music, and YouTube Gaming.
YouTube is the largest video streaming platform. Its premium services provide various valuable features such as ad-free videos, background screening of videos and music, and many more.
All these features add value and save the time of users. YouTube Premium charges very less money as compared to other streaming platforms.
Other than that, there are many other ways to get YouTube premium services for free of cost. To some extent, these ways are hit-or-miss ways.
Note: We have developed a tool to get Youtube Trending Videos, where you can get many useful insights and stay up to date with the trending videos
The benefits of YouTube Premium
YouTube Premium has many benefits, and the major ones are:


1. ✅Ad-Free Video: The ad-free video option provides an uninterrupted viewing experience. Also, there will be no banner ads in your mobile app.
2. ✅Background Play: Keep the video playing while you switch to other apps on your mobile device or when your screen is off. This includes the YouTube, YouTube Kids, and YouTube Music apps.
3. ✅YouTube Music: Play or download all songs ad-free. It also comes with an audio-only mode for background streaming.
4. ✅YouTube Originals: Access to YouTube Originals at no extra cost. Featuring series, movies, and events from the most popular YouTube celebs.
HOW TO GET YOUTUBE PREMIUM FREE?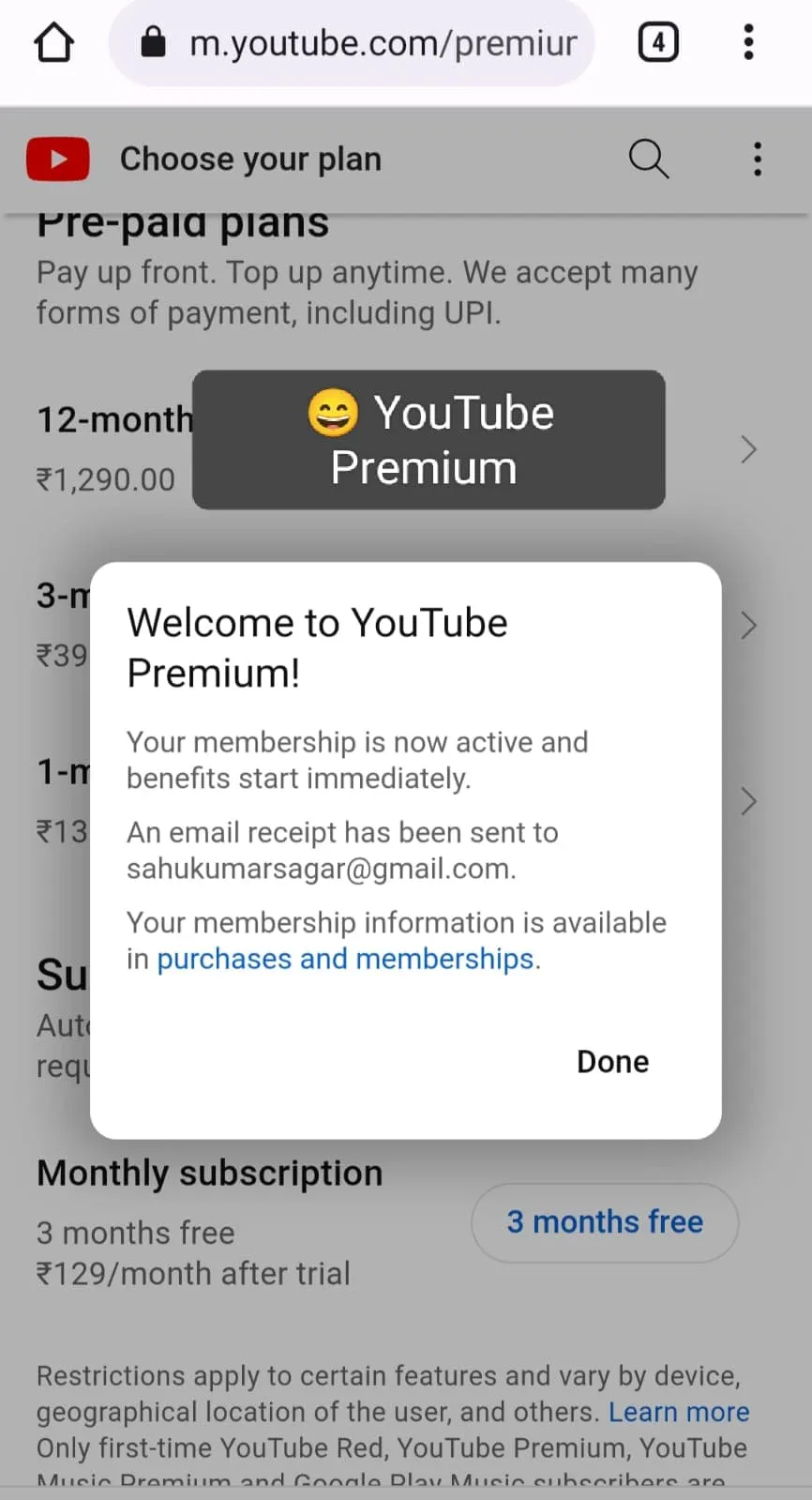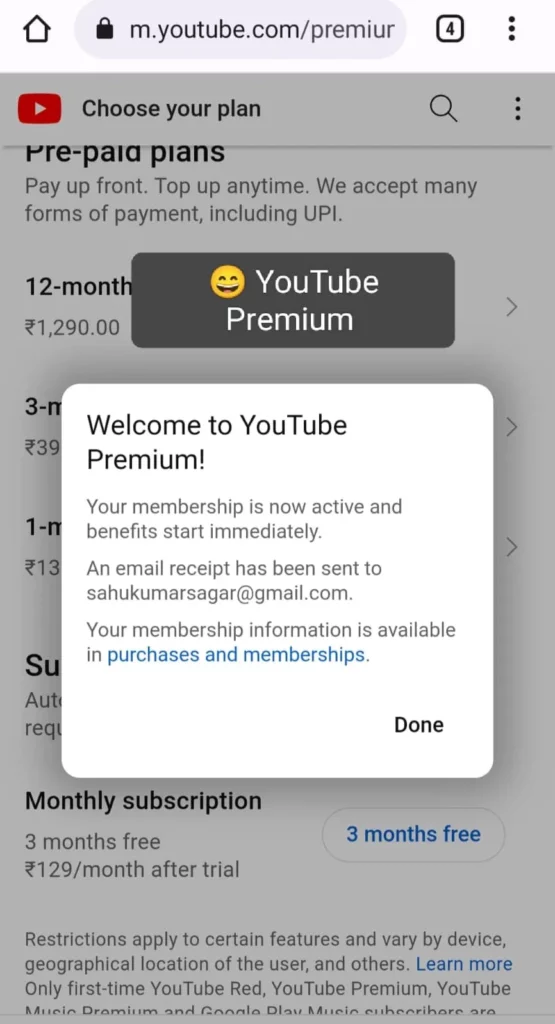 Method 1 to get free Youtube Premium✅
Officially, YouTube offers a one-month trial period for new subscribers. The basic plan of YouTube Premium costs Rs 139 without auto-renewal and Rs 129 with auto-renewal. The quarterly plan is available for Rs 399, and the annual subscription for the same can be bought for Rs 1290.
| Plan Type | Duration | Price (INR) |
| --- | --- | --- |
| 12-month | 1 year | 1,290.00 |
| 3-month | 3 months | 399.00 |
| 1-month | 1 month | 139.00 |
2️⃣ Things to keep in mind before trying this free trial method
For the free trial method, you need to choose a payment option, that allows auto-subscription
One convenient method is using Paytm or Paytm Payment Bank
If you want to use the free trial method, then you need to follow some steps that I have discussed below –
Open the Youtube App.
Click on your "profile logo" icon at the top right corner.
Tap on the option "Get YouTube Premium".
Now tap on the "Try it free"
On the next screen, tap on "1 month free".
In this step, you need to be very careful where you need to change the Payment Methods to Paytm.
Tap on "Payment methods".
Select the option "Add Paytm wallet" to enter your paytm registered mobile number and tap on the send code.
And if possible you should choose the Paytm bank instead of choosing the Paytm UPI.
Now enter your Paytm wallet passcode or UPI ID Pin code to proceed.
A refundable amount of ₹2 will be debited which will be sent back to you within 1 day
That's all, now you can enjoy the free Youtube premium.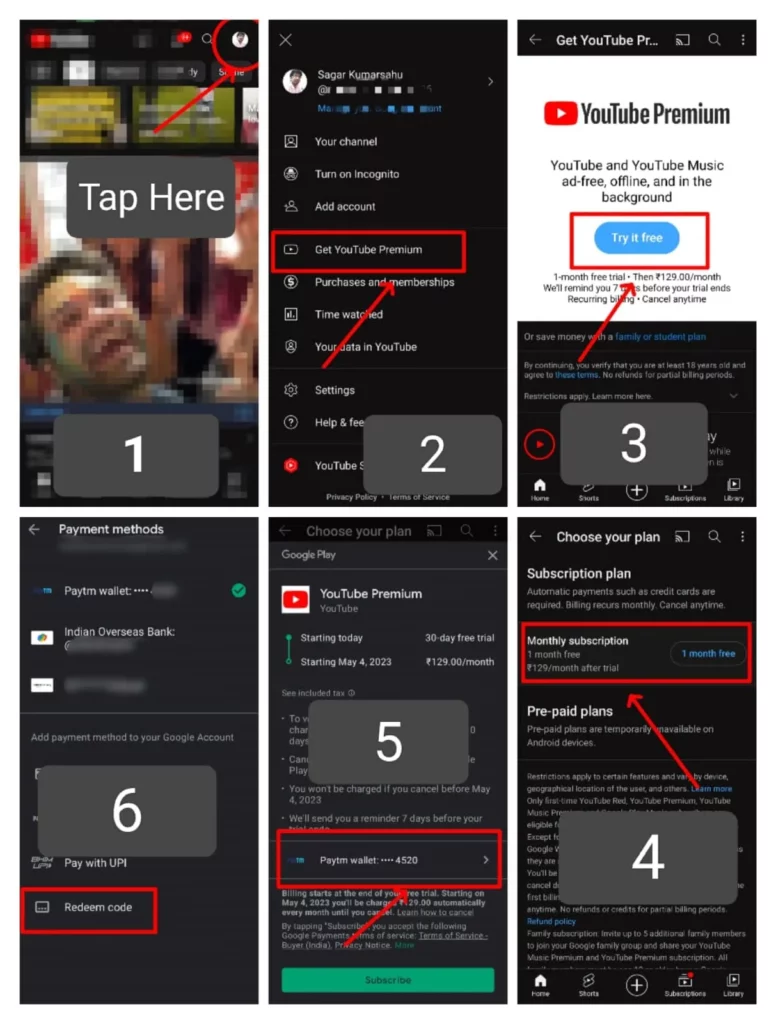 But many people forget to cancel the auto-renewal and the money gets debited after the expiration period ends. So let me tell you how you cancel the auto-renewal in the Paytm app to enjoy the Youtube Premium free
To cancel the automatic payment in Paytm, follow these steps:👇🏼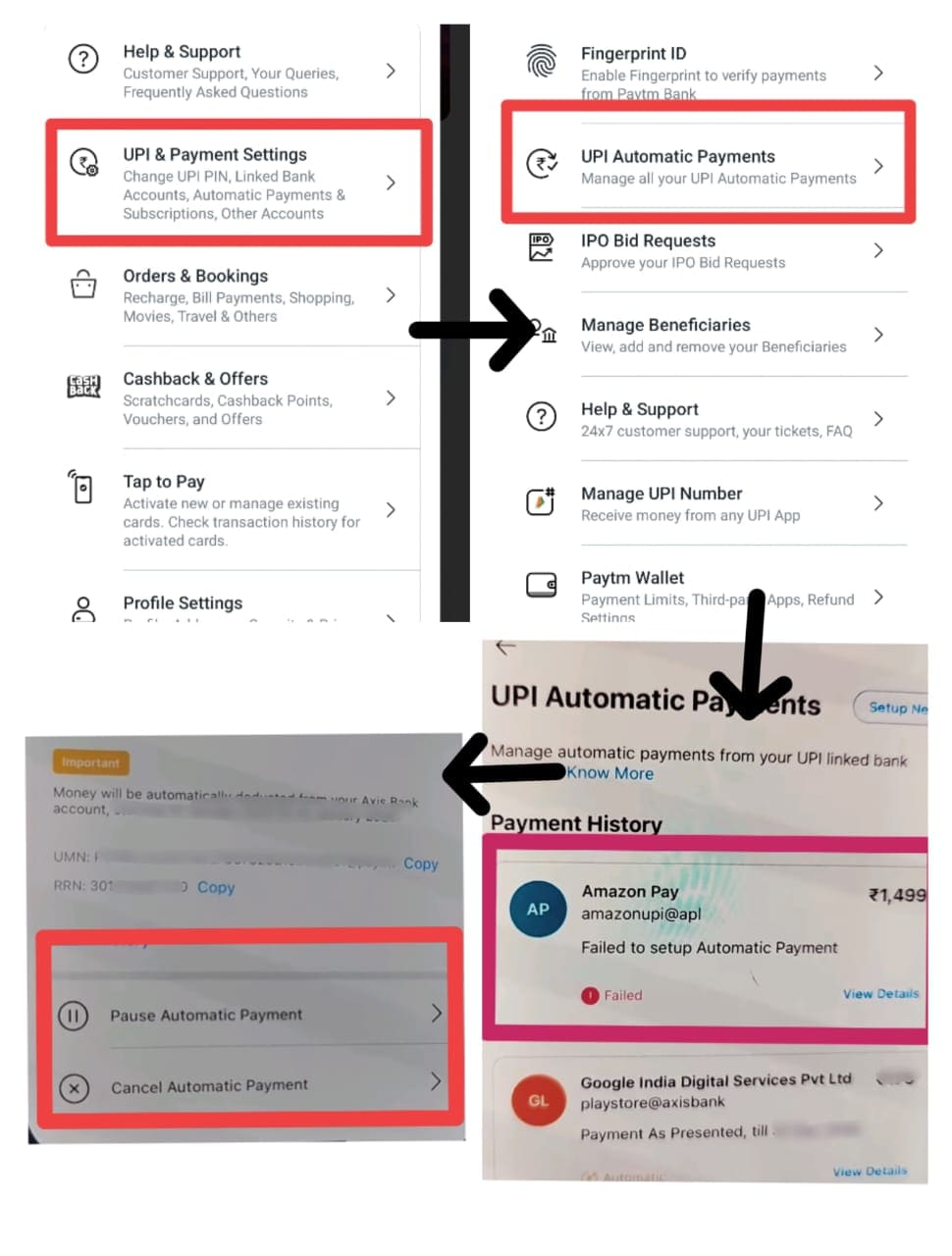 Open the Paytm app
Tap on the 3 horizontal bars located at the top left corner of the home screen.
On the menu options, you will see "UPI & Payment Settings", Tap it
On the next page, scroll down and you will see the section for "UPI Automatic Payments."
Under this section tap on "Amazon Pay automatic payment"
And that's all, just follow 1-2 prompts and cancel the automatic payment.
Note: These steps may vary slightly based on the version of the Paytm app you are using.
3 things to be noted to get a youtube premium free account
1️⃣ You need to cancel the subscription before the expiration time arrives. They will remind you 3 days prior to the expiration date. So keep checking your email
2️⃣ If you don't have a Paytm Payment bank then better you should create a Paytm bank. I am saying this because in Paytm bank you can add a limited amount of money from your original bank so that in case you forgot to cancel the free youtube subscription at the end of the month, the money won't be deleted. And in the worst case, you can with the normal UPI method.
3️⃣ If you are a student, you can avail of a special plan of Rs 79 per month after submitting your ID proof as a student.
Method 2 to get Youtube Premium Free✅
Using Flipkart Super Coins you can easily get 3 months of youtube premium free memberships. As I have mentioned about the Flipkart supercoins in many of my previous posts using which you can get many more free access like Free Amaozn Prime Memberships, free Discovery Plus, free ALTBalaji subscriptions, Free Voot Subscription and many more such entertainment apps.
Let's understand how you can use Flipkart coins here too. If you are shopping on Flipkart then Flipkart supercoins definitely would not be a new term for you.
Super Coins are earned and collected by purchasing goods from Flipkart. You must have noticed that while purchasing items super coins get accumulated, and those coins can be used to redeem YouTube Premium for free.
All you need to do is spend 75 Flipkart Plus Super Coins and that's all, you will get a free Youtube subscription for 1 month.
Here is the step-by-step guide to use the Flipkart supercoins for getting free Youtube premium subscriptions.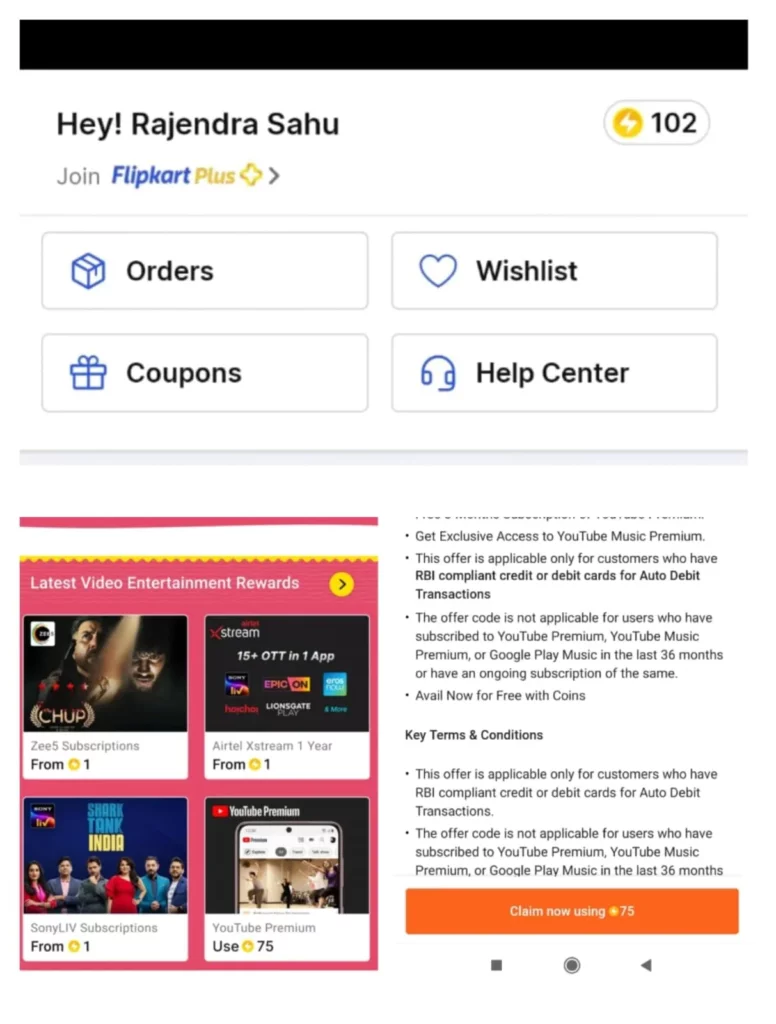 Open the Flipkart app
Go to the "Account" section
Tap on the "Coin Logo" option at the top right corner
Select "Use Coins"
Scroll down and find "Latest Video Entertainment Rewards"
Tap on it
Scroll and you will see the Youtube Premium logo available for 75 Flipkart coins
Tap on "Claim now using 🪙75"
🪙75 will be used from your account and you will finally get a link
After completing the entire process given above, Flipkart will give you a link/code like this.
Now let's know what further steps you again need to follow: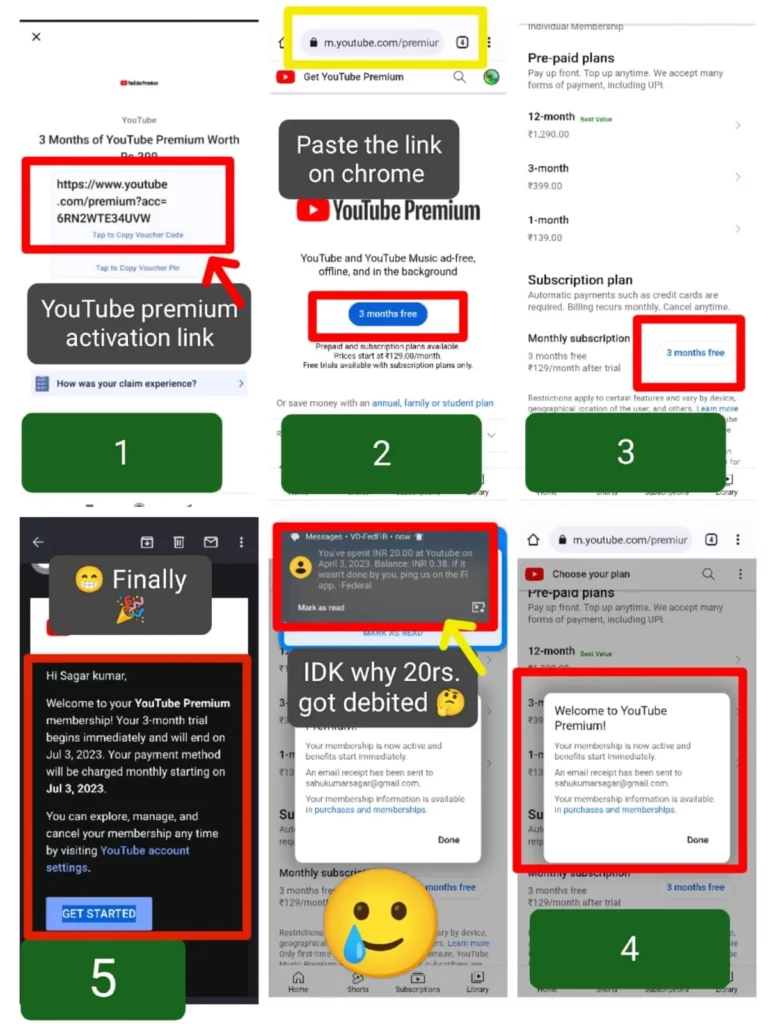 Copy the link and paste it into your chrome browser
You will land on the Youtube Premium Page
Tap on "3 months free"
After this, another page will open, scroll down slowly on this page and tap on "3 months free" again.
That's all you will see a popup with the message "Welcome to Youtube Premium"
😕And Yes, I don't know why ₹20 got debited from my account. But I think ₹20 is also very less for a 3months Youtube premium free access
Some Free Youtube Premium redeem codes or Free Youtube Premium Coupon Code
We have got some Free Youtube Premium redeem codes or Free Youtube Premium Coupon Codes.
https://www.youtube.com/premium?acc=CC99SPSVIFHK
https://www.youtube.com/premium?acc=S4H8BQWIPG4R
https://www.youtube.com/premium?acc=L4P5Q2V48NLM
https://www.youtube.com/premium?acc=GIFYGKTGTO8H
https://www.youtube.com/premium?acc=6CON50O52DDH
https://www.youtube.com/premium?acc=US3H51BPSZ11
https://www.youtube.com/premium?acc=D9PDEE7QLJ42
https://www.youtube.com/premium?acc=KW3AE7OP0CNU
The Gmail ID you want to use YouTube Premium for free should be logged in to your Chrome browser. What usually happens is that people do not check with which Gmail ID they have logged in and activated the YouTube premium code link in the wrong Gmail account.
So you should make sure that the youtube email id and Chrome email id should be the same so that when you copy and paste the link on the Chrome browser, you can activate youtube premium on the desired account.
😲Additional Benefits for Flipkart Plus members: If you are a Flipkart Plus member, you can claim 6 months of free YouTube Premium membership with ease.
Method 3 to get Youtube Premium Free✅
Since Youtube is a Google product, Google offers its own alternative to buy Youtube Premium for free. You must have a notice about the Redeem Code option while making the payment. Have you ever noticed? see image below
And you must be wondering, from where we can get the Google Play redeem code? Correct? Ok, let me explain in detail.
You can purchase Google Play Redeem Codes from different platforms like GooglePay, PhonePe, AmazonPay and Paytm.
But out of all these options, I buy the Google Play redeem codes for FREE, Yes you read it right, it is Free. Let me explain to you how you can get free redeem codes from one of our websites Techsonu, Amazon And Paytm.
📝Note 1: We provide Free Google Play Gift cards on an hourly basis on our blog post – Get Free Google Play Redeem Codes every day and every hour ✅😲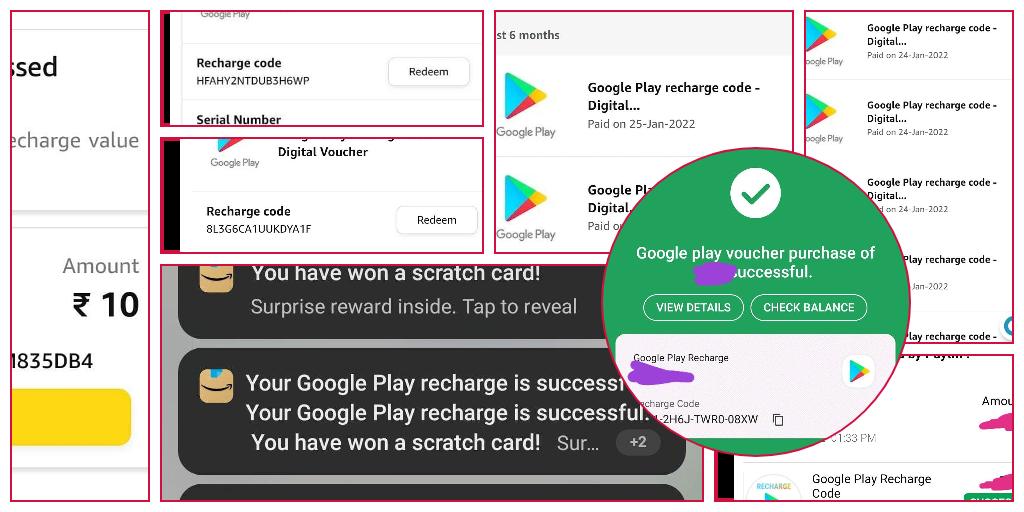 ✅We have a dedicated article for you on how to get Free Amazon Gift cards and we also share these gift cards with our users on a regular basis. We will discuss this in the next trick
✅We have also provided some 100% working tricks to get free paytm money by using different apps and websites where you can get real paytm cash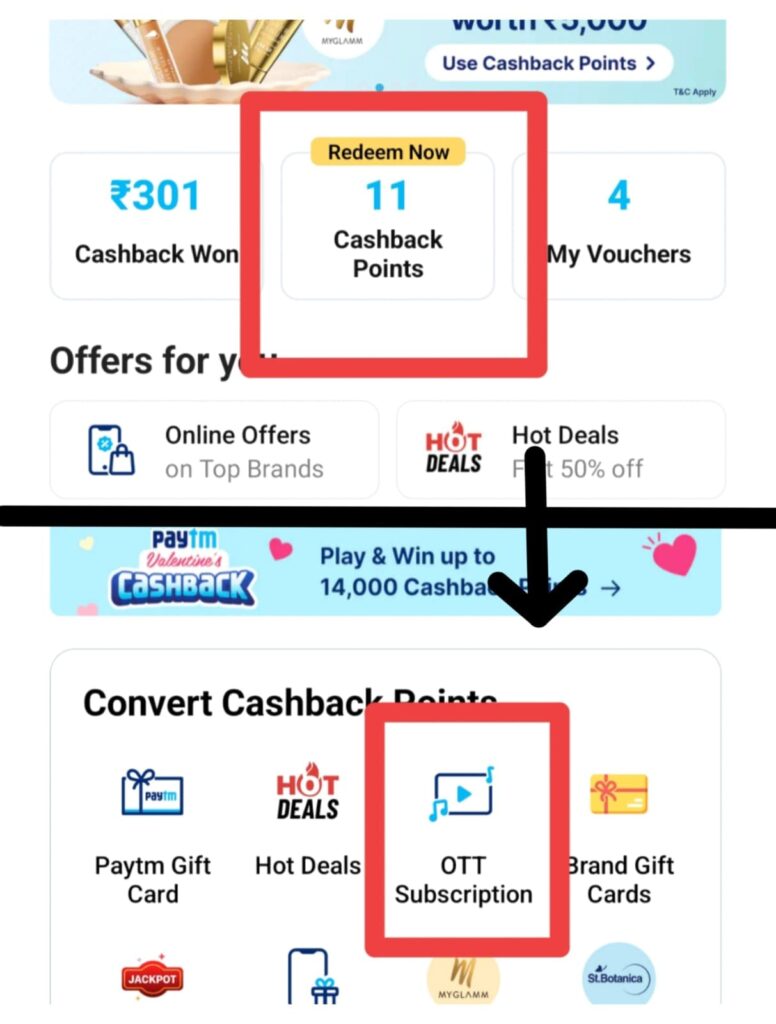 You just need to collect the Amazon gift cards and redeem them in your AmazonPay wallet and use the Amazon pay wallet money to get buy the Free Google play redeem codes. The same thing happens with the paytm too, you just need to use the Paytm wallet balance to purchase the Google Play codes
And whatever amount of redeem codes you have purchased, you just need to redeem them in your Playstore account. Now let's see how you can add the redeem codes to your playstore wallet and use them to buy the Free Youtube Subscription
❤️‍🔥How to redeem the Free Google Play redeem code?
To redeem these google play recharge codes you have to follow some steps: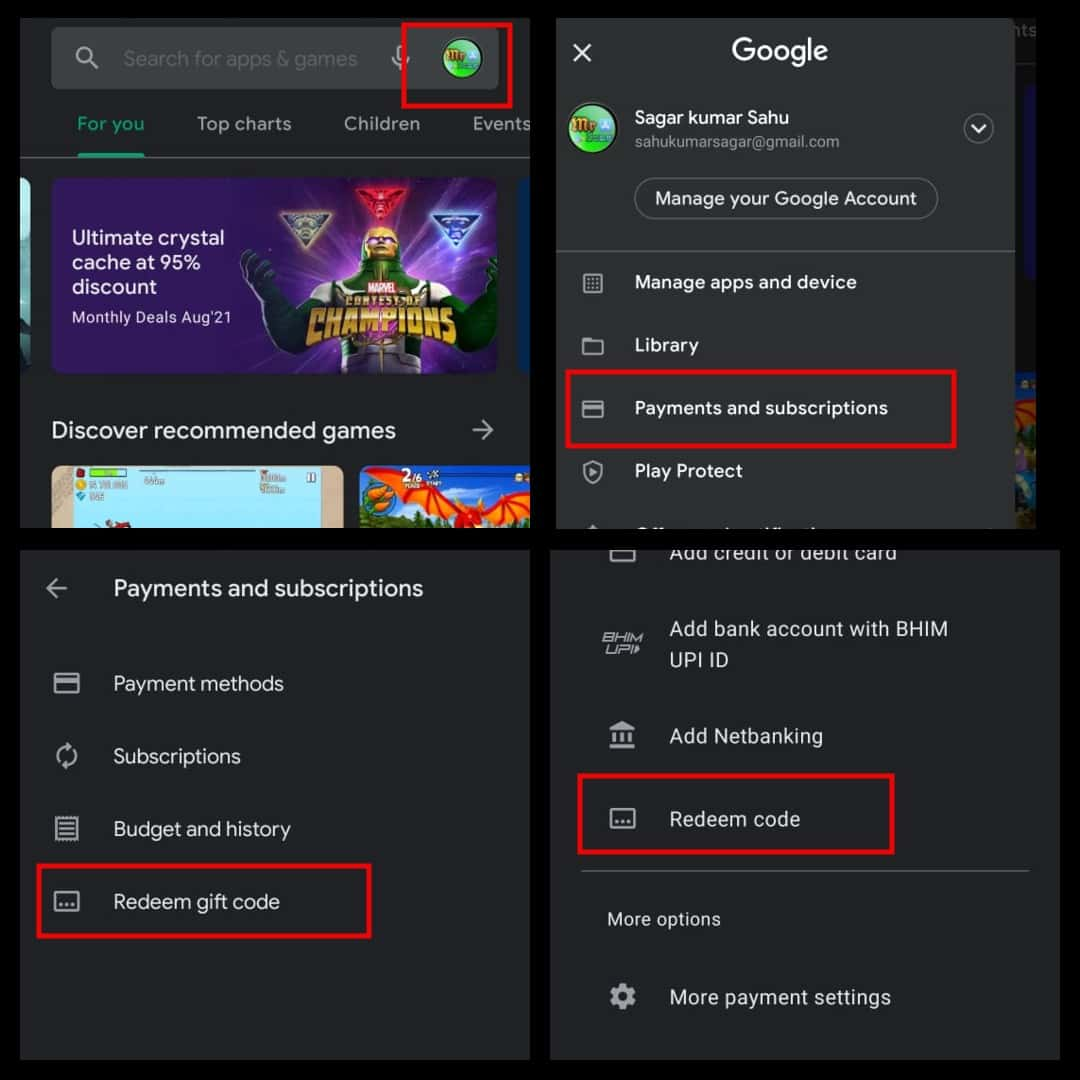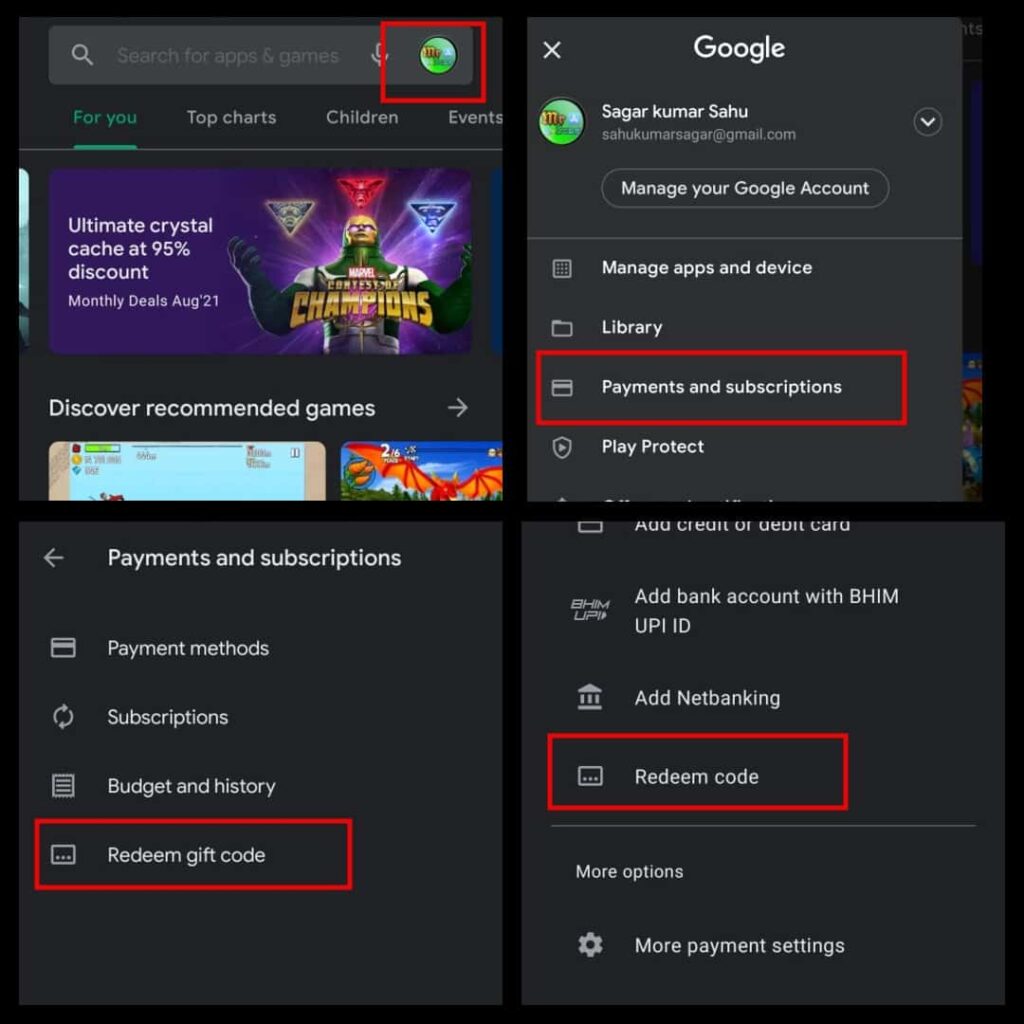 Go to

Google Play Store

on your smartphone.
Tap on your

profile icon

in the

top-right corner

of the screen.
After this, you tap on the option of

Payments and Subscriptions

.
Under

Payments & Subscriptions

, tap on the '

Redeem Gift Code

'.
Enter the

redeem code

and enjoy the free Youtube Premium subscription
You can complete the redemption process on your computer too. All you have to do is follow the given steps.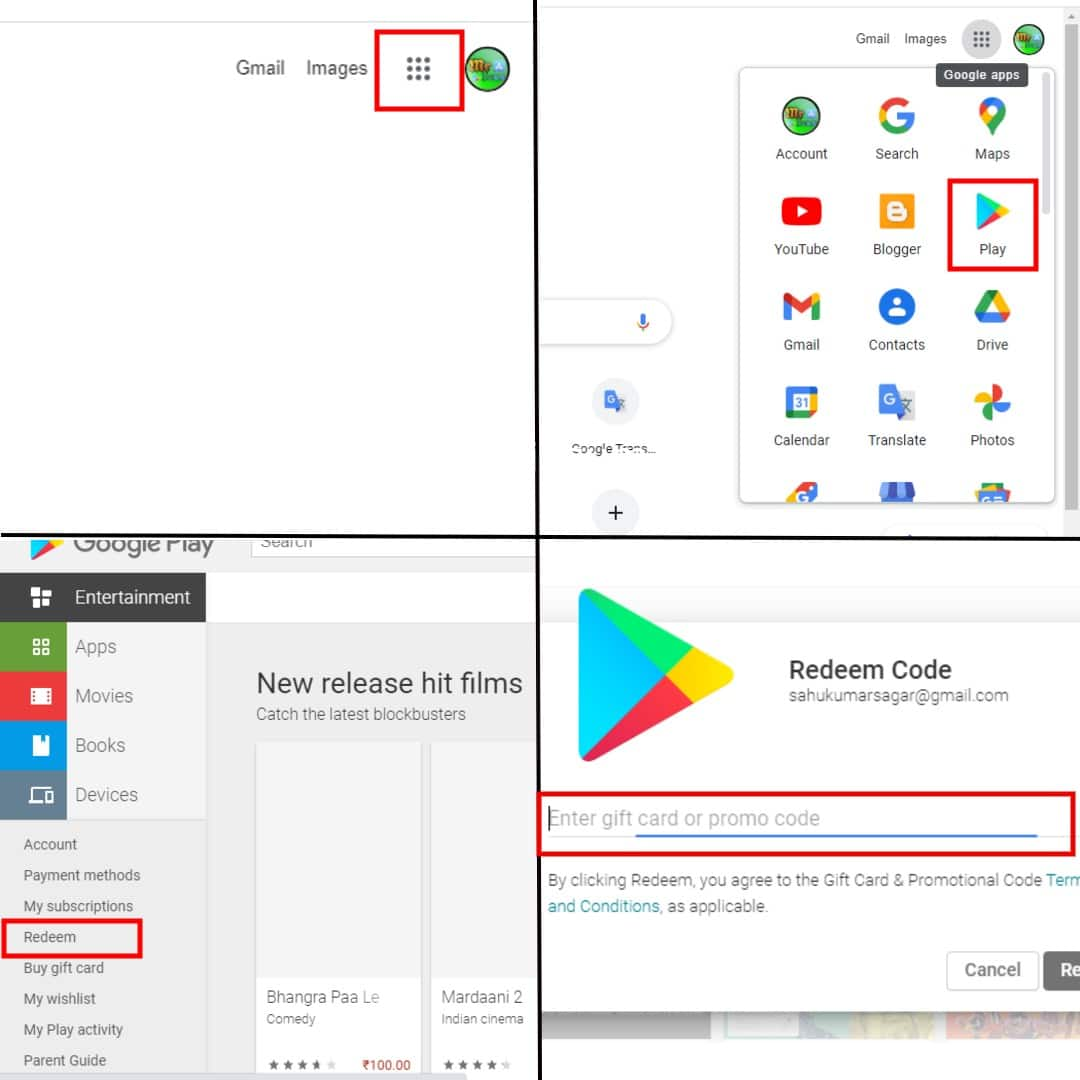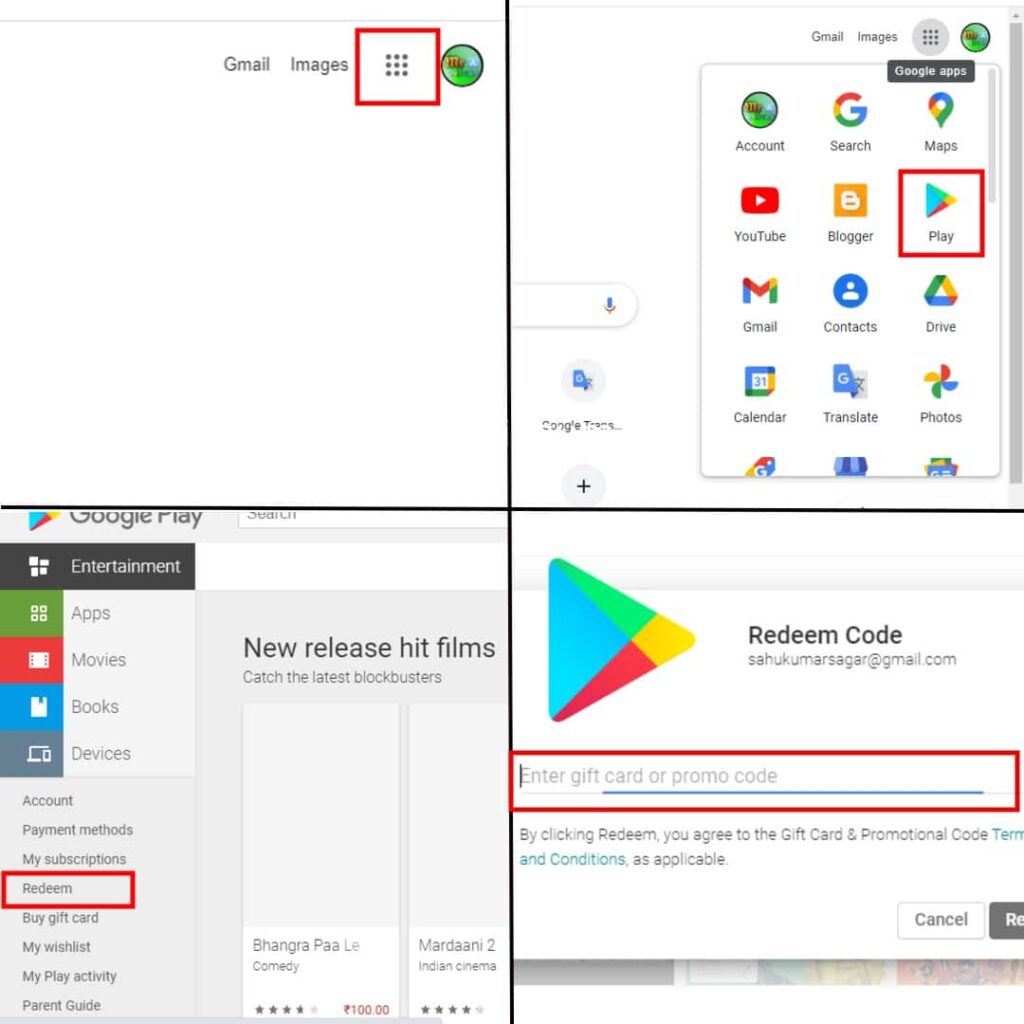 Open

Chrome browser

On the top right corner click on the "Google App logo" (which looks like a dial-pad with 9 dots)
On the playstore page

again

select the "

Google play icon"

located at the top right corner
Click on the "

Payments & Subscriptions

"
Under the Payment methods, click on "+

Add Payment Methods

"
You will see the "

Redeem Code

" option
Enter the "

redeem code

" and click redeem to add the money to your playstore wallet
After adding the redeem code money to your wallet, Go to the Youtube premium and select the Payment option as The Playstore. Use the money playstore money to get the Youtube Premium membership. This is the best indirect way to get a free Youtube Premium subscription for free
Method 4 to get Youtube Premium for Free✅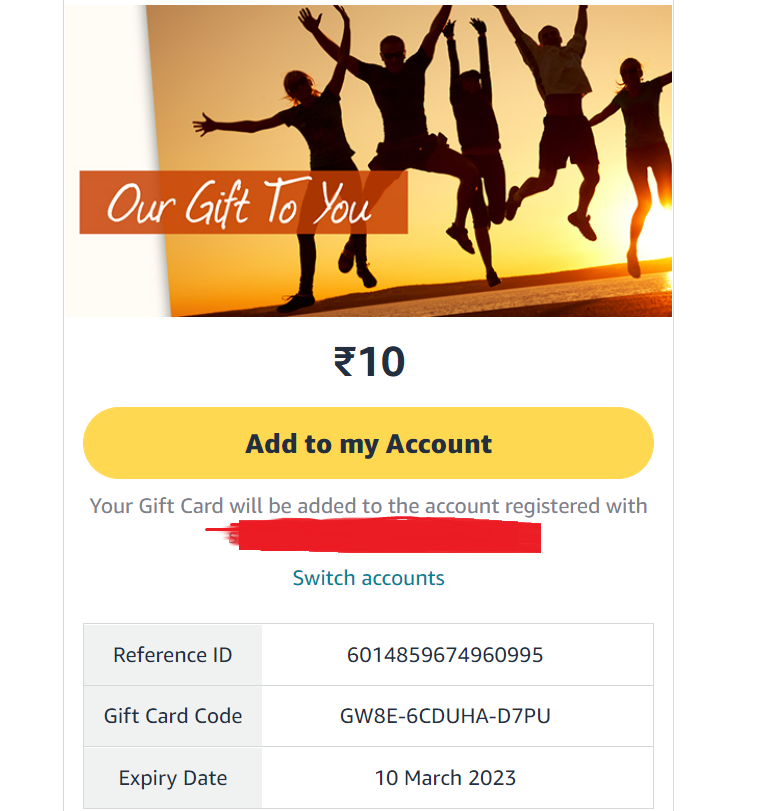 Now you must have got one idea of how indirect methods to get youtube premium. Now let me briefly explain how you can use a similar method to purchase Google Play redeem codes from AmazonPay using the Amazon Pay balance and add it to the playstore wallet


Enter the copied Amazon gift card code from our website into the box given.
Tap on 'Add to your balance'
You can also redeem the Amazon gift card via Amazon App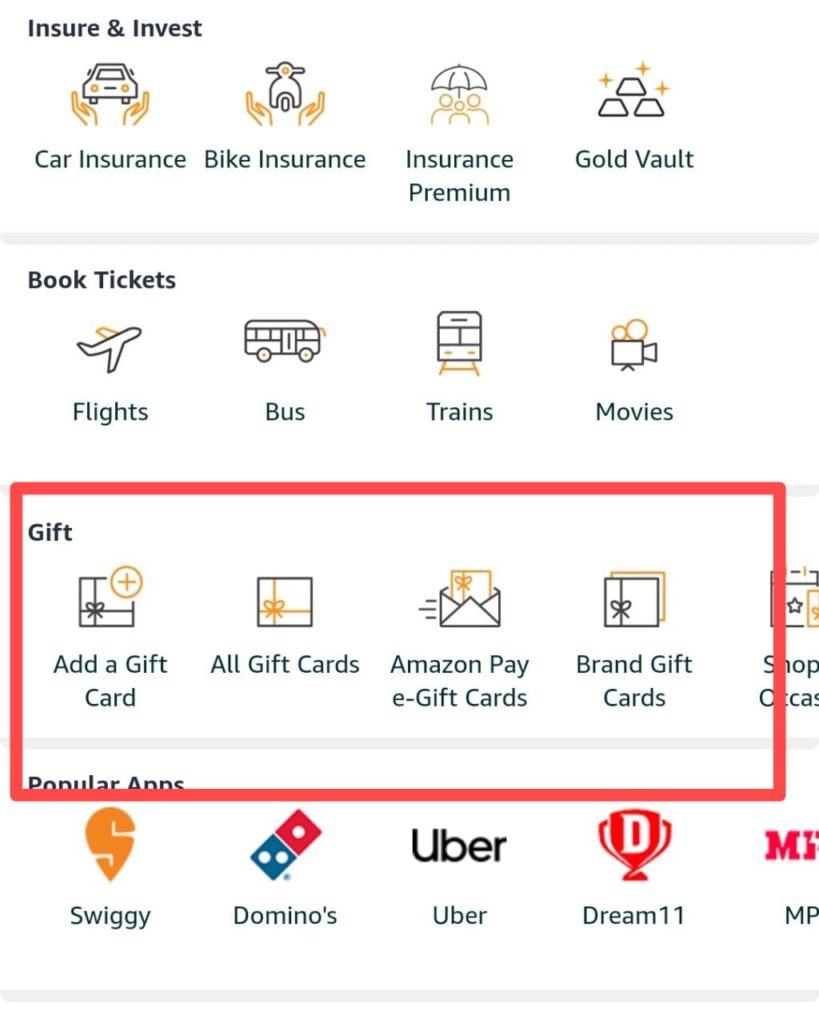 Open

Amazon app

Tap on the "

3 horizontal icons

" located in the lower right corner of the screen
Now tap on "

AmazonPay

"
After landing on the

AmazonPay homepage

, slowly scroll down the page
You'll see

several gift card options

under "

Gift Category

".
Select "

Add a Gift Card

"
Paste the "

Amazon gift card code

" and tap on "

Add to your balance

"
The amount will be added to your Amazon Pay wallet
Method 5 to get free Youtube Premium✅
Two popular reasons to use Youtube Prime are that it allows you to play YouTube even when the screen is off and the other major reason is that you are now completely safe from annoying ads whenever you watch a video.
Now, what if I say that you can get both of these features without buying a Youtube premium plan? Wouldn't it be a great alternative to youtube premium if I share the methods and indirectly say that you get a free premium membership? Because you get the same youtube premium features without paying a monthly fee.
I think nowadays, many brands offer these features where you can play youtube videos while using other apps or even when the screen is off. These are the default settings available on some smartphones and you can turn on this feature from your phone's settings.
Generally, on Oppo devices, you can find this option(Smart Sidebar) in the "special features" but it may vary from device to device.
In fact today many 3rd party apps are available on the playstore that enables this feature. You can go and try any good app that can play youtube videos even when the screen is off or running youtube while using other apps.
Here are some suggested apps that play youtube music/videos in the background while you are using other apps or when the screen is off
Float Tube- Float Video Player
Chrome app: In this, you just need to open youtube on your Chrome app and then switch to the desktop mode. And once you go to any other apps, you will see the controller button at top of the

slide bar

like this 👇🏼
One of the main reasons why I always prefer Youtube premium is because it gets rid of annoying ads. I don't need a youtube background music feature as I have phones by Oppo and Xiaomi and they allow this feature by default system settings.
So the only reason for me to get free Youtube premium is to block ads. And if you are in my category, then there are 2-3 cool tricks for you to get rid of irritating ads on Youtube. So let me discuss those tricks with you.
✍🏼

1st trick for removing the repetitive Youtube ads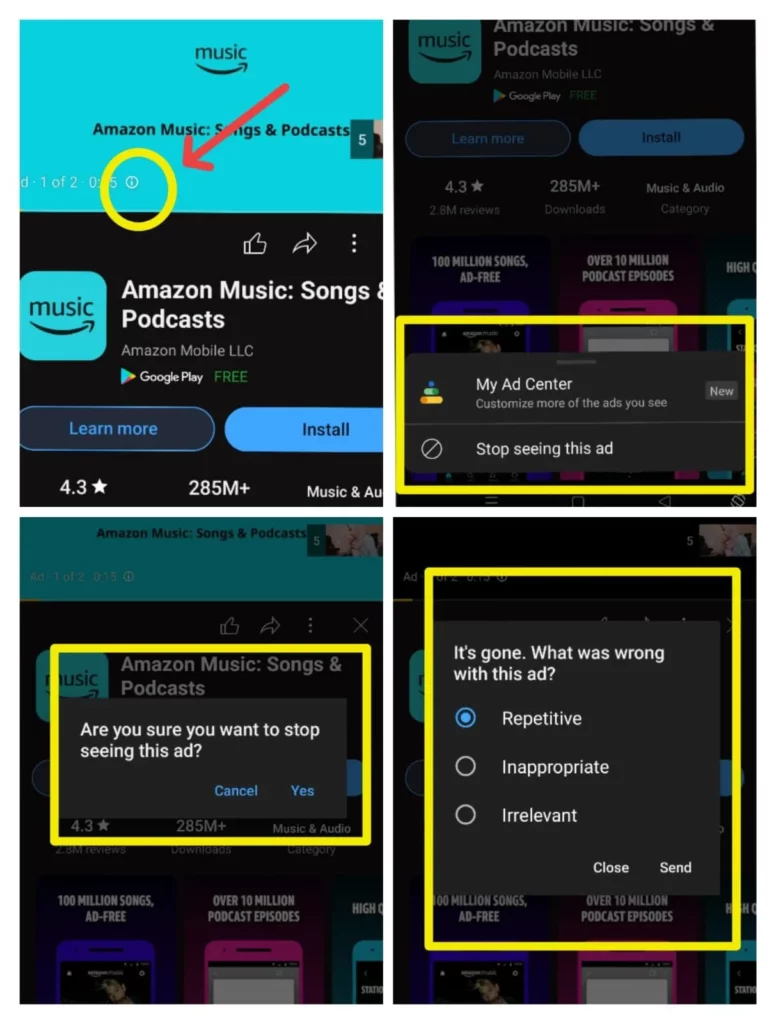 1️⃣When an ad is played, just click on the ⓘ (i button). You can see the image below
2️⃣Now click on the 'stop seeing this ad', then click on 'Yes' and choose any of the reasons. I always choose the 'repetitive' option
3️⃣That's all the ads will be removed and you won't see the same ads again while watching the particular video. You can repeat the same process for any video and any ads you see.
✍🏼

2nd trick for removing the repetitive Youtube ads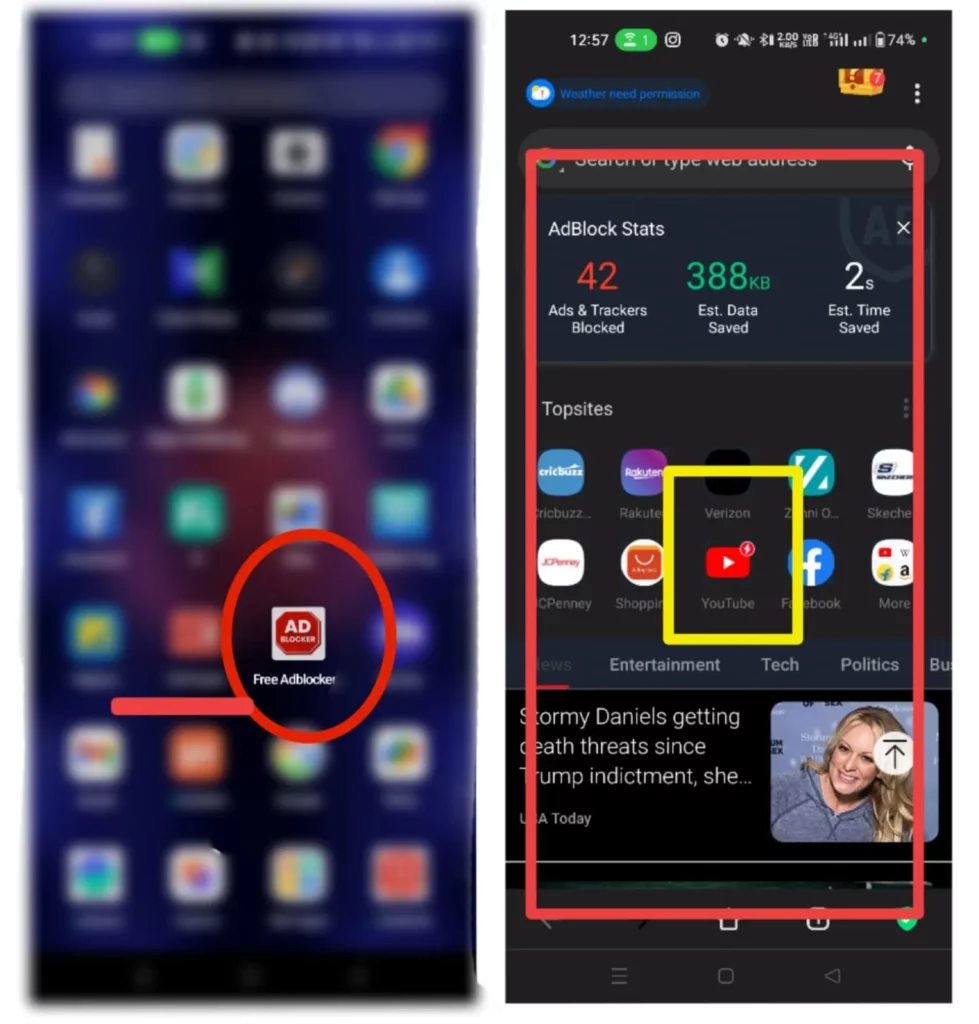 Just go to the playstore and search for keywords like "Block ads" or "Ad free Browser" etc
You will find 100s of apps
Install any of the high-rated apps
I have installed the app named " FAB Adblocker Browser: Adblock" app
Now open the app and click on the Youtube icon present on the homepage itself
These apps simply block the ads on any website, may it be youtube or Facebook
So you can easily watch youtube videos without any ad interference
Here are some more similar apps that can do the same function
Adblock Browser: Fast & Secure
Ad Blocker Block All Ads
Brave Private Web Browser
AdBlock VPN
AdGuard: Content Blocker
💡💡One useful tip1: If you want to watch any long videos without any ads, then you can play the video on your laptop and install any Ad blocker extension from the chrome store. they also block ads on youtube.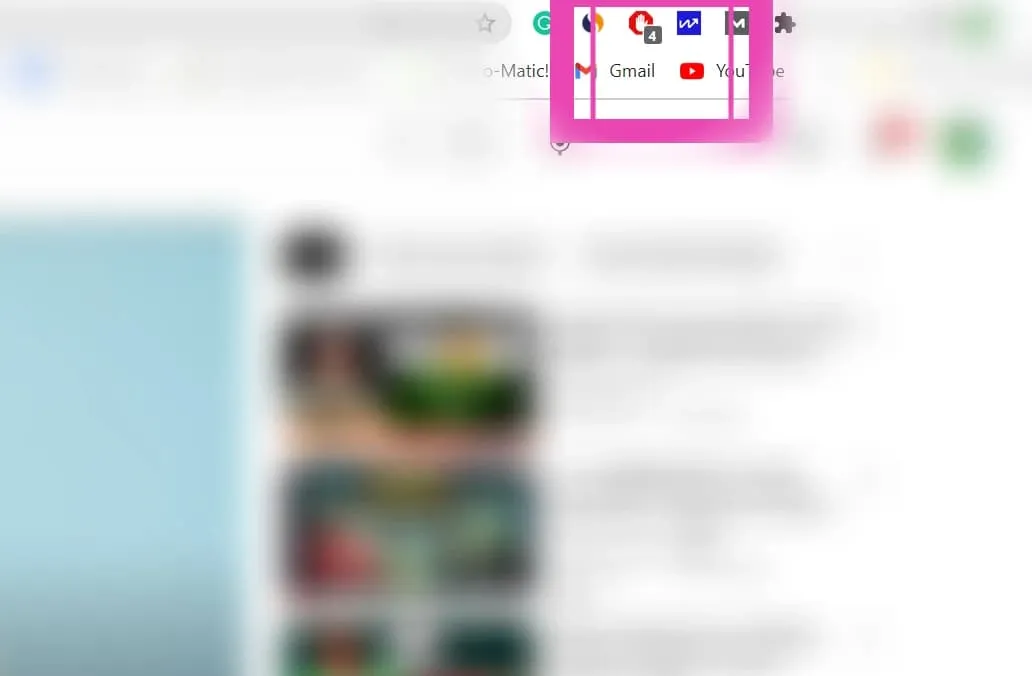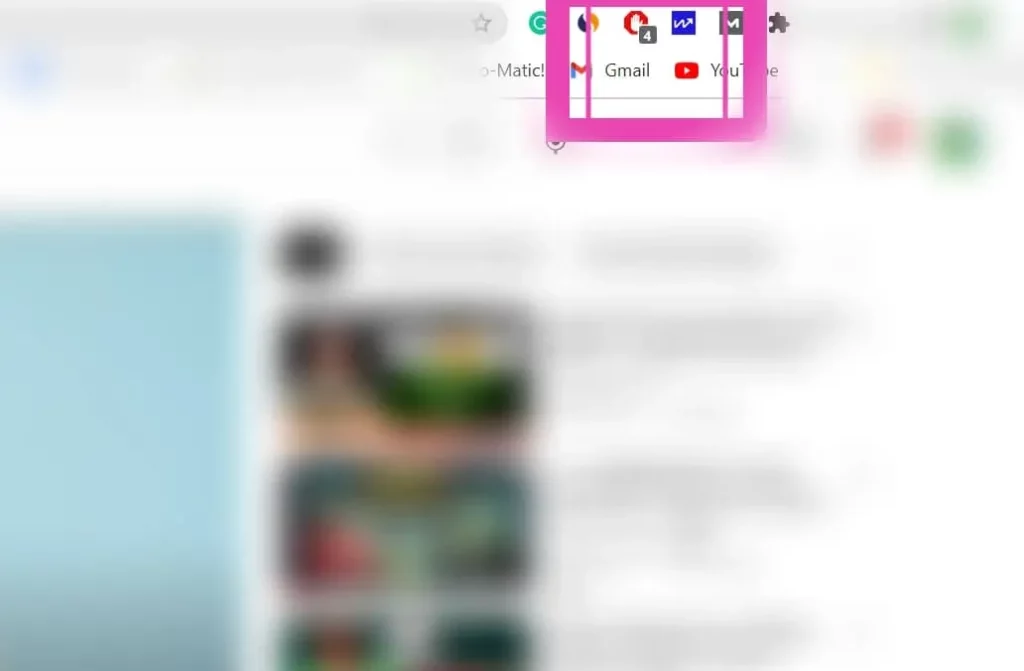 ✍🏼

3rd trick for removing the repetitive Youtube ads
This is the most underrated trick that works 100% to play the video without any ads.
You must be aware of the latest "auto-play video on Youtube home screen" feature of YouTube, where the video starts playing automatically while scrolling through videos on the YouTube homepage (when you stay on any video for some seconds). This auto-playing video does not show ads, plays the video smoothly and that too with good video and audio quality
Though all these tricks are not 100% efficient, but they solve 90% problem of youtube's annoying ads where we wait for the timer to end so that we can tap on the skip ad button.
Anyways now let's move on to our next ways to get a Youtube premium free subscription
Method 6 to get Youtube Premium✅
Get Youtube premium free with T-Mobile Offers
If you know about T-Mobile and have been using their service, you need to check out their T-Mobile offers for free YouTube Premium and YouTube TV discounts.
You only need a billing phone number for that. It has one popular offer which includes 3 months of YouTube Premium and $10/month off YouTube TV.
Method 7 to get free Youtube Premium Free✅
Get 3 months of YouTube Premium with BestBuy
Another trick to get 3 months of YouTube Premium for free is through BestBuy, and this one will be a lot easier.
BestBuy offers this promo as a shopping item.
After you "Buy" the free code (it costs you US$0), you will receive an email containing the redemption code.
You can then go straight ahead and redeem it on the YouTube redeem page.
The redemption process is the same as I have described above for the Flipkart SuperCoins trick
Also, do note that this offer applies to new customers only.
Method 8 to get Youtube Premium Free✅
Enjoy 4 months of YouTube Premium for Samsung users


Samsung offers free YouTube Premium for newly-purchased Galaxy devices for 2-4 months.
If you have got a new Samsung phone, you can check if you are eligible for this offer.
But one bad part about this trick is that not all models are eligible for this offer. This promo applies to some of the models only. Here are some Samsung models that come with these offers.
Galaxy Z Flip4
Galaxy Z Fold4
Galaxy S23+
Galaxy S23 Ultra
You can check all other eligible Samsung mobile devices from the official website of Samsung for Youtube Premium Subscription free
And if you have a Samsung device, availing of the premium plan is a very easy process.
You just need to open the YouTube app on your Samsung Galaxy device.
Log in or create your account and tap on "Get YouTube Premium".
Select the option "Try it Free" to complete the signing process
Bang!! Start enjoying the free premium YouTube subscription
Want to get YouTube TV Promo Codes for free? Check this post out to get the codes
Method 9 to get free Youtube Premium✅
Free YouTube Premium with Xiaomi/Redmi Smartphones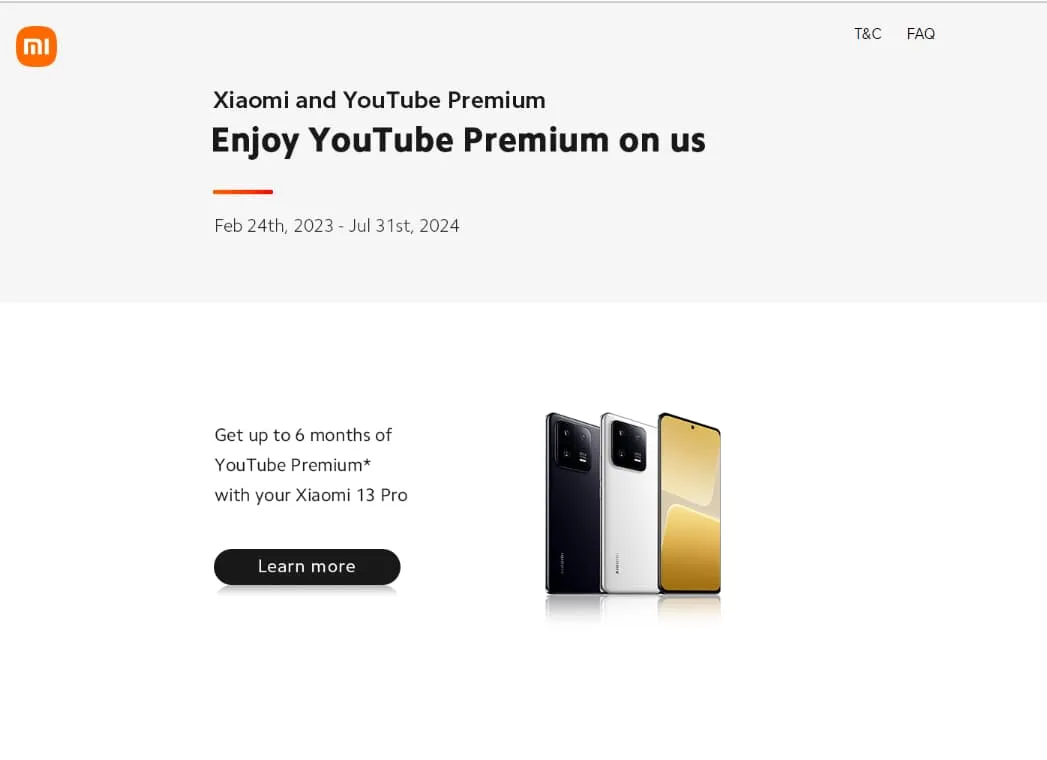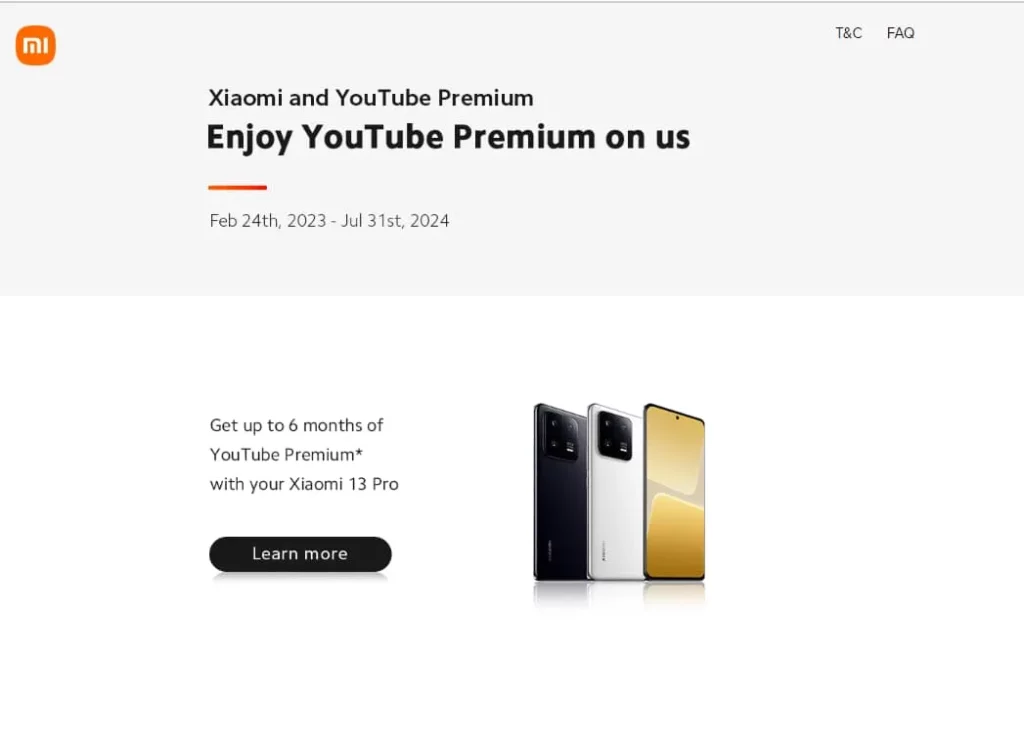 I think the majority of Indians own Xiaomi devices nowadays because of their affordability. And this trick is for those Xiamoi users only. Similar to Samsung devices, Xiaomi and Redmi smartphone users can also get free Youtube subscriptions.
Those who bought Xiaomi and Redmi smartphones will get a YouTube Premium subscription for the first three months. Xiaomi India said in a statement that eligible users will get up to three months of YouTube Premium for free.
There are Xiaomi devices like
Xiaomi 13 pro
Xiaomi 13
Xiaomi 13 lite
Redmi Note 12 series
All these devices give 6 months of free youtube premium subscriptions.
You can check the details on the official website of the Xiaomi free Youtube Premium Subscription
Method 10 to for free Youtube Premium✅
Now, this is the most commonly used trick to get Free Youtube Premium.
In this trick, you just need to choose a student or family plan instead of selecting the default normal Personal plan. By selecting the Family plan you can split the cost with your friends or members of your family.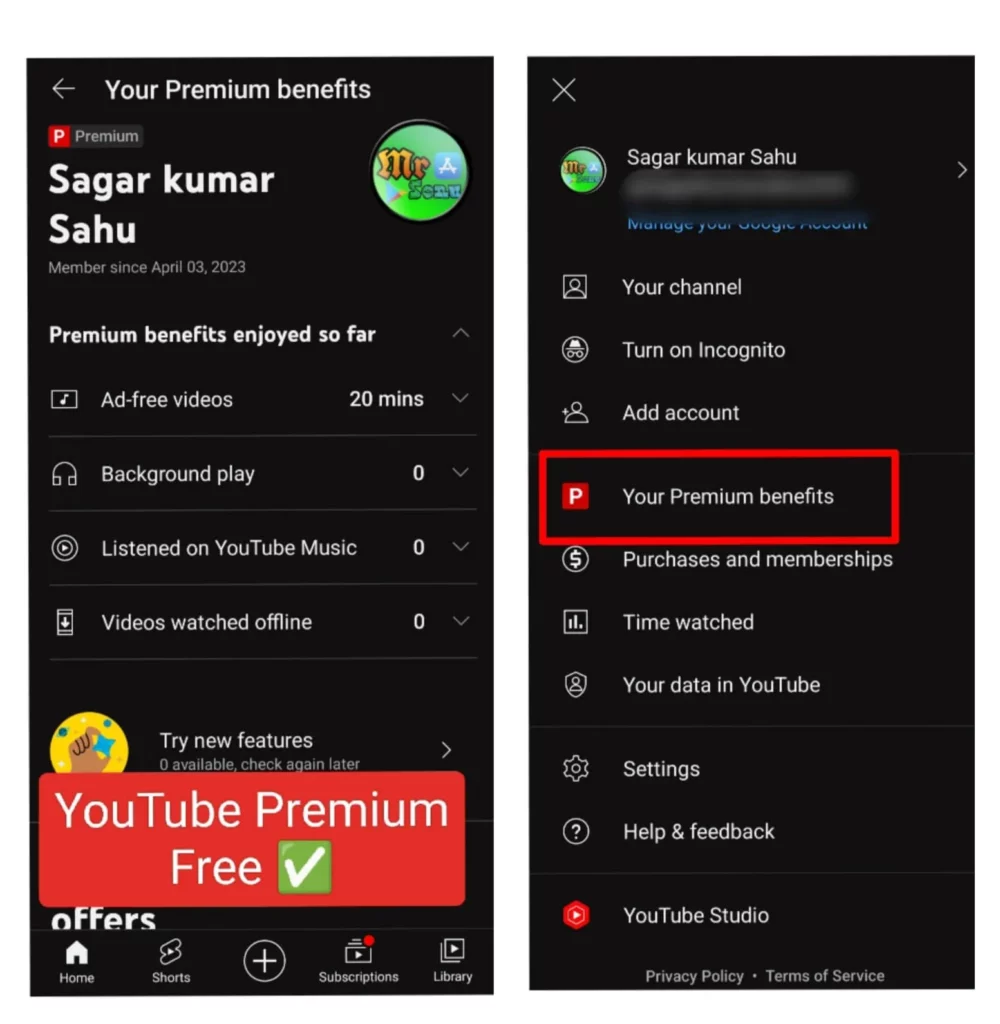 And if you are a student, then Balle! BAlle! for you. Because you get the free Youtube Premium for just Rs 79 per month when you go with the student plan.
| Plan Type | Duration | Price (INR) | Free Trial | Eligibility | No. of Persons |
| --- | --- | --- | --- | --- | --- |
| Family | Monthly | 189.00 | 1 month | Add up to 5 family members | 5 |
| Student | Monthly | 79.00 | 1 month | Eligible students. Annual verification required. | 1 |
And the Family Plan will cost you Rs 189 per month for 5 members, which means it cost around ₹38 per member. If you are living in a hostel or PG, then you can subscribe to the family plan and share it with your roomies. And I think ₹38 for a free Youtube Premium is definitely worth it.
Wrapping it up: Conclusion
We have tried to cover all possible ways to get Youtube premium free subscription. Apart from this, we have also mentioned some useful tips and tricks to enjoying the premium features of YouTube without subscribing to premium plans.
We are still trying to add new ways and methods to this topic so that we can provide you with more valuable content to know how to enjoy a free premium youtube subscription in a legal way. If you know any new trick to get premium YouTube membership for free then you can comment below.
FREQUENTLY ASKED QUESTIONS (FAQs)
Q1. Are YouTube premium benefits available across all devices?
All YouTube premium benefits like ad-free videos, background play, and more – are available on the YouTube mobile app and also supported on TV-connected devices. 
Q2. How to cancel a YouTube Premium Subscription?
Go to the YouTube app and click on the profile icon. A drop-down menu will appear. Select "Paid memberships"– in this section premium subscriptions can be cancelled.
Q3. Is there a free trial available for YouTube Premium?
Yes, YouTube offers a month free trial to the users but one has to avail of the premium plan after the completion of one month.
Q4. How can I get YouTube Premium for free?
We have clearly mentioned all the possible ways to get Youtube premium for free. And 2 such popular method is y using a 1-month free trial and using Flipkart Super Coins