Last Updated on September 29, 2023 by Sagar Kumar Sahu
In the era of technology where all of our work gets done by machines, Artificial intelligence(AI) turns out to be the brain of the machine world.
It became the most popular and demanding sector in the field of science and technology field. In today's world AI has found its place in almost every field of science and technology from tourism to business, from leisure to health, and from high-tech robots to AI-based apps for android
Artificial intelligence is the future. We all know that. But what does that mean for us?
What does it mean for our apps? In this post, we'll take a look at some of the best AI-based apps out there and see how they're using AI to make our lives easier.
Fascinated by Artificial Intelligence? Here's a topic How is AI Detecting Fraud on Social Media? You will also learn about reverse image search and some tools that help you in this regard.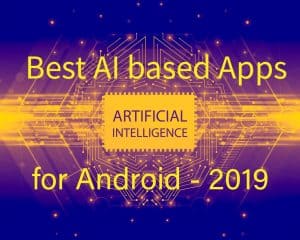 With all the proper research and relevant knowledge, we have listed some of the top and best AI-based apps for Android 2023. Take a look.
| App Name | Rating |
| --- | --- |
| TapTapSee | 4.0⭐ |
| Youper – Emotional Health | 4.2⭐ |
| Prisma Photo Editor | 3.8⭐ |
| Robin | 4.3⭐ |
| Photomath | 4.1⭐ |
| Face Swap | 3.5⭐ |
| FaceApp | 4.5⭐ |
| Woebot | 3.9⭐ |
| SwiftKey Keyboard | 4.4⭐ |
| CamToPlan | 4.0⭐ |
Related posts: How to recover deleted photos from Android
1.TapTapSee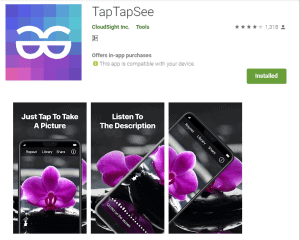 This is the first AI-based app that I used to test how AI really works. And I was amazed to discover that it is not less than a human brain.
This app is designed in such a way that it can identify objects, actions, faces, plants, insects, and all animals by simply scanning the photo.
I placed my camera on a computer mouse and took its picture, and surprisingly this app detected it as a mouse along with its colour and the same happened with my laptop too.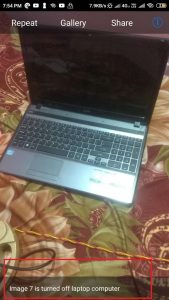 Taptapsee is made with the intention of helping blind and visually impaired persons to identify the objects that they encounter in their daily lives.
Just double-tap on the screen to take photos of anything, at any angle, and the app will take to time to recognize the object, and it will speak back to you(Note: talkback must be turned on for speech identification).
2. Youper – Emotional Health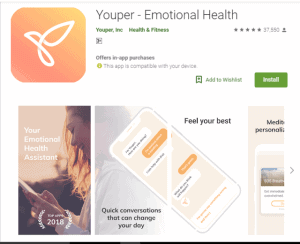 It is one of the best virtual assistant apps (AI app) that not only conversates with you like google assistant but also Monitors and improves your emotional health through quick interaction on the basis of medical and meditation.
Defeat stress, anxiety, and depression. Your smartphone would be converted to your personal assistant after downloading this app. Great people always have a helper.
Many users are using it as their health assistant. You will love it too! You will love to use this app as your assistant.
It is created by an expert team that is led by psychiatrist Dr. Jose Hamilton, youper uses AI to personalize various techniques to meet their needs.
Your daily conversation with youper helps you to improve your understanding of yourself. It helps you to control your emotions by allowing you to detect and monitor symptoms of panic, depression, anxiety, etc.
We can say this app is more health-oriented. It won't let you feel lonely to any extent
3. Prisma Photo Editor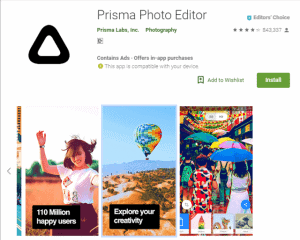 You may have several photo editing apps but Prisma photo editor is one of the unique AI-based photo editor apps which creates amazing photo effects converting your photos into paintings.
By using its filter, you can make your photos look like real paintings. Prisma has the largest collection of different artistic styles from which you can choose your favorite one.
It has more than 300 filters in its filter library. Its best feature you will never get bored with because it releases a new filter each and every single day.
You will find a new filter daily which lays more choices in front of you. And also it releases some special effects from time to time.
You can also join Prisma's community and can share your creative ideas, you can also chat with other creators to get inspiration. It has a photo enhancement tool in which you can find a wide range of photo tools like sharpness, brightness, contrast, etc.
4. Robin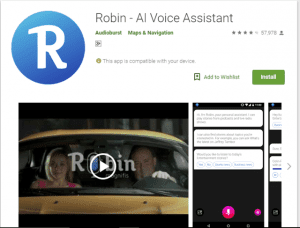 Robin is a voice assistant AI app for Android like google assistant. But it is designed to do specific functions more efficiently. It helps you with navigation, sending messages, making calls, showing you the best available routes, reading funny jokes, and posting or sharing on social media.
You can also set reminders and alarms. Robin can create your personalized playlist including weather, traffic, and local news reports of popular categories: Sports, Entertainment, News, World News, Health, Science, Business, or Tech.
You simply need to say "play my personal playlist". If you want to do a quick call, Robin can do this easily.
It has a Hands-free feature which means you can do many tasks without touching the phone such as setting alarm & remainder, sending texts, etc. It is an informative assistant which is fun and useful.
Note- Robin is in beta form, it is still developing. So you may find some issues but you can send feedback to the corporation by saying "feedback".
5. Photomath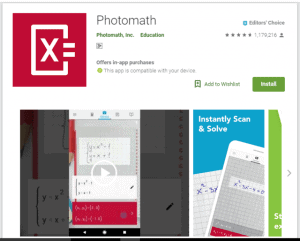 Have you ever wanted anyone to help you to complete your math homework? Now AI has made it possible to make your dream come true.
The Photomath app is an excellent AI-driven app that sorts out your problem in maths. You can simply find any maths solution by clicking the pic of the question.
It can scan printed and handwritten problems using the camera of your smartphone or else you can type or edit with its scientific calculator.
Photomath simplifies every question so that anyone can understand the core concept and can answer a question confidently.
It covers math topics like algebra, trigonometry, basic math, calculus, statistics, etc. Photomath is free learning app but you can also upgrade your app to photomath plus which provides solutions to textbooks and word problems
6. Face Swap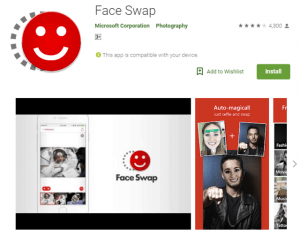 As the name shows FaceSwap is the AI app where your face gets replaced by the other face. You can choose with whom face you want to swap your face. Its artificial intelligence will determine your face and adjust the swapped face in order to fit others' faces on your face perfectly. Unlike other apps, it doesn't contain ads or any promotional activities.
What you need to do is to open the front camera and take a selfie, choose a scene, or any other photos(it may be your friend's pic or any celebrities pic) from the gallery of your phone, and swipe it through your results.
It's so easy with the power of search and intelligent face morph technology. Use the Face Swap photo editor to apply a new hairstyle, use face stickers, Try with different fashions, Pop yourself into trending faces to swap, and Swap multiple faces on a group photo.
Put your friend's face onto some funny pictures, Add fun face effects, filters, and face tune images, and Swap face into cartoons, famous posters, and animals.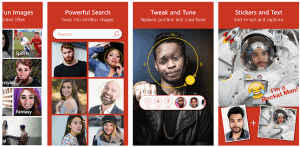 AI of the app has been provided with an advanced algorithm so that it automatically matches skin tone, finds faces in images, and places your swap.
Match lighting conditions, head tilts and turns, process and place number of faces in a single scene` Along with all these features, you can also apply face clone to all the faces in a single photo, create GIFs that show the live experience of face swap, and also create a collage with photos.
7. FaceApp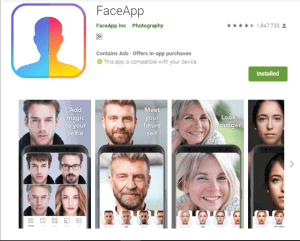 A few days ago a trend was going on based on this app. You must have heard of the FaceApp challenge in which you are asked to use this app and to see how your face will look when you get old.
This app uses AI to convert your present look into an old-looking face FaceApp is a fun AI-based app that has multiple features and filters.

8. Woebot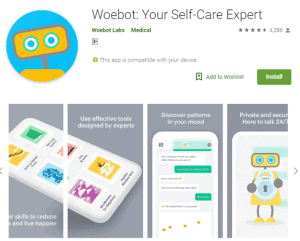 Woebot is a friendly self-care AI-powered app. This app is like your own coach that chats with you and guides you in various bad and good situations. It offers you skills to grow into your best self.
These apps heal your stress, anxieties, worries, relationship problems, procrastination, loneliness, grief, and more by chatting with you and by sending messages to you every day.
This app has certain codings and algorithms which are designed so well that it provides your techniques and skills to overcome problems.
It tries to throw the best solution to you through practical techniques based on tried and tested approaches such as Cognitive Behavioral Therapy (CBT), Mindfulness, and Dialectical Behavior Therapy (DBT).
If you're struggling with your mood or anxiety, then this is a very helpful app. Sure, it's not a replacement for a medical professional, but given the waiting time for the latter, Woebot is a useful assistant.
I have been through CBT many years ago, so I was interested to see how the app might work. The daily prompts around mood, chat-like interactions, video training, and fun memes all add up to a positive experience.
9.SwiftKey Keyboard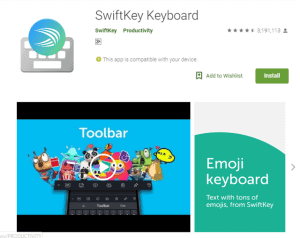 The swift keyboard is a product from Microsoft. It is made to make your typing easier. It takes some time to understand your typing style and later provides you with the necessary suggestions and words to improve your typing style and make it fast.
It can understand your local language and provides words and grammar suggestions`Swift keyboard is always in the learning phase so that it can match your unique style of typing.
It has lots of emojis, stickers, and autocorrect features, with different free designs and themes for the keyboard. Swift offers you helpful predictions so that you can keep your fingers fast without any errors.
Type and write in any way you want such as swipe-to-type, tap-to-type, predictive emoji, and gif keyboard. Using this keyboard you can type more with fewer typings.
10.CamToPlan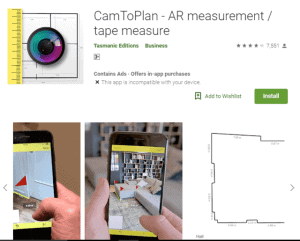 This app is based on Artificial intelligence (AI)as well as Augmented Reality(AR), and machine learning combined with device sensor data like accelerometer and gyroscope with odometry.
These features analyze the objects in the video of the camera and give visual details of images.
It scans the environment and finds the position and rotation angle of the device. You can measure anything by simply capturing the object.
You can measure the height, breadth, and length of the wall. You can measure the dimensions of any conical object by using this virtual ruler.
You can measure the lengths directly on the video and one more thing you dont need to remove the items of furniture in order to measure the dimensions of the room.
It is both for personal and professional use(Gardeners, Landscapers, construction workers or engineers, Cost estimation professionals, swimming pool builders and maintenance, digger, earth-moving, navvy).
Wrapping it up
Artificial intelligence is becoming more and more commonplace in our lives, with new applications being developed every day. We have looked at some of the best apps that are using artificial intelligence to make our lives easier and more efficient. Do you have a favourite app that uses AI? Let us know in the comments below.
Also Read: What are Barcode and QR code? Explained in Detail