Last Updated on December 1, 2022 by Sourav Sahu
What are important KPIs for SEO? Is your SEO plan working well enough? How can you be sure that your efforts produce noticeable results? What can you do to improve the functionality of your website?
You can get the answers to these questions by monitoring the appropriate performance metrics.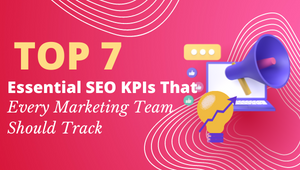 What are Seo KPIs?
SEO KPIs serve as a monitoring tool that helps you determine which strategies are effective and which are not. Most importantly, keeping an eye on the proper KPIs is the best method to save time and money by avoiding investing them in activities that don't result in the desired profit. This article highlights essential signs that marketers need to be aware of.
Top 11 KPIs to track your SEO performance
1. Organic traffic
The KPIs measure the total number of individuals who access your website through organic search results. Its growth indicates you've succeeded in your primary SEO goal of increasing the volume of people who view and visit your website.
2. Search rankings
It's no secret that the better your website performs for the pertinent keywords, the higher its ranking. A critical KPI is search rankings because they directly indicate how well your SEO is working.
Once you get greater search rankings, you will soon accomplish your other goals, like generating visitors, leads, and conversions.
3. Search Visibility
Search engine visibility is the frequency at which your domain appears in search results for the terms it is rated for.
Monitoring search visibility will allow you to see the good dynamics even before your website starts receiving visits. This result could be a key motivator for your SEO-related work.
The search engine visibility score is quite helpful if you want to monitor the early results of website enhancement.
4. Links
For content marketers and SEO professionals, links should always be considered a crucial SEO parameter. Backlinks are currently one of the most significant variables influencing rankings.
It means that the key component of your SEO approach should be link building. In addition to failing to increase your site authority, acquiring low-quality connections will negatively impact your website's ranks. 
5. Organic CTR
An indication of performance, the click-through rate (CTR), measures the percentage of users who click on your link compared to users who see the complete search results.
So, a high CTR also means a high traffic volume.CTR is an important ranking factor as well in search engines.
6. Branded traffic
Branded traffic is the volume of visitors from users who entered search keywords containing your business name. Branded traffic ought to be your main KPI if building brand awareness is crucial for your company (and it should be).
7. Bounce rate
This indicator represents the percentage of site visitors who left without further action.This is another significant signal that search engines consider when deciding on rankings.
Depending on your industry, your typical bounce rate should be between 40% and 60%. The page does not correspond to the search query if the proportion is excessively high. 
8. Dwell time
Dwell time is the amount of time that a visitor spends on your website before leaving. This metric can be affected by factors such as the quality of your content and the user-friendliness of your site.
Use Google Analytics to track average dwell time for individual pages and across your website as a whole.
9. Traffic levels
Another key metric is the level of traffic that your website receives. You can use Google Analytics to track both overall traffic levels and traffic from specific channels, such as organic search or paid advertising.
10. Conversions
In addition to tracking traffic levels, it's also important to track conversion rates. This metric measures how many visitors take the desired action, such as making a purchase or subscribing to a newsletter.
11. Social media engagement
Social media engagement is another important KPI to track, especially if you're using social media platforms to promote your website. Engagement metrics can include likes, shares, comments, and views.
Use a tool like Hootsuite Insights to track social media engagement for posts that mention or link to your website.
12. Site Speed
Website speed is among the most important factors with respect to search engine optimization (SEO). If your website is slow to load, visitors may exit your page and try to find another website.
Slow websites are also commonly the topmost online complaints of search engines. It affects search engine results pages (SERPs), as users are more likely to click on a result that loads quickly.
So, making sure your website is running smoothly is essential for both SEO and overall customer experience.
Conclusion
The outcomes of SEO attempts to enhance traffic to a webpage or website, including keyword targeting, internal linking, and backlinking, among many other techniques.
Monitoring these 11KPIs will give you valuable insights into how well your website is performing from an SEO perspective.
Use this information to make necessary adjustments to improve your ranking in SERPs, increase traffic levels, and boost conversion rates.
So, the most precise method for assessing SEO performance is utilizing SEO indications gathered from analytics.  
Frequently Asked Questions(FAQs)
What are important KPIs for SEO?
There is no one-size-fits-all answer to this question, as the important KPIs for SEO will vary depending on the specific needs of your business. However, some common KPIs that may be important for SEO include:
Organic traffic, Search rankings, Search Visibility, Links, Branded traffic, Bounce rate, Dwell time, Traffic levels, Conversions, Social media engagement, and Site Speed.
What are the 3 main areas of SEO?
On-page optimization: This includes things like keyword research, creating optimized titles and meta descriptions, and using effective keywords throughout your content.
Off-page optimization: This includes making sure your website is built correctly, adding social media links and retargeting ads, and building backlinks from reputable sources.
Link building: This involves acquiring high-quality links from other websites that will help improve your ranking on search engines.