Last Updated on August 10, 2023 by sourav sahu
Cyber-attacks like hacking and phishing by cyber-criminals compel digital web owners to think about their website security to survive and secure their business. Website security involves the preventive measures taken by companies to secure their digital web from hackers. This security is crucial for business reputation, growth, and customer trust.
Out of the ample security solutions available in the market, SSL/TLS certificates play a pivotal role in website security.
SSL/TLS (Secure Socket Layer/Transport Layer Security) certificates are the only digital security solutions that provide encryption security for securing your data against hackers. They come in various brands and validations, out of which Comodo SSL brand is a global leader in digital web security solutions.
This blog will discuss everything about the Comodo Certificate Authority, its features and benefits, its importance in securing your site and data, and the varied types of Comodo SSL certificates available in the market.
What is Comodo SSL?
Comodo SSL certificates are digital certificates that help relieve the stress of web owners by securing their websites from intruders and hackers who try to expose their site data. Their security certificates convert the plain text into ciphertext (uses encryption security) for securing website information and thus help in enhancing user trust.
Comodo brand is one of the largest global SSL certificate providers, which offers varied types of SSL certificates helpful for all sorts of businesses. Be it a small business or a large enterprise; Comodo offers strong encryption security for all organization levels.
Comodo SSL security solutions include: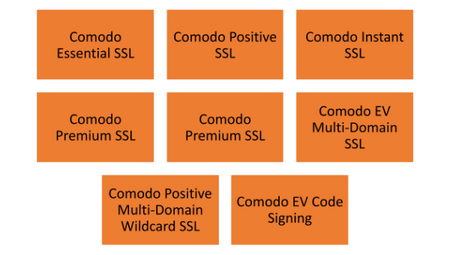 What Makes Comodo SSL Certificate Awesome?
W3Techs.com indicates that Comodo's market share has reached 40% and is expected to surge upward due to its excellent features. Being in the digital security business for more than 20 years, this leading Certificate Authority (CA) symbolizes trust and security.
To know why the world loves Comodo, let me highlight some of the best features of this brand.
As you read the below article, you will know what makes Comodo SSL certificates so desirable amongst web owners.
Wide Range of SSL Products:
The products of Comodo SSL are widespread in the global market and rule the digital world. Comodo offers various SSL validations like Domain Validation (DV) SSL, Organization Validation (OV) SSL, Extended Validation (EV) SSL, Wildcard SSL, and Multi-Domain SSL.
Businesses have ample choice to select the desired SSL product of this brand as per their requirements and secure their digital infrastructure.
You can also check– Top 5 Must-Have WordPress Plugins for your website
Confirms Reliability:
Comodo products symbolize the reliability of the website to the masses, which makes Comodo SSL certificates more worthy. With this, organizations can guarantee authenticity, making the site reliable and trustworthy.
Robust Security at Cheap Prices:
Be it a Comodo Positive SSL certificate available at $5/year or a Positive SSL Multi-Domain Wildcard certificate available; they offer the same level of 256-bit encryption security. 
As far as rates are concerned, Comodo SSL offers very competitive and low rates compared to most vendors.
Supports Modern Encryption and the Latest Algorithms:
All Comodo SSL certificates support the latest AES 256-bit encryption algorithms and 2048-bit digital signatures, which encrypt all the client-server communications, giving users a secure environment.
Free Secure Site Seal:
Comodo SSL certificates offer a free trust seal that comes with the certificate. When stamped on the web page, this seal emits trust and security to its customers.
This clickable seal shows the certificate details and the date and time of issuance.
Some additional benefits include HTTPS (hypertext transfer protocol secure) in the URL and a lock symbol in the address bar, which indicates to the users about the website's security.
Apart from being budget-friendly, Comodo SSL certificates include SHA-2 encryption, trust seals, 99% browser compatibility, money-back offers, etc.
How does Comodo SSL Protect your Data?
SSL certificates are known for securing client-server communications, including the exchange of sensitive data like credit card details, bank account numbers, or other private data whose security is extremely important.
Comodo SSL certificates guarantee that all your private information is never intercepted by hackers and stays safe on the website.
Their SSL certificates encrypt the data by using the Asymmetric Encryption Method.
They utilize two key pairs named the Public key and the Private key for the encryption and decryption of data simultaneously. Here the Public key lies with the sender (with the public) of the message, whereas the Private key is hidden in a secured place on the server and lies with the recipient of the message.
Providing robust 256-bit encryption security, Comodo products prove to be a tough call for hackers who try to penetrate networks. Hence, data security is ensured with Comodo.
Also Read– Top 5 Reasons To Choose PHP For Website Development
Best Cheap Comodo SSL Certificates to Buy:
Before discussing the best Comodo SSL certificates available in the market, let me brief you on some common features of all these certificates. They are:
256-Bit Encryption
2048-Bit Digital Signatures
99% Mobile-Browser Compatibility
30-Day Refund Policy
Warranty
Unlimited Re-Issuance & Server Licenses
Free Expert Support
Comodo Positive SSL: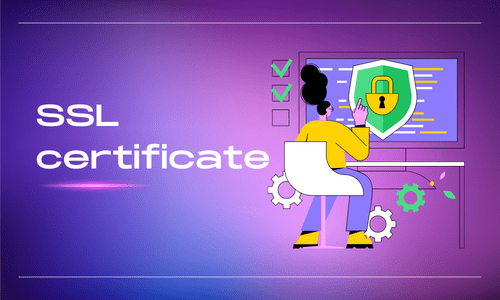 Comodo Positive SSL is the most basic entry-level SSL certificate whose fast issuance secures your web instantly. This certificate is ideal for small businesses and individuals and comes with one major advantage. No legal documents must be submitted for verification since it is an automatic process that validates the owner's domain name.
They are available at a cheap rate of $5/year and save your time and finances.
Comodo Positive SSL Wildcard:
Comodo Positive SSL Wildcard is one single-step solution to secure your root domain and multiple 1st-level subdomains. Omitting the process of legal verifications, this SSL certificate can be quickly issued and is loved by medium and large enterprises with multiple subdomains.
Unlimited server licenses are also available free of cost with this SSL certificate. They are available at a cheap rate of $45/year.
Note: It doesn't secure multiple domains and 2nd level sub-domains.
Comodo Positive SSL Multi-Domain:
Comodo Positive SSL Multi-Domain offers all securities which are not covered by Comodo Positive SSL Wildcard, like securing multiple domains and chosen level sub-domains with robust encryption.
If you are a large corporate having varied businesses expanded on multiple servers, installing this SSL certificate is a perfect choice.
This SSL certificate secures up to 100 SANs, and hence managing a single certificate is an easy task. This certificate is also appropriate for Microsoft Exchange Server environments.
They are available at a cheap rate of $21.60/year and secure your digital web with one single certificate.
Comodo Positive Multi-Domain Wildcard: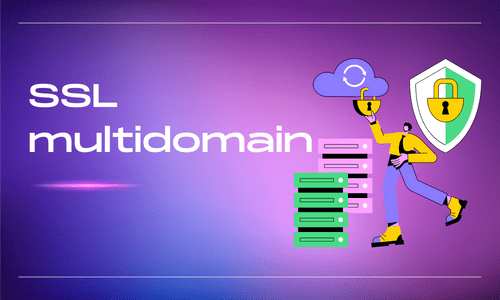 Comodo Positive Multi-Domain Wildcard is a Domain Validation (DV) SSL that secures up to 100 domains and unlimited level-one sub-domains of the chosen domains. Only the domain needs to be validated, and no other legal documents are needed for acquiring this certificate.
They are available at a cheap rate of $120.00/year and provide robust encryption for providing data privacy against hackers.
Comodo EV SSL:
Comodo EV SSL offers the highest validation level and has a very strict validation process which includes verification of address and ID proof, telephonic verification, business existence, and checking of other legal documents. Hence, the issuance time of this SSL certificate is 3-5 business days.
It provides the strongest visual indicators to the users, ensuring them that the site is highly trustworthy.
Comodo EV SSL certificates shield against phishing attacks and hence are used by financial firms, government organizations, e-commerce, and healthcare industries where a lot of sensitive data is involved.
They are available at a cheap rate of $49.00/year.
Comodo Code Signing Certificate:
Signing Certificate is used for digitally signing software codes by using hashing so that code tampering by hackers becomes impossible. In addition, this code signing certificate eliminates all unknown publisher warnings since the developer's name is visible on the certificate.
This enhances user trust and motivates them to software downloads.
Timestamping the code signing certificate permits the users to view the signatures on the code, and post the expiry date. They are available at a cheap rate of $69.00/year.
Comodo EV Code Signing Certificate:
Comodo EV Code Signing Certificate can be used across multiple platforms, and it secures the software code with strong digital signatures.
Microsoft Smart Screen Filters immediately accepted it, which removed the warning stating, "Unknown Publisher". In addition, it enhances software downloads because of its assurance to users stating that the code is authentic and not tampered with.
Apart from having the benefits of a normal code signing certificate, this certificate has a strict vetting process which enhances customer satisfaction.
They are available at a cheap rate of $249.00/year.
Comodo UCC Exchange SSL:
Comodo UCC Exchange SSL helps secure the infrastructure of the MS environment, office communication, and other exchange setups. It also helps in exchanging SSL Certificates and can secure connections on various sites, thus reducing the cost factor.
MS Exchange Servers 2007, 2010, 2013 & 2016, services like mail and Outlook, office communication servers, and other websites can be secured with Exchange SSL.
Comodo UCC SSL permits the addition of 100 SANs to secure multiple domains during the entire lifespan. They are available at a cheap rate of $60.00/year. Wondering as to which SSL certificate provider gives such amazing rates for Comodo SSL certificates?
Yes, your guess is right. CheapSSLShop is indeed one of the best SSL certificate providers in the market it is helping all types of organizations to secure their digital web by offering Comodo SSL certificates.
You can buy Comodo SSL certificates from this store, whose main attraction lies in budget-friendly rates and excellent customer service.
Wrapping Up:
Comodo SSL certs reflect trust and authenticity. Comodo prices are quite reasonable compared to their robust security. When the trust seal stating "Secured by Comodo" is visible on the website, customers are assured about the authenticity of the site and the security of their data.
All the above reasons make Comodo an ideal choice for securing your website.
Are Comodo SSL certificates good?
Yes, Comodo SSL certificates are a good choice to protect your website and your customer's data.
How do I get a Comodo SSL certificate?
To get a Comodo SSL certificate, you need to choose the appropriate certificate, purchase it, generate a Certificate Signing Request (CSR) on your web server, submit the CSR and complete the verification process, and then install the SSL certificate on your web server.