Last Updated on September 27, 2023 by sourav sahu
The 8-ball pool is one of the most versatile games, and the best part is that the online version is as exciting as the offline one. It has so much to offer, and you can win real cash while sitting at home and playing the game. The pool has always been a luxury sport that has been shown in movies.
People play it at clubs, arcades, bars, and more. But given the current situation, it is better to stay at home and indulge in the online variant. So, in this blog, we will talk about how to play 8 ball pool online by following a few tips and tricks.
With a few hacks, you can easily win the game and become a pro at it. Many people choose to stay at home, maintain social distancing, and play these games, which provide them with networking opportunities. It has become extremely easy to socialize via these wonderful platforms.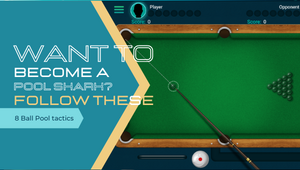 The game is also known as Billiards. The game includes a table with pockets, cue sticks, 16 billiard balls, object balls, and a cue ball.
You need to understand that this game is a great way to show your skills of accuracy, strategy, critical thinking, and more. The more you play, the better you get at the game. Many amateurs ask, "how to play 8-ball pool the right way?" Here are some hacks:
Learn the rules
One of the first tips that we will share with you is familiarising yourself with the rules and regulations and using them to your advantage. The rules are instrumental to the outcome of the tips and tricks. For instance, if you commit a cue ball-related foul, the opponent player gets a bowling hand.
What does that mean? It means that they place the ball anywhere behind their head string for the next shot. Use this trick after understanding where the player would want their ball to be. When you know the game's rules, you can also call out fouls, which is not possible if you are clueless about the same. This is why I always ask my readers to go through the rules carefully and play free games before entering the counters.
1. Break efficiently: Smash the balls the right way by breaking them efficiently. Try to follow the rules while breaking them.
2. Choose your group based on strategy: Users sometimes sync a couple of object balls. You have to remember that you can choose your group based on a strategy.
You can still choose the other group of object balls. Try to select the group that is scattered near the pockets and also allows a quicker target. This should be irrespective of where your cue ball is placed.
3. Get better with aiming: Try to aim better, and this will only happen if you practice. For example, you can use a small chit of paper with straight edge lines to extend your aim. Do this quickly so that you can get the shot perfectly.
4. Aim for easier targets: Another tip that we share with our readers is that you should start with easier shorts. Try to put the balls inside the hole the balls before they are disrupted from their original position. Do not miss the chance and be very careful.
5. Power break: If you get the chance to break, then make full use of your power and precision to break in such a way that you target multiple balls. Take your chances.
6. Create a mental strategy before a shot: It is very important to be mentally prepared before taking a shot. The pro players also give the same. Always analyze the table and look for good shots. Then, plan well before you take the shot. Finally, modify these tips and tricks so that you can win the game easily.
7. Be prepared with various cut shots: Practice back cut, rail cut, and other kick shots. It might take some time but trust us, and it will make your win much easier.
8. Use a single tap to aim: You can customize the setting for aiming when it comes to online pool games. This way, you can reposition the cue to aim the ball you want to hit. This leads to a more precise shot, which means you are one step nearer to winning the game. In addition, it saves time and helps in faster aiming.
9. Miscellaneous: When it comes to online pool gaming, focus on torque spin and cutting techniques. Also, practice adding spin to your strike. Finally, try to utilize the bridge.
We always suggest our readers avoid combination shots when it comes to 8 ball pool.
10. Shoot faster: Do not get your shots lined up. Try to be fast and do not keep the shots waiting.
Can I cheat in an 8-ball pool game online?
No, you cannot cheat in an online 8 ball pool game. However, the hacks are enough to help you win.
Is it legal to play 8 ball pool games online in India?
This is yet another common question that we get from readers. It is legal to play online 8 ball pool games here in India. Just pick a good, authentic website, and you are good to go. So these are a few tips that we wanted to share with you to enjoy your game. Tame your work-from-home blues with online pool games. To know how the industry has benefited from the work-from-home culture, read this Forbes blog now.