Last Updated on October 30, 2023 by sourav sahu
iPhone 15 has come up with various extravagant features for iOS lovers. It will consist of a USB-C charging port with an enhanced A16 chip. The 48 MP primary camera of the iPhone 15 will help you take amazing and high-end photos.
Along with that, the iPhone 15 will contain all the advanced video capabilities and camera features. It will also consist of a Dynamic Island, featuring a TrueDepth camera sensor for Face ID.
Due to such benefits, you may want to shift to iPhone 15. But you would also need a WhatsApp transfer tool to move your precious WhatsApp chats, photos, videos, and other data to iPhone 15. That is why, this article will offer efficient ways to transfer WhatsApp to iPhone 15 effortlessly.
Official Methods to Transfer WhatsApp from Old iPhone to iPhone 15
You can transfer WhatsApp to the new iPhone in two official ways. You can easily move complete WhatsApp data using these methods without installing software.
Method 1: iCloud
Being an iOS user, you must be familiar with the multiple benefits of iCloud. It's a free cloud storage platform through which you can sync media files across devices.
Moreover, you can save and password-protect your photos and videos on iCloud. In addition to this, you can use iCloud to transfer WhatsApp to iPhone 15 with a few taps only. To use iCloud for transferring the WhatsApp, you can read the following instructions:
Step 1: Get the old iPhone and navigate to your "WhatsApp Settings". After opening the settings, select "Chats" and "Chat Backup". After this, press the "Back Up Now" feature and remove the number or delete WhatsApp from your old iOS device. 
Step 2: Now, you can install WhatsApp on your new iPhone. Once WhatsApp is installed, you can enter your WhatsApp number to proceed. Proceed with the "Restore Chat History" option to restore the WhatsApp conversations, and hit the "Next" option.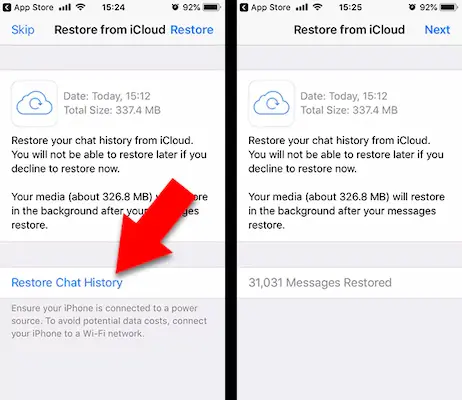 ---
Method 2: Transfer Chats to iPhone 
Transfer Chats to iPhone is a beneficial feature for iOS users to transfer WhatsApp from iPhone to iPhone. Using this feature you can quickly move your complete WhatsApp data to iPhone 15. However, to utilize this feature, you have to meet specific requirements. Remember that, you should have an updated iOS version on both iPhones.
Note: You can use similar steps to transfer files from iPhone to PC which can be very helpful.
Now ensure that your iOS device is connected with an active internet connection. You should also use the same WhatsApp number on iPhone 15. After meeting these things, you can follow the given instructions:
Step 1: Use your old iPhone to open the WhatsApp settings. Select "Chats" from there and tap "Transfer Chats to iPhone." Once done, hit on the "Start" button. Your old iPhone will now ask you to follow the on-screen instructions to scan the QR code.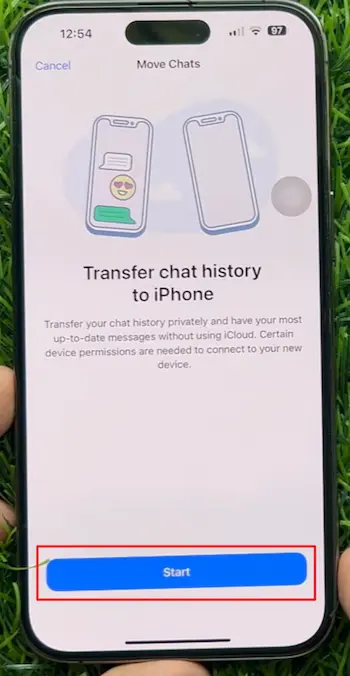 Step 2: Now, install WhatsApp on your new iPhone 15 and shift the SIM card in it. Tap on "Agree and Continue" and then enter your number to move forward. Again, select the "Continue" button and allow WhatsApp to access the local network of your new iPhone.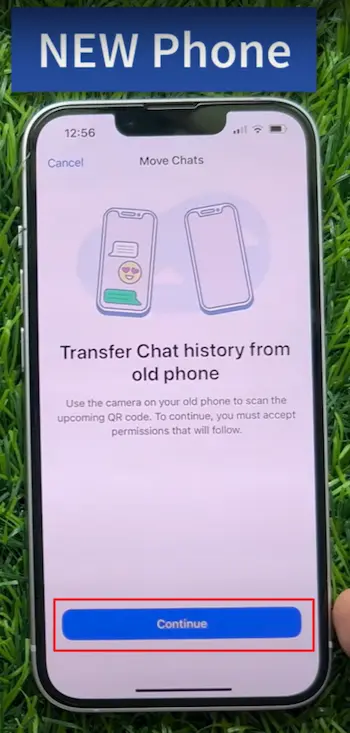 Step 3: Scan the QR on your new iPhone using your old iPhone. If you cannot do so, ensure to enable the local network by going to the settings. After the scanning, your WhatsApp chats will be transferred to your new iPhone.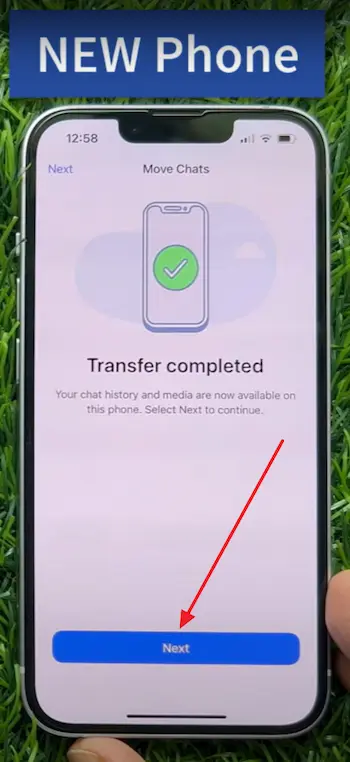 ---
What are the Drawbacks of Using the Official Methods
You can encounter some issues by using the official methods of transferring WhatsApp data. For example, the process can move WhatsApp data to other iPhones slower.
And the worst part is that you will receive incompletely transferred WhatsApp chats. There can also be an internet issue which may result in unopenable media files. Let me tell you the drawbacks in detail:- 
Time-Consuming: Transferring WhatsApp data using official methods can take a lot of time. If you have a lot of chats and media then it can even take hours. If you are in a hurry then do not try this out.
Internet Dependency: You need a strong internet connection for one of these methods. The transfer will fail if your internet is slow or if it stops working. So always check your internet connectivity before transferring the files using official methods.
Incomplete Transfer: Sometimes you will see that not all your chats and media get transferred. You may find some chats or media missing from your new phone.
Complex Process: The steps to transfer WhatsApp using official methods are not easy for everyone. People who are not tech-savvy may find it hard. They might need to get help from others which can be a problem.
Space Issues: iCloud gives only 5GB of free storage. If you have an Apple gift card, you can use it to purchase additional iCloud storage, and this way, you can ensure that all your WhatsApp data gets transferred without any space issues. If you have already bought extra cloud storage, then you won't find this issue.
Privacy Concerns: Your chats and media are personal and end-to-end encrypted in WhatsApp but when you use iCloud, your data gets stored on the cloud. So if someone can access your iCloud.
Version Compatibility: I have seen sometimes that the iOS version on your old and new phones should be the same for the transfer to work. If the versions are different then you might face problems.
Single Account Limit: You need to use the same phone number on both phones for the transfer. This is not good if you want to use a new number on your new phone. You can still solve this issue though. Just go to your WhatsApp settings > Accounts > Change Number and then change your number in the old phone. After this, you can use the changed number to transfer data
To prevent such problems you can use a proper WhatsApp transfer toolkit to transfer WhatsApp to iPhone 15.
The Most Powerful WhatsApp Data Transfer Tool for iOS Devices
Have you ever used a WhatsApp transfer tool before? Wondershare MobileTrans is an excellent tool with dozens of features to facilitate device transfer between devices.
In its friendly interface, you can find different modules to transfer the data between devices. You don't have to worry about your phone's compatibility with MobileTrans. The reason is that this tool supports more than 6,000 Android and iOS devices. 
Regarding this tool's "WhatsApp Transfer" feature, you can shift your conversations along with photos and videos. It will also smoothly shift your stickers, location, and other files from one iPhone to another. Along with this, it offers two options
1st is a "Flip" button to instantly swap your source and destination devices.
And, the second one is you can select the WhatsApp data separately before transferring it to your new phone.
Key Features
WhatsApp Business Transfer: MobileTrans also functions on WhatsApp Business for transferring your confidential data to other devices. This feature works similarly to WhatsApp Transfer, shifting messages, photos, videos, audio, and documents to other devices.
Phone Transfer: This feature lets you easily transfer your phone's data to different devices including a PC or Laptop. Likewise, you can also import the phone's data from your PC to a mobile device with this feature.
HEIC Converter: MobileTrans provides a HEIC Converter through which you can convert HEIC photos to JPG without compromising the quality. It supports batch processing which means you convert up to 100 HEIC photos to JPG.
Easiest Steps to Transfer WhatsApp Data to iPhone 15 With MobileTrans
The steps to transfer WhatsApp to iPhone 15 through MobileTrans are simple. Within a few minutes, you can share your WhatsApp data from your old phone to iPhone 15. I have given the step-by-step instructions which you have to follow for using this tool:
Step 1: Access the WhatsApp Transfer Module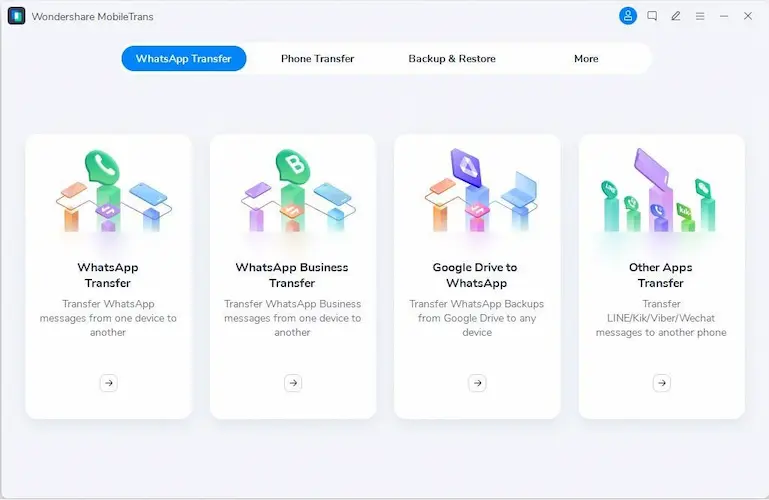 Start by installing and launching Wondershare MobileTrans on your Windows or macOS device. Once it's completed, click on the "WhatsApp Transfer" module displayed on its main interface. To move forward, click on "WhatsApp Transfer". Now, you can specify the type of WhatsApp data you want to shift.
Step 2: Connect Your Old and New iPhone 15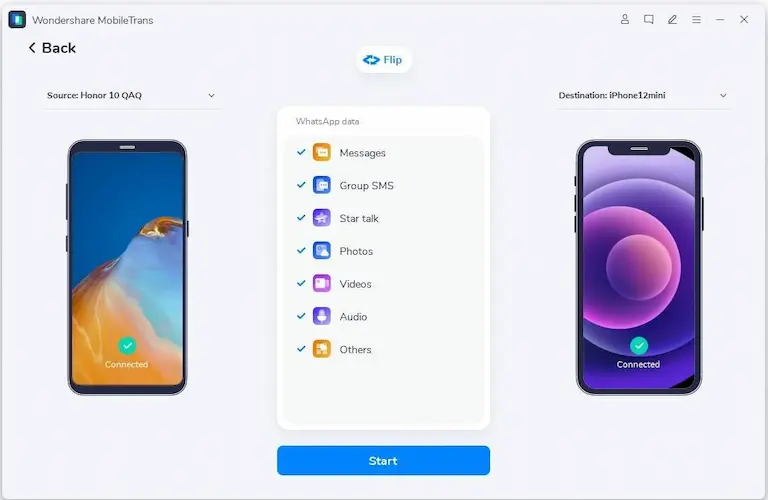 Connect your old iPhone and iPhone 15 with your PC or MacBook with a USB cable. Meanwhile, the tool will fetch the chats and media files on the screen. Now, hit the "Start" button to initiate the transfer process. Once done, you can message on WhatsApp with your contacts on your new iPhone 15.
Step 3: Complete the WhatsApp Transfer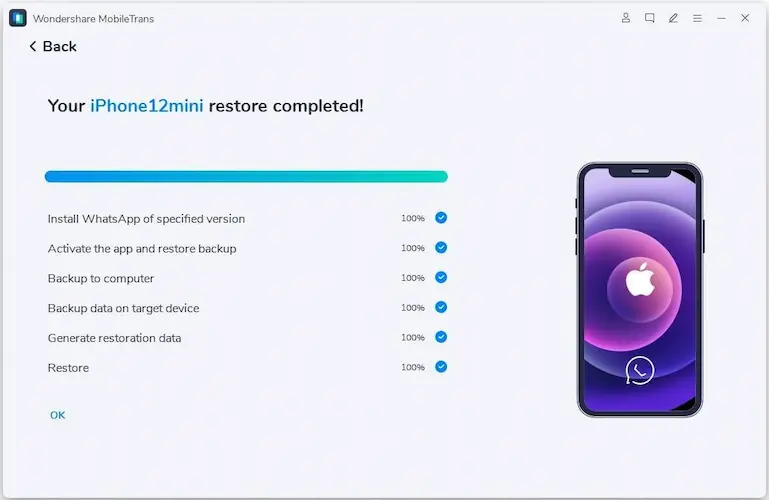 Ensure you do not lock or disturb your devices during the transfer process. Once the transfer process is done, you can disconnect the phones. Now, you can check the transferred WhatsApp conversation data on your iPhone 15. You can now rejoin your WhatsApp group chats and catch up on what you missed.
Also Check:- 3000+ Latest Telegram Group Link in 2023 | Telegram Group Invite Link
Why People Love to Shift from Old iPhone to New iPhone 15
There are plenty of reasons that motivate people to shift from their old iPhone to New iPhone. It can be an iPhone 14 or 15. As the iPhone 15 is the latest model, let us discuss that. To learn why people transfer WhatsApp to iPhone 15, check the below section:
Optimized Performance and Upgrades
The latest releases of iPhone models come with optimized performance due to software and hardware updates. It helps improve the overall functionality of the iPhone in various ways.
iPhone 15 can provide better security updates and software performance. That's why, people prefer to run their iPhones with upgraded security and system functionality. 
Latest Features
Every year, Apple releases a model of iPhone with new and distinct features. It can be related to the camera, display, settings, battery life, Face ID, etc. With the latest features, people may get motivated to upgrade their iPhone.
New Designs and Aesthetics
Apple always tries to bring new designs, colors, and aesthetics to the design of iPhones. With the latest release of new models, you can expect more color options and attractive designs for iPhone.
Therefore, people love to shift from the old iPhone to the new iPhone to use more sleek and latest designs of iPhone.
Meeting Social Trends and Personal Preferences
Owning the latest iPhone, model is considered to be a social status. You too know how people share their lifestyle in Instagram stories or WhatsApp status to increase their followers.
Many people feel peer pressure to use the latest technology trends to fit in their social circle. And some people want to use up-to-date technological gadgets to enjoy the latest features. 
Conclusion
You may think that transferring WhatsApp data to an iPhone 15 is complex. However, with this article, you learned 3 methods to ease the transfer process.
If you want to use official methods, then you can easily try that out but if you want a better approach to transferring WhatsApp to the new iPhone, we recommend using MobileTrans.
It's a professional tool that provides quality results in moving the desired data to other devices. Also, it's easy to operate, ideal for non-tech-savvy individuals.
Will all my chats and media get transferred to my new iPhone 15?
Usually, all your chats and media should get transferred. But sometimes, some chats or media might be missing. It's always good to check after the transfer.
How long does it take to transfer WhatsApp data to iPhone 15?
The time it takes depends on how much data you have on WhatsApp. It can take anywhere from a few minutes to several hours.
Is it safe to use a third-party tool to transfer WhatsApp data?
It completely depends on the tool you use. Always read reviews and do your own research before you use any app. Keep in mind, that privacy is very important nowadays