Last Updated on August 10, 2023 by sourav sahu
Nowadays, everyone wants to have multiple ways to earn income, whether the amount is big or small. If you agree with this statement and you also keep looking to find different sources to make some extra money, then this article is for you.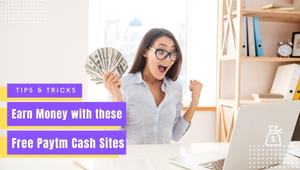 The demonetization of Rs 500 currency notes and Rs 1000 currency notes and now the Covid-19 pandemic has made the situation that whether you like it or not, but you have to keep a digital payments application for your security. In India, Paytm is quite preferred by users, who use it for their regular payments.
If you are considering online games as the best way to earn money in your spare time or you are looking for a website from where you can earn money, then also this article is quite useful to you. We have provided information on the top 10 apps from which you can earn Paytm cash.
These apps or websites like GetMega are free and there is no investment to use this app. You just needed a smartphone and stable connections for your online games.
If you think that by playing games you are killing your time, then you can watch interesting videos and earn parallel. By watching them, you earn coins which are later can be converted into Paytm cash at the time of withdrawal. These are trusted as we have listed these apps after the proper research.
Free Paytm cash websites
GetMega
A highly recommended app from which you can earn free Paytm cash just by playing a variety of games. These games include rummy, poker, Gopool, carrom, and quizzes. Get Mega has updated the leaderboard thus there are no insecurities regarding the leaderboard bonus. The leaderboard is the major option to earn maximum incentives.
RozDhan
Like GetMega, it is an app that also provides Paytm cash for free. In this app, you can earn money by reading the news, downloading videos, and also by playing games. It is an app that keeps a daily check of all the activities that a user performs in the app, comes with daily rewards, and many more.
Datagenie
Datagenies is a mobile app that mostly likes to provide Paytm free cash for withdrawal by downloading videos or referral marketing. In referral marketing, you just have to refer the app to people around you and by doing so you add referral money to your wallet. With this, you can earn only Rs 7 per referral. But to get the amount you need to make sure that the user whom you have referred has installed and registered himself on the app.
Millionaire Play
The name of the mobile app itself says about this app. This app only offers Paytm cash just by playing online games and bonus referrals. Millionaire Play has some specific and interesting games. You can also prefer to watch videos and earn money by using the app.
Earn Talktime
Earn Talktime can be the most useful app for you. It has something different. You can earn free cash to make online recharges. Also, if you take a look, then Earn Talktime gives you Paytm money of Rs 100 if you complete all the offers and tasks on time.
DataBuddy
Databuddy is an app that gives Paytm free money just by watching some videos available in the app. You just need to complete some basic tasks to make you the best member. It is one of the sources that offer free money by creating a sense of competition
MPL
Mobile Premier League was one of the newest online game applications. Here also, you can earn Rs 20000 of Paytm wallet money. Using the app you can earn some good Paytm money(by playing games and referring people). The best part of this app is it allows you to earn up to 20000 rupees of Paytm cash through referrals.
CashBoss
Cashbooks is one of the apps which has made it easy to add free money to your Paytm wallet. Easy tasks such as downloading apps or referral programs are some options that help you to earn money in your Paytm wallet.
Pocket FM
This is a radio app that gives you free Paytm money. You just have to listen to the news and music in different languages and if you use the referral option, then you can earn the rewards. This app offers Rs 10 for each referral.
SharkID
SharkId is an app that updates your contacts list and you can earn Rs 25 on each referral. Thus you can consider this a useful app as well.
Mantrimall
It is a colour prediction game, where you need to invest a small of initial amount and predict the outcoming colour and if your prediction goes correct you will win double the money you invested. You can transfer the amount from the app to your Paytm wallet or bank account directly
Conclusion
Paytm is one of the apps which is available almost everywhere and the payment procedures are quite easy as well. You can use any one of the above-mentioned apps or their website to earn money.
These apps help you to do some entertainment and other time pass activities along with making money. Either by playing games on Getmega or by listening to music on Pocket FM, you will have some quality fun time.
You can consider Talktime as the preferable app if you want Paytm money as well as get free ways to make any online recharges.