Last Updated on September 19, 2023 by sourav sahu
Remote work is the new normal and has been adopted by many companies. This has not only allowed employees to work as flexible as they can but has also opened a way for people who cannot work onsite.
But with ease comes worries, working remotely means working at cafés, restaurants, museums, parks, gyms, hotels, libraries, bookstores, and research centers. In all of this hustle and bustle, your devices are inviting malicious files and data breaches since they will be connected to open and public Wi-Fi networks.
So, as a remote worker who works off-premises, you need to be careful and protect your devices. So, here is why you need VPN services.
Also check:- 11+ Best VPN for Pubg lite | Pubg mobile
Why Do Remote Workers Need A VPN?
Companies are using VPNs because remote work has equally become the most essential part of 2023. Workplaces have introduced accessibilities for these remote workers so that no work should be on hold.
Not only do VPNs offer an extra layer of network security, but they also help in boosting productivity. When you know your data is secure, you can focus better on your tasks. Having a VPN means you can access resources from the company network. This makes it super easy to collaborate with your team and keep work flowing
As far as security is concerned, the use of VPN has increased and almost all the devices are connected to a VPN service. Since the devices fall under cybersecurity threats, VPN is required. And businesses have felt the need as the rise of cyber threats is increasing day by day.
From the organization's assets, confidential information and database, files, and software, everything needs to be protected at all costs.
Types Of VPNs According to Your Business's Needs
Remote Access VPN
For users working remotely, remote access VPN enables them to work securely and gives them private access. It encrypts the traffic and creates a tunnel between the remote user and the organization it is working for. Despite your location, whether onsite or remote, your devices are protected.
Remote Access VPN makes the remote work almost as good as being in the office. You can access all the internal resources safely. No need to worry about security risks like data leaks or unauthorized access.
I was having a covrsation with my friend and he told me when he had to send some confidential files while he was not in the office, a Remote Access VPN helped him to do that task. It was very easy to use and within minutes, it was connected to his office network. he sent the files without any worry of them being intercepted or compromised.
Remote Access VPN is quite flexible. Whether you are on a work trip, stuck in traffic, or working late nights, you can always connect to your work resources. It helps you to make your workday more flexible
Site-to-site
It is like router-to-router to VPN and is used mostly in large workplaces. Organizations and companies with multiple branches in different locations use site-to-site VPN.
This VPN best for businesses that have offices in multiple cities or even countries. It connects networks in a way that it feels like one big office. So even if your marketing team is in Place A and your sales team is in Place B, everyone can work as if they are just a desk away.
Common Features in Good VPNs
Strong Security: All good VPNs use strong encryption methods to keep your data safe. This is key for remote workers who handle sensitive stuff.
No-Logs Policy: Each VPN service makes sure they do not keep track of your online moves. Your work and personal info stays private.
Global Server Network: They all have a large number of servers spread across many countries. This helps in picking a server that's fast and dodges geo-blocks.
Split Tunneling: This feature is present in all. It lets you pick which apps use VPN and which don't. Good for balancing work and personal use.
Kill Switch: If the VPN connection drops, the internet cuts off too.
Top 10 VPNs You Should Consider
Picking the right VPN is very important for keeping your company safe online. This article will help you understand how VPNs make working from home both easy and secure.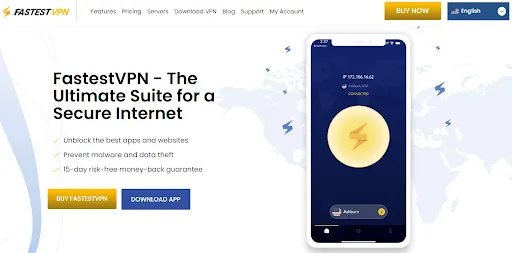 FastestVPN as its name suggests, it is quick. It is a good choice when it comes to working remotely and securing data. it protects your data if your device is connected to open and public Wi-Fi. It ensures that no pop-up ad or link corrupts your devices and blocks them instantly.
This allows the users to browse the internet safely that too at high speed. It also has an app that you can download on your phones, laptops, and PC. Their services are compatible with all kinds of operating systems such as Windows, Linux, Ios, Android, and Mac.
Main Features:
Speed: It uses WireGuard protocol(known for top speed).
Worldwide Servers: With 550 servers in over 50 countries
Tight Security: AES 256-bit encryption is used.
No Logs: They don't keep a record of your net use. This keeps your work and personal stuff private.
Anytime Help: They offer 24/7 customer support.
NordVPN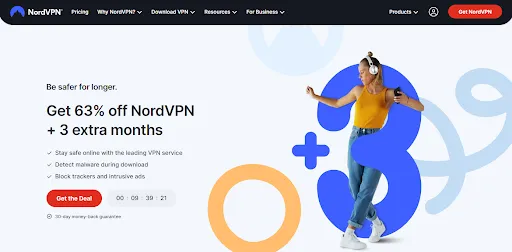 NordVPN is a leading VPN provider that offers a number of features and benefits that make it ideal for remote workers. It has a large network of servers in over 60 countries. It means that you can find a server that is close to you and offers fast speeds. NordVPN also uses strong encryption protocols to protect your data from unauthorized access.
Key Features:
Threat Protection: Keeps you safe by blocking harmful software, ad trackers, and pesky ads.
Meshnet: Lets you build a private and secure network among your devices, no matter where they are.
Dedicated IP: Offers an IP address that's only for you. Great for websites that usually block VPNs.
This VPN provider boasts strong security features which are essential for remote workers. It employs AES 256-bit encryption, a level of security that even the US government trusts. To offer flexibility, it supports a range of VPN protocols like OpenVPN, WireGuard, and IKEv2.
With a network of over 9,400 servers spanning 91 countries, finding a fast and reliable connection is a breeze. CyberGhost provides specialized servers for streaming and gaming, adding value to its core offerings.
Key Features:
No-logs policy: Ensures that your online activities are never recorded.
Kill switch: Disconnects your internet if the VPN link fails, to keep your data safe.
Split tunneling: Lets you decide which apps go through the VPN and which don't, handy for local network tasks.
ProtonVPN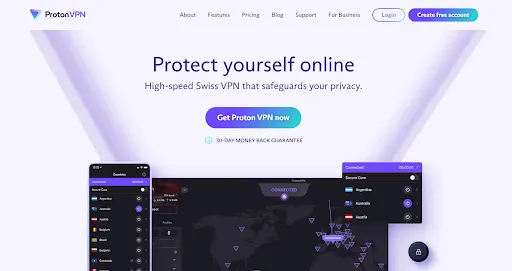 Known for its military-grade encryption, ProtonVPN takes security seriously. It stick to a strict no-logs policy which make sures that your online activities remain unrecorded. One of the key requirements for remote work is a stable and fast internet connection, and ProtonVPN delivers just that. Its global network of servers guarantees you can always find a speedy connection near you, crucial for seamless access to your company's resources.
Key Features:
Military-Grade Encryption: Top-notch security & Privacy to keep your data safe.
No-Logs Policy: Your online behavior stays your business.
Multi-Platform Support: Available on Windows, macOS, Linux, Android, and iOS.
TunnelBear VPN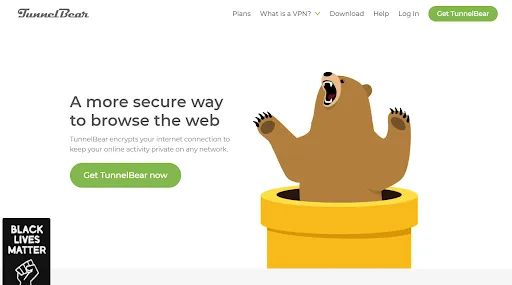 TunnelBear VPN comes across as a smart choice for remote workers for various reasons. It aslo offers 256-bit AES encryption. That's top-grade security. I have already mentioned that it is the same kind the US government trusts to keep data safe. It has servers in more than 48 countries, offering you a good chance of finding a fast server near you. You can also use TunnelBear on up to five devices at the same time(In business plan).
Key Features:
256-bit AES Encryption: Strong security to keep your online activities private.
Kill Switch: Keeps you safe even when the VPN connection drops.
No-Logging Policy: They don't record your online moves, so you're in the clear.
Mullvad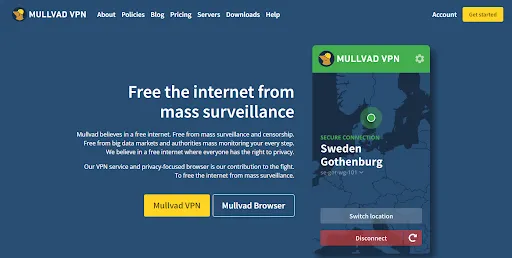 Mullvad VPN comes across as a solid pick for people who work from home or anywhere outside their office. It offers strong features that are a must for remote workers. Wiregaurd Support offers even better speeds and security. Mullvad was quick to add this feature.
Key Features:
Strong Encryption: Mullvad keeps your online work safe with modern encryption methods. That's top-level stuff for keeping all your data locked away.
Split Tunneling: You get to choose which apps or sites use the VPN and which don't. This is handy for remote work.
Fast Speeds: With servers all over the world, you're likely to find one near you for fast and reliable connection.
IP Vanish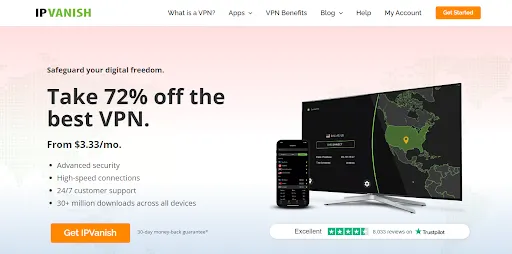 IPVanish comes forward as a very strong option for remote workers. The company provides a massive network of servers around the globe with over 2,200 servers in 75 countries. This ensures that you will have a stable and fast connection, regardless of your location.
Just like other VPN services, it also come with 256-bit encryption and a strict no-logs policy. So you can be confident that your online work activities are kept private. The user interface of IPVanish is designed with ease in mind.
Key Features:
Global Server Network: With over 2,200 servers in 75 countries, IPVanish makes sure you are covered wherever you are.
Multiple Device Support: Up to 10 devices can be connected at the same time.
Affordable Pricing: Various plans are available, with the yearly one being the most cost-effective.
Surfshark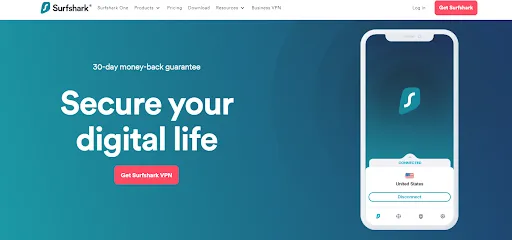 Surfshark's offer of unlimited device connections is a huge advantage. This means you can secure every device you work on, be it your home PC, laptop, or even your smartphone. Also, Surfshark promises fast speeds. It comes with a strong encryption protocols. This is crucial when you might be logging into work databases from public Wi-Fi networks.
It has over 3,200 servers in more than 100 countries to pick from. More servers mean you have plenty of options to get a good connection, even if you're far from home.
Key Features:
Unlimited Device Connections: Connect all your gadgets at once, from your work laptop to your personal phone.
Fast Speeds: Quick server speeds ensure no lag in your work flow.
Strong Security: Surfshark uses top-notch security features to keep you safe.
Express VPN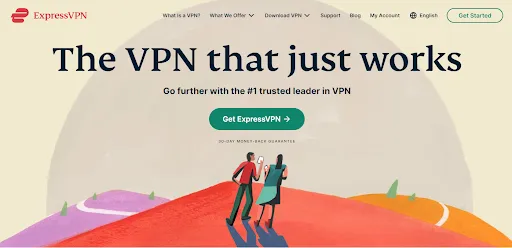 ExpressVPN also uses encryption that is of military grade(256-bit AES). It has servers in over 94 countries so that you can connect to a fast and stable server no matter where you are based. Imagine needing to check a site for work but finding it's blocked in your country but ExpressVPN lets you bypass restrictions based on location.
Key Features:
High-Level Security: Uses military-grade encryption to keep your data safe.
Fast Connections: Has servers in over 94 countries for speedy and stable internet.
Geo-Unblocking: Helps you access content or services from any place on the globe.
PIA
The security part is important. It doesn't matter where you are working from, your data is encrypted and kept safe from anyone who might want to snoop. As it doesn't keep logs, you can be sure that your activity remains private.
Core Features:
Top-Notch Security: Strong encryption, no log policy and secure protocols keep your data safe.
Speed and Wide Network: PIA has servers in over 84 countries.
User-Friendly: PIA VPN is easy to use even if you are new to VPNs.
How Does a VPN Work?
Start the VPN App: You begin by clicking on the VPN app icon on your device. Most VPNs will show a big button on the screen that says 'Connect' or 'Start'. This makes it very easy to begin.
Log In: You enter your username and password. The VPN needs to know it's you and not someone else trying to use your account. If it is your first time, you might have to set up an account with an email and password. Some VPNs also have two-factor authentication for added security.
Pick a Server: After you are logged in, a list of servers from different locations will appear. You can choose one from your country or another country if you want. Picking a server from a different country can help you access websites that are not available in your own country.
Connect: After choosing a server, you click 'Connect'. Now, the VPN will create a secure tunnel for your data. It keeps your data away from thieves and hackers.
Data Scramble: When you use the internet, the VPN changes your data into a secret code. This is known as encryption. The stronger the encryption, the better. This makes it very hard for anyone to understand your data.
Internet Activity: You can now browse the web, check emails, or watch videos. The VPN keeps everything safe. While doing all this, you might notice your internet speed is a bit slower. This is because the VPN is using resources to keep your data safe.
Data Unscramble: When the data gets to where it needs to go, the VPN changes it back to normal. This is decryption. The VPN server does this quickly so you can use the internet without waiting too long.
Safe and Private: Your online activities are hidden from everyone, including your internet service provider. This means you can visit websites or use apps without anyone knowing. It's like being invisible. But keep in mind that a VPN service provider might store your information
Disconnect: Once you are done, you can click 'Disconnect' on the VPN app. It's a good idea to disconnect when you are not using the internet to save battery life on your device.
Conclusion
So, to wrap up, this was all about the best VPN services for remote workers. Remote workers have a lot to think about. It includes from staying productive to keeping company data safe. All the mentioned VPNs provide strong security, keep no logs, and offer a wide range of servers around the globe.
So, no matter which one you pick, you are making a good move for secure and efficient remote work. Choose based on your specific needs and you will not go wrong.
Can I use a VPN for a remote job?
Yes, you can use a VPN for a remote job. A VPN will help keep your data safe when you are using public Wi-Fi or working from places that are not secure. It will also allow you to access your company's network safely. So, it is good for both security and for getting your job done.
How do I setup a VPN for remote workers?
Pick a VPN that fits your needs. Then download the app from their website onto any device you will use for work. After it's downloaded, install and open the app. You might need to create a new account. Once the app is open, find and click the connect button to link up with a VPN server. Some VPNs even let you choose a server from a specific country if needed. Once you are sure everything is working fine, you can start your remote work just like you are in the office.