Last Updated on March 3, 2023 by sourav sahu
We do entertainment, work, and communication on iPhone. iPhone got lots of data like photos, videos, and music. Whether for better managing those files on a computer or having a backup on the computer, people want to transfer files to their Windows 10/8/7/11 computers. But because of different systems, it seems a cumbersome job to do this.
Any iPhone user knows that one of the biggest downsides of using Apple's popular smartphone is the lack of a file manager.
This means that if you want to transfer files from your iPhone to your PC, you have to use a workaround like emailing yourself the files or using a cloud storage service.
But what if there was an easier way? In this blog post, we will show you how to easily transfer files from your iPhone to your PC using our favorite file-transferring software. So read on for an easy way to do this.
What is the easiest way to transfer files from iPhone to computer?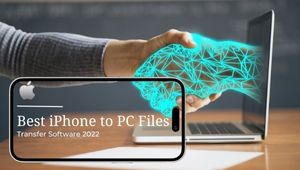 There are some classic ways to send files to a computer. iTunes provides iTunes for Windows to share and manage your iPhone files on Windows.
But iTunes usually was criticized because of the slow transfer speed and complicated steps, especially for iTunes for Windows. Lots of users are not comfortable with it.
If you need to send photos from iPhone to computer, someone may say Windows Files Explorer can perform it.
But File Explorer can't export all photos, and sometimes you may encounter some problems like "iPhone not showing in Windows Explorer".
Then what is the easiest way to transfer files from iPhone to computer?
The best iPhone-to-PC transfer software for Windows PC-FoneTool
The easiest method to transfer files from iPhone to PC is FoneTool, especially if you are a Windows user. FoneTool is a powerful and professional iPhone transfer software that enables users to transfer photos, videos, contacts, and music from iPhone/iPad to Windows 11/10/8/7 with a few steps.
• Superfast transfer speed: FoneTool transfers data to a PC at a very fast pace. Transferring 1000 HEIC photos to a PC can be completed in 10 minutes.
• Simple and intuitive interface: It makes iPhone to PC process simple. You can quickly complete the process by following the software instructions.
• Selective and preview transfer: FoneTool allows you to preview your files and choose the specific files to transfer.
• Great compatibility: This tool works with almost all iOS devices, including iPhone 14/13/12/11/X/8/7/6, all iPad models, and iPod Touch.
• Complete backup Tools: FoneTool is also a professional iOS backup tool. When you accidentally delete or lose your files, you can easily recover your backup to your iPhone.
As an all-in-one iPhone data manager, FoneTool also owns other user data management features.
Other features of FoneTool:
• Data Eraser: Completely delete iPhone data to prevent data leakage. It is helpful when you want to sell your old iPhone.
• Photo Deduplication: Find and delete duplicate and similar photos on iPhone and computer to free up storage space.
• HEIC Converter: Batch switch HEIC photos to JPG/JPE/PNG format. So, you can access and edit photos on your Windows.
Now, we will guide you on how to use this tool in the next part.
How to transfer iPhone to PC quickly and easily
Connect your iPhone to your Windows computer. Input your password on your iPhone. If it is the first connection between your iPhone and the PC, you can get a "Trust This Computer" alert, just tap "Trust".
Run FoneTool.
On the interface, click "Phone Transfer" on the left panel > "iPhone to PC".
Click the + icon to add photos, videos, contacts, and music files on your iPhone.
Click "OK".
The selected files will be listed here.
Click "Start Transfer"
Specify a destination to save your data on the PC
Click the "Transfer" button.
Conclusion
FoneTool is a powerful iPhone-to-PC transfer software. With this tool, you can selectively transfer photos, videos, music, and contacts from iPhone to PC on an easy-to-use interface. Apart from transferring iPhone to the computer.
FoneTool is also able to transfer data from a computer to iPhone. For instance, you can use it to transfer music from a computer to iPhone.
Frequently Asked Questions (FAQs)
How do I transfer files from my computer to my iPhone 2022?
-Connect the USB cable to the computer
-Then plug the other end into the iPhone.
-The computer will then recognize the device
-Open a window that will allow you to drag and drop files into the window.
-Once the files are transferred, disconnect the USB cable and open iTunes.
-The phone will be listed in iTunes under Devices
-Click on it to view its contents.
-Now sync your music, videos, etc., with the phone.
-Make sure that the Sync checkboxes are checked before clicking on Apply or Syncing Now.
How do I transfer files from iPhone to pc without iTunes?
There are many ways to transfer files from an iPhone to a computer without using iTunes. One such way is to use a third-party app like iExplorer or FoneTool. Another method by using the File Transfer option in iTunes.