Last Updated on May 27, 2023 by sourav sahu
For all hardcore gamers and newcomers, you will need gaming accessories at any cost to enhance your gaming experience. Gaming keyboards, gaming mouse pads, gamepads, consoles, joysticks, grippers, mobile cooling fans, etc. are some of the accessories that every gamer wishes to have in his/her gaming closet.
The easiest and the most trusted way to acquire these accessories is to buy them from known online stores. We have collected a list of online stores that can help you to buy different original games along with gaming accessories.
| Store Names | Our Star Ratings⭐ |
| --- | --- |
| Amazon | 5/5 ⭐⭐⭐⭐⭐ |
| Flipkart | 4.8/5 ⭐⭐⭐⭐ |
| Croma | 4.5⭐⭐⭐⭐ |
| Reliance Digital | 4.4⭐⭐⭐⭐ |
| Games The Shop | 4.2⭐⭐⭐⭐ |
| Gamesncomps | 4.2⭐⭐⭐⭐ |
| OnBeli | 4.1⭐⭐⭐⭐ |
A detailed review of all the best Online Stores
Amazon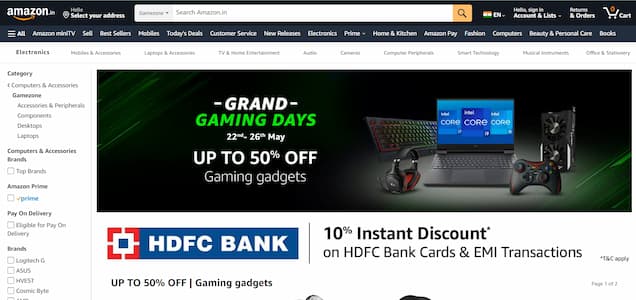 Amazon is the largest online store where you can find every product category (that you probably cannot find anyplace else).
You can find some amazing accessories, like PC Game Headsets, Mouse Pads, Gaming Mice, Gaming Keyboards, Gamepads, PC Microphones, Mobile Gaming Triggers, etc.
Many known brands feature their products at this online store, so you can look for your accessories even based on brands. You can also find a range of gaming laptops within your budget, at Amazon.
Flipkart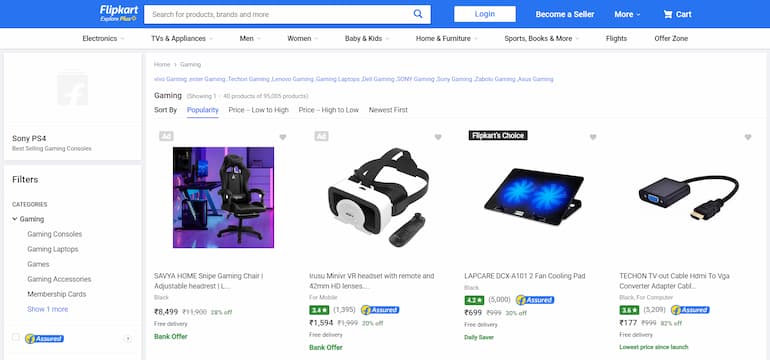 Flipkart bought the culture of online shopping and kept the very foundation of the e-commerce industry in India. This is the go-to online store where you can find almost all the products that you need in your daily life.
When you check out the gaming accessories section, you will find all the latest gaming accessories that are available on the market.
You will find gamepad controllers, joysticks, mobile gamepads, fan cooling pads, gaming keyboards, optical gaming mice, shooting guns, sleeves for mobiles games like Firefly, Call of Duty & PubG, gaming triggers, etc.
Croma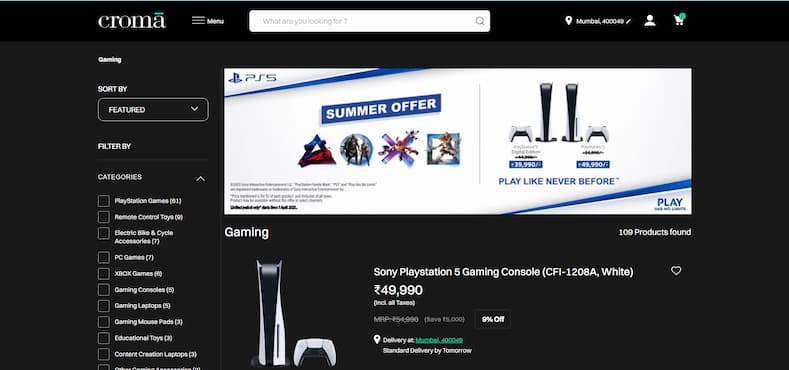 If you check out the Croma store, you will find a lot of gaming accessories and games. It provides a one-stop solution for all the gamers out there in the gaming community.
You will find some accessories that will help you boost your gaming experience. Some of the product options that you can find at this online store are gaming mouce, gaming mouse pads, gaming controllers, gaming keyboards, gaming consoles, controller skins, and other gaming accessories.
When you browse through the games section, you will find PlayStation Games, XBOX Games, and PC Games. Saving on gaming accessories is also important, which is why you can look for discount offers running on the Croma store before buying the accessories and games.
Reliance Digital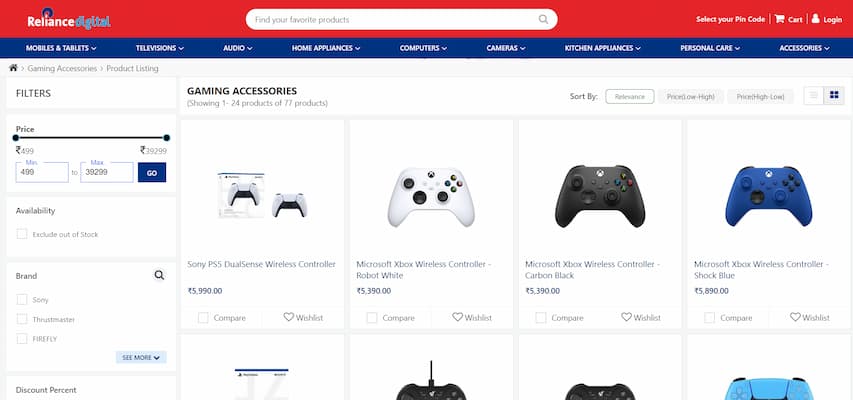 Very few trusted names come to mind when we talk about consumer electronics retailers and Reliance Digital is one of those names.
Right from mobiles & televisions to home appliances & kitchen appliances, you will find it all at this retail store. If you want to buy games on the basis of their titles (like FIREFLY, Redgear, Ratchet and Clank, Mortal Kombat, Gears Tactics, etc.) then you come to Reliance Digital.
Using Reliance Digital you can also buy games on the basis of game genres like action, shooters, and strategy & simulation, etc. If you are looking for workable controllers, then this online store will not disappoint you for sure.
Games The Shop
If you are looking for an online supermarket for gaming accessories and gaming titles, then you need to pay a visit to the "Games The Shop" online store.
This is nothing less than a gaming heaven for all the gamers out there. You can find products for literally all the platforms at this online store; right from PS4 & XBOX ONE to Nintendo Switch & PS5.
Some of the bestseller gaming accessories that are featured at Games The Shop are thumb grips, wireless controllers, controller phone clips, wireless headsets, wireless controllers, gaming chairs, etc. Moreover, good gaming headphones are very important for if you want to enjoy thrilling gaming experience.
The best part about this store is that you can pick your games on the basis of genres as well. You will get options like strategy, third-person shooter, action-adventure, simulation, racing, puzzle, horror, wrestling, fantasy, etc.
Gamesncomps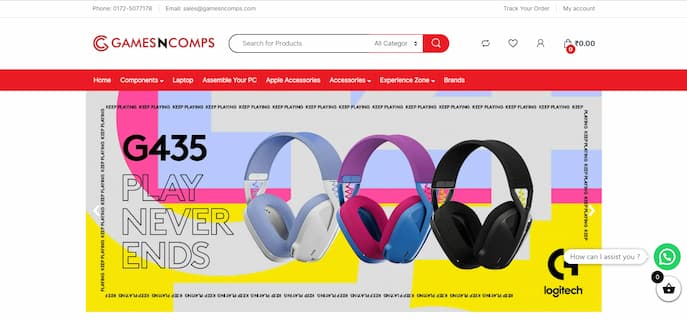 This is an IT store where you can find a range of gadgets, laptops, laptop components, gaming accessories, etc.
Now, if you are looking for some specific gaming accessory like the fastest gaming processor, gamepad, racing wheels for PlayStation, Driving Force Shifter, 3D Pro JoyPad, Wireless Gamepad, etc. then you can visit this online store and get the product of your choice.
You will find only trustworthy brands' products at this store, and you can also trust the authenticity of the products featured in this online store.
OnBeli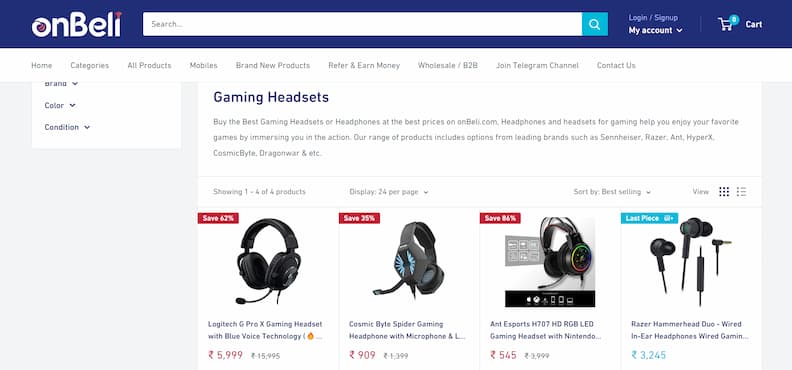 OnBeli is an e-commerce platform where you can get all kinds of gadgets, and their accessories. The USP of this online website is that you can get the products from this store at an affordable prices. Affordable in the sense, when compared to other e-commerce websites, this store will give products at a lesser price. And I think you should definitely get good earphones for gameplay, from OnBeli.
The store also serves Pin Codes across the country and features a range of gaming accessories. Some of the options that you can find here are gamepads, consoles & gamepads combos, gaming headphones, gaming headsets, gaming keyboards, gaming mice, etc.
Gaming Accessories Buying Guide
You can enhance your gameplay experience by getting yourself some cool gaming accessories. Some popular games like PUBG or Free Fire require a gaming controller or trigger to smooth the gameplay style.
This is just an example, there are many such gaming accessories and you must have a fair idea to choose which one is good for you.
So to help you out, here we have put together a buying guide so that you can choose the right components to finalize your setup.
Essential Gaming Accessories Every Gamer Needs:
Gaming Headphones: You should buy headphones that have crystal-clear audio quality with a good mic to communicate efficiently with your teammates.
Gaming Keyboard and Mouse: Go for a responsive yet ergonomic gaming mouse with the necessary mouse keys to enhance precision and control during games.
Gaming Controller: Console gamers need a durable, comfortable gaming controller in order to enjoy long gaming sessions comfortably.
Gaming Chair: All hardcore gamers need to sit for long hours, so you must buy a gaming chair that gives support and comfort to your back and neck during extended gameplay sessions without any discomfort.
Factors to Consider When Buying Gaming Accessories:
Compatibility: You should make sure that your purchased accessories are compatible with the platform on which you play.

The Platform could be anything like a PC, gaming console, or mobile.

Quality and Durability: Like any physical product durability is a must-have factor to be considered. You should always select durable accessories.

The quality should be good and made with high-grade materials so that they can withstand intense gaming sessions without suffering even a tiny bit.

Comfort: How can any gamer forget about the comfort part?

So when selecting gaming accessories, prioritize comfort over everything else.

Customization Features: You will find many gaming accessories offering customizable features like programmable buttons or RGB lighting.

They just add a personal touch when personalising your gaming setup.

Reviews and Recommendations: At the end, you should check out reviews and if possible take recommendations from fellow gamers in your community.
Understanding Compatibility with Different Gaming Platforms:
PC Gamers: For optimal PC performance, ensure the gaming accessories you select are compatible with its operating system and offer easy and quick integration.
Console Gamers: For gamers who are looking for gaming accessories like PlayStation, Xbox and Nintendo, you should choose those that are specially designed for each gaming console to provide smooth gameplay.
Mobile Gamers: After the advent of high-quality games for mobile devices, most Indian players now prefer to play games on mobiles.

So for optimal performance on mobile gaming devices, look for accessories that are compatible with your phone such as a gamepad or controller.
And remember one thing, always try to strike a balance between quality and affordability while searching for the best gaming accessories. So shop around and compare prices for the best possible price point with high-quality products.
Along with all the above points, you should also consider your personal preference while selecting gaming accessories.
I am saying this because every gamer has specific needs and demands in their mind. It depends on how you game, what gaming setup you need, how much time you want to spend gaming, etc.
So choose accessories that complement your own gaming style and comfort to maximize enjoyment on every gaming trip. Gaming shouldn't just be about winning but enjoying every step of the way.
Online Shopping Tips for Gamers
Gaming is not just a hobby, it is a long journey of excitement that tests our skills while building community ties. And to upgrade our gaming setup, we always love to shop online. But online shopping means, you will find many sources that not only sell duplicate items but also scams. So you need to be cautious and keep a few points in your mind while shopping for gaming items online.
So here are some points that we personally look for while buying any gaming item online.
Read Reviews: – Before adding your favourite gaming headset or mouse to your cart, take a moment to look through customer reviews. These gems of information from various gamers provide valuable insight regarding performance, durability, and comfort. You will also get to know about the good and bad parts of that particular product. And accordingly, you can make an informed decision.
Discover Hidden Gems: While popular online stores may seem like the obvious choice, don't underestimate the power of discovering hidden gems. You should also explore specialized gaming accessory websites, independent retailers or lesser-known marketplaces. And these sites generally provide you with unique, high-quality accessories that you won't find on other popular marketplaces.
Price Comparison: Being a gamer you should always act smart like you do in your gameplay. So before deciding to buy any product immediately, you should keep an eye on your virtual wallet. Don't just buy accessories from the first online store you see. Instead, take some time and visit multiple platforms in order to compare prices. Often you may find that similar accessories have different prices across platforms. This comparison process may ask for your patience but it may save a huge chunk of money of yours.
Stay Aware of Sales and Discounts: Who doesn't like discounts and deals? You should keep your eye on different seasonal discounts, flash deals, and special promotions by different online gaming stores. And during such special events like Black Friday, Cyber Monday or gaming expos, you will get exclusive gaming accessories at reduced prices. You can Sign up for newsletters from your favourite stores online or follow them on social media accounts to know about such events.
Warranty and Return Policies: No one likes to receive an incompatible gaming accessory or feel that it was just a waste of money. If you have bought a product which is found to be defective after some time of use, it should be well within its warranty period to repair or replace it. So be sure to review the warranty and return policies before making a purchase. Look for stores that offer hassle-free returns and generous warranty periods so that you can use the gadget in peace knowing that your gaming item has a prolonged warranty period.
Are You Exploiting Bundles: Look out for gaming accessory bundles, many online stores offer discounted bundle packages which contain multiple accessories at once, whether that's a headset and keyboard combo or controller and charging dock set, these bundles can help save you money while expanding your arsenal of gaming.
Connect With Fellow Gamers: The gaming community is an expansive domain full of passionate individuals eager to share their experiences and insights. Join online gaming forums, interact with fellow players in chat sessions, and get their advice about where you can purchase gaming accessories. Not only will you gain valuable insight but also form new friendships in this supportive gaming network.
Conclusion
Gaming experiences can be enhanced with the right accessories and titles, and we have explored various online stores devoted solely to gamers' needs. Not only will these additions enhance your experiences but they can also help you to connect with an active gaming community.
Frequently Asked Questions (FAQs)
What is the best website to buy gaming accessories?
There is no such thing as a great website. I would rather say that different sites are popular for different gaming accessories. We have provided such top sites. Rest it is up to you to find out and select the best one as per your requirements.
What items do gamers like?
Gamers love all the gaming accessories like gaming consoles, controllers, gaming chairs, good graphics cards, gaming curved screens, gaming headphones, gaming keyboards, gaming mouse and all the gaming setups that create a good gaming environment.
What are good video game gadgets?
There are many good video game gadgets like Gaming Headsets, Gaming Controllers, Gaming Keyboards, Gaming Mice, VR Headsets, Gaming Capture Cards, and Gaming Monitors, and there may such gadgets which require another dedicated post to describe.
Does Croma sell graphics cards?
Yes, it does sell graphics cards for a good overall gaming experience.