Last Updated on November 8, 2022 by Sagar Kumar Sahu
Dropshipping is becoming a popular e-commerce business model as it provides so many benefits for retail sales. More than 90% of dropshipping stores fail in the first stage of operation because they get excited watching someone else making money online and think they should, too. But then they start their journey without even doing a feasibility test, failing in the first without making any profit. So, they move on to something else, complaining that dropshipping doesn't work by generalizing their assumptions.
With dropshipping, the owner is not required to maintain a stock of products; they just have to purchase the goods from the supplier who is handling the stock and shipping. Dropshipping is basically adopted by business owners who want to start a business but have a limited budget. They have more tricky parts than what meets the eye including customer service requirements, marketing the store, multiple business processes, and choosing the right supplier.
The question here is why do most dropshipping businesses fail? Rajat Singh, a senior business analyst from TatvaSoft.com told us that there are several reasons behind the failure of the dropshipping business. But the lack of testing is one of the major reasons why dropshipping fails. So, before investing all your savings into dropshipping with a 10% success rate, consider which tools and resources you need to run a drop shipping business profitably?
Here are some reasons why drop shipping businesses fail, and how to avoid them to launch a successful enterprise.
Reasons for Dropshipping Failures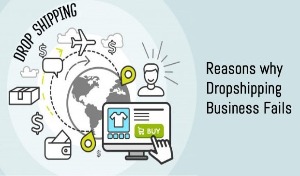 #1. High costs of drop shipping
Most shoppers do price comparisons when searching for a product online, often abandoning a cart if they find it cheaper somewhere else.
Having high rates of products sometimes leads to losing your potential customers. So, it is better to keep reasonable rates of the products that you are selling in your store and still stay profitable. So, think twice before selling your products at a high price.
#2. Poor marketing strategies
Let's say your dropshipping store is new. The shoppers are not very well familiar with the name of your store and the same product is found on various other sites, too. If you are offering numerous products to buy on your site, it becomes difficult for you to determine your target customers to zero in on. So, make sure to implement the right marketing strategies and your dropshipping is likely to succeed.
You have to focus on implementing the right strategies that work well and come up with good results. For instance, take Facebook which merely posts images or text, and eliminate video ads to drive more engagement. By doing this, you can easily interact with your potential customers' measure your advertising performance.
#3. Small profit margins
Selling for a low margin isn't necessarily unique to dropshipping, but it's more common for businesses that use the dropshipping model. The reason is small profit margins. A product passes through multiple phases until it reaches the end customer, which means less profit is left for the dropshipper. Every sale you make, most of that money goes to the supplier. And what you earn is hardly enough to handle your expenditure for marketing and other costs.
In such a case, you can focus on customer satisfaction, which will become your new competitive advantage. So, make sure each customer leaves a WOW experience with you, and with this, the changes to keep your customer's active increase.
#4. Unprofessional Websites
Now, the fourth reason that people fail at dropshipping is that their websites are just unprofessional. It means a dropshipping website that doesn't give a great customer experience. An unprofessional website or a site with a bad experience includes types all over the place, clunky checkout process, broken lines, or no way to get in touch with someone.
As we discussed earlier, 90% of dropshipping businesses fail and only around 10% of businesses get success. This successful dropshipping business is trustworthy and the chances of getting fail drops down automatically. That way you can build trust with your users so they are more likely to buy products from your eCommerce store.
#5. Lack of Investments
Finally, here is the fifth reason why businesses fail. Count it as a bit of a bonus.
Many business owners think that dropshipping requires a minimum amount of investment. Note that, starting any business requires a huge investment to make money. Managing a dropshipping store requires money for hosting tools, resources, and ads. For instance, if you're developing a store on Shopify, you still need some budget to take care of your processes and operations, so make sure you have some funds and can access them at any time.
How to ensure the success of your dropshipping business?
#1. Perform competition research
Before starting a dropshipping business, make sure that you're going to compete with other drop shipping operations and retail giants organizations such as Walmart and Amazon. Knowing your competition is the most essential task to perform before starting any business, this is where a lot of potential drop shippers go wrong. They look for a product that has no competition and no demand for that particular product.
There are various reasons why a product might not have a lot of competition, including manufacturing, supplier, and high shipping costs issues. Start looking for products having a large competition with high demand and the business model is sustainable.
#2. Analyze and optimize
To decrease the chances of your dropshipping business, you're required to track all of the data and metrics available to enhance your business. This includes Google Analytics traffic and Facebook conversion pixel data which will be your main customer acquisition channel. If you can track single records to know where the customer originated from that eventually leads to a sale and allows you to scale what works.
#3. Find a Supplier
For a successful dropshipping business, find a good supplier where you can search for any product, and choose suppliers from the list of results. Check their reviews, ratings, and how long the supplier has been active on the platform, for each supplier, and then make your decision on which supplier to choose.
After listing down four to five potential suppliers to choose from, you can now contact these suppliers and ask all the important questions such as shipping times and minimum order quantities.
Now, you probably have reduced possible suppliers from a list. The best way to make the right decision is to place sample order and then compare the results. After comparing the results, you can easily decide by keeping your customer in mind and what they will expect from you when placing an order.
Final Words
The better way to gain success at your dropshipping store is to focus on timely delivery and creating value for your users. According to experts and professionals, 90% of drop shippers will leave your store when they don't get delivery on time. Whenever a customer is buying something from your eCommerce store, they expect to receive their product within a week else there are chances that they will leave your store without any hesitation.
So we hope you enjoyed reading this post. However, if you're still planning to start a dropshipping business then give proper dedicated attention and effort to achieve success. Once you've picked the right market and launched your business, make patience and perseverance with your best friends. But if you have a realistic business plan and work regularly through your tasks, you can break out the pitfalls and keep your dropshipping business thriving.