Last Updated on January 25, 2023 by Sagar Kumar Sahu
Introduction
As we can see how the level of technology is increasing day by day, so many new features have arrived in smartphones which changes the game of cameras. One such trending topic of technology news is the under-display selfie camera.
In recent years, we get many specifications and features in mobile cameras that urge us to think about how come it is possible which were impossible in earlier days like a notch, under-display fingerprint scanner, pop-up camera, etc.
Some companies were focusing on designing a full-screen edge-to-edge display smartphone without any notch, punch-hole, or pop-up camera but it is only possible if we place a camera behind the display. Now it became reality and under-display selfie cameras may replace notch, pop-up cameras, or hole-punch cameras.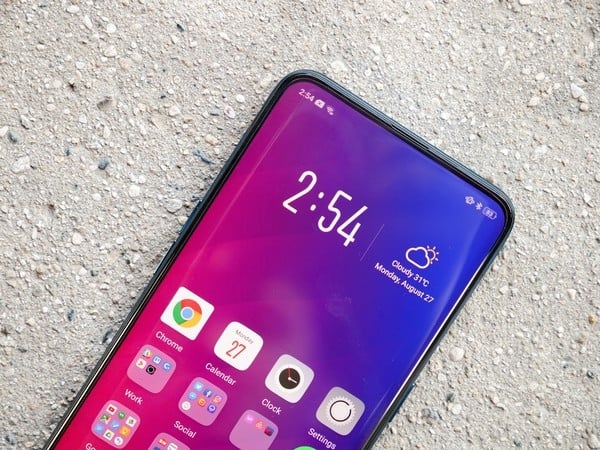 Oppo and Xiaomi have recently shared a video of the working conditions of phones in which you can use a full display screen and click selfies without any notch and pop-up cameras.
Let us know about the under-display selfie camera in detail
In simple words, it is a camera that is hidden behind the display of your smartphone, and whenever you open your camera the region of the under-display camera will become transparent so that sufficient light can pass through it.
The screen technology is so advanced that if you use an under-display fingerprint sensor, infrared sensor, and other sensors then they can scan due to their transparency. Similarly, you can use a selfie camera that is behind your transparent display.
Oppo and Xiaomi are the first two phones to launch a display camera. From Oppo, the phone is like a prototype but Xiaomi has a better look. You will see it as a normal display but when you open your camera for a selfie, then a selfie camera will appear at the top of your screen then it will click an image or record a video behind the display. Xiaomi has mentioned that this will only work in OLED displays.
How under-display camera works?
You may wonder how it is possible. So let us discuss First, you need to understand how a camera works. Mainly, the camera works on the principle of reflection and transmission light The camera needs a sufficient amount of light to capture a good-quality picture. So, if You have a transparent screen and you placed that screen in front of a camera lens then light can easily reach the lens.
The transparency of the camera is very high to reduce the reflection of light so that the required amount of light could reach the camera. It depends on the transparency level and camera megapixels of the under-display camera phones to capture good quality. Now you may also ask that Will, it affects the camera quality of the phone. Well, the answer is yes.
As I have mentioned above that it depends on the transparency level and camera megapixels. Since no screen is 100% transparent so when cameras are placed under the screen there may be some reduction in the quality of the camera.
But still, OLED screens are not completely transparent because they have very small holes that look like transparent screens. OLED displays are more likely transparent than any other display. You may find normal camera quality better than under-display camera quality because they do not have any transparent screen which helps the camera to receive light directly.
But as you know the speed of fingerprint sensors has increased similarly, and the quality of the camera will increase with time.
Under display fingerprint scanner also works on this same principle. Actually what happens is OLED has high-tech pixels and each pixel projects its own light toward the fingerprints. It recognizes the ridges, and curves of the fingerprints of your thumb or fingers pass through the transparent display and the optical scanner can scan your fingerprint and can recognize it. Now a big question
Why they did not bring this technology earlier?
As I have mentioned above, At present OLED has the highest transparency but earlier displays were LCD, LED, and AMOLED which were not as transparent as OLED.So the discovery of OLED displays has led to the discovery of such amazing features of smartphones.
How these cameras can be improved in the future?
See friends, nowadays it is not such a difficult task to turn our dreams into reality. Technology makes it possible to discover new technology and also helps to improve it. We can see better quality lens screen cameras that would be better than selfie cameras currently. This list may include invisible selfie cameras as well as many other features such as an invisible flashlight.
We can also expect some more awesome features like Dual selfie cameras, 360-degree selfie cameras, AR-featured selfie cameras, etc. Moreover, who knows we may also get the invisible back camera in the upcoming days.
Advantages of Under Display Selfie Cameras
It makes your smartphone look smarter than its previous versions.
No worries about the scratches on the camera lens
It increases the display size as the space required to place the front camera reduces.
Disadvantages of Under Display Selfie Cameras
The quality of the camera somehow gets affected
If the screen gets scratched near the camera, then it would be difficult to replace the camera
And obviously, these cameras will add extra expenses to your smartphone
It will be hard to place a flashlight in the front camera
Oppo is not the only company whose goal is to bring in-display selfie camera technology to life, as Samsung has already confirmed its intention to do so. But Samsung reportedly suggested that the technology was still about a year away from the launch of commercially available smartphones.
If Oppo can really beat this Korean firm with the punch, then it will create a huge craze in the market. A selfie camera at the bottom of the screen will allow phone manufacturers to create a full-screen smartphone without the need for notches, punch holes, a pop-up selfie cameras, or slider design.
Conclusion
Although this camera will take time to grab a place in the customer's mind however if they satisfy their customer's needs it will definitely be accepted in the market. So friends, will you buy a phone with an in-display selfie camera? Tell us in the comments! Please like the article and share it with your friends.