Last Updated on October 11, 2023 by Sagar Kumar Sahu
Nowadays it has become a trend to have a smartphone with a supreme level of features. Every smartphone users wish to buy a smartphone with good RAM performance, ROM, and Battery life.
Whenever we decide to buy a smartphone first thought that comes to our mind What will be the RAM and Processor of this Phone? However in this expensive world if we go for better quality and performance then we have emptied our pockets.
Sometimes we have to adjust to our old smartphones having low RAM. While using such phones users must have experienced insufficient RAM problems while playing large-sized games or running any important applications.
There's no doubt that smartphones have become an indispensable part of our lives. But with all the amazing things these little devices can do, they can also start to feel a bit sluggish over time. One way to speed them up again is by increasing the amount of RAM performance. Here are the tips on how to do just that!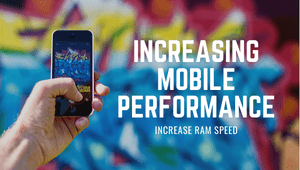 WHAT IS RAM?
Random Access Memory, or RAM (pronounced as ramm), is the physical hardware of a computer that temporarily stores data in the motherboard, serving as the computer's "working" memory.
Additional RAM allows a computer to work with more data at the same time, which usually has a significant influence on total system performance.
How To Increase the RAM Performance Of Your Smartphone?
First, know what is the reason behind your slow RAM
It may be due to the Large no. of applications installed on your phone which occupies more storage.
Many background applications may be running at the same time.
There are some apps that require heavy updates, and the phone slows down during these updates
Ways to improve your RAM without rooting your phone
1. Delete unwanted high-memory and space-consuming apps
For this, You have to follow these steps
Go To Settings of Your Phone.
Select Apps.
Now see how much space and memory they are consuming.
Now delete those unwanted items which consume more space.
Note: In mobile, there are two Spaces one is of RAM and the other is of your system storage(ROM). So make sure that you are seeing the space consumed by RAM for each application
2. Clean up your Storage
All the photos we take from our phones or photos and videos that come from WhatsApp, hike, and other social media occupy large storage on our phones. It requires enough space to run smoothly, and if it is low on storage, RAM may start slowing down. Earlier we had to install third-party apps to clean up the storage space, but now every phone comes up with a pre-installed Storage cleaner that can free up your space within a couple of minutes.
Go to the settings option on your phone                                        
Note: These steps may vary from phone to phone but the basic keywords are almost similar(bold ones)
If you have a CLEANER option on your phone then you needn't do all these steps. You just use that cleaner to free up your space
You can also install some best Apps from PlayStore to Clean Up your storage Space And Boost your mobile speed and performance
Clean Master: Antivirus, Applock & Cleaner
Super Cleaner: Antivirus, Booster, Phone Cleaner
Smart RAM Booster: Free app to Increase RAM in Android 
Memory Booster
You can also clear the Cached data manually from your phone
For this, you go to your storage and find Cached data,
Tap to free up space
Many of the apps that you have installed from the Play Store can use data cache in an attempt to speed up the operation. However caches are useful up to some extent, but if you are running out of space, then the above steps could actually be very effective.  
3. Disable or delete unused widgets
Although Widgets are funny to use on your mobile, they can slow down your RAM to some level. They can also drain out the battery and occupy the storage. So it is better to limit the usage of widgets as far as possible. Initially, they can save you time and do your task quickly and smoothly, but after some days, they will finally drag down the speed of your entire device. So it's better to cut or remove them completely.
4. Limited use of live wallpapers
We all love live wallpaper over static wallpapers because it makes the user interface more wondrous.
On the other hand, it plays a greater role in reducing the RAM speed of your phone and slows down all the CPU processes. Navigation from one window to another becomes slower. So standard live wallpapers should be deleted. Moreover, it also drains out battery level at a very fast rate
5. Disable Animations
Most Android users don't how animation affects the phone performance. Animations are actually noticed when we switch from one task to another or from one app to another. To see this in slow motion follow these steps. Go to Settings -> Developer Options -> Window Animation Scale -> Animation scale 10x. Then choose Window Animation Scale again to see the fade-in effect.
It is best to turn off the animations so that no animations will appear when there is a transition in the tasks,
You can also turn off the Transition Animation Scale and Transition duration scale in the same way. If you are a regular user, you would probably notice that your Android performs faster with all those animations off.
These are some tips to boost your RAM Speed with the use of some Apps and precautions. But there are also some tricks where you can increase RAM speed by Manual Method where you need to do certain tasks manually to increase RAM in Android Phones. 
Increase RAM speed by rooting your phone
There are some apps that allow smartphone users to expand their device's RAM which is sufficient to run heavy apps. One such app is Roehsoft RAM Expander(SWAP).
Ram Expander is a terrific app that will increase the RAM of your Android device by converting a portion of SD card memory into RAM. That part of your SD card will now be used as virtual RAM for your Android device.
It is a paid app where you have to pay ₹250.00 If you buy from the Play Store. But don't worry friends you can download a free APK from Google. You simply search Roehsoft Ram Expander APK free download and download from any site(For e.g. APKbucket ) 
This App claims that it can increase the RAM up to GB. So for this, you will require an SD card above 16GB.
Before installing this app please install another app named MemoryInfo & SwapCheck. This app ensures whether your device is compatible with Roehsoft Ram Expander or not because not all device supports virtual RAM. You install this Roehsoft Ram Expander only if your device supports this App.
Steps to install and use Roehsoft Ram Expander
On opening the app it will ask you to choose your language.
Then it will ask for root access
From this App, Click on SwapActiv and this will show you some storage space
Choose External storage (SD Card), after selecting this proceed to the next step
Now click the SwapActiv button Again.
On the home page of this app, you will see the memory info at the bottom
It shows how much space is available on your SD card, how much RAM/memory is present in your device, and what would be the total RAM when you complete the process.
At the top, there are some icons – Swap active, Autorun, Notify icon, Hypermode, Perfectkernel, and Drop cache.
Tap on Autorun along with other options.
Click Notify icon, if you want the icon of the app on the notification bar.
A minimum of 512MB of swapping memory is recommended.
So create a Swap file of your choice
It may take time to create a swapping file that may vary according to the device(Generally a class 4 memory card is necessary.
After the creation of the Swapping file, Click on the SwapActiv option.
Now you can run the heavy application on your smartphone. You can check this by visiting your external memory card and checking the space. There must be some reduction in storage space (which is occupied by the virtual RAM)
However, you can't see increased RAM in settings. Because as the name suggests it is virtual RAM, so it works in a secret manner.
There are also many ways to increase the RAM performance of your Smartphone, but for this, you need to have deep and professional knowledge. Moreover, they are tedious and may take lots of time having a high level of risk.
Conclusion
Boosting RAM and Increasing RAM are two different things that I have mentioned in this article.
These were some of the effective and simple ways to get your work done. On the internet, you will find many methods to solve the problem, but I have done 2 days of research to find the best steps to Increase the RAM Performance Of Your Smartphone
If you follow the above-given methods, tips and suggestions will help in making your Android faster and smoother while in use
If you liked this post please share this article with your friends. Also, don't forget to like and comment below
You may find these posts useful –