Last Updated on November 2, 2023 by sourav sahu
It might happen to you when you try to keep up with the streamers that are your favorite but it's life and anything can happen.
You can miss them so in this blog post we will explain to you in a very easy and simple way How To Watch Old Twitch Streams. So, stay tuned till the tuned! 
Gamers are so in trend nowadays and they even make careers in gaming.
Twitch is a streaming platform that is of so much use to the streamers and some of the lifestyle casters as they support building communities and that too around a streamable and shared interest.
Twitch provides its users with both facilities: i.e., Free as well as Paid. The paid one removes the ads that come and interrupt in between and gives users more features of streaming, robust social, and not to forget it even provides storage features, etc.
So if you are a gamer and not familiar with Twitch then you are missing out on so much of interesting things, please do check it out. You will surely love the experience.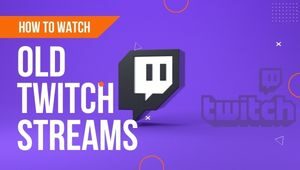 Twitch is not only specifically for gamers but it even has so much variety of content related to sports, food, travel, and talk shows. Now, you know that there are other reasons as well to use the Twitch app apart from gaming stuff.
Now, before getting into the part about how to watch old Twitch streams let us know some more things about Twitch so that the new ones on the app know what they are using.
Things you need to know: Twitch app
Twitch was launched in 2011 and is inclined toward gamers and their streaming stuff. Millions of people are amazed by it and are its users. There is no definitive streaming time, it could be as long as eight hours and as short as a minute.
The streams can be browsed by different categories which also include some games.
If you like a streamer that you would like to stay in touch with and see then you can follow them. Twitch has even partnered with some of the gaming platforms that are worldwide famous.
You can also buy games through the links that stream on Twitch and the streams earn through commissions. They can also sell some of the products with the streams through affiliate links.
Twitch also allows you to save streams so you can also watch old streamed shows and gameplay.
A Step-By-Step Guide That Should Be Known By You: How To Watch Old Twitch Streams
Whether you are a first-time broadcaster or just want to watch past broadcasts, we will show you how easy it is to access your favorite content on Twitch. Now let us begin with the steps that are required to watch the old Twitch streams. 
So whether you missed that epic stream last night or just want to relive the glory, follow along with us and we will get you up.
The very first step that you need to follow is to go on twitch.tv and then log in to it.
There will be a streamers channel, navigate towards it. It can even be searched in the search section or in the section of the channels that you follow.
Once you reach their channel, navigate to the video tab. There you will see recent broadcasts.
You just have to scroll through the list of recent videos and then whichever video you would want to watch, just click on that.
Most of the channels have 14 days of broadcasts available.
Some even have 60 days but they are the partnered channels. If the video is before these days then you will not be able to watch the stream.
Conclusion
So, we hope that you got all the information that you needed to know and got the solution to your issue. With our guide above, you can access archived content and enjoy your favorite broadcasters' past broadcasts. Tune in now so that you know what the hype is all about.
FAQs
Do old Twitch streams get deleted?
No, old Twitch streams are not deleted. It can still be watched, you just have to go to the channel's page, and then you have to select the "videos" tab. All the past broadcasts that have been saved will be shown to you.
Keep in mind that some channels do delete their older broadcasts, so if you can't find a particular stream it may be because it has been removed by the channel owner.
Can I download old Twitch streams?
Yes, you can download old Twitch streams. To do this, go to the channel's page and select the "Videos" tab. Now you have to click on the three dots that will be next to the stream of your desire and then select the option that says "Download." This will save the stream to your computer so you can watch it offline.
What is the Twitch VOD system?
The Twitch VOD system stands for "Video on Demand." This allows channel viewers to watch past broadcasts at any time. To access a channel's VODs, go to the channel's page and select the "Videos" tab. The past broadcasts that have been saved will be shown here.