Last Updated on August 10, 2023 by sourav sahu
Since 2010, the Swedish app development studio of Toca Boca has been focused on the development of educational video games for kids. Over the years, the studio has managed to create an entire series of educational kid-friendly games they labeled as digital toys that help stimulate kids' imaginations. In 2018, the studio launched Toca Life World which is by far the studio's best work to date.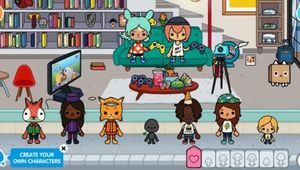 Educational entertainment or edutainment is considered one of the most challenging parts of video game industries to develop. Unlike other genres that can cross between the lines of reality and fantasy, edutainment games need to be informative and interesting at the same time. It has to inspire curiosity from its target audience, usually kids. Not to mention that the details have to be engaging but not overwhelming.
Educational games, for the most part, are one of the least popular categories in gaming since they are designed to target a specific demographic of players. On that note, having an educational game like Toca Life World, declared as the best application in the entire Apple App Store is truly an achievement to behold.
Toca Boca's play designer Peter Karlsson describes Toca Life World as a "mega-app" that connects all the apps in the Toca series. The app features 500 characters, 90 locations, a plethora of items, and a solid character creation system.
Unlike most titles under the edutainment category that features math, history, and other subjects, Toca Life World presents itself as a digital space packed with all types of tools that players can interact with.
For example, players can create delicious desserts in the kitchen by combining sugar with fruits. For example, sugar and cherry will result in a cherry pie; while sugar and blueberries will result in a blue birthday cake.
Players can also explore other locations like the post office, the mall, and the salon. In summary, Toca Life World is an educational app that provides players the freedom to create, explore and discover. It is an entire world packed full of items, knick-knacks, and other contraptions that will keep the curious minds of little children busy for hours.
Edutainment Over the Years
The history of educational games started around 1964 with the introduction of The Sumerian Game. Designed specifically for elementary students, the game is a text-based strategy resource management game. It employs the use of an IBM 1050 terminal connected to a time-shared IBM 7090 mainframe computer and utilizes a slide projector with a cassette tape for cut scenes.
The Sumerian Game aims to introduce basic economics to Elementary pupils during its time. Despite the presence of the concept, it was not until the 1980s that educational games became the focus of video game companies making the term "Edutainment Games" a household name in the gaming industry.
The evolution of technology and computing made the educational video games of today more accessible and engaging. Nevertheless, modern technology, with the help of the internet (and its variety of off-putting information) makes its access an unhealthy place for kids.
Therefore, apps like Toca Life World not only provide a safe and educational platform for kids but a safe space as well. For that reason, if you are on a hunt for a child-friendly game for your kids, then look no further than Toca Life World.