Last Updated on October 12, 2023 by Sagar Kumar Sahu
Reliance Jio, India's largest telecom operator, has announced to launch of its new Jio Air Fiber service soon in 2023.
Jio's 5G network will directly help in the quick rollout of Air Fiber. I will explain why Jio Air Fiber is dependent on the 5G network to work.
Currently, Jio is planning to expand the Jio 5G network in all locations to deliver high-speed internet connectivity. The company is also trying to expand Jio Fiber and Air Fiber services to 100 million houses in the coming two to three years.
What is Jio Air Fiber?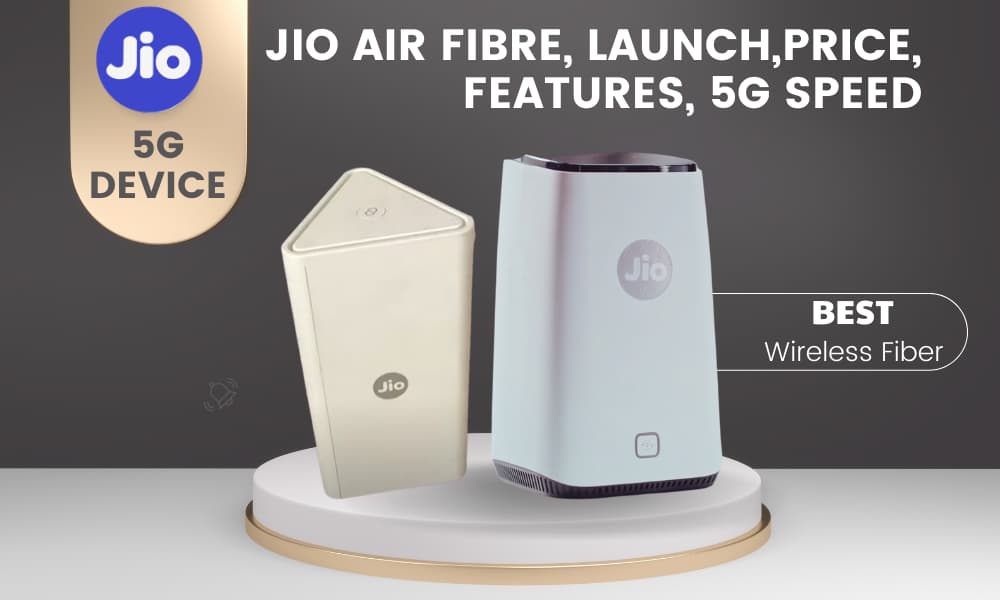 By the name itself, you must have understood about Jio Air Fiber to some extent. Air Fiber is a fixed wireless access service that uses wireless connectivity to provide high-speed internet without traditional Fiber wires.
As per reports, Jio has already started testing the radio frequency planning, installation process, and service stability through pilot projects in a few areas.
Jio Air Fiber comes with a Wi-Fi 6 capable device, which means you can enjoy 40% faster Wi-Fi speeds. Also, the router comes with some parenteral control and if you are a parent, you can temporarily block internet access on any device and make the internet child-proof.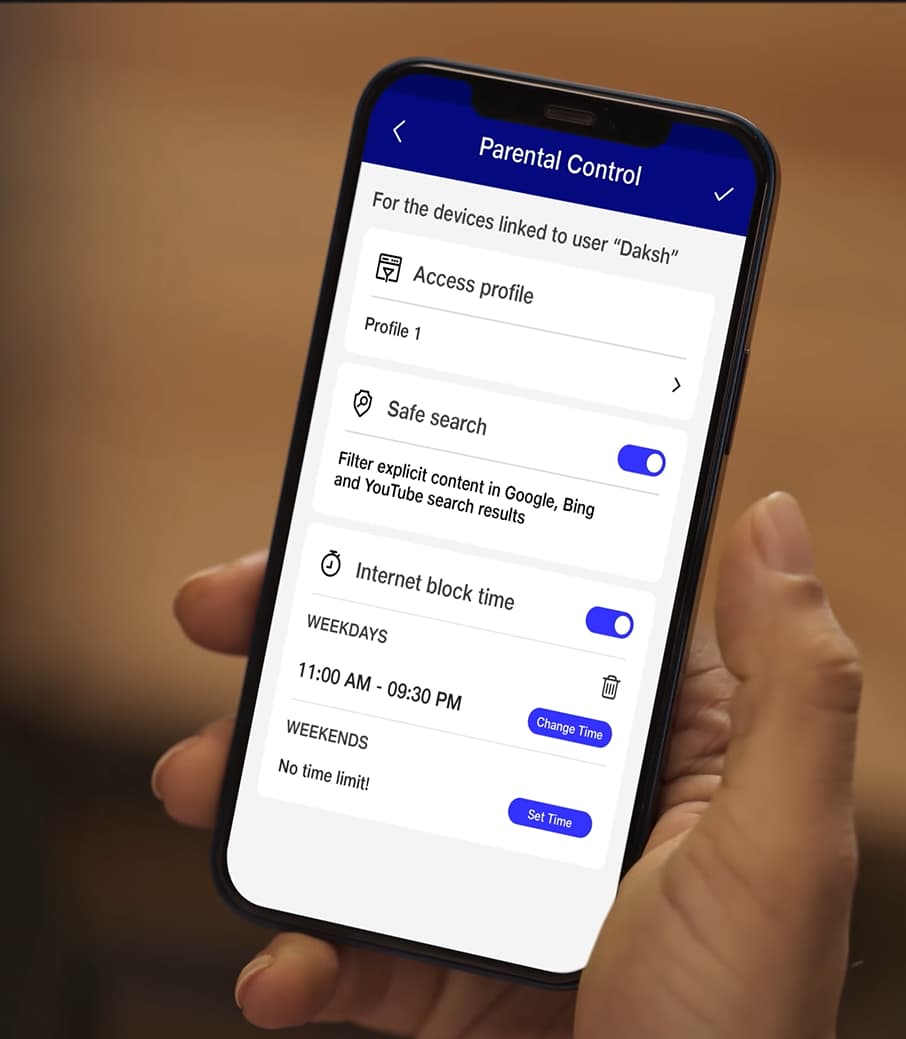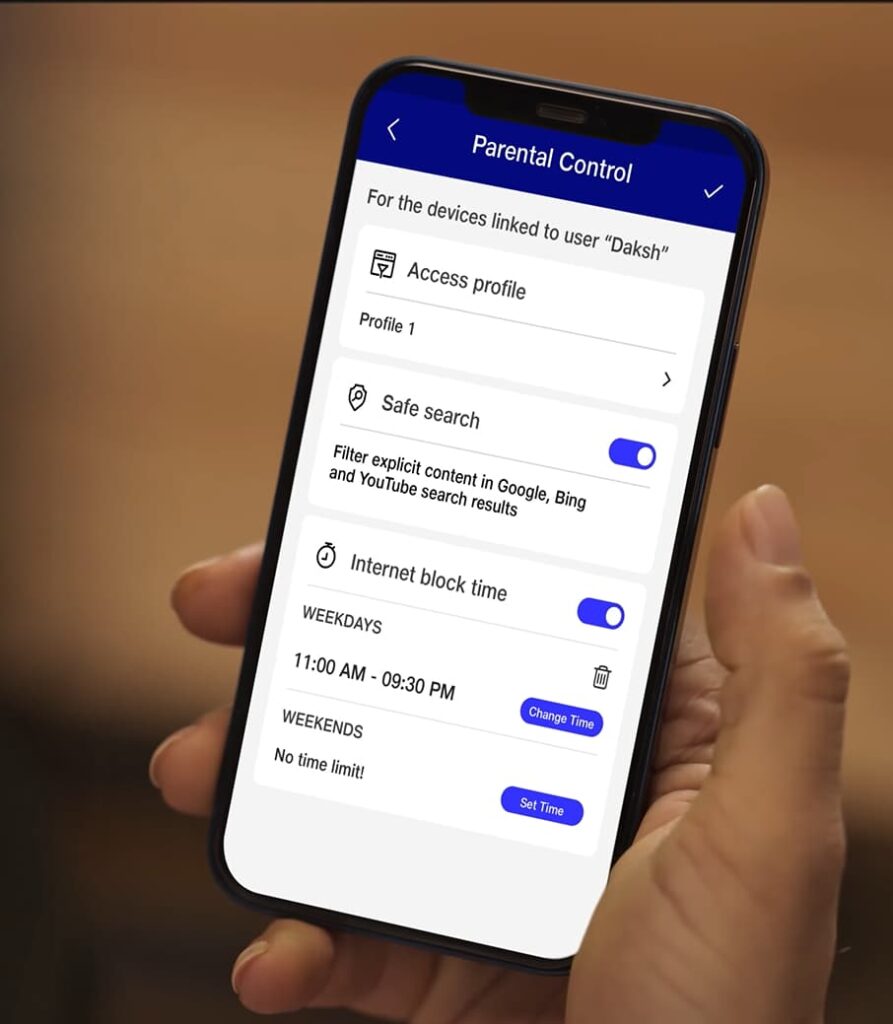 The main reason to introduce Air Fiber is to provide high-speed internet access without the need for wired infrastructure to every home in India. Using True 5G, Jio AirFiber provides speed, capacity, and indoor coverage through differentiated spectrum holding.
The Wi-Fi coverage offered by the Jio Home Gateway can cover an area of around 1000 square feet on the same floor as an office or a house.
The installation process is very easy. You can set everything up on your own by watching videos from Youtube, or else you can ask the technician to set up everything.
Benefits of Jio Air Fiber
Jio Air Fiber provides complete wireless internet service with 5G speed. You will get a lot of benefits with Air Fiber. Let's share some main points with you.
✅You will enjoy the internet speed in gigabytes, which means you can stream your favourite movies and shows without any buffering or lagging.
✅ With Jio AirFiber's ultra-low latency and gigabit speeds, you can watch IPL without buffering or interruptions.

This is because Jio AirFiber provides a seamless and consistent internet experience that allows for the smooth streaming of high-quality videos and content

✅Jio AirFiber delivers ultra-low latency.

It means you can play multiplayer and cloud gaming smoothly without any issues. That's a huge plus point for all the gamers and streamers.

✅You can even host a virtual PC in the cloud using Jio AirFiber Home Gateway.

Using this service you can access your work or personal files from anywhere, without having to carry your laptop around.

✅ It's a great option for those people whose staying locations don't have Jio optical Fiber service.
✅People who want to get rid of wires and all, can simply purchase the Jio Air Fiber and install it at their home.
✅ You can easily carry the extender/router (the latest cylindrical-shaped router) to any place in your house.
✅ One of the biggest benefits of Jio Air Fiber is that you can enjoy true 5G speeds even if your devices don't support 5G technology.

This is because the device receives the 5G signal directly from the tower, and then transmits it to your device via Wi-Fi.

✅ Additionally, Air Fiber comes equipped with a Wi-Fi 6 capable device, which ensures 40% faster Wi-Fi speeds.
If you are running out of data you should know How to get Jio data Loan easily
How does Air Fiber work?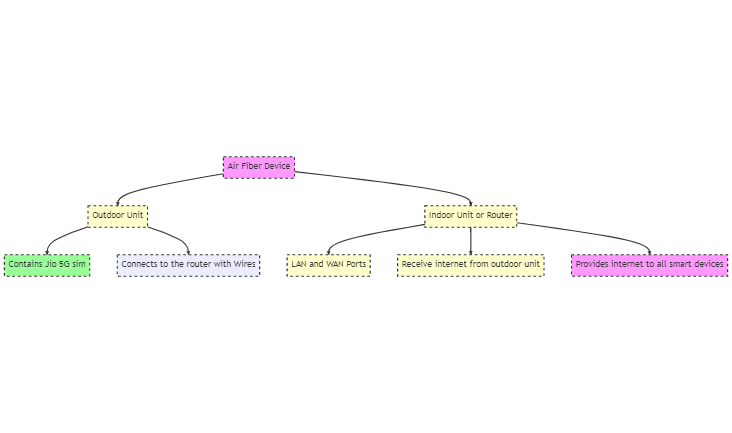 You should know that for the Jio Air Fiber device to work, it's important that your area receives the Jio 5G network or has a Jio 5G tower nearby.
Now, let's take a look at what's inside the box of Jio Air Fiber and the entire system work.
Jio Air Fiber comes with a pyramid-shaped Air Fiber Device that acts as a router or extender (Indoor unit). It's placed inside the home.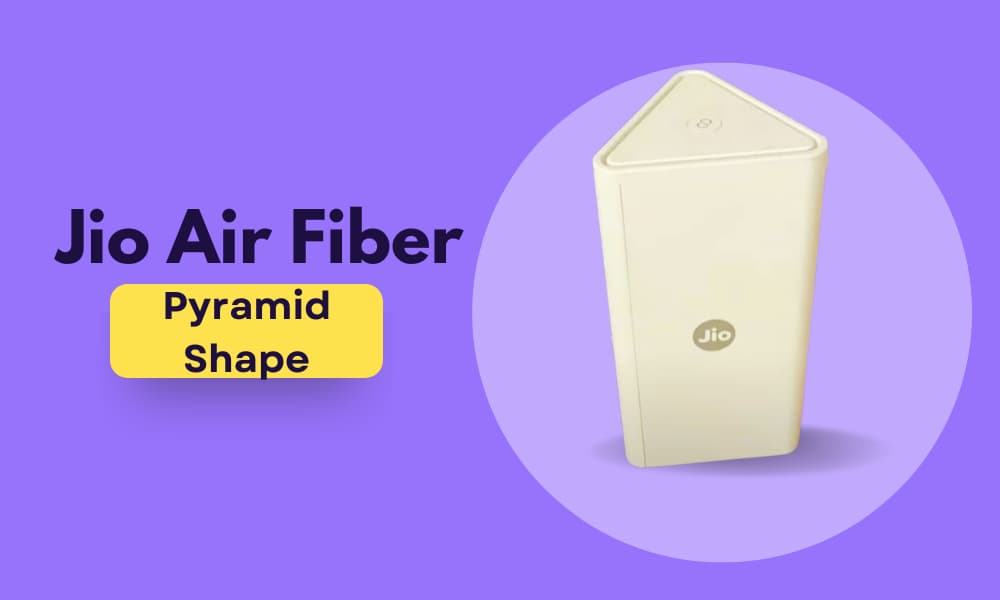 There is another outdoor unit which is fixed outside of the home. The outdoor unit contains a Jio 5G sim and it simply gets the data from the nearby 5G tower. The indoor units and outdoor units are connected using some wires, and the outdoor unit receives the signal and sends it to the indoor unit inside the home.
The indoor unit or router has all the necessary ports like LAN and WAN ports, and it also has air vents at the bottom to prevent overheating.
The device also has the password and username written on the back of the device. In addition to this, you will also receive a set-up box, which is the same set-up box that comes with a normal Jio Fiber connection.
Jio Fiber has also recently released a new video that is featuring a new router which is cylindrical-shaped. The main difference between the latest cylindrical and triangular routers is that the triangular router cannot be moved inside the house, while the cylindrical one is mobile and can be carried around.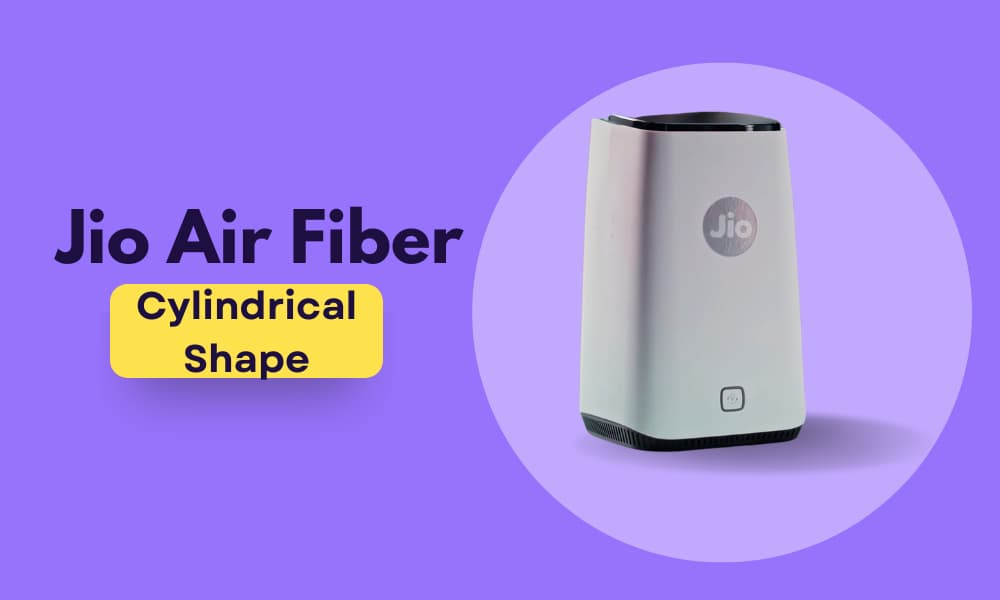 Note: Stay tuned with the latest Upcoming Flipkart sales and events by bookmarking our website Techsonu
Jio Air Fiber Launch Date in India
Regarding the question about when Jio Air Fiber will be available, the company hasn't announced a specific date yet. However as per some reports and some speculations it is expected to be launched by the end of this year 2023, around November or December. I think they will launch the Jio Air Fiber on Diwali.
The rollout of the Jio 5G network and Jio Air Fiber will definitely take some time to reach all cities and locations across India.
Jio has already started the process of rolling out its 5G network in some cities, but it will take some time to cover all the locations.
Similarly, it will also take time to reach all areas where Jio 5G network is available. So, if you are a Jio user you need to be patient and wait for the network to expand to their area before you can enjoy the benefits of Jio Air Fibre.
You can also read how to get Jio Free Data easily
Jio Air Fiber Recharge Plans
The plans have not been announced yet. But I think the price range will be more or less the same as normal Jio Fiber (FFTH) plans. The price may go higher or lower than the normal jio Fiber Plan.
PostPaid Plans
| Postpaid Price/Monthly | Speed and Data Details |
| --- | --- |
| ₹ 599 | Unlimited Data @30 Mbps |
| ₹ 499 | Unlimited Data @30 Mbps |
| ₹399 | Unlimited Data @30 Mbps |
| ₹899 | Unlimited Data @100 Mbps |
| ₹799 | Unlimited Data @100 Mbps |
| ₹699 | Unlimited Data @100 Mbps |
| ₹999 | Unlimited Data @ 150 Mbps |
| ₹1499 | Unlimited Data @ 300 Mbps |
| ₹2499 | Unlimited Data @ 500 Mbps |
| ₹3999 | Unlimited Data @ 1 Gbps |
| ₹ 8499 | 6600 GB @ 1 Gbps |
Prepaid Plans
| Prepaid Price/Monthly | Speed and Data Details |
| --- | --- |
| ₹999 | Unlimited @150 Mbps |
| ₹ 699 | Unlimited @100 Mbps |
| ₹399 | Unlimited @30 Mbps |
| ₹1499 | Unlimited @300 Mbps |
| ₹2499 | Unlimited @500 Mbps |
| ₹3999 | Unlimited @1Gbps |
| ₹8499 | 6600 GB @1Gbps |
Booking and Purchase Price
However, it is worth noting that the price range of Customer Premises Equipment (CPE) is currently around $150-200, which is ₹12K-16K in Indian value. And this price range is not affordable for most Jio users.
Once the price comes down to ₹6,000 to ₹7,000, it will become more accessible to the customers. You can expect the Jio Air Fiber to cost around ₹5K to ₹7K and you can start the Booking
How to get Jio Air Fiber?
Once Jio Air Fiber is launched commercially in the market, you can check if it's available in your area by visiting the official Jio website or by contacting the Jio customer care centre.
If it is available in your area, you can subscribe to the service by following the instructions on the website or by visiting the nearest Jio store.
You just need to provide some basic information, like your name, address, and contact details, and you will also need to choose a plan that suits your needs.
After subscribing to the service, the Jio team will install the necessary equipment, including the indoor and outdoor units, at your home or office.
You can also purchase it from local Jio stores or online portals like Jio.com. You will need to complete some registration and documentation to install the services.
How Jio Air Fiber is different from normal Jio Fibre Fiber-to-the-home (FTTH)
The main difference between normal Jio Fiber and Jio Air Fiber is the mode of delivery of the internet service.
Jio Fiber provides internet connectivity using optical Fiber cables.
Whereas Jio Air Fiber is a wireless broadband service that uses 5G network technology to provide internet.
| Criteria | Jio Fiber | Jio Air Fiber |
| --- | --- | --- |
| Technology | Internet is delivered via optical fiber cables | Data received wirelessly from the 5G tower to the outdoor unit, then wirelessly to the indoor unit via Wi-Fi |
| Availability | Limited to areas where fiber cables are laid | Can be used in areas where Jio Fiber is not available |
| Setup | Cables and wires required for setup | Easy setup without the need for cables and wires |
| Speed | Capable to increase Jio internet speeds | Limited by the wireless technology used |
| Suitability | Great for urban areas with high internet usage | Great for rural or remote areas with limited connectivity options |
How to set up Jio Air Fiber using the JioHome app?
Setting up Jio Air Fiber is as easy as playing a YouTube video. This will take the same amount of time as it takes to skip ads in YouTube videos.
Note: You can watch YouTube without ads if you get Youtube Premium. And things become more interesting when you get Youtube Premium for free. We have provided some 100% working methods to get free YOutube premium.
Now come to our main topic. So by using the JioHome app, you can easily set up the wifi at your home.
You just need to download the JioHome app from the Play Store or App Store
Follow the step-by-step instructions provided in the app to complete the installation process.
You need to select the option My Network and follow the onscreen instructions.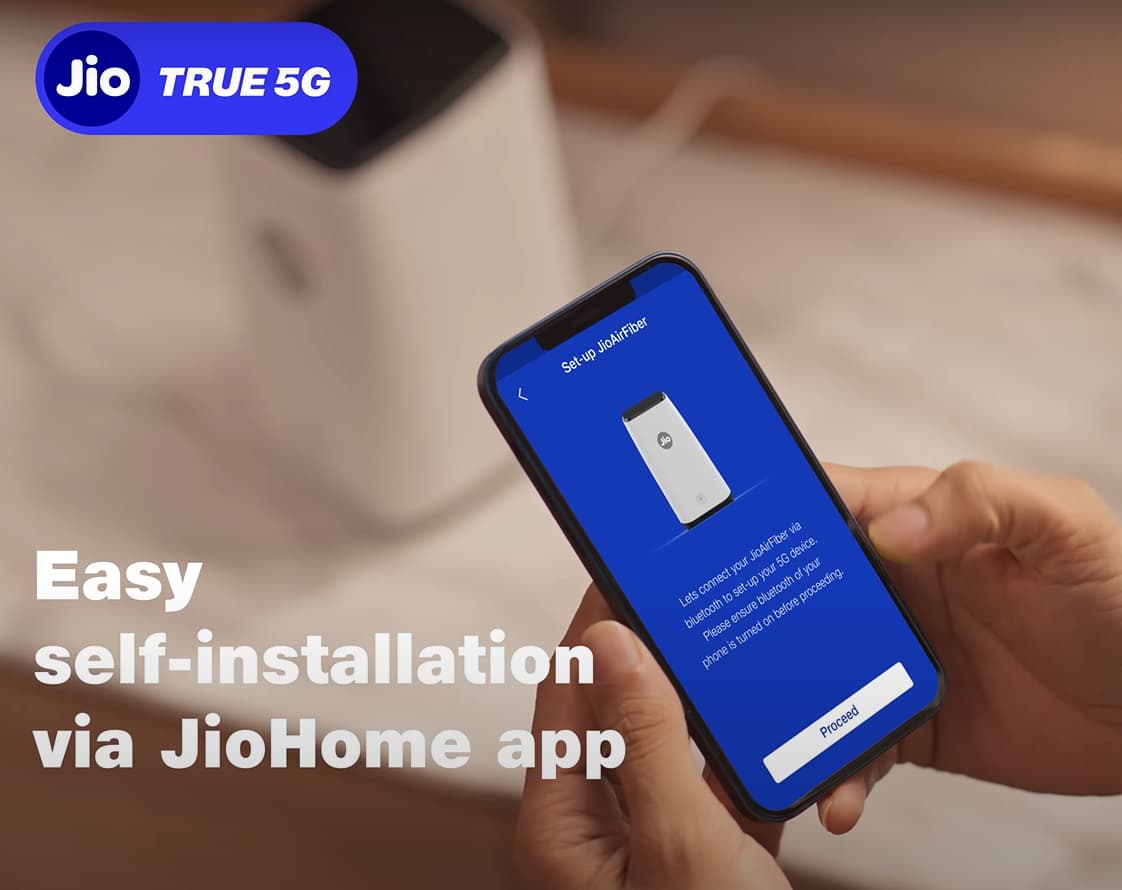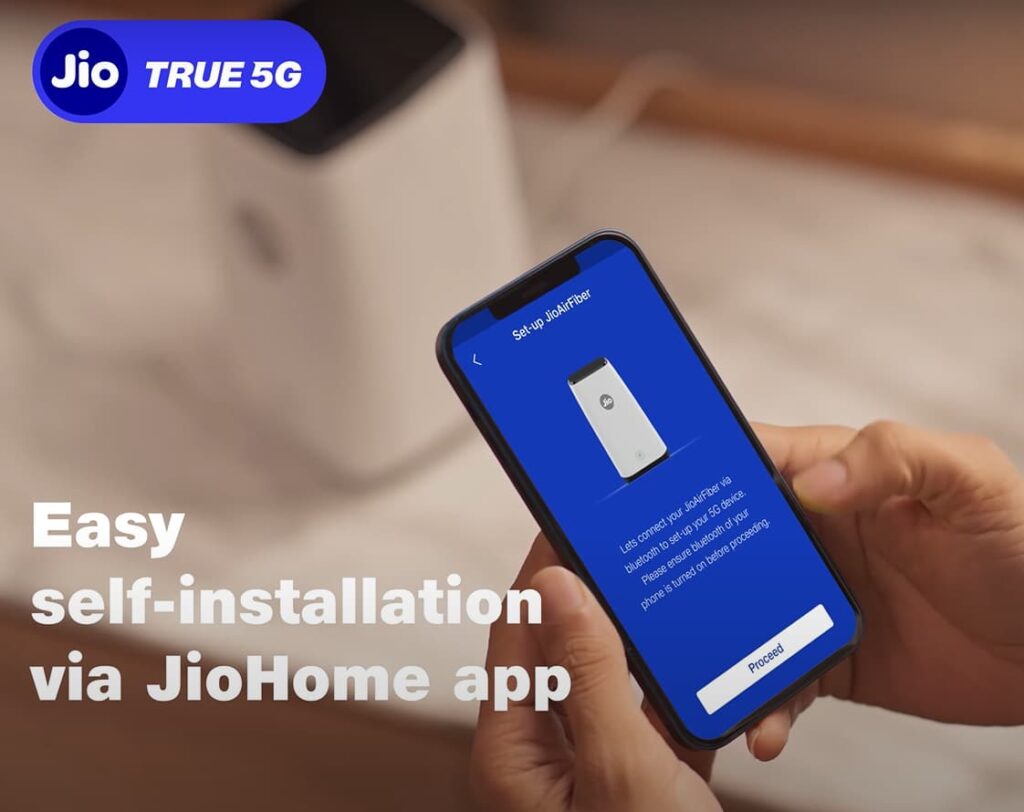 This app will guide you through the entire process, from registering your device to connecting it to the network and activating your plan.
What are the disadvantages of AirFiber?
Some users can find it expensive compared to other wireless technologies
Susceptible to interference from other wireless devices and environmental factors like weather
Limited bandwidth compared to fibre optic cables, which can affect network speed and performance
Only available in all areas which have Jop 5G coverage
What other alternatives are there for Jio Air Fiber?
Presently BSNL provides air fiber service at an affordable price. You can try it till Jio launches its air fiber service. I am pretty sure Jio will provide a higher and faster speed than BSNL Air Fibre. Currently, BSNL is providing 3300GB with speed up to 30Mbps at an affordable price starting from just ₹499/month.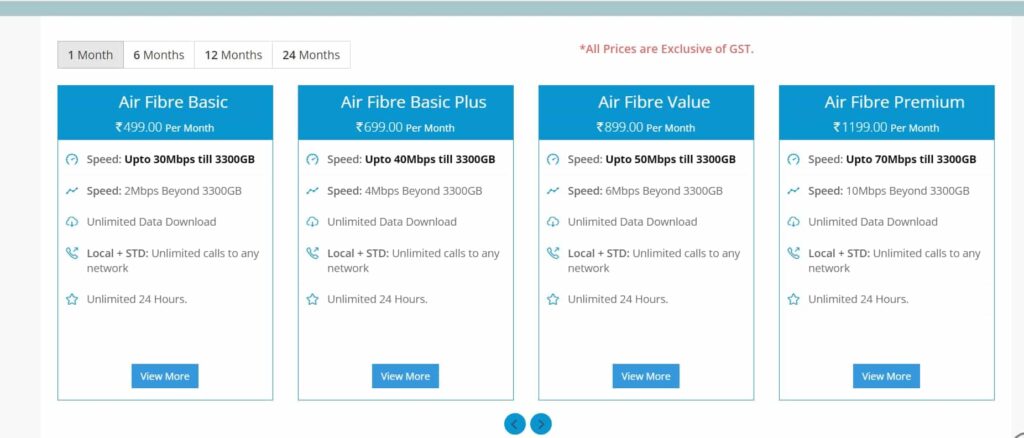 Monthly Plans of BSNL Air Fibre Service
| Plan Name | Monthly Cost | Speed (Upto) | Data Limit | Speed After Limit | Calling Benefits |
| --- | --- | --- | --- | --- | --- |
| Air Fibre Basic | Rs. 499.00 | 30Mbps | 3300GB | 2Mbps | Unlimited Local + STD |
| Air Fibre Basic Plus | Rs. 699.00 | 40Mbps | 3300GB | 4Mbps | Unlimited Local + STD |
| Air Fibre Value | Rs. 899.00 | 50Mbps | 3300GB | 6Mbps | Unlimited Local + STD |
| Air Fibre Premium | Rs. 1199.00 | 70Mbps | 3300GB | 10Mbps | Unlimited Local + STD |
| Air Fibre Ultra | Rs. 2995.00 | 80Mbps | 5000GB | 15Mbps | Unlimited Local + STD |
| Air Fibre Ultra Plus | Rs. 6995.00 | 80Mbps | 7500GB | 25Mbps | Unlimited Local + STD |
You can visit the official BSNL Air Fibre website to learn more about plans like half-yearly, annual, and 2-year plans.
Some Frequently Asked Questions Related to Jio Air Fibee
Does Jio provide air fiber?
Currently, Jio Air Fiber is not available for users. However, Jio has officially announced the Air Fiber launch and the video is uploaded to its official YouTube channel. But many things are not disclosed yet like the pricing plan, the price for the setup, when will it be made available to the market etc. You can expect Jio Air Fiber availability soon in the coming months
Is Jio AirFiber launched?
No, Jio Air Fiber is not yet launched
Is AirFiber internet good?
Since Jio Air Fiber works in 5G technology, it is more likely that the speed will be good. But we really cannot compare the speed without using Jio Air Fiber services. Once it is officially released, we can compare the speed of Air Fiber and normal jio fibre. Then we can tell which one has a higher speed
What is the longest distance for AirFiber?
The range will be sufficient for use in office buildings and a large home
What is the price of AirFiber?
The price has not been announced yet. But you can expect the purchase price to be anything between 5000-6000. This is just an estimate, it may be higher or lower than our estimated price range
Is air fibre affected by weather?
Yes, it can be affected if the weather is very bad
What type of internet is AirFiber?
What is the speed of Jio 5G?
What is the number of cities Jio 5g released?
Jio 5G Network is now available in 2,691 cities across the country. Jio recently launched in 27 new cities with a 1 Gbps speed