Last Updated on May 24, 2023 by sourav sahu
Are you looking to add an air of darkness and mystery to your gaming experience? If Yes, then you can do that with the Zalgo text. This stylish text offers an eye-catching way of adding this spark of darkness. You can use these stylish texts anywhere you want, be it in-game messages, PUBG names, Free Fire names, or even social media posts.
In this guide, we will introduce various aspects of Zalgo glitch text creation and its uses across platforms such as games, messages, Instagram, Facebook and Twitter. Get ready to discover everything about these texts
How Does Zalgo Text Work?
Before delving deeper into creating Zalgo text, let's know how this text is generated and works. Zalgo font uses diacritical marks and Unicode characters combined together with diacritics for an irregular and visual glitchy effect. These marks and characters stack upon regular text creating an eerie appearance reminiscent of horror themes. So all these styles, add-ons and designs make Zalgo text an excellent option for everybody including gamers and social media content creators.
The Gaming Guide: Creating Captivating Zalgo Text
Till now you must have understood the concept of Zalgo text font. Now let's explore how you can create it yourself to use in your android game profiles. You can show your uniqueness in your names and texts with these simple steps:
Step 1: Choose a Zalgo Text Generator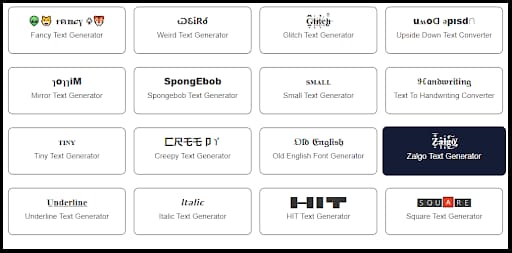 To create Zalgo text, you can use many Fantasy Text generators available on the Internet. You can take the assistance of one such tool which is Zalgo text generator. It provides you with Creepy Zalgo text with an extremely funky level. For this example, I am using Fontsz.com
Step 2: Enter Your Text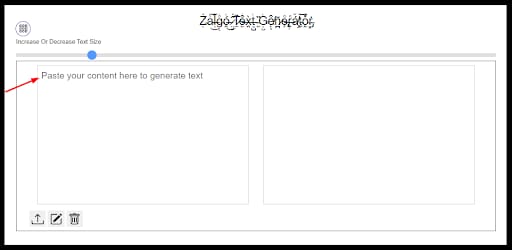 Once you have selected a Zalgo text maker, it's time to enter your text. Whether it's a game character's name or a message, you just need to type it into the text box.
Step 3: Customize the Intensity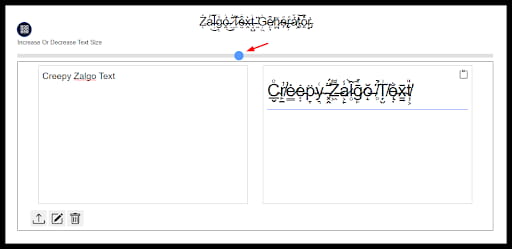 Zalgo text converter also allows you to control the intensity of the glitch effect. It provides options to adjust the level of distortion, ranging from mild to extreme.
Step 4: Copy the Zalgo Text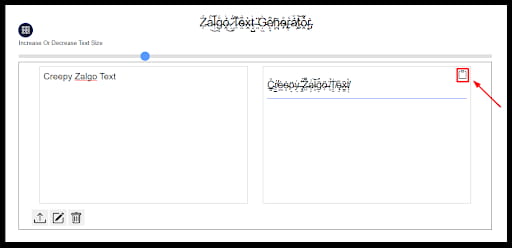 Once you have customized the intensity, The converter will instantly transform your original text into a captivating, glitch-ridden masterpiece. Copy the generated Creepy Zalgo font and use it.
How to Use Zalgo Text in Gaming
You have understood everything about the unique Zalgo text style. Now it's time to explore the situations where you can use the Zalgo Text. Here's how you can use Zalgo fonts in gaming:
1. In-Game Messages:
You can surprise your fellow gamers with these stylish eerie messages in Zalgo text. You can also use Zalgo text style in a game if you want to capture your friend's interest and attention. Just send any clues, and mysterious warnings or create an unsettling atmosphere using Zalgo font style. Zalgo text creates an extra level of engagement in your friends group. You can go ahead and use Zalgo font to create an engaging and challenging atmosphere among your fellow players in the game.
2. Character Names:
Creating catchy character names is one of the main reasons to attract the attention of your competitors towards you. And one such way to create an eye-appealing character name is by using Zalgo text to give your characters an energetic touch. Using Zalgo text you can craft names that reflect your dark origins or hidden powers, leaving a lasting impression on other players. Zalgo text can help you stand out and make your characters truly captivating.
3. Social Media Posts:
Gaming is somehow linked to a social experience. Because gamers often share their gaming achievements and adventures on social media to showcase their victory and gaming skills. It is a great way to connect with fellow gamers in your community. So just think if you use Zalgo text font in your social media posts to add an element of mystery and allure, how unique your posts will look. Isn't so? Whether you are sharing your Winning screenshots, game highlights, or expressing your thoughts, the use of weird text will make your posts eye-catching and special.
4. Forum Signatures:
Forums are a hub of gaming discussions and interactions. Make your presence known by Zalgo text into your forum signatures. A signature that includes Zalgo text will not only draw attention but also build curiosity about this text and the person who is using this font. Your gamer friends will be excited to learn more about you and your gaming exploits.
5. Twitch Streams and YouTube Videos:
If you are a content creator who lives streams games on platforms like Twitch or creates gaming videos on YouTube Free and YouTube Premium, using Zalgo glitch text can elevate your content to the next level. Use Zalgo text in your overlays, thumbnails, or video titles to create an enticing and visually appealing experience for your viewers. This unique visual style will set your content unique and leave a strong impression.
6. Discord and Online Communities:
Discord and other online gaming communities are perfect platforms for connecting with like-minded gamers. You can stand out in these communities by using glitch text in your usernames, server names, or channel descriptions. It will help you create an aura of intrigue and mystery, attracting fellow gamers to join your community and start engaging in conversations.
By utilizing Zalgo text in these various aspects of gaming, you can enhance the overall experience for yourself and those around you.
Conclusion
In the era of gaming, standing out from the crowd is very important, and Zalgo text offers one such way to achieve this to some extent. By following the steps outlined in this ultimate guide, you can easily create Zalgo text to add an extra layer of stylishness and darkness to your text content.
How does Zalgo Text work?
Zalgo text works by mixing diacritical marks and Unicode characters with regular text, resulting in a visually captivating and distorted effect. These marks stack upon each other irregularly, creating an unpredictable and visually engaging look.
Can I easily create Zalgo Text?
Yes, generating Zalgo text is a straightforward process. Follow these steps:
1. Find an online Zalgo text generator tool.
2. Enter your desired text into the generator.
3. Adjust the intensity of the effect from mild to extreme for maximum impact.
4. Copy the generated Zalgo text and use it in various contexts such as in-game messages, character names, or social media posts.
Can Zalgo Text be generated in any language that supports Unicode characters?
Yes, Zalgo text can be applied to text in any language that supports Unicode characters. Whether it's English, Spanish, French, or any other language, you can generate Zalgo text accordingly
Why should I use Zalgo Text?
Zalgo text offers a visually attractive and intriguing style that helps your content stand out. Whether you're a gamer, a content creator, or someone seeking to make your text more captivating, Zalgo text provides a unique and stylish solution